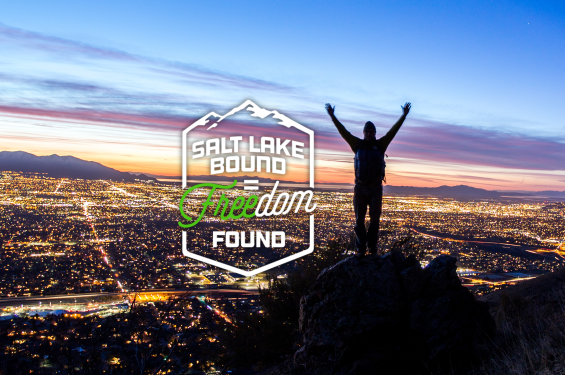 Freedom comes in all shapes and sizes in Salt Lake. It might be traveling to see a lifelong friend. Or maybe it's enjoying lunch or dinner at an outdoor café with stunning mountain and city views.

Whatever version of freedom fits your comfort level, we have some FREE offers to help plan your perfect escape to Utah's spacious capital city and all it has to offer.
The Connect Pass is your all-in-one ticket to the best attractions throughout the greater Salt Lake area.

Connect Pass Attractions are beginning to open. Find out the status of Connect Pass venues
If you are a current pass holder, as of May 1, 2020, your pass activation deadline has been extended by 90 days and all activated 365 Day passes expiration have been extended by an additional 90 days. If would like to inquire about any other issues or request a refund, please contact tickets@visitsaltlake.com
Frequently Asked Questions
WHAT ELSE DO I GET?
Additional perks and add-ons are offered with your Connect Pass. Perks for special offers at participating attractions are unlocked upon redemption. Add-ons for additional products are offered and can be purchased in conjunction with your Connect Pass.
HOW DOES IT WORK?
PURCHASING OPTIONS
The Connect Pass is available as a 1-, 2-, 3-, or 365-day consecutive pass, so you can choose the option that works best for your group, trip dates, and overall itinerary. You can purchase as many passes as you like, but each individual must have their own pass. We'll email your pass(es) to you immediately after purchase. 
REDEMPTION
You can redeem your pass in two ways:
    1) MOBILE: Click on the link provided in the confirmation email or text message on your mobile phone and log in using your email and phone number used during checkout. Follow the instructions to add the pass to your homescreen so you don't have to go back to your email every time you want to access the connect pass. Simply tap the icon to open the Connect Pass, where you can manage, share, and redeem at each attraction to gain admission.
    2) PRINT-AT-HOME: Print out the confirmation email and present it at any Connect Pass venue.
 
USING THE PASS
DAYS ACTIVE: The pass is activated the first time you use it, and it remains active for the number of consecutive days purchased. Days are defined as 24-hour time periods that start at the exact time you activate the pass.
90-DAY ACTIVATION: You must activate the pass within 90 days of purchase.
SHARING: You can send a pass to a friend by simply clicking "Share Pass" and entering their email address and mobile phone number.
For more details about using your pass, including activation, expiration, and free admission for kids, check out these FAQs.
HOW MUCH DOES IT COST?
Regular admission to all of the included attractions would add up to over $234, so the Connect Pass is an incredibly good deal. Here are the prices for each Connect Pass option: 
 
Days
Adult
Senior (65+)
Child 
(3-12)
1
$36
$32
$30
2
$54
$50
 $46
3
$66
$60
 $56
365
$96
$92
$88
Here's a breakdown of the combined cost of regular admission to all included attractions vs. a 365-day Connect Pass:
 
Adult
Senior (65+)
Child 
(3-12)
Combined Regular Admission
$234.20
$200.70
$186.20
365-Day Connect Pass
$96
$92
$88
Savings Per Person
$138.20
$108.70
$98.20

You can view detailed information about each attraction's regular box office prices here.

partners