Cycling in Salt Lake
One of the most happening cycling scenes in the nation is right here in the Beehive State's capital, Salt Lake. From skinny tires to fat, from townies to fixies, Salt Lake offers an incredible array of biking options.
When the famed "Greatest Snow On Earth" starts to melt from the Wasatch, small and not-so-small two-wheeled armies start invading the trails, streets, paths and hills in and around Salt Lake. Here, in no particular order or hierarchy, is a breakdown of the more noticeable and mainstream cycling options for the hard-core to the casual commuter.
Whether you fall into the casual category and simply want to explore Salt Lake City on a cruiser bike, or you want rip a gnarly downhill, a number of Salt Lake bike shops can get you set up. Shops that offer excellent inventory and stellar customer service include Contender Bicycles in the 9th and 9th neighborhood and Millcreek Bicycles in the Olympus Cove area.
So whether you throw your leg over an old townie or a bike worth more than many cars, strap on shin guards and a full-face mask to ride your 10" travel downhill bike or just want to take a spin with your kids, Salt Lake offers the ideal ride for you. There's a lot to see and do in and around Salt Lake, and much of it is best experienced perched atop a bike. Enjoy!
Mountain Biking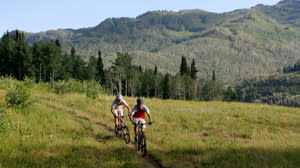 The mountains of Northern Utah offer not only epic skiing and snowboarding, but they're home to incredible mountain biking as well. Sure, Moab and Park City get most of the mountain biking accolades, but in the foothills and mountains that surround Salt Lake lay a patchwork of trails tailored to the fat tire enthusiast, with near-immediate access. There are trails for the novice mountain biker and trails for the gear-riddled downhiller, often with access from the same trailhead. Check out the trails listed in Hiking & Biking.
Perhaps one of Utah's most ridden mountain bike trails is the Bonneville Shoreline Trail. As the name implies, much of the trail is on or near the shoreline bench of the ancient glacial Lake Bonneville, traversing above the valley populace and offering stunning panoramic views. Though it actually spans the entirety of the Wasatch Front, the most popular section of the Shoreline Trail tends to be from City Creek to Emigration Canyon. Along the trail are a number of spurs, many of which feature incredibly fast and fun descents, some with features for those with serious travel in their shocks. These multiple spurs and trailheads also allow for varying lengths of rides.
Another one of Salt Lake's more popular mountain bike rides is the Wasatch Crest Trail, basically traversing the ridge that separates Salt Lake from Park City, and running from Big Cottonwood Canyon to Mill Creek Canyon. The actual trail begins near Guardsman Pass, so many opt for a shuttle from Salt Lake; heartier souls make the climb. This trail, without a doubt, offers some incredible views in all directions.
Road Cycling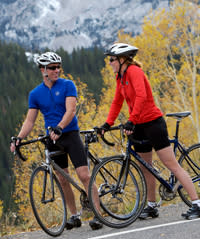 For those whose only exposure to road cycling is from watching the Tour de France each July, it often surprises them to find so many professional cyclists are either from Utah or have strong ties to it (David Zabriskie, Marty Jemison, Levi Leipheimer, Jeff Louder and Burke Swindlehurst, to name a few). There's actually a very simple explanation for that: Utah's roads and mountains are ideal proving grounds for the pro peloton. If you're not quite Tour-worthy and not really interested in racing, know there's a long list of roads or paths ideally suited to you, too.
Gentle, cruising cycling paths include the Jordan River Parkway and the Great Salt Lake Legacy Parkway. For good, intermediate-level climbing, Emigration Canyon tends to be popular choice for a number of reasons: good pavement, fairly wide shoulders, great accessibility and, for the most part, courteous and aware drivers. If you want to test your cycling mettle, there's always Little and Big Cottonwood canyons as well as Millcreek, each of which offers serious challenge as well as very rewarding and speedy descents. Connecting all of these is a very good network of roads and paths, so getting around from anywhere in the valley is relatively simple.
Urban Cycling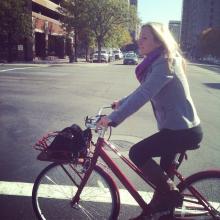 Say you're in town visiting and simply want to pedal around and check things out. Believe it or not, the topography and streets of Salt Lake seem almost designed for bikes. In fact, exploring and experiencing all that downtown Salt Lake has to offer may best be accomplished on two wheels. First, the city itself is relatively flat, allowing for non-geared bikes to roam freely. Second, Salt Lake City Mayor Ralph Becker is a staunch supporter of cycling and, more importantly, safe cycling. City streets are wide, many of which feature bike lanes. On popular avenues with limited space, the city has implemented "shared lanes," designated by 4-foot wide green stripes, whereby bicycles can utilize the entire lane just as vehicles do until the street widens again and a bike path begins.
And Salt Lake is one of many cities to adopt a Bike Share program, where members (1-day to annual memberships available) can check out a bike from any number of Bike Share stations and ride it around town, returning the bike to any other station. Again, it's a great way to see and experience the downtown core of the city.