Advertise in the Salt Lake Visitors Guide
In this award-winning tourism guide you can discover the best local restaurants, attractions, visual arts, shopping, nightlife, and outdoor sports. The Salt Lake Official Visitors Guide gives visitors the information they need to explore our unique state and make the most of their visit in Utah.
Bonus: The Official Visitors Guide will be featured in a digital format at visitsaltlake.com for the duration of its newsstand life.
 
Download the 2023-24 Salt Lake Visitors Guide Advertising Info Sheet and the Deadline and Specifications Sheet.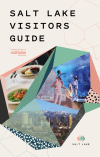 Salt Lake Visitors Guide
100,000 - 2023-24 Edition
Mailed by request
Distributed to over 250 locations

Distribution
Visitor Info (Salt Palace Convention Center)
Utah Office of Tourism
Statewide Visitors Centers
Statewide Chambers of Commerce
Area Restaurants and Businesses
Shopping Malls
Attractions and Venues
Airport
Travel Agents
Hotels and Motels
RV Campgrounds
Requested Informational Packets
Meeting Planners
Ad Sizes
2 Page Spread - Trim Size: 10.5" x 8.375" (W x H)
2 Page Spread - With Bleed: 11" x 8.625" (W x H)
Full Page - Trim Size: 5.25" x 8.375" (W x H)
Full Page - With Bleed: 5.5" x 8.625" (W x H)
Half Page: 4.375" x 3.625" (W x H)
Dining: 3.8" x 2.22" (W x H)
Press Ready Requirements
Supported files: PDF and JPG.
All graphics should be 300 ppi at the printing size and in CMYK.
Convert all Pantones to CMYK.
Use support black for solid blacks: C 40 M 30 Y 30 K 100
Use 100% black for all small text: K 100
Double check PDF for separation and overprint problems.
Create registration/crop marks outside of the bleed area.
Keep important information at least .375 inches from the trim edge.
Preferred file delivery methods are: Dropbox.com, WeTransfer.com, and e-mail if under 10mb.
Please email us after the upload is complete with the file name, what client the ad is for, and whether it's for your company or someone else's.
Share or link to: production@saltlakemagazine.com
Elizabeth Brown
Director of Partner Engagement
Visit Salt Lake
801.534.4981
ebrown@visitsaltlake.com