Beer in the Beehive
Mmmm, Beer
Salt Lake isn't typically thought of as the epicenter of beer, but on your next visit you may be surprised by the amount of good beer in the Beehive State.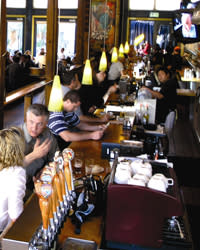 If you're looking for some delicious grub to accompany your brew there are several breweries whose food could be bragged about as easily as their beers. Squatters Pubs and Beer's flagship location is in the heart of downtown. Its first pour was in 1989 and it's only gotten better with time, even winning 'Midsize Brewery of the Year' at the 2010 Great American Beer Festival. People come for the beer and come again for Squatters' excellent food prided on local, organic and eco-friendly standards.
Right around the corner is Red Rock Brewing Company, 2009 winner of 'Large Brewery of the Year' at the Great American Beer Festival. This popular beer stop boasts delicious pizza, salads and brewpub atmosphere.
For a full dining experience, head for Porcupine Grill. Located at the mouth of Big Cottonwood Canyon, Porcupine is perfect for après ski, including some excellent beers. Also in the Cottonwood area are Bohemian Brewery and Hoppers, both local alehouses.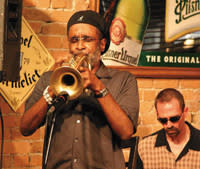 For a larger selection of beer on tap or bottled, head over to the The Bayou. With the most extensive beer list in Utah, The Bayou's menu features more than 300 different beers. New Orleans-influenced food complements the great atmosphere with frequent live jazz bands and pool.
A local's favorite, the Beerhive Pub has an impressive beer list. With a unique ice bar to keep your class chilled, this is the place to be on the weekends. Belly up to the bar, relax with some friends in one of the booths, take in the energy of downtown out on the patio or step outside to experience the energy of downtown – whatever you choose, the Pub will have the perfect beer for you.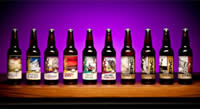 Newest to the Salt Lake brewery scene is Epic Brewery. Epic prides itself as Utah's first brewery since prohibition to brew exclusively high alcohol content beer. The ANNEX by Epic Brewing recently opened in the Sugarhouse area of Salt Lake and offers a bohemian atmosphere and casual dining, serving lunch, dinner and late night fare.
Of course, there are hundreds of additional eateries, pubs and bars serving a wide range of local, national and international beers in the Salt Lake area. Trust us on this one!
Cheers! 
Check out these local brewpubs and add them to your Favorites.
273 Trolley Square

(801) 521-8917
Located in Historic Trolley Square since 1972, we've been satisfying the local Salt Lake community with hand crafted food and beer for decades. In our roots, we began with a simple offering of food and poured Coors to college students. Over time however, we have evolved and…
825 South State Street

(801) 906-0123
One of the Top Rated Breweries in the World – Utah's first brewery since prohibition to brew exclusively full strength beer, Epic continues to win awards for its cutting-edge, handcrafted and unique beers. The Tap-Less Tap Room offers the opportunity to pair Epic brews with…
1199 N. Beck St.

(801) 521-3904
1950's style bar and roadhouse located in front of an oil refinery, offering food, live music.
677 South 200 West

(801) 355-3598
Legends is great food, sports and fun! Kick back and watch your favorite games on our big screens while you enjoy an awesome meal and our full bar. Stop by any time for the best food and sports in town or call to reserve space for your group. Full bar and full food menu. Minors…
242 South 200 West

(801) 532-2715
A real friendly neighborhood Pub feel with a great menu and fun times. Whether you choose a table for dinner, a stool at the bar or a spot back in the game room, you'll feel right at home. The heated patio is relaxing place to enjoy a good meal with a glass of wine, a burger and…
254 South 200 West

(801) 521-7446
Over twenty-Years of Delicious Food, Craft Beer, and Good Company! 23-years ago we began brewing our distinctive craft beers in downtown Salt Lake City. That makes us one of the pioneers of Utah's innovative craft beer culture. Although it's never been our intent to be the…
147 West Broadway

(801) 363-2739
Squatters has been creating award-winning cuisine and beer since 1989. Featuring daily specials and traditional pub favorites such as bacon topped meatloaf and a delicious array of burgers, and of course award-winning craft beer, Squatters is Salt Lake's premier brew pub. We…
128 South Main Street

(801) 364-4268
Beer lovers, this place is for you. The Beerhive has over 200 delicious beers from around the world. The frosted rail on the bar keeps your brew nice and frothy from the first sip to the last.