It's no longer much of a secret that great mountain biking can be found within the state of Utah. From the slickrock trails of Moab to the buffed out singletrack of Northern Utah, a huge amount of variety can be found to satisfy riders of every ability level. Utah encompasses approachable terrain for first timers and bone-jangling rock gardens for those seeking an adrenaline rush. While fantastic riding is scattered wide and far across the state of Utah, there is also ample opportunity to ride in and around Salt Lake. For locals or those traveling to the capital for a quick weekend or work trip, the access to bike trails offers a way to get outside and experience Utah. Here is a list of recommended trails to add to your roster.
BEGINNER / INTERMEDIATE TRAILS
Bob's Basin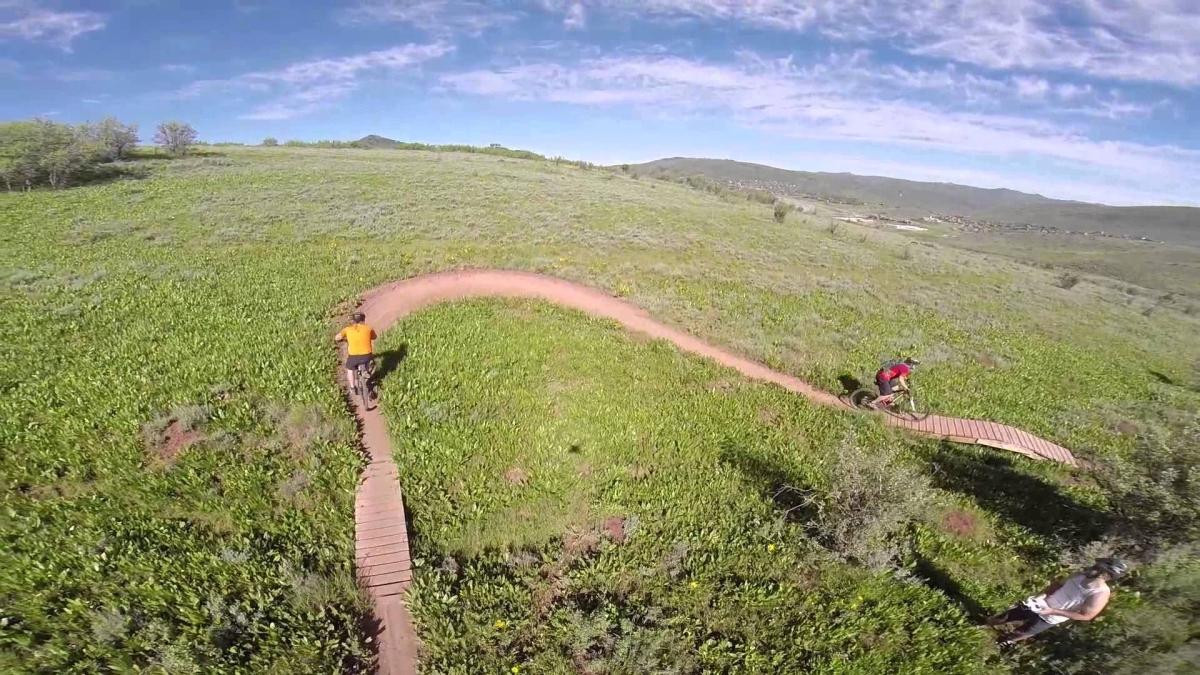 Bob's Basin in the Park City area is a great place for new mountain bikers to gain confidence. The blue and green rated trail network in Bob's Basin offers perfectly beveled berms and a series of loops that can be easily linked together so riders can tailor a ride to their ability level and time constraints. Most riders will bust out a couple laps before heading home. Start from the Bad Apple trailhead, climbing to the Fink Again trailhead. The trail to the right is the most popular, called Dropout. Newer riders can opt to roll over any modest features or skip features entirely that appear too intimidating. Climb back to 24-7 via Fink Again and choose another trail. Advanced riders may grow board quickly, but if you're looking to lock in some mileage and great views, this is a fun little cluster of trails.
Quarry Trail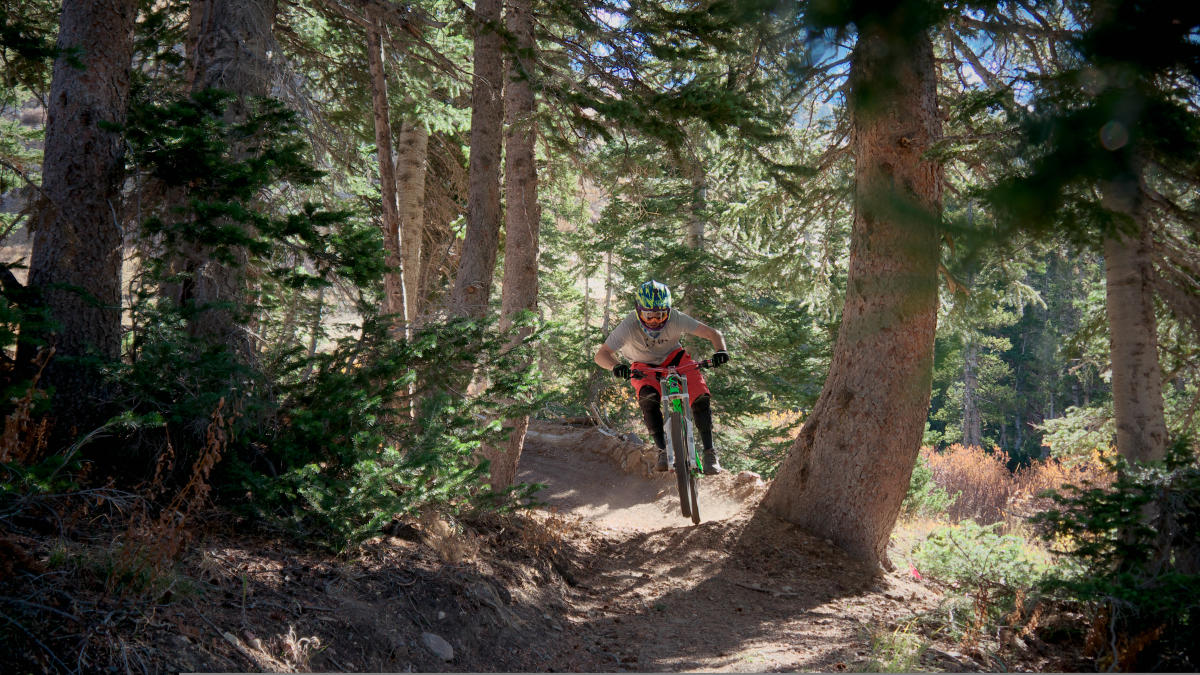 The Quarry Trail begins near the base of Little Cottonwood Canyon. This was once the site where the huge granite blocks used to construct the famous Salt Lake Temple were chiseled from the rocks. Note that this trail requires steady but gentle climbing, so if you're not accustomed to the elevation, a flatter trail may be a better choice. The Quarry Trail offers nice shaded sections and cooler temperatures as you climb upwards alongside the riverbed. There are a few simple rock gardens to navigate and this short trail is ideal for beginners looking to work on their fitness and technical skills. This trail can be crowded on weekends and when the after-work crowd rushes in to get their exercise fix. The fall foliage is absolutely fantastic up Little Cottonwood, and you may also spy a mountain goat clinging to the rocks on the steep faces near the mouth of the canyon.
Bonneville Shoreline Trail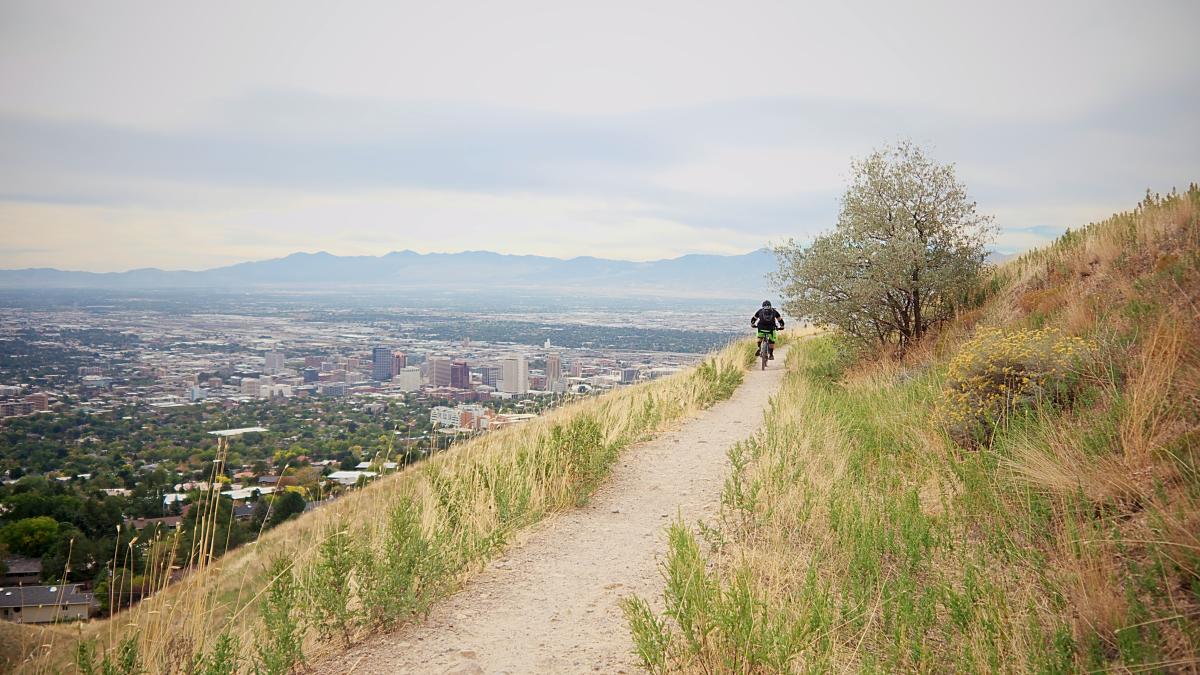 Perhaps the most accessible mountain biking singletrack in Salt Lake can be found on the Bonneville Shoreline Trail. It's perfect for a quick ride before or after work, and some folks will even hit the dirt on their lunch breaks. Newbies can hop on sections of this trail and feel confident as they traverse the ancient shoreline of the freshwater lake that once covered much of Utah. The easiest access point would be up near The Natural History Museum of Utah, pedaling south and making a short loop near the mouth of Emigration Canyon. Another option is starting near Hogle Zoo, though be warned of the killer uphill to start. Many trails and spurs litter the hillsides so take some time to explore and grab a map or directions at a local bike shop. There may be a rock garden or two where you'll want to walk your bike. This ride is also suitable in early spring and into fall or winter due to its exposure. The views of the city and the shimmering Great Salt Lake to the west add to the scenery.
INTERMEDIATE TRAILS
Glenwild Loop Trail
For panoramic views of Park City, consider the Glenwild Loop, which is a lollipop style trail covering about 8.5 miles and conveniently located off the I-80 Junction to Park City. The ride kicks off with a steady 1.2 mile climb up the Stealth Trail to reach the Glenwild Loop. Plan to admire the gradual change in ecosystem from sagey flats to an alpine transition zone with maples and scrub oak. This trail does feature tight turns and rock gardens, so it is best for intermediate riders and will be more enjoyable ridden in the clockwise direction. More advanced riders should not pass up the opportunity to add on more mileage with the Flying Dog Trail via the Glenwild network with a thrilling, fast, and flowy decent.
Mueller Park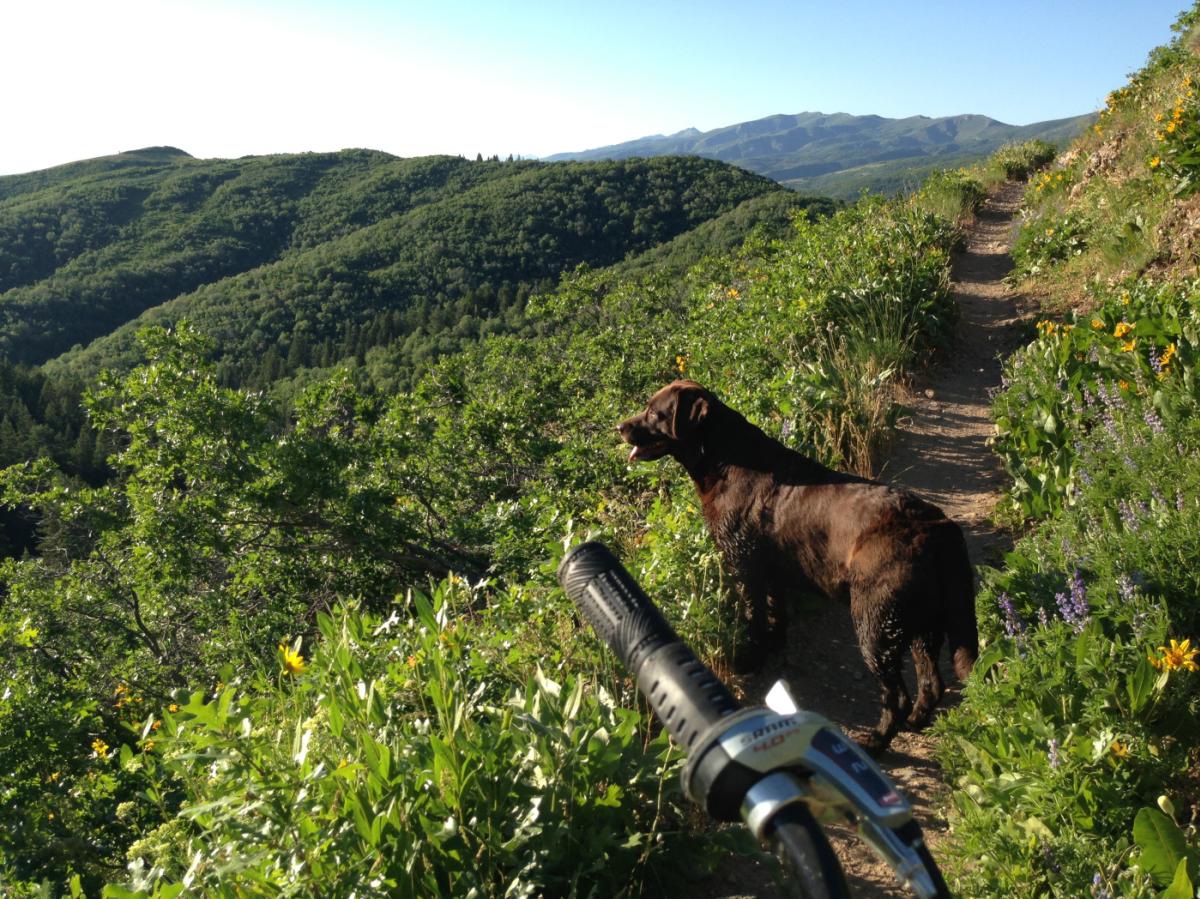 Head north of Salt Lake to the next city of Bountiful to find Mueller Park, an ideal trail network for intermediate riders. Smooth singletrack and a fast, flowy downhill makes this a popular ride among locals; avoid using this trail during peak times if possible. This out-and-back trail features moderate climbing with a more technical second half once you hit the Big Rock (also called Elephant Rock) around mile seven. The trail winds through conifers and gamble oaks, climbing drainages and small canyons before finishing up at Rudy's Flat. After a snack, riders can relish the exhilarating downhill, taking care to avoid hikers and bikers on their way up. The turns are banked, wide, and smooth on this 13-mile ride.
Mid Mountain Trail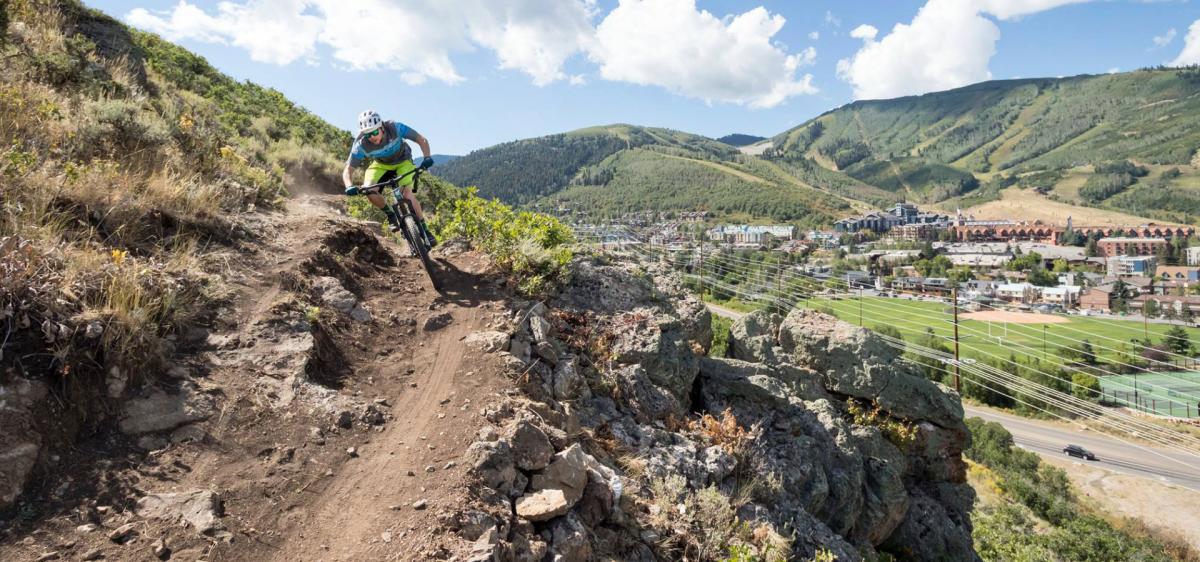 Another destination trail for intermediate riders is Park City's Mid Mountain Trail, rated EPIC in status by the International Mountain Bicycling Association (IMBA). This high elevation ride includes moderately demanding climbs, so give yourself a few days to acclimatize first and begin the ride hydrated! Most riders opt to begin the grind on the uphill-only Armstrong Trail, gaining around 1400 vertical feet. The views of Park City sprawling below will only contribute to the feeling of oxygen deficiency. At the top of Armstrong lies the Mid Mountain Trail, replete with beautiful wildflowers in midsummer and stunning fall foliage in the autumn months. Along the trail, you'll wind through thick pine forests, meadows, ski runs, and the occasional relic of Park City's storied silver mining past. A suggested loop is to cruise across Deer Valley, passing the Silver Lake area, and descending back down via the Deer Crest trail and riding the pavement to return to Park City.
Corner Canyon Trail Network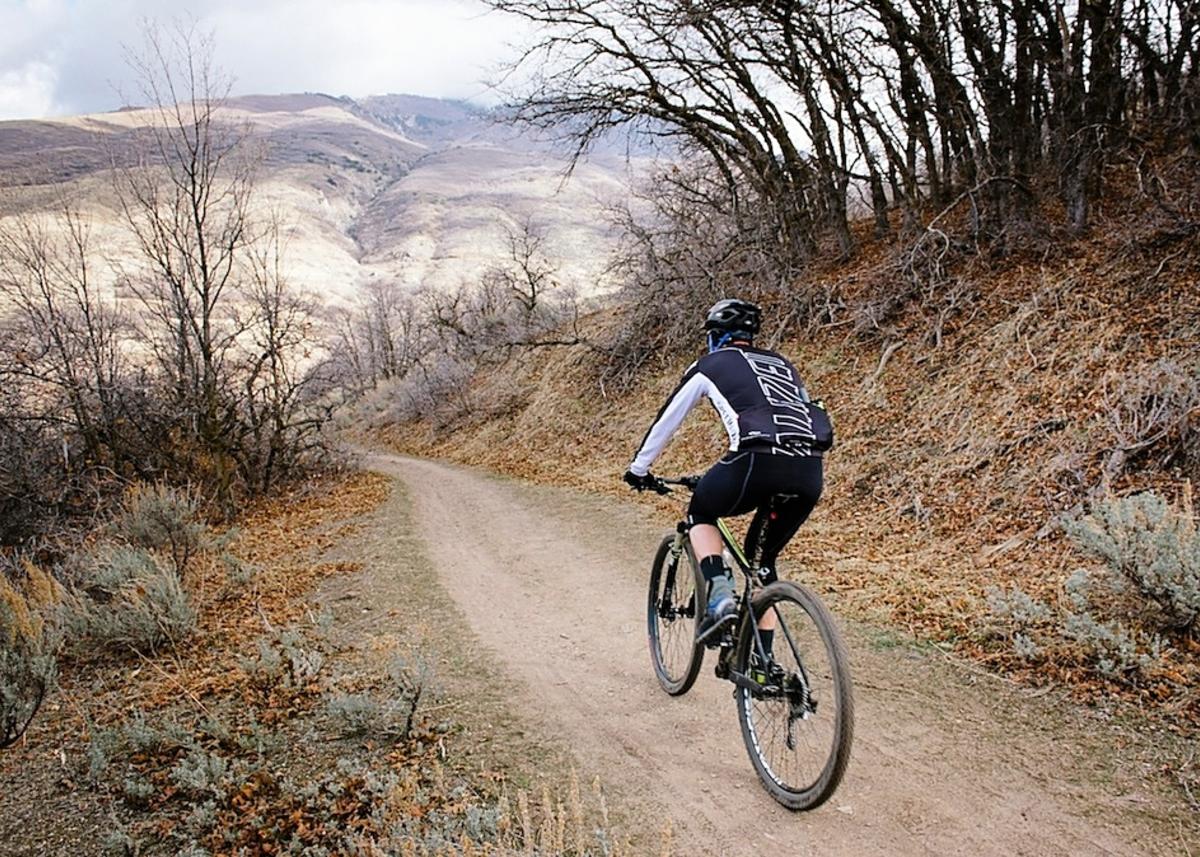 Though Corner Canyon has some trails appropriate for beginners, it's intermediate/advanced terrain is a riot for those who seek variety. The trail network is south of Salt Lake in the foothills of Draper. Head up Canyon Hollow or Clark's Trail and descend on the flowy, downhill-only Rush Trail. There are enough trail options in Corner Canyon to keep you busy for a whole afternoon. The trail network is run by the Corner Canyon Trails Foundation, and the organization is working hard to continue building new trails and features. Mix and match the trails as you like to piece together a longer or more advanced ride. The newer Levitate and Vertigo Downhill trails are especially spicy for more advanced riders.
ADVANCED
Wasatch Crest Trail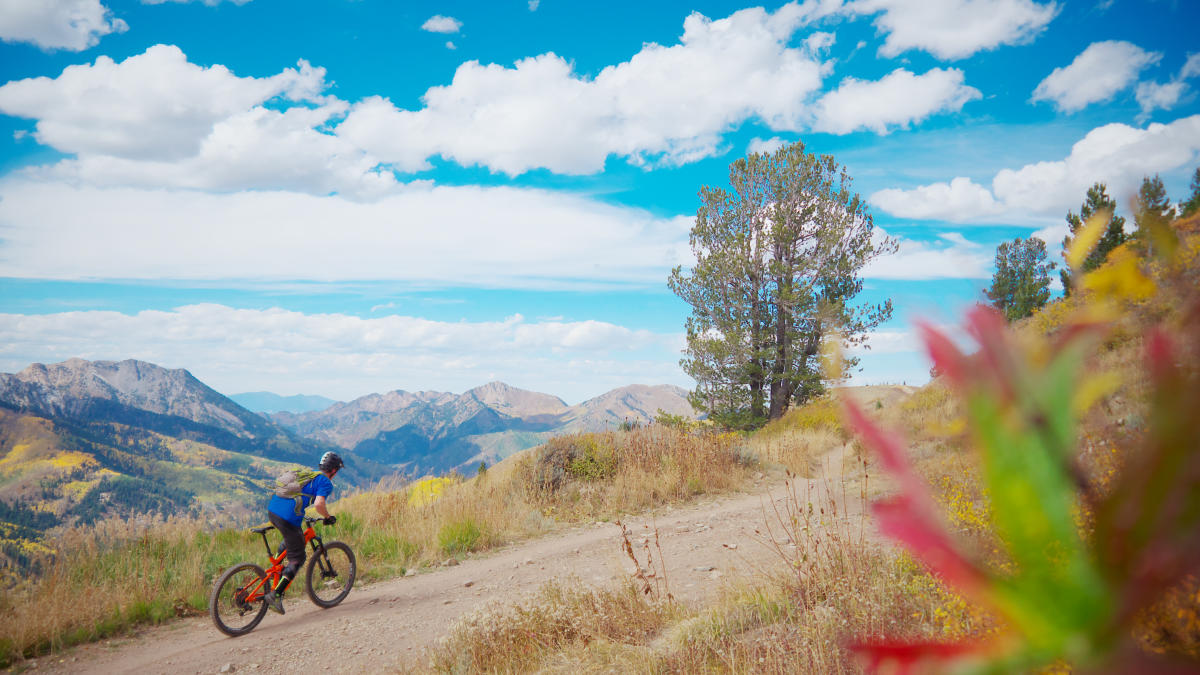 Perhaps Salt Lake's most iconic mountain bike ride, the Wasatch Crest Trail encompasses just about everything you'd want on a solid ride: killer views, exciting downhill, flow sections, rock gardens, a few moderate climbs, one killer climb, and riotous wildflowers. The best way to experience the trail is to book a shuttle from the Millcreek area for a stress-free ride up to Guardsman Pass. Flowy, and techy, this trail is ideal for experts, though intermediate riders will enjoy it and may end up walking a couple sections. Once you crest the infamous Puke Hill (don't feel bad if you have to walk your bike, many riders do,) it's a series of rolling hills, excellent descents, and a memorable section of exposure dubbed "The Spine." Before you opt for the right fork after The Spine, keep in mind that cyclists may only access Millcreek Canyon on even-numbered days. After a fun section of singletrack through thick conifers, the trail will turn to pavement. Many riders opt to hop back on the Pipeline Trail to finish out the ride before quitting Millcreek Canyon for their parked car.
The Bobsled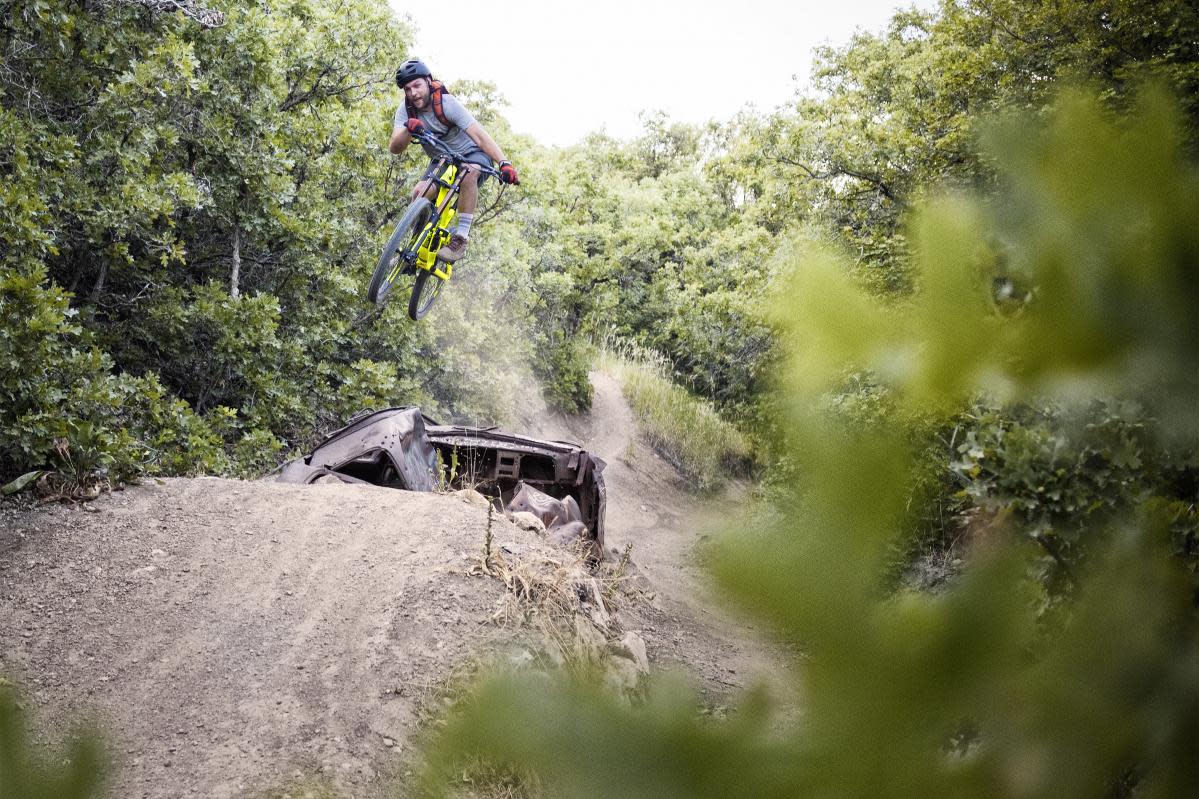 Downhill lovers and freeriders alike will enjoy the challenges and gravity defying berms of the Bobsled Trail accessed via the Bonneville Shoreline Trail. Newer riders will not enjoy the loose, rocky descent into the meaty section of Bobsled's banked turns, so if you're not comfortable on loose gravel or rocks, it's best to skip this one. A good chunk of climbing is required to reach The Bobsled from a popular access point at Popperton Park.
After the initial sporty surf down loose rocks, there are a couple miles of incredibly banked, bermed turns. After the second turn, you'll realize why this trail is dubbed Bobsled. Think back to Salt Lake's legendary time as an Olympic Host city and allow yourself to whoop and holler your way to the pavement where it pops out on Chandler Drive. Take note that this trail changes often, can become damaged after storms with heavy runoff, and is best ridden with an open mind and a solid set of technical riding skills. Don't be surprised by the freeride maneuvers towards the bottom of the trail, and know that you can ride around the junked cars that serve as launching pads for the more adventurous riders.
Snowbird Big Mountain Trail & Deer Valley Downhill Trails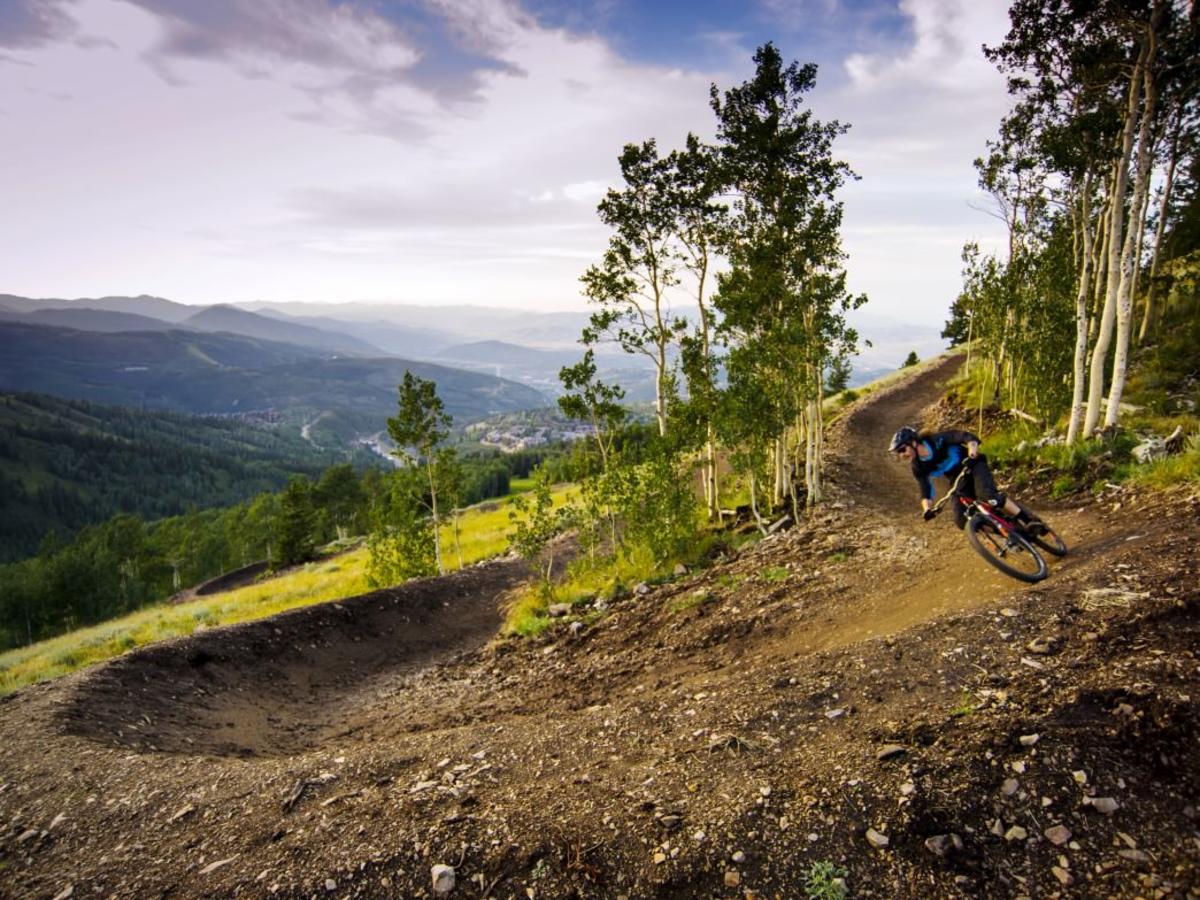 Deer Valley first began running summer lifts for mountain bikers clear back in 1992, making it one of the first resorts to cater to mountain fiends year-round. Since that time, the evolution of their downhill mountain biking has provided endless diversion with over 70 miles of trail and three new flow trails designed by the Whistler-based Gravity Logic crew. While of course, Deer Valley offers green and blue trails, it's the variety of the advanced/expert lift-served trails that make this a destination for skilled riders. Warm up on the roller coaster turns of Tidal Wave, launching into the air with 58 tabletop jumps and 9-foot berms. After the gentle swells of Tidal Wave, it's time to hit Tsunami, a new and challenging trail at Deer Valley featuring 10-foot berms, 25-foot tabletops, and massive step downs.
Construction at Deer Valley is ongoing, so new trails and improvements to existing trails are always a given. The incredible flow and the fun wooden features along Deer Valley's trails are what sets it apart from other areas around Salt Lake.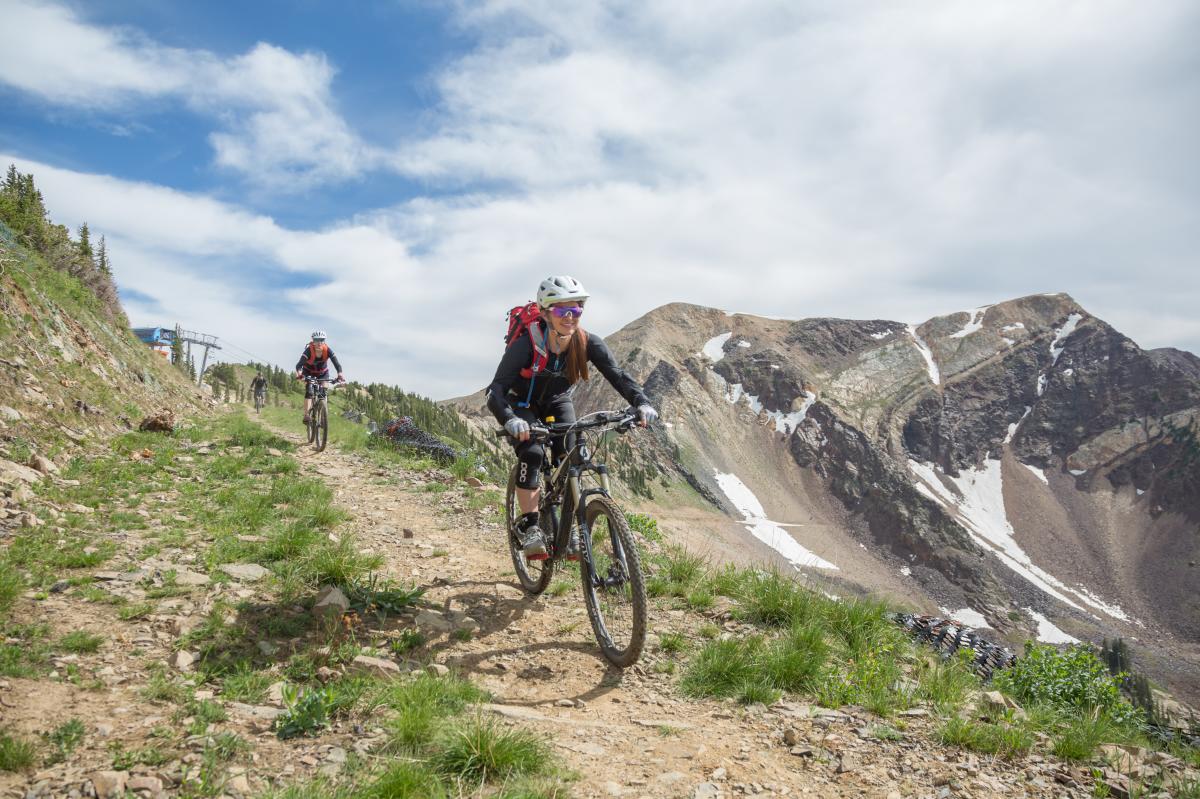 As a newcomer to the mountain biking lift serve scene, Snowbird Ski & Summer Resort only currently offers one true downhill trail, but 2-3 laps on the Big Mountain Trail may be enough to leave you craving a beer on the plaza. With plenty of entertainment, live music, and great food, it's worth it to take the afternoon to explore Snowbird by mountain bike and enjoy a meal. Plus, the sensation of riding up the tram with your bike is quite a treat. With an average grade of 7% and a vertical drop of 2,400 feet, the Big Mountain Trail was given some fresh upgrades and improvements for this summer. Riders will appreciate the new features and improved flow. The views are vertigo inducing as you look down the sheer canyon slopes to the tiny ribbon of Highway 210 below.