SLC's shopping options are many, and you can wander under the open sky at City Creek or seek out goods that are off the beaten path. With local markets, dedicated vintage shops and curated boutiques, there's a place for everyone to find one-of-a-kind treasures in Salt Lake.
Markets
Urban Flea Market
One of Salt Lake's longest running markets, the Urban Flea Market is the place to shop well-kept antiques, piles of odd and shiny curios, bins of costume jewelry, tables spread with sterling silver or racks of clothes from throughout the decades. Often rounded out by food and drink vendors, a Sunday at the flea is a sure way to walk out of the weekend with something special. The Urban Flea Market is $3 a person, free for youth ages 12 and under and opens one Sunday each month at The Gateway.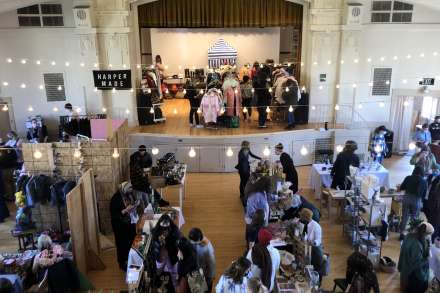 Win Win Holiday Market
Hosted once a year during the holiday season by local sustainable shop Animalia, the Win Win Holiday Market is one of the best places to do your sustainable Christmas shopping—featuring four vintage vendors and 30 other local artisans and vendors, you can browse pottery, accessories, jewelry, apothecary items and of course, clothes. Inside the charming Art Deco building, shoppers can enjoy a small bar where coffee, beer, and seasonal treats like mulled wine are available for 21+ customers. Animalia also hosts their Secondhand Market at The Clubhouse twice a year, usually in May and October. Visit Win Win on Saturday, December 10 from 11 a.m. to 6 p.m. Entry is $2.
Sum Ol' Market and Uncommon Market
975 S West Temple (Sum Ol' Market), 623 S State Street (Uncommon Market) - uncommonslc.com
A good way to get a taste of what Downtown SLC vintage clothing shop Uncommon offers is by visiting one of their monthly markets—Sum Ol' Market at Publik Coffee Roasters or Uncommon Market at Ember. Each market offers a different vibe, but both offer exposure to some diverse local vendors. For their part, Uncommon stocks trendy pieces like nostalgic sportswear and softly-worn-in tees. Their next is the Sum Ol' Market on December 16 at Publik from 12 p.m. to 8 p.m. Entry is $3. In the meantime, visit Uncommon's storefront at 434 E South Temple.
Decades Vintage Clothing
Walking into Decades is like entering a phantasmagoria of history, beauty, glam, and style. Hardcore vintage fanatics should budget hours to sift through fishbowls bursting with silk scarves, racks of well-preserved gowns, mid-century cashmere—and too much more to list here. The men's selection is also great for those with a penchant for '60s or '70s rocker looks.
Copperhive Vintage
Racks of loud vintage evening gowns are right at home next to shelves of vintage holiday cards, novelty mugs, glassware and Western Americana. Copperhive Vintage also sells their own handmade goods—quilts converted into jackets, baby bibs, maximalist tie-on collars, and other accessories all add to the colorful mix.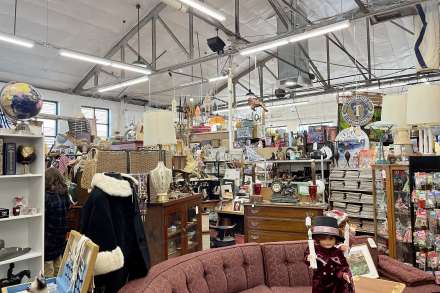 Capitol City Antique Mall
Known around town as simply, "the antique mall," the order of the day at this sprawling shop is ephemera. Whatever it is that you collect—fine furniture, Western antiques, retro signs, silver jewelry, deadstock—there are almost too many niche treasures to take in at the antique mall, and all of it exudes a special aura of rareness and nostalgia.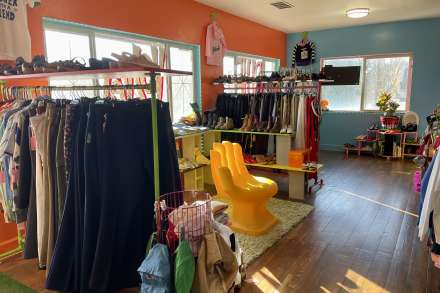 Blue Velvet Bunny
Specializing in a lot of '90s and y2k styles—rhinestone-emblazoned baby-tees, maxi skirts with giant pastel roses, chunky Steve Madden platforms—Blue Velvet Bunny is definitely as on-trend as old clothes can be. Don't miss out on handmade goods, too, like the shop's own "eight ball" collection of clothes screen printed with cheeky magic eight balls.
Vantage
774 E 800 South - @vantageslc on Instagram
While there is a thrift saying that you'll never find anything if you go into a vintage shop looking for something specific, that's not true at Vantage. Located in the walkable 9th and 9th neighborhood, Vantage is the place to go if you specifically are looking for a pair of vintage Levis, 50-year-old military fatigues, perfect cowboy boots, or sun-bleached Carhartt. Bonus: schedule an appointment to shop their collection for rare denim and other super old goods @vantagewarehouse on Instagram.
Rewind Vintage
1952 S 1100 East - @rewindvintage0 on Instagram
A hidden gem in the heart of Sugar House, Rewind features a lot of the same stuff that many of the other '90s sportswear-focused shops do, but at more affordable prices, with surprising pieces like caches of old designer bags and a fantastic selection of vintage shoes and denim for all styles and price points.
Abode Vintage
If you find yourself on a drive through charming Holladay, don't miss out on Abode Vintage. A traditional vintage and antiques shop, it's something of a hodgepodge of furnishings on which knick knacks are merchandised, or plush wool sweaters stacked, and all around, small racks of solid vintage pieces beckon. 
Atelier
Pierpont Avenue's charming shop fronts have seen many different vendors over the years, but Atelier is one of the shops that's remained a mainstay. Window shoppers will quickly be drawn in by stained glass window hangings, dazzling display cases of locally-hewn jewelry, eye-popping pottery, and funky candles. The selection of vintage is small because it's a small space, but it's so curated that each piece has something special going on.
Animalia
Clothes aren't the only sustainable thing you can shop at Animalia, because in addition to their frequently-updated racks of vintage from local vendor Thrill of the Thrift, Animalia sells bulk home goods, locally-made accessories, plus apothecary and beauty goods that are made sustainably of natural ingredients. It's a perfect place to shop for special gifts year-round, and maybe something for yourself, too.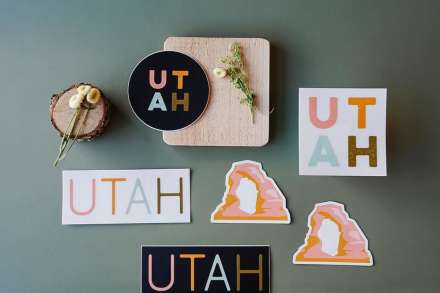 Salt and Honey
90 S West Temple (Visit Salt Lake), 925 E 900 South, 6191 S State Street (Fashion Place) - saltandhoneymarket.com
Bazaar-like in its variety and quantity of goods, at Salt and Honey, you can shop mini outposts from different vendors and for different kinds of products. Vintage clothing, shoes and accessories are in good supply, and among them are handmade goods, jewelry, home decor, accessories, apothecary and self-care treats—much of it made by local artisans. Don't miss their upcoming Holiday Market, which runs from November 11 to December 31 and offers as much holiday cheer as you can fit in a store. Find it at the 9th and 9th location, at Salt and Honey's Fashion Place mall, and at the Visit Salt Lake location in the Salt Palace Visitors Center. Get more info at saltandhoneymarket.com.