"Vegan pitmaster mad scientist." That is the incredible self-description of Chris Blatchford, or as his customers know him, Chef Blatch. This mad scientist is the man behind Blatch's Vegan BBQ. Yes, you read that right: vegan barbecue. Those two words might not make a lot of sense when placed next to each other, but we assure you, Blatchford is slinging the real deal out of his now-converted home in the Avenues Historic District of Salt Lake City. If you are ready to open your mind, Chef Blatch is ready to dazzle your taste buds with his bodacious offerings.
Salt of the Earth: the People & Places of Salt Lake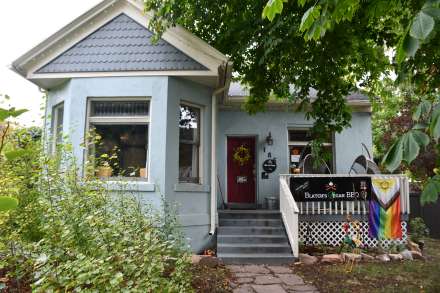 All Jacked Up
Blatchford did not set out to open a barbecue joint in his home. In fact, his journey into the world of vegan taste-making began almost out of necessity. "Anytime I would show up to a barbecue, it would really suck for veggie-based folk. Everything was just not catered to someone who's trying to eat less meat." To fill the void, he began bringing his own creations to cookouts. His 12-hour vegan jackfruit recipe proved to be so popular that, in Chef Blatch's words, "it would always run out faster than the classic proteins." Over time, the requests grew and the pitmaster knew that it was time to share his food with a bigger audience.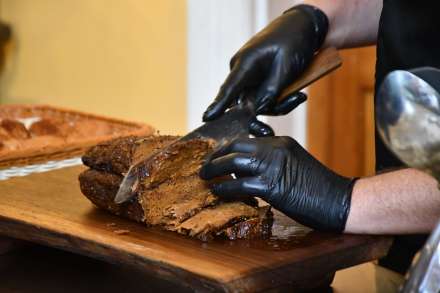 Secret Sauce
We asked Blatchford to share how he comes up with his recipes. His answer was pretty funny. "I make a lot of really, really bad barbecue," he quips with a smile. Then he breaks it down for us. He begins by thinking about a specific dish he used to love when he was eating meat. "Then I get to thinking about what are the flavors, what are the textures, what's the chew aspect?" He also points out that one of his primary considerations is to pack as many different veggies into each dish as possible, keeping things way more "superfood" than "gut bomb."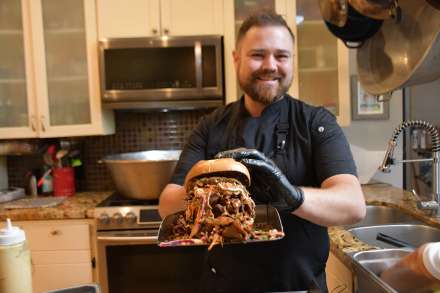 Diving into Vegan 'cue
With a wide range of items now on the menu, it might be hard for a first-time customer to know where to start. Chef Blatch has you covered. His favorite, and one that is always available, is the Korean Barbecue. It is prepared with his homemade vegan steak strips, and Blatchford offers it in a wrap, on his gigantic "Monster" sandwiches, and as a standalone item in the BBQ Sampler. Yes, we have tried it. Yes, it is delicious. "It's what I usually feed my omnivore friends to make them want to go vegan," he says.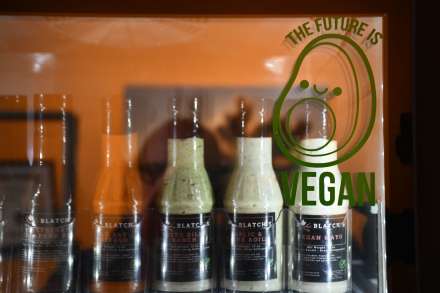 Please Pass the Dressing
The various vegan proteins are not the only items available at Blatch's. He offers twelve different homemade hot sauces. He makes his own vegan cheeses, including mozzarella, cheddar, and beer cheese. His cold cases hold an array of condiments that include ranch dressing, Old Bay buffalo sauce, and creamy celery dressing. You probably already guessed it, but they are all made by Blatchford, many with ingredients that he grows in his home garden. If you want carbs with your BBQ, try the wood-fired rolls, you won't regret it.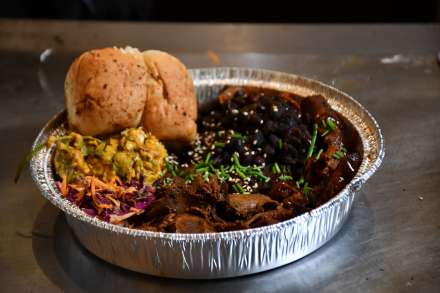 What's the Catch?
One of our first questions (after wiping our mouths) was how is this legal? Blatchford is running a large-scale food business out of his home, and we wanted to see if it was on the up-and-up. "It's something cool that came out of Covid called the Microenterprise Home Kitchen," he tells us. It required him to submit a formal, fifty-page application to the health department. He had to acquire a food safety manager certificate and register with the federal government. The Health Department conducts annual inspections and Chef Blatch keeps logbooks as required by law. And you thought this man just did BBQ.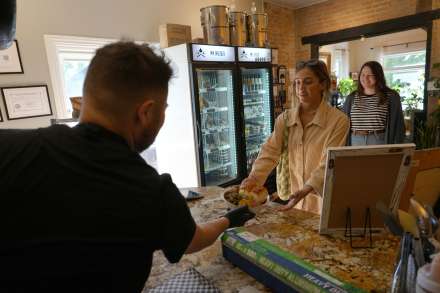 Enough Talk—Feed Me!
Adding to the niche vibe of Blatch's Vegan BBQ is that fact that you can't just walk in any day and grab a plate. Currently, the Chef opens the doors two days per week: Wednesdays and Fridays. Wednesdays feature a rotating menu item (think: BeefLESS & Cheddar sandwiches, Loaded Mac N' Cheese, and a vegan French Dip). Fridays feature his classic menu, which includes items like the aforementioned Korean BBQ, Cuban-style black beans, and 12-hour smoked jackfruit). Everything is offered on a carry-out basis. All the details about upcoming menu items and special offerings can be found on the Blatch's website. If you are making a long trip to see him and want to make sure he doesn't sell out, it is possible to reserve a plate. Just ask Chef Blatch very nicely.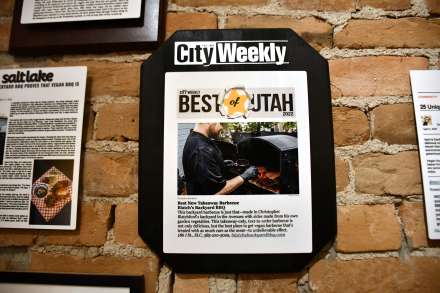 Best in SLC
If at this point you aren't going to try the most unique barbecue spot in Salt Lake, we are not going to try to convince you. However, we will say that Blatchford's motivations are sincere. "It's better for our health, it's better for the environment, and it's better for the animals," he explains. If that's what it took to make Blatch's Vegan BBQ come to life, we are all for it. With both a 2023 Best of SLC - Best Barbecue award and a City Weekly 2022 - Best New Barbecue award in his back pocket, it will be exciting to see what milestone comes next.
We want to thank Chef Blatch for being a part of the Salt of the Earth series, and kindly ask that he save us a plate this week.
Get on over to Blatch's VBQ
To visit Blatch's Vegan BBQ (listed on some map services as Blatch's Backyard BBQ), head to 186 I Street in Salt Lake City's Avenues Historic District. Street parking is available close to this carry-out establishment. As we mentioned, Blatch's is currently open two days a week: Wednesdays from 5-7 PM and Fridays from 2-7 PM. They often sell out, so if you want to reserve a plate or have a question for Chef Blatch, try texting him at (385) 210-5029. All this info (and more) is available online at blatchsbackyardbbq.com  If you are the type that appreciates a good social media presence, be sure to check him out on Instagram instagram.com/blatchsbbq
Photos courtesy Sean Buckley