By Carol Guttery, Wayfaring Views --  Salt Lake City murals have been slowly but steadily creeping their way along the downtown streets, turning SLC into a street art city to watch.
I grew up in Salt Lake City and, while I no longer live there, I visit frequently. Each visit is a blink in time, and my time-lapsed visual has become flooded with murals.
What's going on there isn't like what you'll find in New York City or London's Shoreditch. Those cities each have a longstanding graffiti culture that evolved from 1980's hip hop scene, with commissioned murals living alongside guerrilla graffiti and stickers. Rather, Salt Lake's downtown core and the adjacent South Salt Lake district are a bit more like Nashville, with a modern movement of commissioned, murals and Instagrammable wall art.
With a few exceptions, the ethic is very low to the ground and local, with SLC mural artists playing an important role.
DOWNTOWN SALT LAKE CITY MURALS
All of this public art is consistent with Salt Lake's commitment to growing its downtown arts culture. They've designated The Blocks, (50 blocks of downtown core) as a cultural district. In addition to the street art, the blocks house Salt Lake's performing arts theaters, galleries and an assortment of public art installations.
Derek Dyer of the Utah Arts Council, has confirmed that the street art culture has been on a slow burn for the past ten years. It started with the Urban Arts festival, which usually occurs in September. It features music, dance, food and live mural painting. During the festival, the Arts Council invites 10-12 (mostly local but some international) artists to come and paint.
The festival has a role in making a "…dynamic impact in this community through street art and mural art." and Dyer see feels that "this is the contemporary art form that is happening in our community now."
There is still a bit of renegade graffiti, particularly just west of I-15 and under the freeway underpasses. But the Arts Council is "trying to change the culture to make it more friendly for street art" while also teaching the artists to have a respectful ethic relative to private property.
The Gateway Center is working on transforming itself from a retail ghost town into a keystone of the downtown arts district. There are quite a few smaller street art pieces there (pay attention to the stairways), but this large piece by Madrid artist Dourone is the show stopper.
There is a cluster of graffiti, gritty street art and hidden murals located around 1st South and 6th West. This includes a number of pieces on the Arts Alliance building and surrounding bars and industrial buildings.
This 6th South underpass was a community art project curated by Lesly Allen, who is now with the South Salt Lake Arts Alliance. It was designed to create public awareness around the challenges facing homeless youth. The kids themselves were engaged to collaborate with the artists. These pillars are just a block west of the Salt Lake City mural, so if you are doing the selfie there, walk west to see these.
If you like the idea of street art with a community conscience, check out a similar project in San Diego's Chicano Park with even taller overpass murals that are all about Latino culture.
Covey also has a featured below in South Salt Lake. Her artwork plays with the shapes and spaces of curving lines and overlapping objects and her pieces have an organic mosaic sensibility. She chose the festive atmosphere of this piece because it sits on the receiving bay of the Eccles theater.
There is another cluster of murals bounded by 2nd-3rd South and Edison Street. The series above by Chuck Peters covers a long three panel section of the alleyway. The one below by Dave Arcade is worth spending a lot of time de-coding because there weiner dogs, unicorns, 80's arcade games and some seriously wacky tacos featured.
This next series hits the molten lava core of my cultural wheelhouse: street art, books and liberal identity politics. I could not ask for a cluster of murals more likely to make me tingle with glee.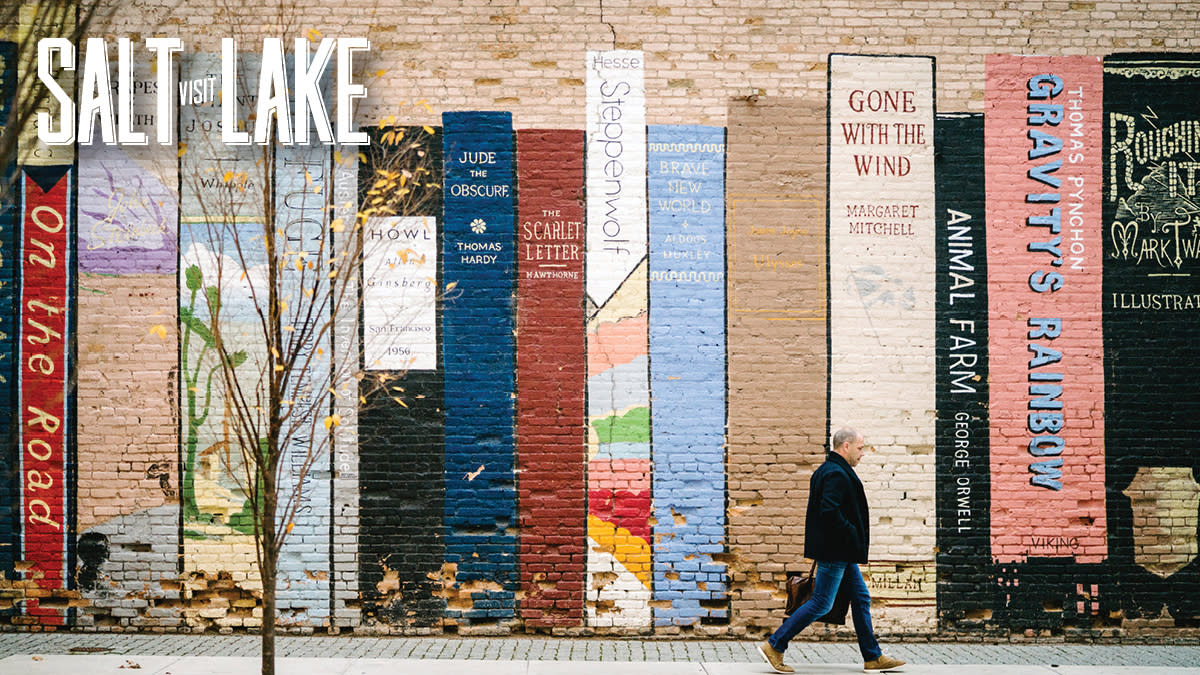 The book mural above can be found festooning Ken Saunder's Rare Books. Saunders is quite a character. During the 70's, he was part owner in Salt Lake's only psychedelic head shop. He also opened his rare book shop during that time and the store is one the oldest bookstores in Salt Lake. Saunders is also kinda famous for doggedly tracking down a rare book thief, which you can read about in The Man Who Loved Books Too Much.
He supports local artists and liberal politics and has made an effort to brings those things together on his walls. This block may be slated for development, so don't wait to check out the murals.
For context, Bears Ears National Monument is a lovely patch of culturally fragile red rock country in southeastern Utah. The monument was established by President Obama, and then summarily reduced by President Trump. Obama's effort was supported by a coalition of conservationists, archaeologists and local Native American tribes, so the Trump's reduction of the conservation area is a sore spot with many Utahns.
The other murals on that wall celebrate union activists and iconoclasts.
To read the article in its entirety and see many of the incredible murals in and around Salt Lake (which is highly recommended), go here.