If you're planning to come to Utah in the near future you're in luck because there are plenty of incredible homes to choose from all over the state. Whether you're in town for a meeting, are curious about the incredible architecture at Temple Square,  or can't wait to shred the fresh powder at one of Utah's many resorts, there is sure to be a place on Airbnb that will complete your excursion to this incredible state.
Utah is also the first state to partner with Airbnb Experiences to launch a new program that offers adventure seekers and tourists the chance to experience unique-to-Utah activities. In Utah, the platform will offer nearly 50 experiences in locations throughout the state, including guided hikes, tours of the local food scene and unique wildlife experiences, among others. Experiences are booked on the Airbnb platform and are a way for Utahns to share their expertise, and connect with a vast audience of highly engaged travelers.
Whatever your reason for visiting Utah, here are some of the best Airbnb's to consider that are located near some of the best of what Utah has to offer.
Friends' or Couple's Urban Getaway
This garden cottage in the hip 9th and 9th neighborhood has everything you need for a fun-and-busy or slow-and-relaxing long weekend in Salt Lake. The cottage is a private detached guest house within walking distance of Pago, Mazza, Pizza Nono, East Liberty Tap House, Tower Theatre, Liberty Park, and several boutique shops. The guest house lacks a full kitchen, but does feature a mini fridge, and guests have access to the full kitchen and laundry facilities in the main house.
Perks:
Funky, colorful decor with bamboo and pebble floors
Back patio
Hot tub
Fire pit
Cruiser bikes available for use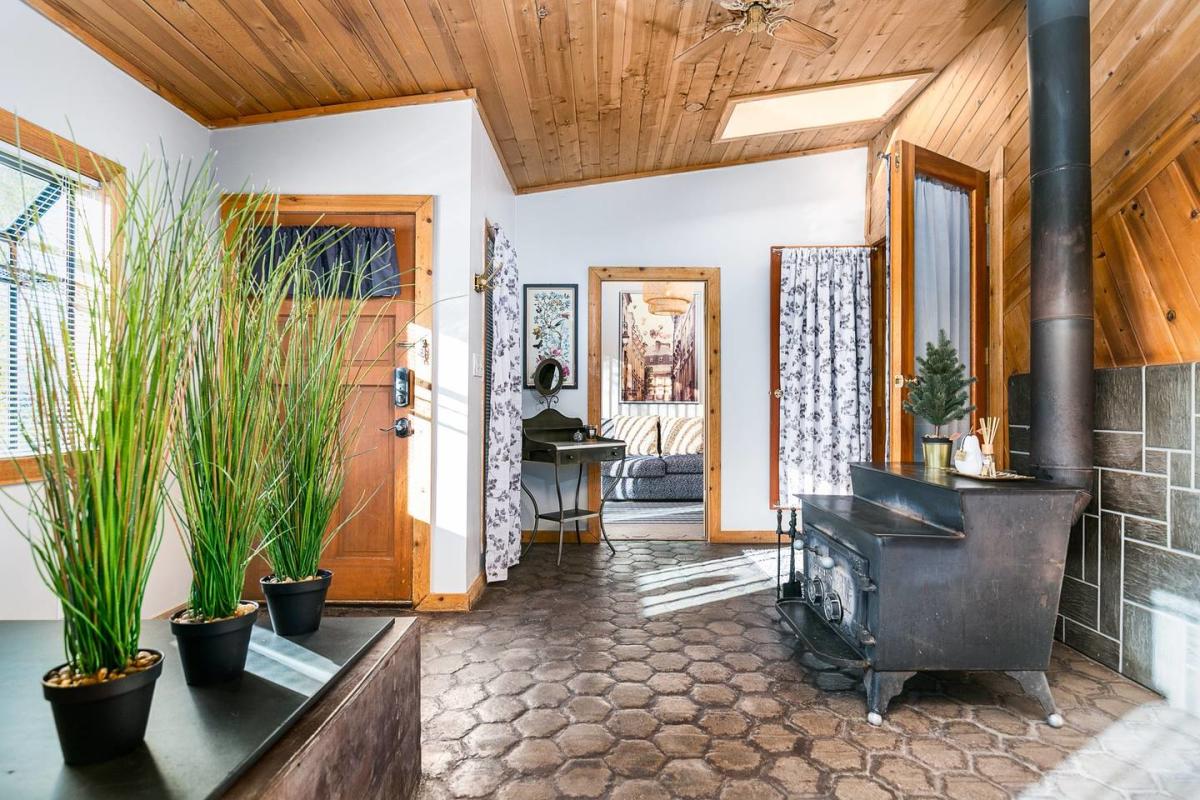 This urban cabin comfortably sleeps six, and its interior design is so appealing, you might not want to venture outside. But if you do, you'll be steps away from historic Trolley Square, which includes Desert Edge Brewery, Core Power Yoga, and Whole Foods, and you'll be a 5-minute walk from the 9th and 9th neighborhood, Library Square, and two Trax stops that can whisk you downtown or up to the University/Foothill neighborhood in minutes.
Perks:
Full kitchen stocked with breakfast items
Wood-burning stove
Back patio
Netflix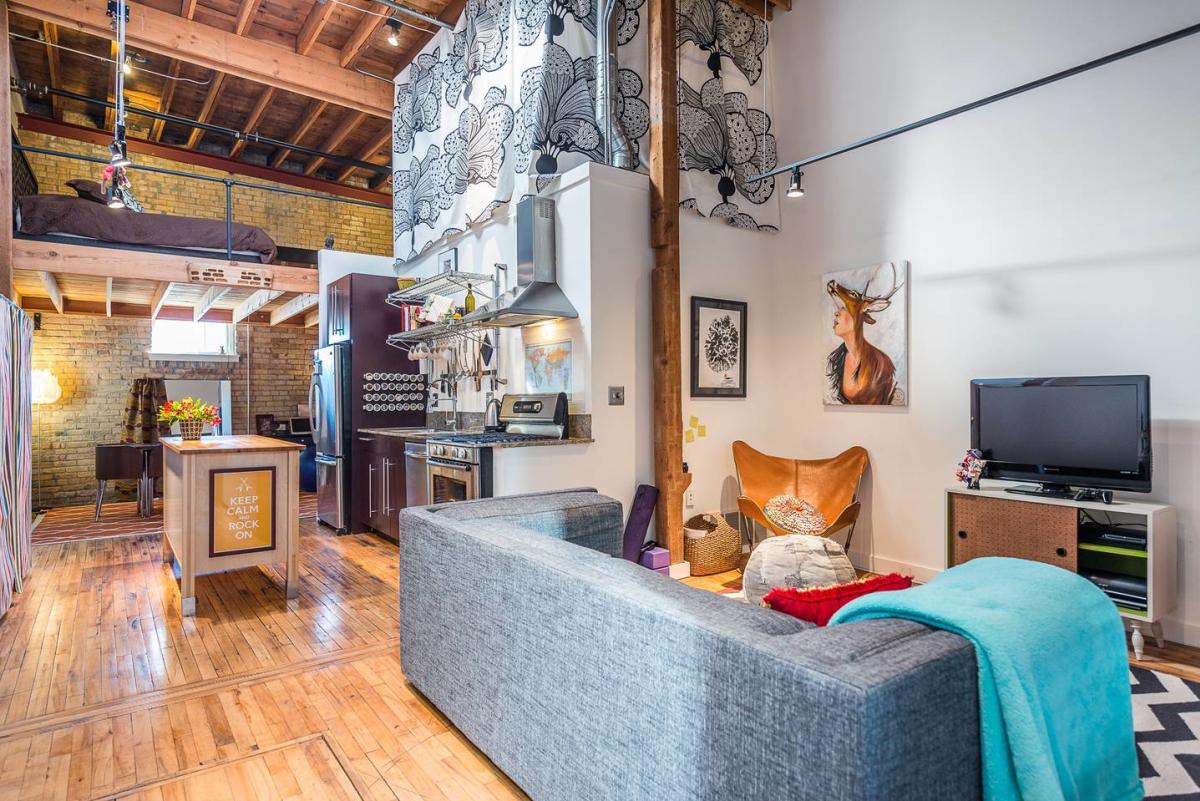 This urban retreat is the epitome of hip downtown industrial loft living, and it comes with perks to keep an active couple happy. Located in the downtown arts district, this small but well appointed space is steps from damn near everything: dining, nightlife, arts and culture, public transit, and shopping. Its kitchen is stocked with cast-iron cookware, and it's steps away from Caputo's, a paradise of Italian and European cheeses, chocolate, pasta, meats, and more.
Perks:
Memory-foam topped king-sized bed
Walk-in closet
In-unit laundry
Netflix
Fitness trampoline
Hangboard
Family Fun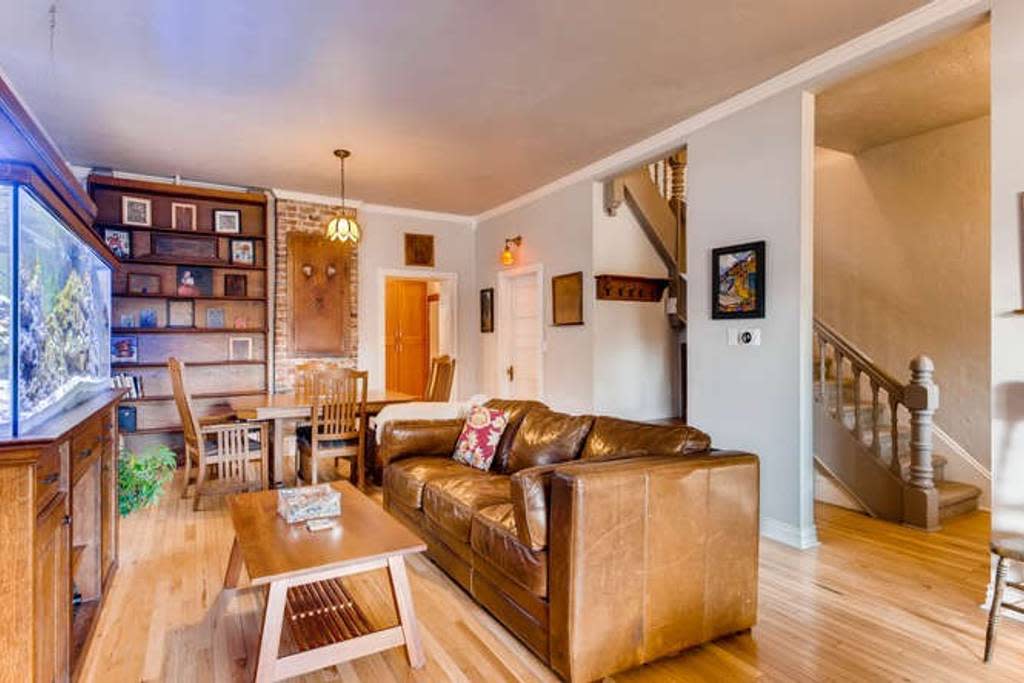 With three bedrooms, two bathrooms, and ample shared space, this cheery home gives everyone in your family plenty of space to play, work, and relax. It's located within walking distance to such kid-oriented destinations as the Leonardo Museum, the Tracy Aviary, and the truly amazing Salt Lake City Main Library, but it's quiet, residential neighborhood location provides plenty of city sanctuary.
Perks:
Coral reef aquarium
Host-led private yoga sessions available
Well-stocked kitchen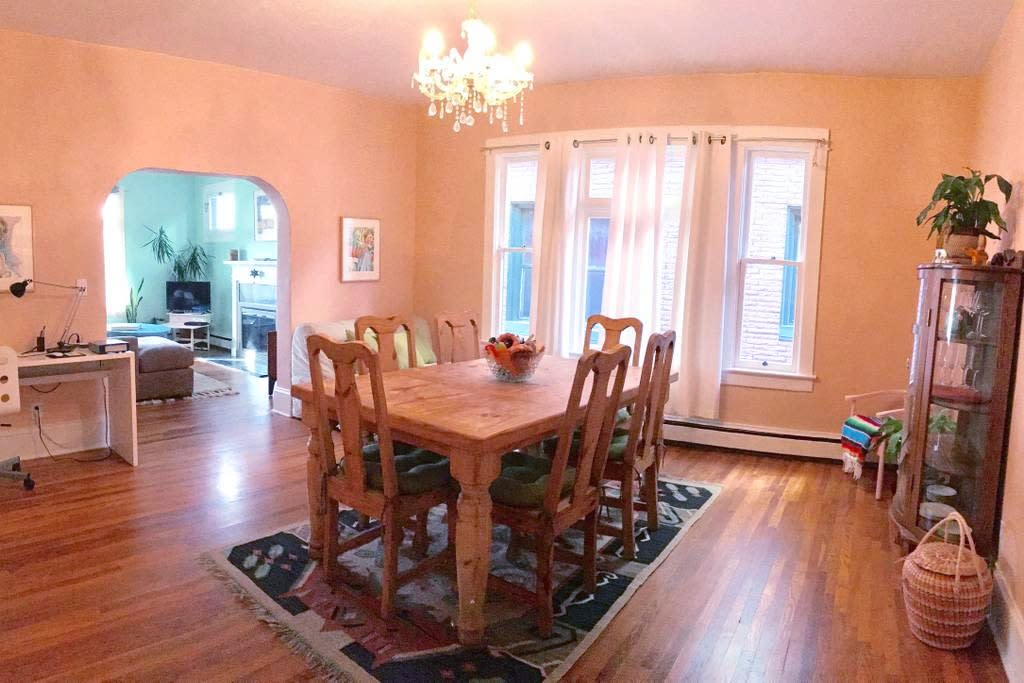 Here's another great family option close to all of the fun and educational attractions mentioned in the above listing. In addition to its kid-friendly location, this cozy home has a Wes Anderson vibe, complete with board games, a treehouse, and a swing set.
Perks:
Backyard play area
Dog-friendly
Big & Fancy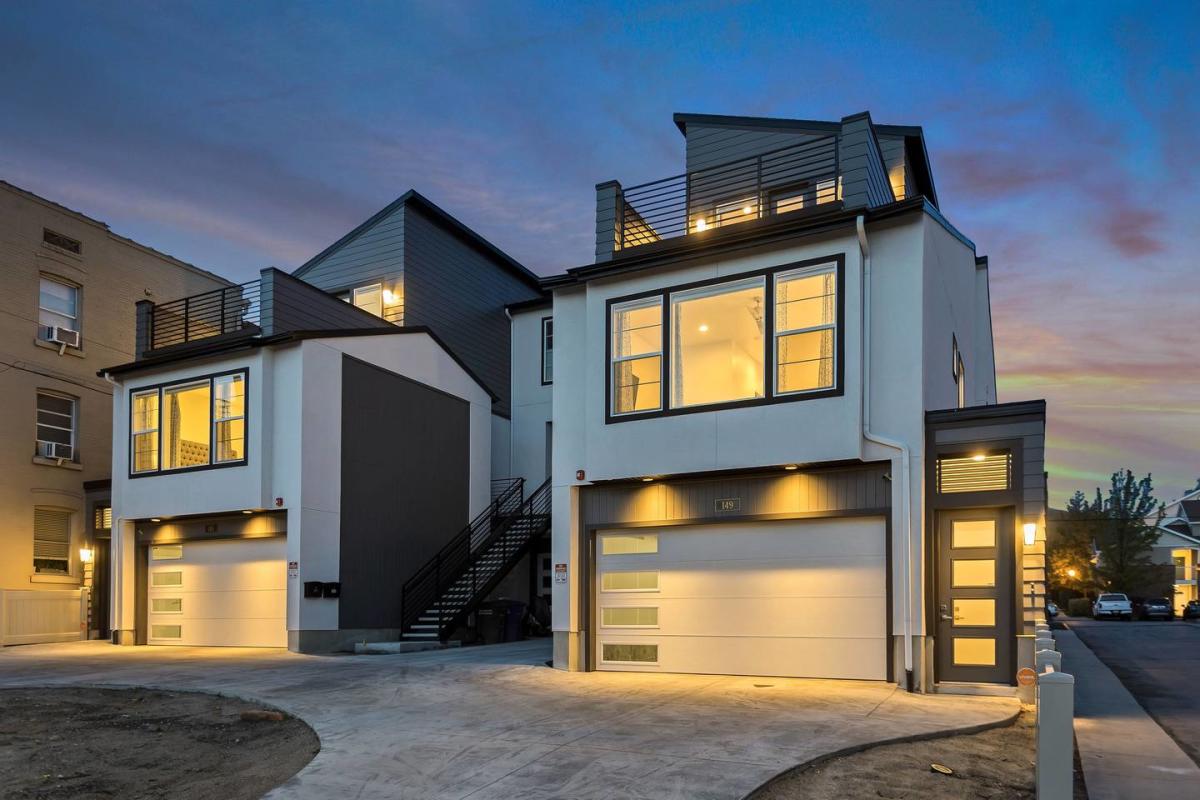 If you're looking to treat yourself (and a bunch of friends and family members), this is the place. Located midway between the Downtown and Central City neighborhoods, and right on the border of the historic Avenues neighborhood, this four-bedroom home comfortably sleeps 11 people. Its open concept makes it easy to spend quality time with your crew—if you can peaceably decide who gets the master suite with the soaking tub.
Perks:
Laundry room
Rooftop deck
Pinball machine
Hot tub
4 large flat screen 4K HDR TVs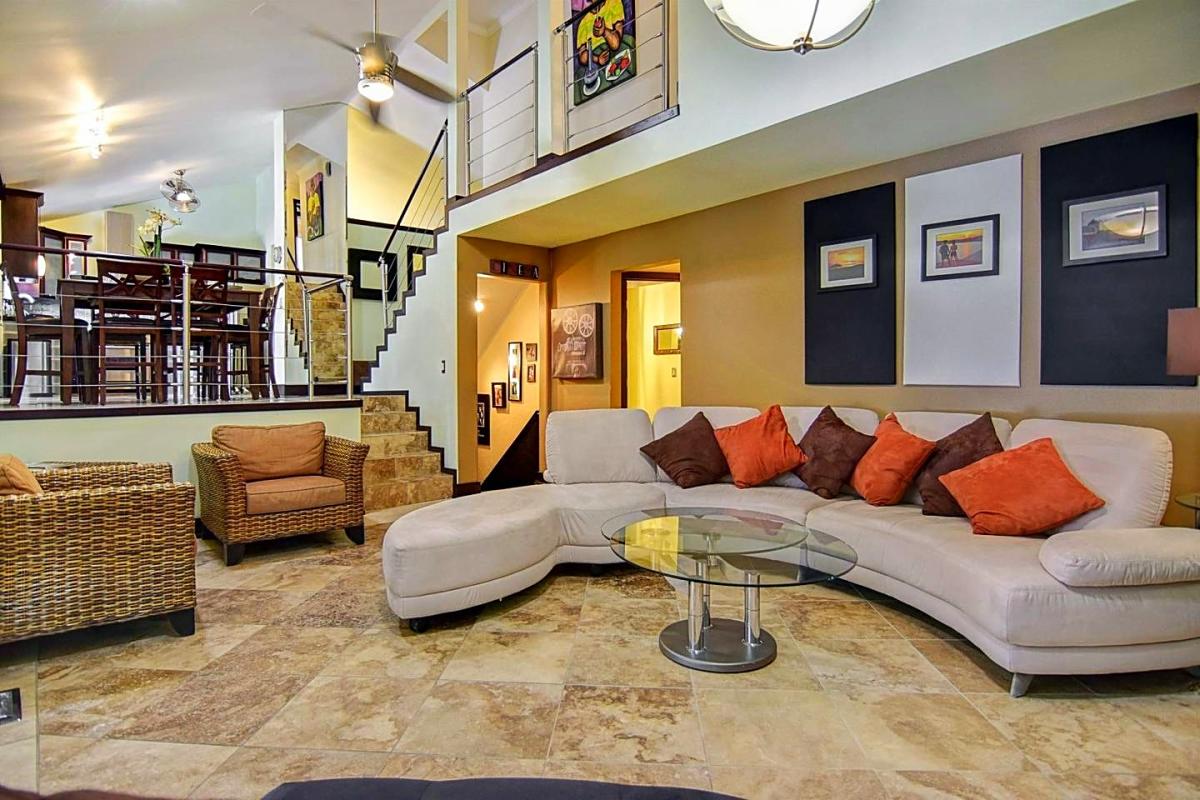 If you like to ski, hike, or mountain bike when you're not residing in the lap of luxury, think about booking the Rio Brazilio, a 6-bedroom, 5-bathroom villa located in Sandy. This palatial paradise offers more amenities than we can list here, so we'll just start by enticing you with the custom Brazilian artwork and built-in churrasco-ready stone rotisserie grill. Be advised that your pleasure center may become overloaded during your stay.
Perks:
Movie theater
Saltwater swimming pool
Hot tub
Pavilion
Deck
BBQ
Game room
Downtown Business Trip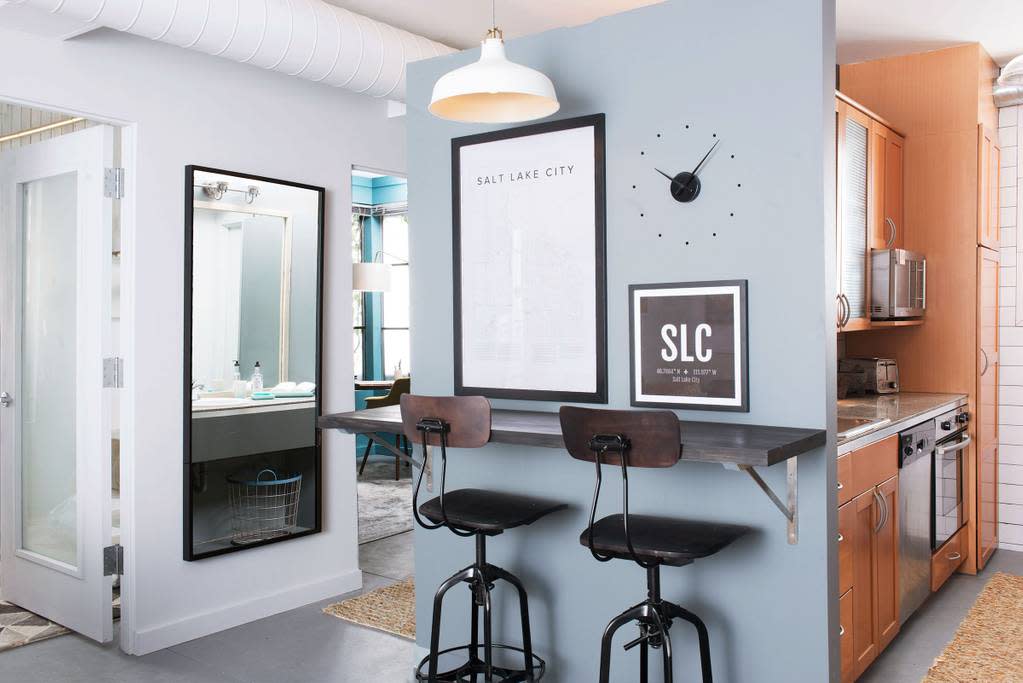 For those who don't like the feeling of being on the road, this cheery, colorful two-bedroom condo will make your work trip feel more like traveling to a second home. It's a short walk from the Salt Palace Convention Center, as well as everything else downtown has to offer, including Temple Square, City Creek Shopping Center, Vivint Smart Home Arena, and dining and nightlife galore. When you're not out on the town, enjoy this condo's plentiful natural light, cozy workspace, and handmade (by the host!) furniture.
Perks:
Netflix
Fully stocked kitchen
Washer, dryer
Office space
For the business traveler who likes to burn some calories, these are the perfect digs. You can swim, spin, or run without leaving the building, and if you prefer to jog or pedal in nature, City Creek Canyon is just few minutes away. This executive loft is located right on the border of downtown proper, so you can walk to all the fun city stuff in minutes while still enjoying a slight breather from the bustle.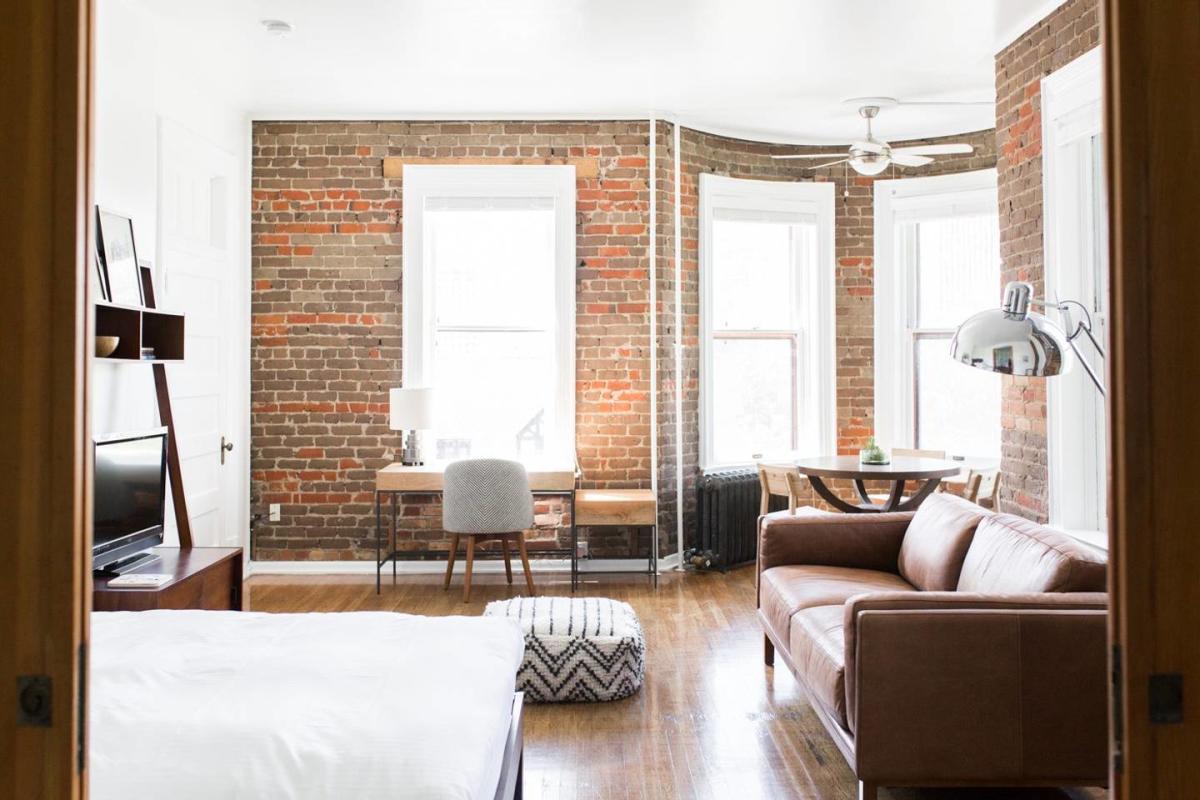 Perks:
Gourmet kitchen
Rooftop deck with pool, BBQ, and firepit
Gym access
Soaking tub
50-inch TV
Fiber-optic internet
Unique Adventure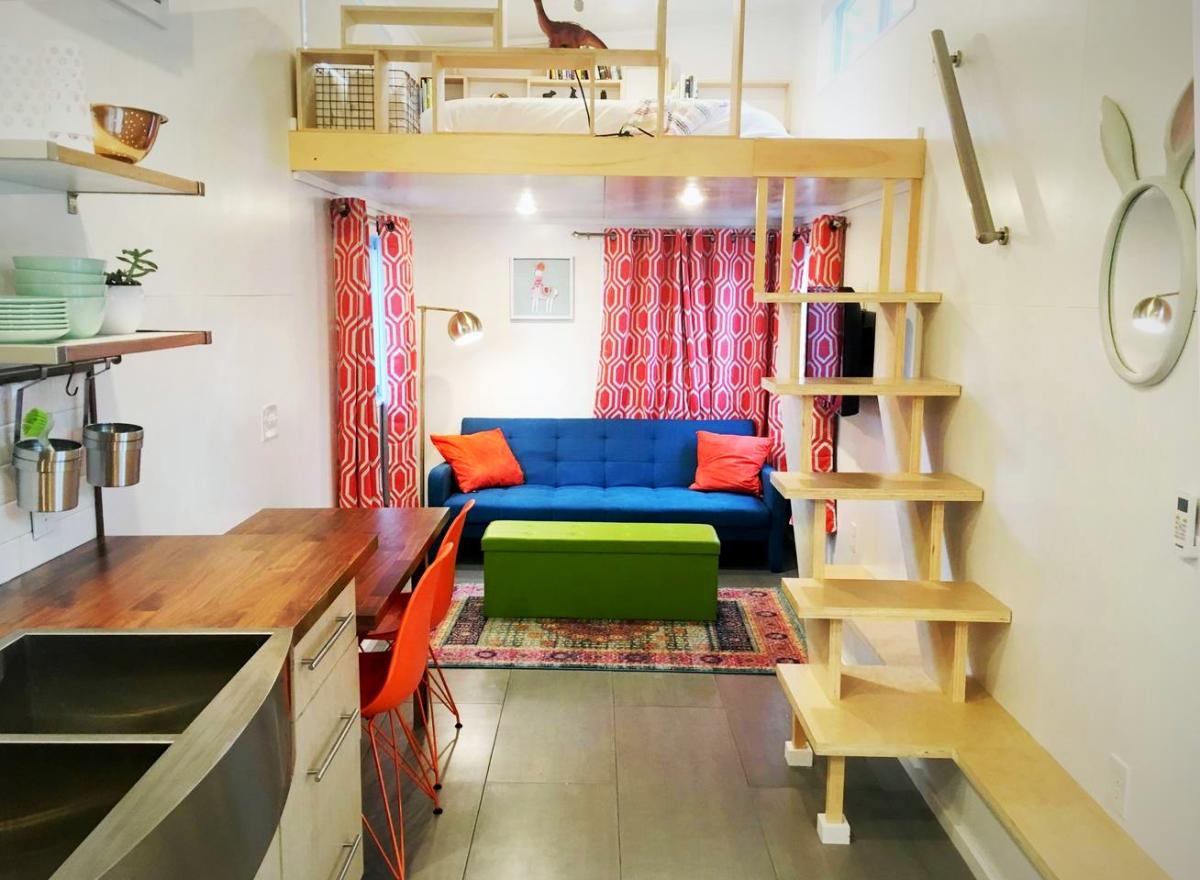 Whether you've always wanted to stay in a tiny house, you're thinking about going tiny yourself and want to give it a test run, or you just want a fun, funky, affordable place to crash, this is the pint-sized place. You'll be surprised at how much comfort, convenience, and style it packs. This tiny house is located in Draper, with easy access to trails, skiing, Rio Tinto Stadium, and the Living Planet Aquarium.
Perks:
Hot tub and pool access
Netflix
Kitchenette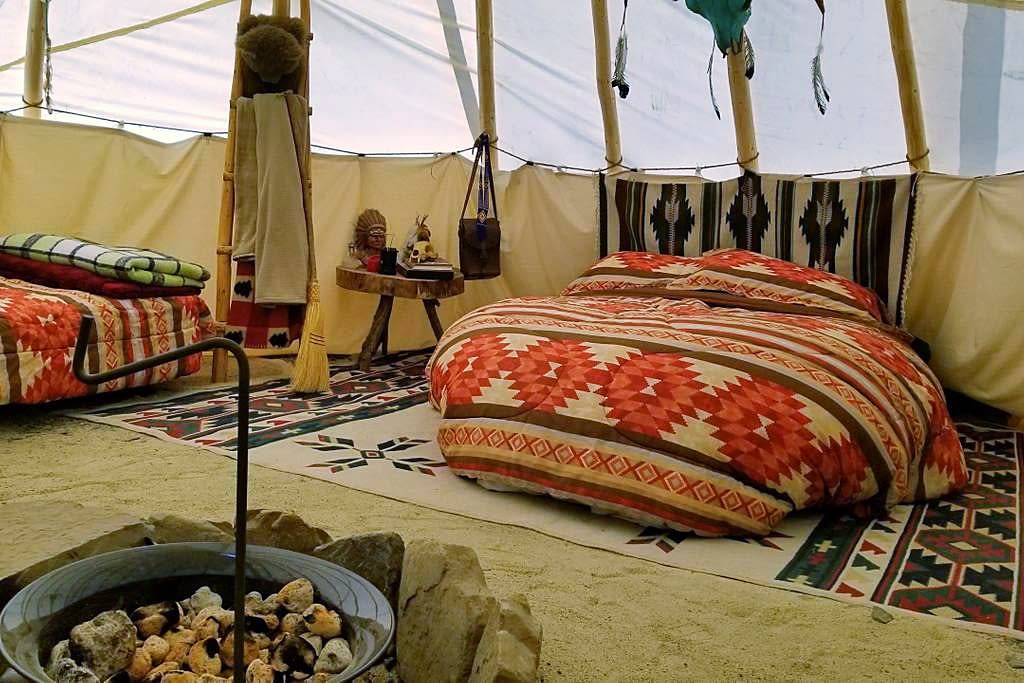 Located on a private dirt road in the Big Cottonwood Canyon forest, this tipi offers a glamping experience that doesn't go too far on the "glam" tip. It comfortably sleeps four people, and a firepit inside the tipi keeps things cozy and toasty. There's also a fire pit outside, with four deck chairs, perfect for roasting s'mores. Best of all, when you stay in BCC, you have two ski resorts, dozens of trails and even more rock climbing routes, and mountain wildlife right out your front door. Or flap.
Perks:
Firepits
Outhouse
Towels and spring water jug for hobo showers