It all began with a royal wedding on a sunny October day in 1810. Bavarian Crown Prince Ludwig welcomed the denizens of Munich to a festival commemorating his marriage to Princess Therese Charlotte Luise of Saxony-Hildburghausen. For five days, folks celebrated on the fields adjacent to the city gates, capping the festivities with a horse race. Anniversary celebrations to acknowledge the royal nuptials took place the following year, and thus, the tradition of Oktoberfest was born.
Here in Utah, two years after the tram began making laps with skiers packed aboard, Snowbird kicked off its own Oktoberfest tradition in 1973. This year marks Snowbird's 46th annual Oktoberfest, one of Utah's longest-running cultural events. Spanning August through October, over 60,000 guests are expected to travel to Snowbird to enjoy the scene and suds. Snowbird's Oktoberfest kicks off August 18th and will run Saturdays and Sundays through October 21st (including Labor Day Monday).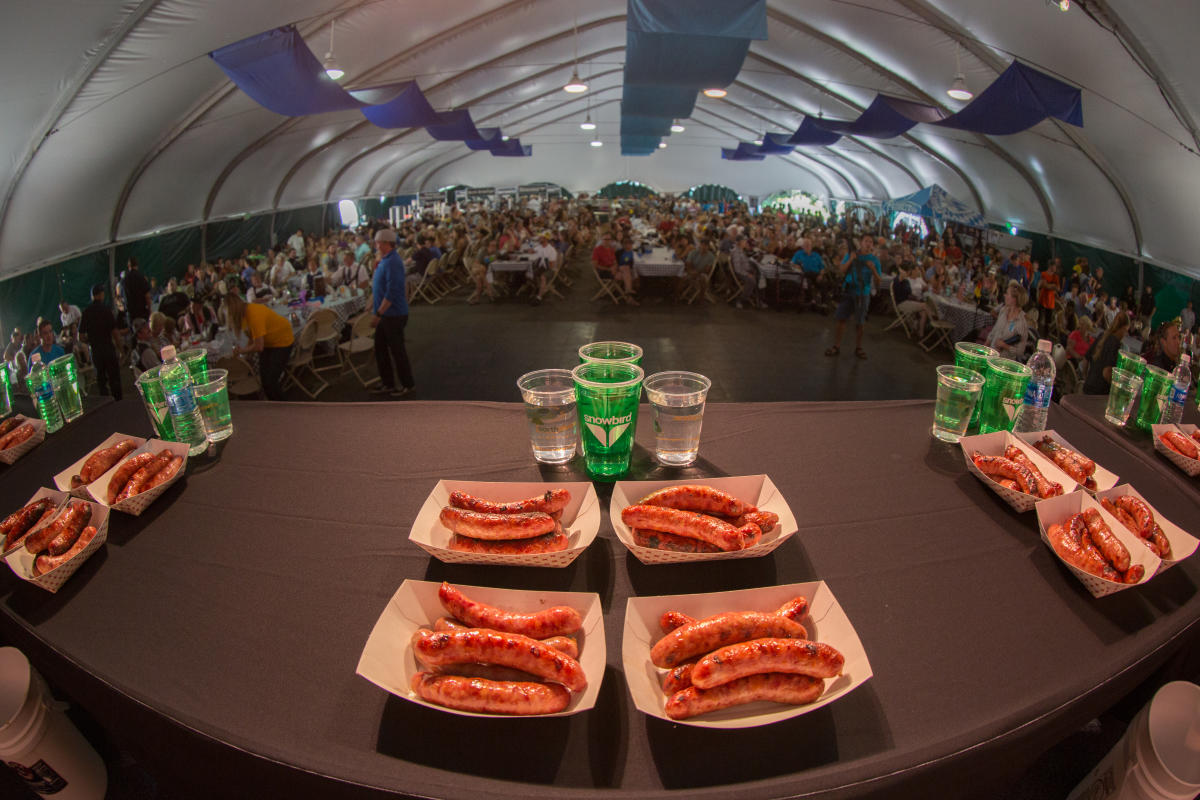 The  Snowbird Bratwurst Eating Championship will go off on Saturday, August 25th after the initial festival launch the weekend prior. As an officially sanctioned Major League Eating (MLE) event, top-ranked competitive eaters from around the US will flock to Snowbird to stuff their gullets with as many bratwursts as possible in a 10-minute time frame. Amateur eaters may compete by registering in advance, but the spectacle of this feat is equally exciting for bystanders. (Last year's champion scarfed down 42 bratwursts within the time allotted; that's an average of over 4 brats per minute!)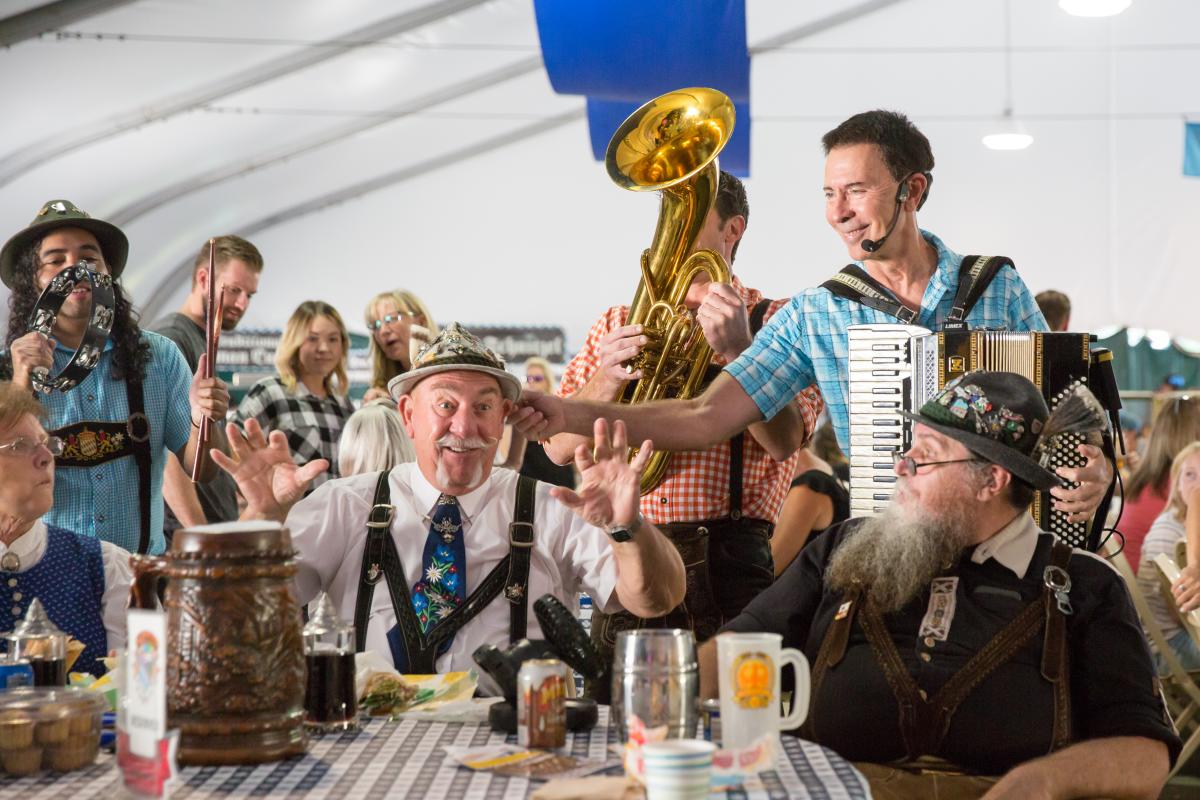 The pageantry and spectacle of Oktoberfest, paired with the opportunity to escape the valley heat or admire the beautiful fall foliage is what makes this event so popular. Expect fantastic people watching as enthusiasts don traditional and exquisite handmade garb. With over 50 varieties of beer and a huge biergarten, patrons can enjoy both traditional German-style beers and local craft beers. For those not beholden to beer, there will be a wine garden and a Jägermeister tent in addition to non-alcoholic libations. Live music will featured on two different stages and the billowing calls of the Alphorns can be witnessed each day from atop Hidden Peak at 3:15 pm.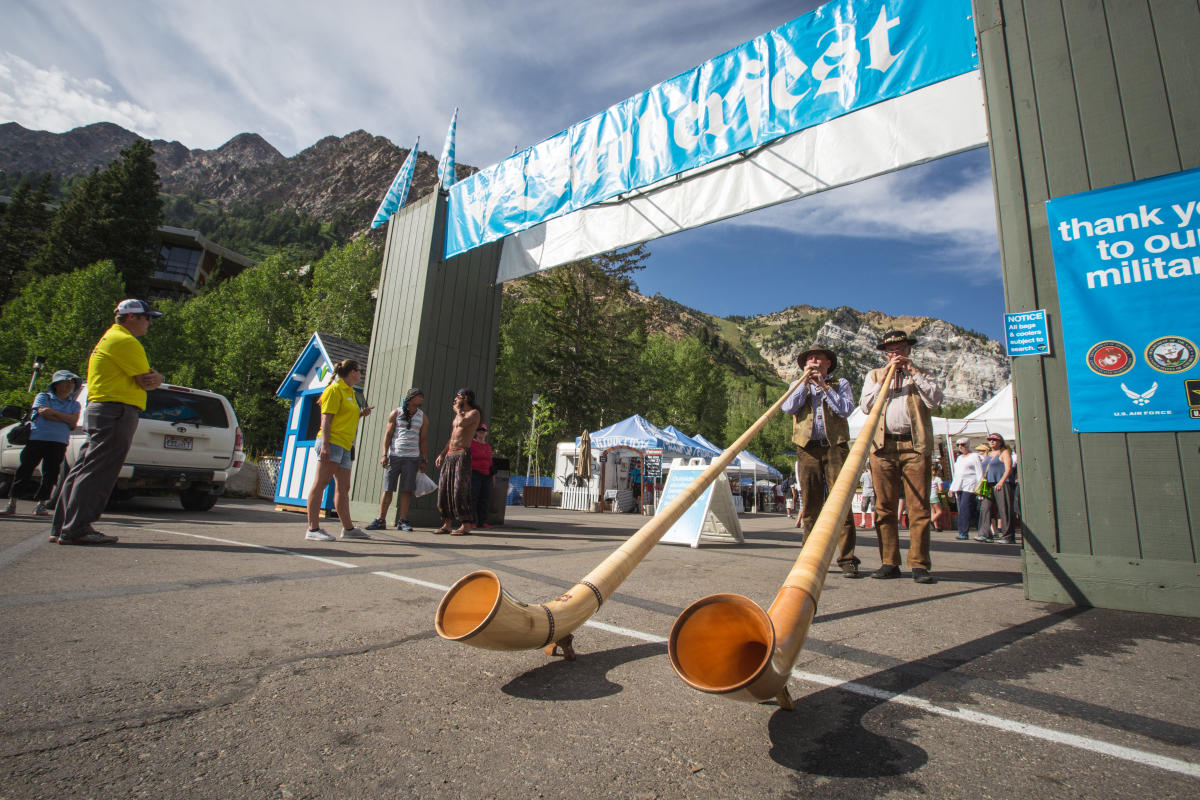 Many vendors from near and far will be present to hawk unique gifts and souvenirs, which are fun to admire while enjoying the cool mountain air. Traditional German fare and decadent chocolate creations crafted by Snowbird's Executive Pastry Chef, Anna Hirst, will provide ample sweet and savory food in addition to Snowbird's usual dining options.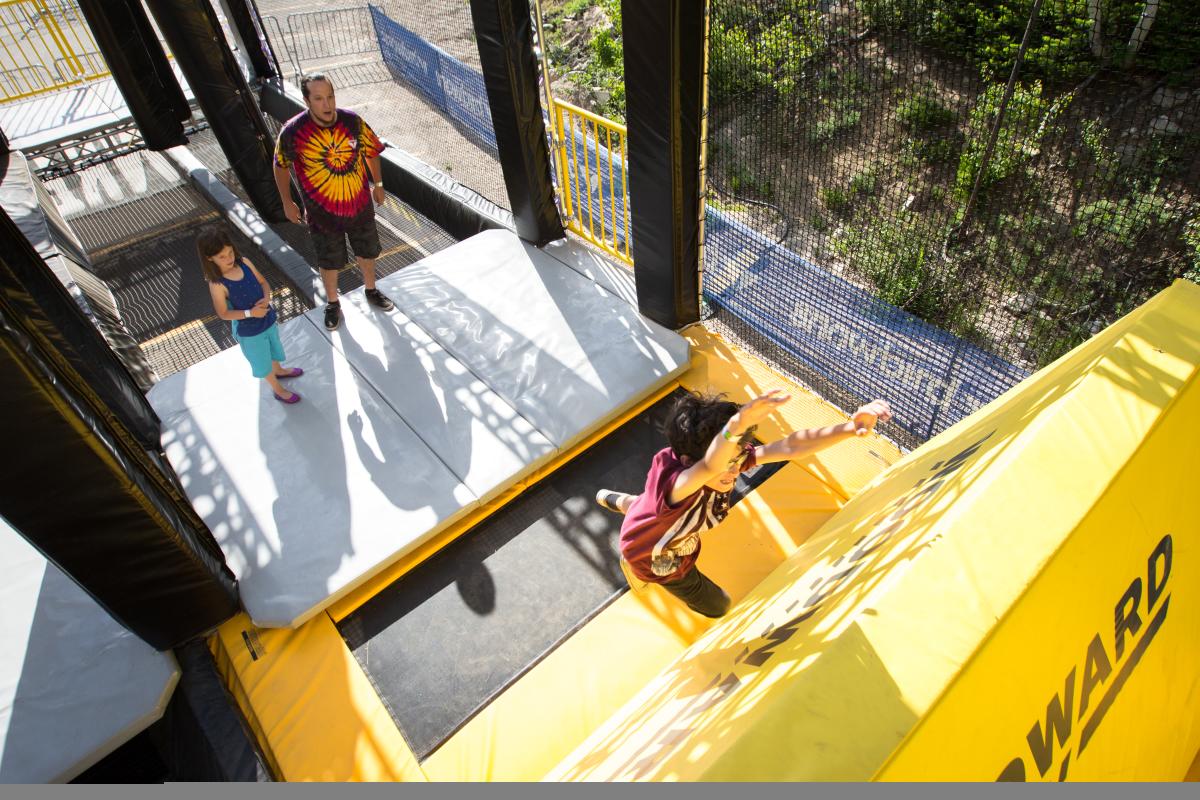 The excitement of Oktoberfest at Snowbird extends far beyond the suds. Outside of beer and food, Snowbird's diverse roster of summer activities will still be available. Head up Little Cottonwood Canyon a bit early and enjoy a scenic tram ride or an adrenaline-fueled mountain bike descent down the Big Mountain Trail. The new Woodward WreckTangle near the base area offers kids and adults a chance to hone their inner ninja warrior with moving obstacles, a zip line, and tricky physical challenges. Patrons can also pan for gold, take a hike, scale the climbing wall, soar down the zip line, or ride the mountain coaster. There is no shortage of diversions for those who want to make a day out of attending Oktoberfest. We couldn't even list all the options here! Check Snowbird's Summer Activities page for more info.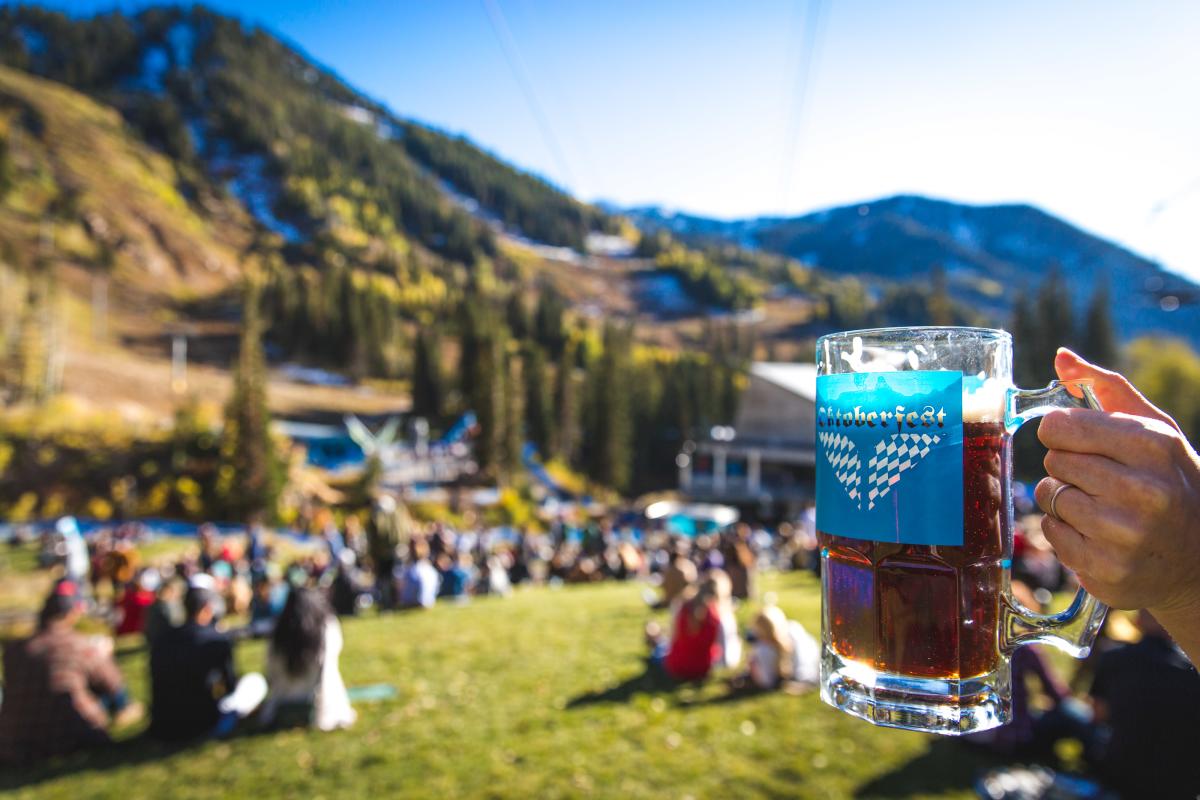 Snowbird regulars and first-timers alike will also be excited to see new improvements and projects at the resort this summer. Perhaps the most dramatic improvement will be the new sky bridge connecting the Cliff Lodge to the Tram Plaza. Gone are the winter days when visitors must struggle across the pitch of Chickadee dodging novice skiers and riders through the snow to reach the heart of Snowbird's Plaza. Patrons will also notice the very chic and newly upgraded restrooms in the tram center and an overhaul to the beloved Forklift Restaurant. A new restaurant in the lower level of the Cliff Lodge will be under construction this summer/fall, expanding the patio and providing diners with huge views of the mountains above.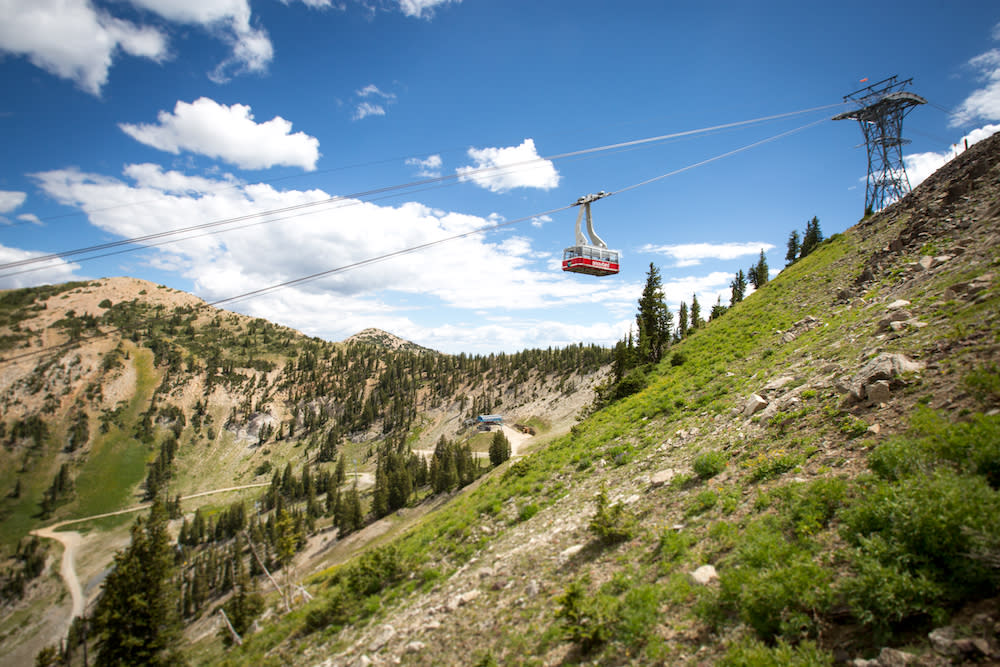 A more scenic and diverting escape from the valley would be tough to find. Be sure to head up to Snowbird this summer or fall to enjoy Oktoberfest. Prost!
Tips for Making the Most of Snowbird's Oktoberfest
Pro Tip: Subscribe to Snowbird's email list for lodging and spa/activity specials to make a long weekend or staycation. This is a fantastic option since you can fully indulge in Oktoberfest without the added worry of finding a ride home or designating a sober driver.
Buy a commemorative 1-liter Snowbird Oktoberfest Mug to knock a few bucks off your beer purchase. They are fun to collect each year!

Drink plenty of water and pack the sunscreen! The elevation at Snowbird is such that dehydration is exacerbated (plus you'll be drinking alcohol) and the sun's UV rays are more intense.
Leave the pooch at home. Though a festival is often a fun and exciting scene for the 4-legged members of your family, Snowbird lies within the Salt Lake Protected Watershed, and dogs are not permitted up Little Cottonwood Canyon.
If you have traditional German garb or costumery, wear it! Many people dress up for the event and a good number of Snowbird's employees will also be dressed to impress.
Due to the popularity of this event, parking is limited and Snowbird will be charging $10 per car for a parking space. Please do your part to carpool and help reduce congestion and emissions in the canyon. We came up here for the fresh air, after all!
Practice the following phrase several times before heading off to Oktoberfest: "Halt deine Lederhosen fest!"  [hahlt dey-neh leh-dehr-ho-sehn fest] which means: "Hold onto your Lederhosen!"