Salt Lake City's The Gateway is a huge, open-lifestyle center that provides constant excitement and entertainment. The Gateway, located adjacent to Utah's historic Union Pacific Depot on the west side of Downtown, features a variety of seasonal events, as well as countless entertainment options, restaurants, and bars. The mall opened in 2001 and has since been renovated into something that is not just a typical mall but a rich experience of culture, fun, and pleasure. Whether you want to spend a day with your family, hang out with friends, or casually explore what this awesome location offers on your own, The Gateway has something for everyone.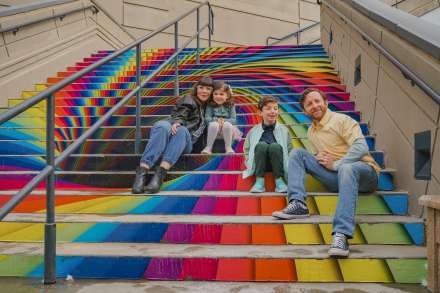 What The Gateway Is All About
The Gateway's history is remarkable, too, opening right before the 2002 Olympic Winter Games that were hosted in Salt Lake City. Gateway Marketing and Events Director, Jacklyn Briggs, says, "The vision was to create a vibrant downtown, lifestyle destination that would bring the community together for entertainment, events, and festivals while establishing an urban work campus with a coworking space."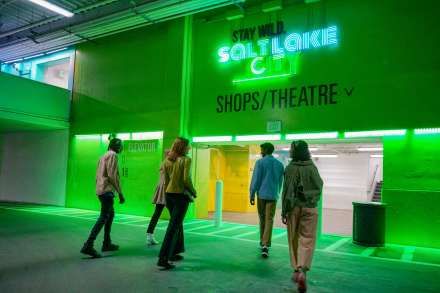 Diverse Programming and Events
Events and activities here at The Gateway include goings-on that are family-oriented, nightlife, arts, and festivals. Briggs says, "This spring, The Gateway has a diverse programming lineup to entice the community to unite, be social, and celebrate. And the best part is, almost everything is free and open to the public."
Here are some unforgettable events and activities The Gateway has available during springtime: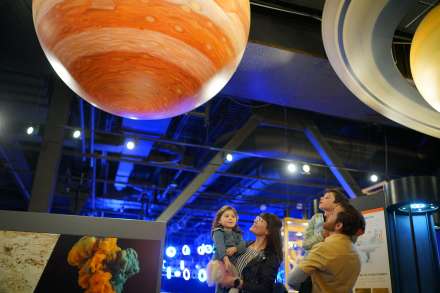 Family Fun
The Clark Planetarium
The Gateway offers plenty of family-filled, age-appropriate discoveries. For instance, The Clark Planetarium has been a staple in SLC for over 50 years. The Planetarium has a handful of options, including the groundbreaking Earth exhibits or the glowing, cosmic light shows.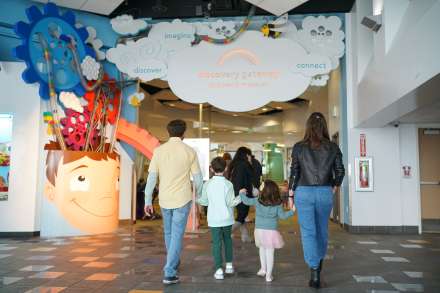 Discovery Gateway Children's Museum
Discovery Gateway Children's Museum is also at The Gateway, with more exciting exhibits such as the Utah Jazz Catapult and the Dinosaur Exhibit. This museum is hands-on and interactive and leaves you spending hours learning various topics and subjects.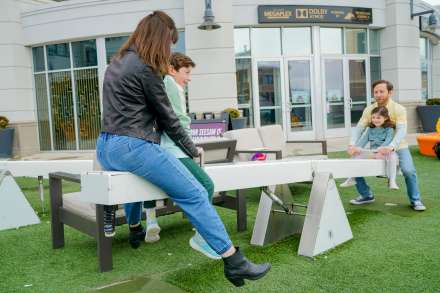 More Family Fun
Of course, since this is springtime, if you'd prefer to spend your day outside in the crisp, sunny air, there are a slew of recreational structures and sitting areas to choose from, like The Gateway's beautiful swing sets, hammocks, fountains, and outdoor fireplaces.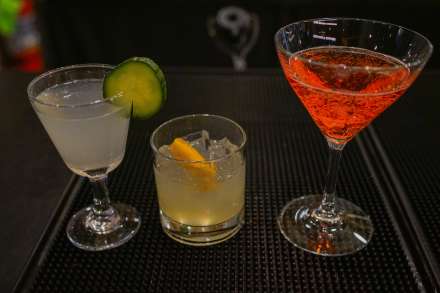 Nightlife Places to Check Out
Wanting a night out without the kids? The Gateway has many choices that range from bars to restaurants to live entertainment.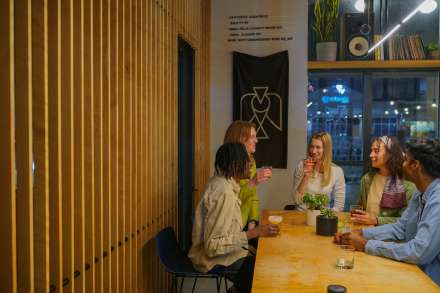 Seabird and Bout Time Pub and Grub
Seabird is the spot to check out if you want an intimate space, contemporary cocktails, and mood lighting. Or, if your taste buds are leaning towards classic pub food, billiards, and beer, you can get yourself to Bout Time Pub and Grub.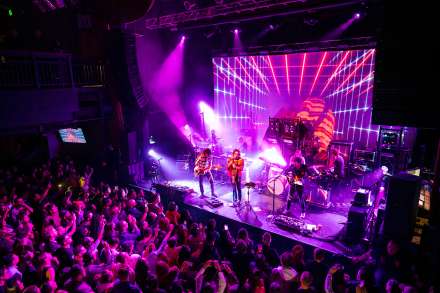 Yoga and Beer, Wiseguys Comedy Club, and The Depot
Speaking of beer, there are weekly events such as Yoga and Beer, where you can relax and unwind in a social, energizing way! If that differs from your vibe, Wiseguys Comedy Club and The Depot are around the corner with nightly entertainment in the form of an enjoyable comedy show or live music from national bands, respectively.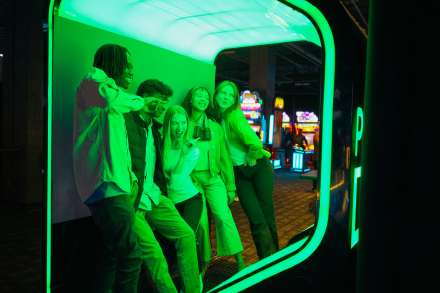 Flanker, Dave & Buster's, and HallPass
If you're looking to get active and engage in the unorthodox with friends, Flanker has happenings such as virtual sports simulators and karaoke rooms with fresh food that you can grill at the table. Dave & Buster's provides drinks paired with classic and modern video games that are sure to entertain any night of the week. Also check out HallPass, the first food hall that opened in Salt Lake, for some delicious options in a cool atmosphere.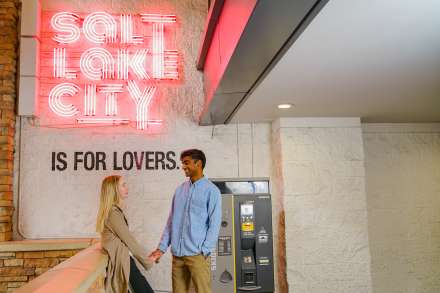 Instagram-Worthy Public Art & Murals
Salt Lake City puts the artist at heart, and The Gateway has a plenitude of public art and murals to see. One of the iconic displays is the neon, hot pink sign that reads "SLC is for Lovers," as well as the spirited Angel Wings where you can take Insta-worthy photographs to remember your time here in SLC.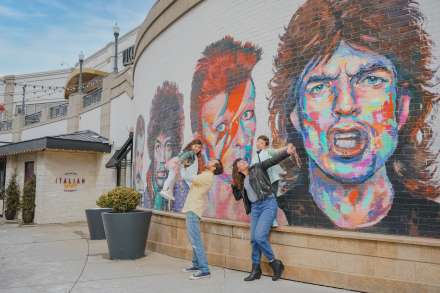 Additionally, The Gateway is home to outlandish, bigger-than-life artworks such as the Rainbow Stairs, the Legends of Rock Mural and the 2Alas Mural that capture the eyes and mind. These murals and paintings are all along The Gateway and can be seen while walking the mall's grounds.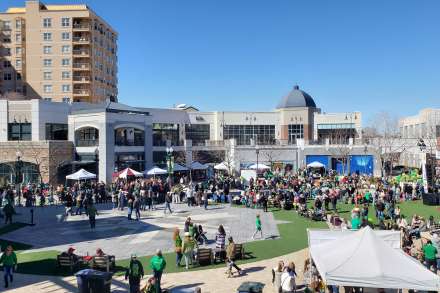 Special Events for Your Calendar
St. Patrick's Day Parade & Festival
So many unique events happen at The Gateway during springtime. For instance, the infamous St. Patrick's Day Parade and Festival will begin March 11, 2023 at 11 am. This year's theme is "Shades of Green: a Celebration of Diversity Within the Irish Community." The community seeks to celebrate their shared history, lineage, and love of Irish heritage. "The St. Patrick's Day Parade is by far our most popular event of the spring season. In addition to having the parade march through The Gateway on the Rio Grande, [The Gateway] hosts the Siamsa Celtic Celebration at the Olympic Plaza," says Briggs. "The celebration includes live music and dance acts, food and artisan vendors and a bar." Expect many people wearing green and celebrating with delicious Irish drinks and traditional Irish food. Be sure to get there early for the start of the parade!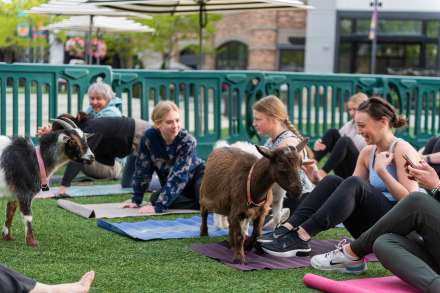 Goat Yoga (Goga)
Another intriguing event that occurs at the Gateway is "Goga," or where "goats and yoga meet." It is available every Tuesday from 7 pm to 8 pm. You can quickly sign-up on their website and discover the calming beauty that is yoga with an adorable, mindful goat. Kids ten and under can attend free without any charge. Active animal lovers will surely want to take advantage of this incredible opportunity here at The Gateway!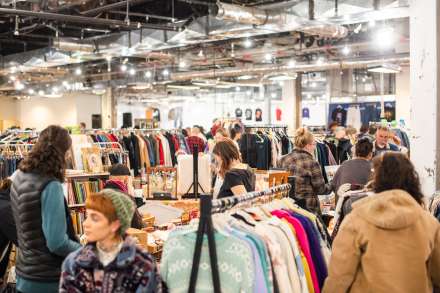 Urban Flea Market, Urban Arts Gallery, and Farmer's Market
The Gateway is also home to events such as SLC's Urban Flea Market, multiple events at Urban Arts Gallery, and the Winter Farmer's Market. The Urban Flea Market is held on the second Sunday of each month, where shoppers can explore a 20,000–square foot space for all kinds of unique finds. Stroll and peruse these local businesses while enjoying the fresh spring air. Briggs says, "Hosting events [like the local markets and galleries) position us as vital community members by creating an urban gathering place. The events and festivals also help support our merchants." These events happen frequently and are filled with handmade, vintage memorabilia for purchase.
Visit The Gateway
Overall, The Gateway is an exciting place during springtime with numerous festivals, sights, and events. The fun is year-round at The Gateway, the perfect spot for all ages and people. Briggs concludes, "Our goal is to provide a safe and vibrant environment where families and friends can come together to enjoy the best of Salt Lake City. Locals and visitors alike are all welcome here. There is truly something for everyone."
For more information, check out atthegateway.com for specific details on these events and places. Cheers to fun and to spring!