FAQ's
Q:
What is the legal drinking age in Utah?
A:
You must be at least 21 years of age to purchase, possess, or be provided with an alcoholic beverage. Regardless of age, you should expect to show ID whenever purchasing alcohol or entering a bar. Acceptable forms of identification include a valid passport, a valid US driver's license, military ID card, or state-issued ID card with date of birth and a photo.
Q:
Where can I buy a cocktail, wine, or beer in Utah?
A:
Liquor, wine, and beer are available by the glass at licensed restaurants and bars. Wine and beer may also be available by the bottle in these establishments. A few establishments may offer only wine and beer. Beer may also be purchased at places that have a beer-only type license. These venues might include breweries, beer bars, taverns, small restaurants, cafes, snack bars, etc.
At a restaurant (as defined by Utah state law), you are required to order food with your alcoholic drink even if you are seated at the bar. Someone under the age of 21 may not be allowed into the bar area of a restaurant.
At a club, both bar and table service are often available. Some clubs allow patrons under the age of 21. However, anyone under the age of 21 is not allowed in the lounge or bar area. You are not required to purchase food at a club.  
At a bar, only persons age 21 and older are allowed to enter. Frequently both bar and table service are available. You are not required to purchase food at a bar.
At a beer-only establishment, you are not required to purchase food with your drink. However, people under the age of 21 may not be on the premises.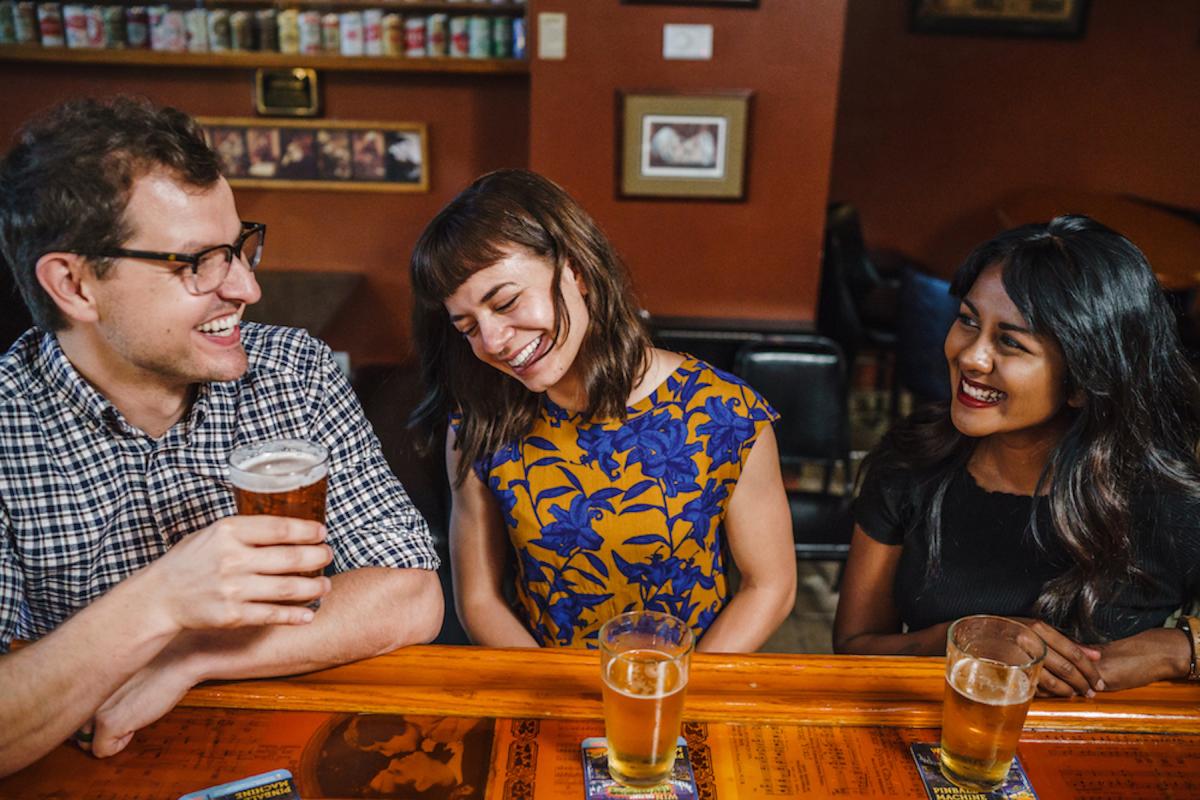 Q:
Where can I buy alcohol to go?
A:
All liquor, wine, and beers with an ABV above 4% must be purchased from a Utah state liquor store or a package agency. There are 41 state stores (including three specialty wine stores) and 111 smaller package agencies. Some hotels and resorts have package agencies to accommodate their guests. Beer (with 4% ABV or lower) in bottles or cans may be purchased at most grocery and convenience stores in Utah. Breweries, wineries, and distilleries may also offer their products in bottles or cans that can be purchased onsite.
Q:
What the hell is the Zion Curtain?
A:
Technically, the Zion Curtain no longer exists. But many restaurants still adhere to this rule due to confusion about what has now been dubbed "The Zion Moat." You may order your drink at a bar in a restaurant, and then see your tender move into the kitchen or behind an opaque surface to actually prepare the drink. That's the Zion Curtain! An old law stated alcoholic beverages had to be prepared out of sight of other patrons. The practice still persists.  
Q:
What are those doo-dads on top of the liquor bottles?
A: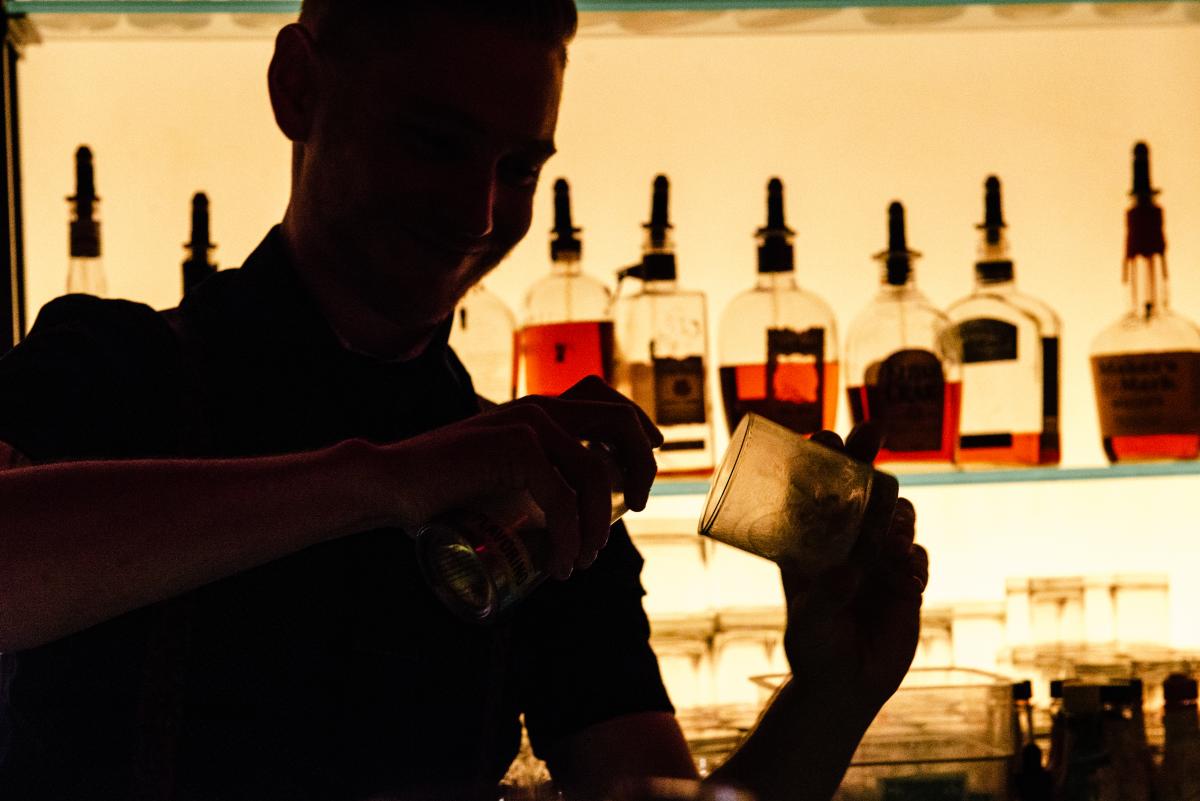 Good eye! That machine, the Berg All-Bottle™ 704 liquor control system, measures out liquor into your cocktail. Bars and restaurants are required to use them for the primary liquor in a drink. The Berg counts the number of shots poured along with metering out a precise amount of booze — 1.5 ounces. You may notice cocktails here don't have quite the same kick as they do in some other states, but they are expertly crafted to be delicious and delightful. And many bartenders will layer liquor, liqueurs, beers, wines, and more to create the perfect sip.
A: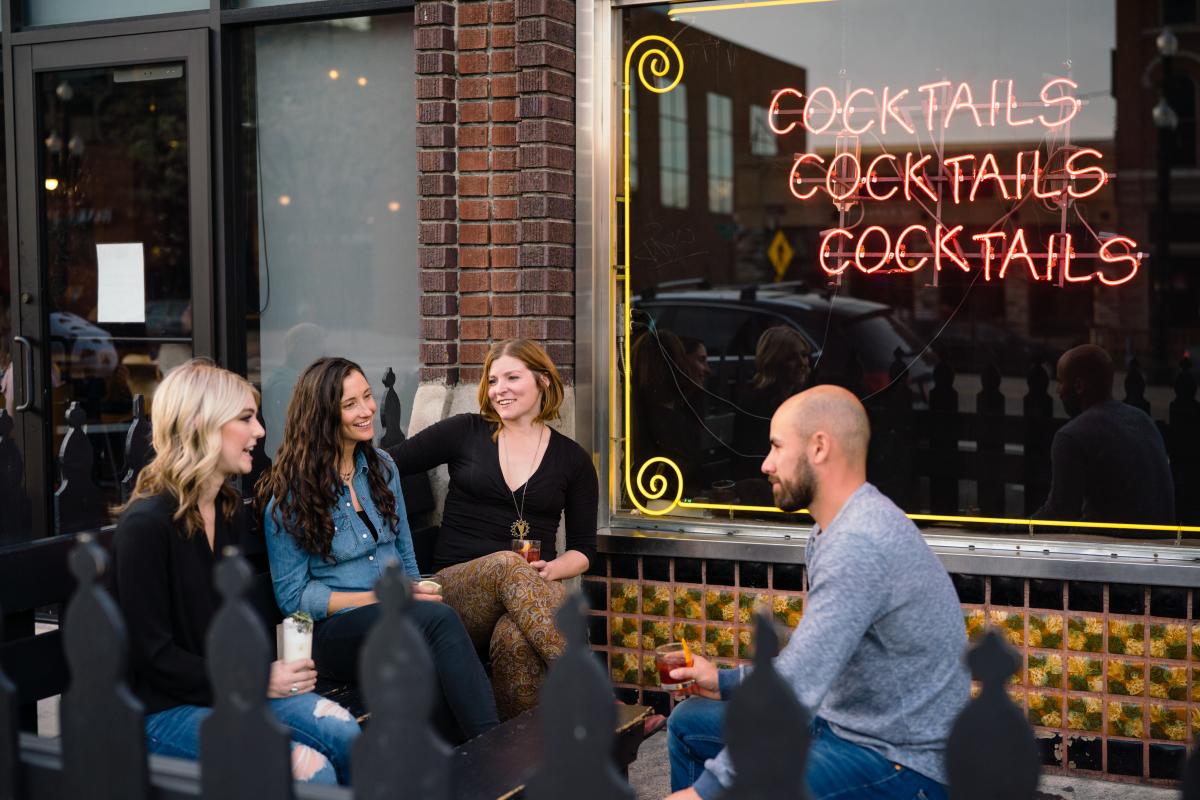 Yes and no, but mostly no. State law prohibits consuming liquor in a public building, park, stadium or on a public bus. A person may not be intoxicated in a public place to the degree that they present a danger to themselves or anyone else. Open containers of alcohol are not allowed in motor vehicles. And as a general rule, a person may not bring an alcoholic beverage onto the premises of an establishment that is open to the public. This means you won't find anything except beer at major sporting events and most outdoor events.
Q:
What is the BAC limit in Utah?
A:
Recently, Utah instituted the strictest DUI law in the country — 0.05%. That means locals and visitors are extra careful about avoiding driving after drinking. In exchange, Utah had just 12% of fatal traffic accidents attributed to drunk driving in 2017. (That rate is closer 28% for the rest of the country.)
Q:
May I bring alcohol to Utah?
A:
No. Under Utah law, alcoholic beverages (hard liquor, spirits, wine, and beer) must enter the state through the Department of Alcoholic Beverage Control.
Q:
What if I want to serve wine or liquor at a private event in Utah?
A:
Utah's state liquor and wine stores have an excellent selection of wines, spirits, and beers on hand. The DABC keeps their stores well-stock. However, if you want a product that the organization doesn't normally carry, you may need to special order it in advance. The DABC will order a product from any legal source and foreign products must be available through a US importer.
partners