Photo Credit: Utah Arts Festival
Every June since 1977, a special gathering occurs in the heart of Salt Lake City that's esteemed by travelers, locals, and artists from all around the U.S. The Utah Arts Festival brings community members together around all forms of art through three days of exhibition, activity, and performance. This year's festival is June 23-25 at Library Square in downtown Salt Lake.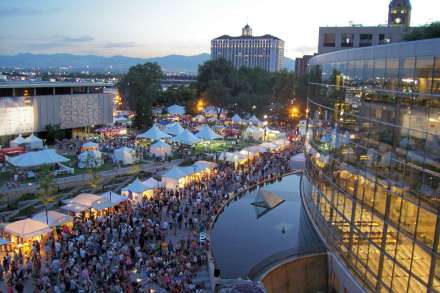 The History & Mission of UAF
As one of the most famous and award-winning festivals in Utah history, the beloved Utah Arts Festival is an expression of Utah's heart and community. Utah Arts Festival Foundation records date back to its first year, and they show the annual festival now includes around 130+ visual artists, 100+ performing artists, 18+ culinary artists, and typically attracts more than 80,000 patrons each year. With such a large count of artists, volunteers, locals, and tourists, the UAF enhances the lives of its admirers and advocates for a strong presence of the arts in Salt Lake.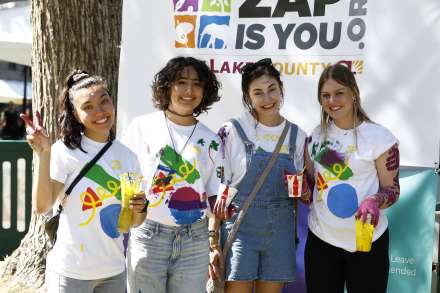 Originally located on Main Street, the UAF moved to Triad Center in the '80s (near the current Gateway mall) and afterwards to the Utah State Fairpark on Salt Lake City's West Side. In 2003, it found its permanent home in Library and Washington Squares off of 400 South, an area which now spaciously hosts hundreds of caravan tents, five event stages, an array of food and beverage vendors, and over 1,000 volunteers. The festival staff strives for the most outstanding production and display it can possibly provide to uphold the excellence of fine art. Held in the middle of June every Summer, the 47th annual festival will span June 23–25, 2023. Despite heavy foot traffic, the square will still be big enough for dance parties, lounging around, and picnics.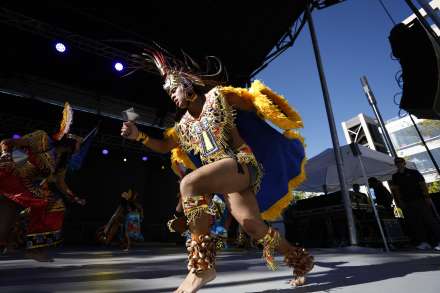 Promoting Diverse Artists and Performers
In recent years, festival staff have increasingly focused on inclusivity, diversity, and LGBTQ+ and multicultural representation in the featured performers and artists. Each year, an application process is held for artists and performers, who are then chosen by a jury of about 170 professional and amateur artists that are passionate about their medium. Each member is selected with the organization's diversity standards in mind to ensure a variety of voices and cultures are represented at the festival.
Emerging Artist Program
In addition to promoting diversity, UAF launched the Emerging Artist Program in 2022, allowing for students and amateur performers and artists for the festival. This year, artists who applied in 2022 for the Emerging Artists Program were selected by the jury to be scheduled for regular programming this year.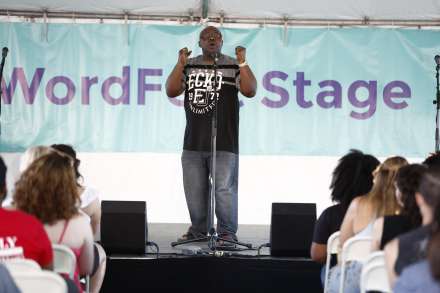 Expansion of Contemporary Arts, Fear No Film Festival, and Slam Poetry
In some of the regular programming categories, contemporary art is constantly expanding each year at UAF. Featured yearly is a maze-like section for graffiti artists to spray paint in real time while onlookers observe their creations coming to life. Another fan-favorite section of the festival is the "Fear No Film Festival," where about 50 independent and locally made films are selected and shown throughout the festival weekend. Festival staff are excited for this year's literary arts section as they will have more additions to the slam poetry performances by adding some regional slam teams that will perform alongside SLC-based talent.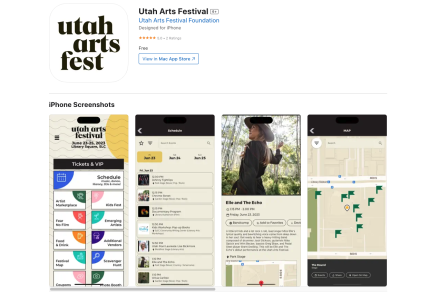 Brand New Festival App
Perhaps the newest and most exciting addition to be made this year is the activation and launch of an app dedicated solely to the Utah Arts Festival, which will be available on Google and iOS app stores in June. In the app, users will be able to buy tickets, view the performance lineup and the list of visual artists, and access coupons for some of the booths only available on the app. This was created in hopes to make the festival a more seamless experience and ensure showgoers don't miss any of the events they're hoping to see.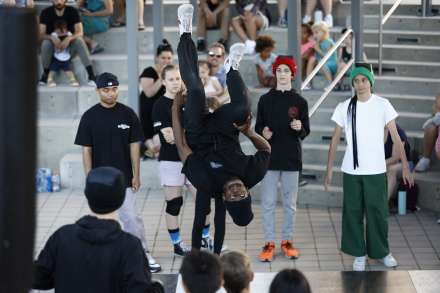 Accessibility and Transportation
Lastly, the Utah Arts Fest made an effort in recent years to increase the event's accessibility. Services including wheelchair parking, accessible toilet areas, closed captions and more ASL performances will be available—it's important to the staff for everyone to have an enjoyable experience. Additionally, for the second year in a row, transportation will be included with the cost of a $16 festival ticket, which doubles as a UTA fare pass. Volunteers will be working a Free Bike Valet in partnership with Salt Lake City Bicycle Exchange, and there will be ADA accessible parking just across the street reserved for UAF attendees.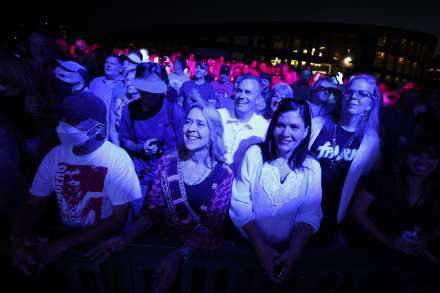 Headlining Musicians: Lyrics Born
The UAF announced three of their 2023 musician headliners that will perform each night of the festival and are set to announce two more headliners in May. The 2023 festival offers an inclusive lineup of highly rated musicians. The first performer, Lyrics Born, will perform on Friday, June 23 at 9:30 p.m. LB is an Asian-American MC and rapper that pairs old-school rap culture with jazz and funk music. Coming up from the early '90s, his 2003 single "Callin' Out" was recently listed in Rolling Stone's "100 Greatest West Coast Hip-Hop Songs of All Time."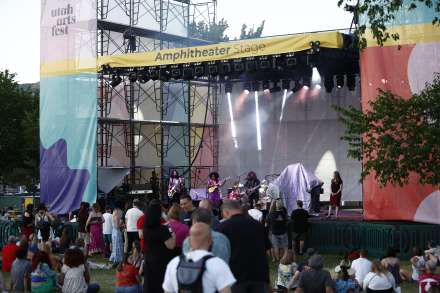 Headlining Musicians: Joslyn & the Sweet Compression
Playing Saturday at 9:45 p.m. is Joslyn & the Sweet Compression—a band that mixes funk and soul with a bold set of smooth pipes by Joslyn Hampton. Revered by Billboard Magazine, they're a romantic swing group that will be best paired with a drink, a partner, and some dance-friendly footwear.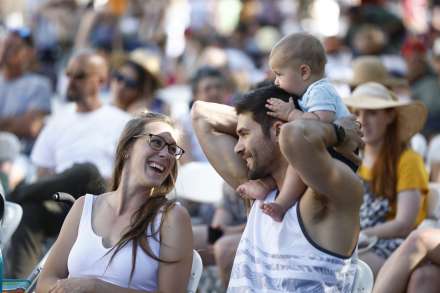 Headlining Musicians: Adeem the Artist
The last headliner, Adeem the Artist, will perform on Sunday at 6:15 p.m. Joining the Arts Fest from a tour that includes a stop at the Grand Ole Opry, Adeem was recently nominated for Americana Fest's Emerging Act of the Year and is a self-proclaimed "weird little rodeo clown." Heavily influenced by country music and gospel, Adeem gives a performance baked in explorations of faith, sexual identity, and poetic self acceptance. Recognized by Rolling Stone and American Songwriter, Adeem's set will close the festival smashingly.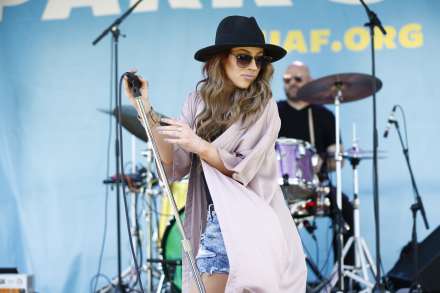 Other Performers
In addition to the festival's headliners, featured artists include Los Mocochetes, Tony Holiday and the Soul Service, and Salt Lake's Ririe-Woodbury Dance Company. These performances will be accompanied by many other acts on the five stages that will be featured around Library and Washington Square. Maps and lineup sheets are included in the Utah Arts Festival app so you won't miss any performance you're dying to see. Currently, there's a list available of scheduled programs on UAF's site.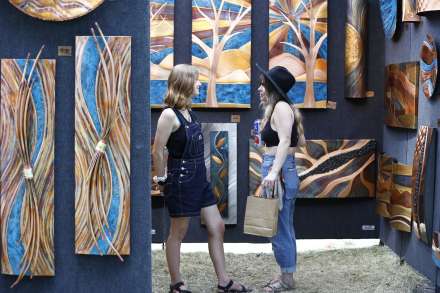 Guide to a Successful Festival Weekend
Single-day and three-day tickets are available right now on UAF's website. VIP tickets are available and include access to the indoor Hospitality Patio where you can find shade, tables, and a nice place to hang out, especially if you're planning on a big party of friends. UAF is bringing back the Big Deal Brunch, which are $40 tickets or group-rate pricing for Sunday, June 25, in the Hospitality Patio. The brunch includes day-of early access to the park, a catered brunch and buffet, live entertainment, an entry to the opportunity drawing, and brunch cocktails and brews.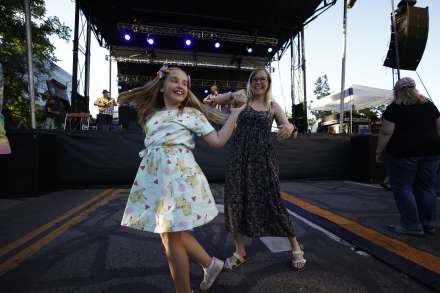 If VIP life isn't your style, seating and open grassy areas around the square are available to enjoy the culinary arts and spectate. A walk around to see the visual artists, performing artists, and literary artists is one of the best memories possible to make in Utah. UAF offers free water at water stations and permits empty reusable water bottles to be filled. Sunscreen, a visor, and sunnies are a must-have, as are as many friends as you can find to bring. With four entrances available and a refreshing fountain by the Library Arch Main Entrance, you'll enter the gates and be instantly entertained.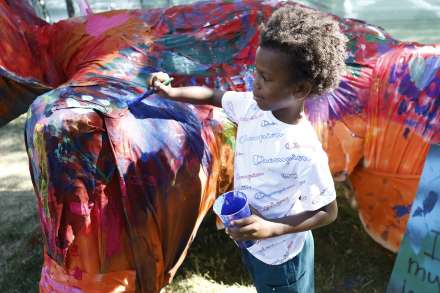 The Art Yard
Once stocked up on refreshments and food, you can see one of the most cherished attractions, the Art Yard, which offers interactive exhibits, face paint, kids and toddler areas, and unique crafts to take home—historically brought to the festival by some of Utah's artistic nonprofit organizations such as the National History Museum of Utah, Utah Black Artists Collective, Clever Octopus, Utah Museum of Fine Arts, and more. The Art Yard was originally intended for kids and has since seen a name change to include the adults aching to participate—it's just that fun.