Photo Credit: Jess Gruneisen and the Utah Pride Center
 
Unapologetically Here and Queer:
Utah Pride Center's 2023 Pride Festival
Utah Pride Center is hosting the 33rd Annual Utah Pride Festival from Thursday, June 1– Sunday, June 4. The Festival is held at a variety of locations throughout the city but centers around the four-day Festival at Library Square (200 East 400 South). This year's theme, UNAPOLOGETIC, aims to fight shame, guilt, and stigma with joy, celebration, and confidence. This year and every year, the Utah Pride Festival creates a space for Utah's LGBTQ+ community and its allies to gather and celebrate queer life at one of the country's largest Pride Festivals.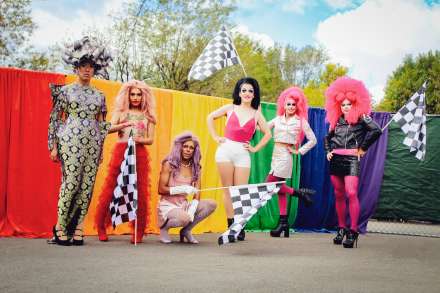 A Brief History of Pride and the LGBTQ+ Community in Utah
Ted Nicholls, the Utah Pride Center's Director of Operations & Special Events, is a native Utahn and has witnessed firsthand the queer community's continued and direct response to oppression. Nicholls, a drag artist himself, can speak to the positive impact drag has while highlighting the fact that drag expression in Salt Lake City dates back to the 1800s. "There is this misconception that this is a lifestyle, or a new thing…but that couldn't be further from the truth," he says.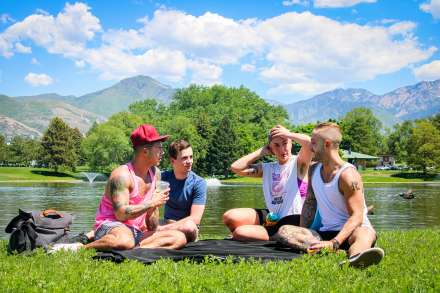 The present-day queer community "is so successful and visible," he says, because of those in the community who championed queer visibility and artistry. "When you grow up in any environment that tells you you're not worthy or valid, whether it's because of a gender identity or a sexual orientation, that causes a craving for community. That is what spawned a lot of the growth for our community," Nicholls says.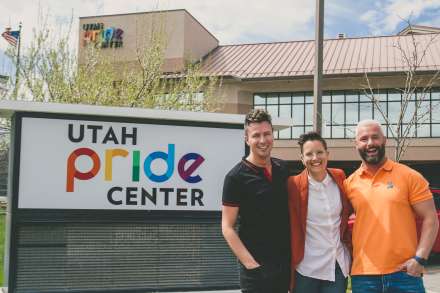 Located at 1380 South Main Street in Salt Lake, the Utah Pride Center was officially established in 2005 after existing previously as the Gay Lesbian Bisexual Transgender Community Center of Utah, Gay and Lesbian Community Center of Utah, and the Utah Stonewall Center throughout the '90s and 2000s. The center, which is a 501(C)3 nonprofit charitable organization, offers a sense of community for LGBTQ+ people from all over Utah, offering in-person events and virtual event efforts throughout the year. These include, but are not limited to, therapy and counseling sessions, social nights, film screenings, poetry readings, and guest speaker panels.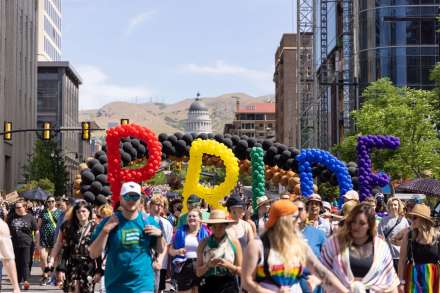 Chief among these community-building efforts is the organization's annual Utah Pride Festival. Nicholls says the event is "our baby, our bread and butter. It's what funds our life-affirming work all year round." The Utah Pride Festival is an event the UPC staff work year-round to plan. "We are unique in the sense that we're one of the few state Pride Centers that also produces their state Pride Festival. That is a rare thing to find in a world of Pride festivals," Nicholls says. Being produced by an on-the-ground, local organization gives the Utah Pride Festival a unique edge—this isn't a corporate pop-up, but a lively, bombastic event that represents the true spirit of Utah's LGBTQ+ community. Following this, Utah Pride Center Co-CEO Jonathan Foulk says, "That also means that the team who works here 365 days a year is also the one putting on all the events surrounding Pride. It takes the staff, a village of volunteers and community members to produce Pride."
Outside of UPC, other organizations such as Equality Utah, Stonewall Sports, and Genderbands are integral in working for LGBTQ+ rights in Utah. Equality Utah works to secure equal rights and protections for LGBTQ Utahns and their families, while Genderbands helps transgender people pay for transition-related costs (surgeries, clothing, binders, etc.). Stonewall Sports connects members of the community via organized sporting events that dually operate as fundraising events. These are just a few of the many voices in Utah's LGBTQ+ community speaking up for connection and change.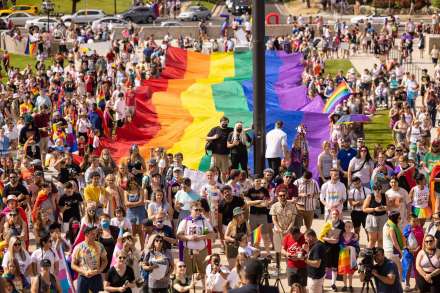 A Platform for Change:
What Makes Pride 2023 Special 
The Utah Pride Festival has come a long way since its first days. What once started as a small gathering in a park 49 years ago before it became an official event in 1990 is now a gathering that hosts over 150,000 people a year. UPC has worked to create an annual meeting place and celebration with events for all preferences and ages. With more anti-drag, anti-trans, and anti-LGTBQ+ legislation than ever, "We need to be louder and prouder than ever. We need to show everyone that we are here, we are queer, and we are proud," says Foulk. "We are making a huge statement this year—to create safe spaces for individuals to be themselves and express their gender identity."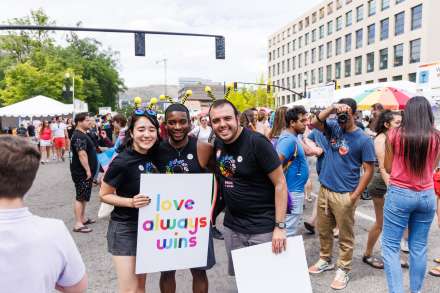 This year, UPC staff has committed to turning the Pride experience on its head by breathing new life into the annual Festival. "The progress is top of mind," Nicholls says. This year's iteration will be cashless for the first time, meaning festival goers should expect to use credit card or Venmo payments for entry, food/beverage purchase and other monetary transactions at the Festival. On the programming front, Foulk focused on elevating the guest experience and honing in on quality of events over quantity. "We have headliners that have never been to Utah before, which are huge names that we are wanting to bring a festival style pride experience," he says.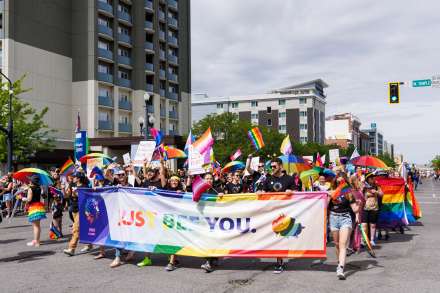 Pride Festivals have historically been a combination of inter-community celebration and a liberation from mainstream society's oppressiveness towards queer people. This year's fest is fueled by fun but also a platform through which greater change can occur. "A lot of discrimination just comes from a lack of understanding. The more doors we open for people, the more healthy conversations can happen, which will hopefully lead to societal change—necessary lawmaking and lobbying needs to happen on Capitol Hill for the equality of our people," Nicholls says. Attending Pride as an ally or member of the community has the power to influence minds and hearts. Foulk says, "We have to be loud, we have to be authentic."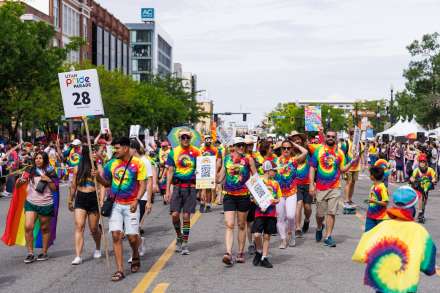 Pride Fest Entertainment Guide – SUNDAY
Utah's 33rd Annual Pride Parade takes place on Sunday from 10:00 am–12 pm, traveling mostly across 200 South in Downtown SLC. The last night of Pride features Vincint, Jordy, Deborah Cox and more from 12:00–11:00 pm. This eclectic and exciting list of names both hyperlocal and internationally recognizable speaks to what makes the Utah Pride Festival such a treasured event: The Festival has grown to such heights as to include some of the biggest names in drag and other LGBTQ+-centric performance spheres while still holding on to its roots in Salt Lake City's thriving queer community.
Get Tickets to the Utah Pride Festival
Tickets for the Utah Pride Festival are $15 for a one-day pass and $150 for a three-day, VIP package. UPC staff invites people to come to the center for a tour or to partake in the year-round programs and events. Those who plan on attending the Utah Pride Festival are encouraged to buy tickets early and online at utahpride.org.