You just logged a full day of shredding the Greatest Snow on Earth®, but in Salt Lake, that means you are just getting started. It's après ski time, and your options are plentiful. Whether you need a drink, a nosh, or a touch of city culture, we have you covered.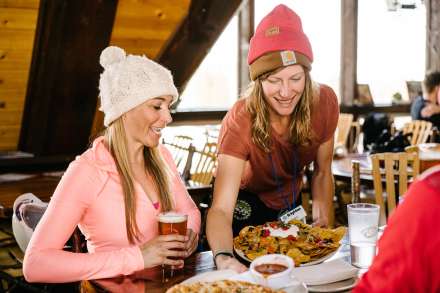 Molly Greens at Brighton
The full-service bar and grill in the A-frame at the base of Brighton is the perfect spot to unbuckle your boots and pull up a bar stool. Local beers and pub-grub favorites are the flavor here. It's also easily accessible for non-skiers, should pedestrian friends want to meet up.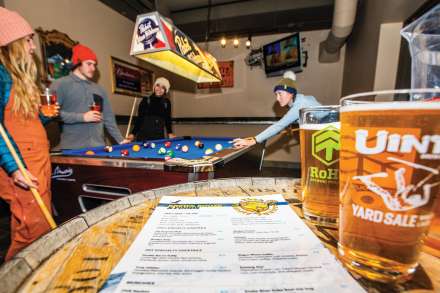 The Thirsty Squirrel at Solitude
Grabbing a beer in this cozy lounge will make you feel like a local when you step off the slopes. There's a full bar for all your special cocktail requests, so go ahead, drink fuzzy navels to your heart's content. Be that guy. 
Peruvian Bar at Alta
Let's be clear: no Utah après ski list is complete without P-Dog. Great views, free snacks and frequent live music create a friendly mountain vibe in this classic drink den. You might hang out here even if you weren't coming off the hill. 
Drinks and Bites at the Canyon Mouth
You made it to the bottom of the canyons, but now you've got a powerful hunger (or hey, you might still be thirsty). Fear not, because there are a variety of excellent establishments just a stone's throw from the canyon exits.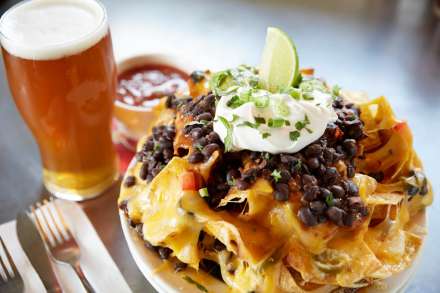 The Porcupine Pub and Grille
Located across the street from the mouth of Big Cottonwood Canyon, the Porcupine might have the best après ski location in all of Salt Lake. They have a multitude of local Utah beers on tap, plenty of seating, and perhaps the most beloved nachos in town.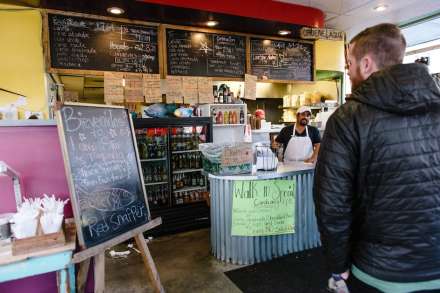 Lone Star Taqueria
If you are a post-ski burrito connoisseur, then Lone Star will be your new jam. Specializing in authentic Mexican fare, they are best known for their belly-busting fresh fish tacos and burritos. They have been featured on "Diners, Drive-Ins and Dives," and Sunset Magazine said they have the best tacos in the West. Squeeze a lime, and leave with a full belly and a smile.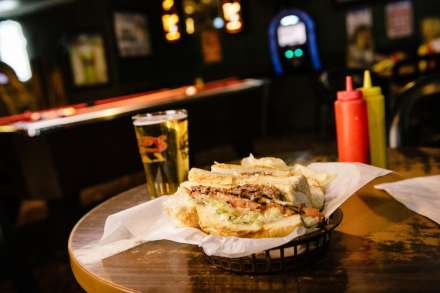 The Cotton Bottom 
Home to the most famous garlic burger in Utah (perhaps, even, the world?), the Cotton Bottom is a must-try for all visitors. It's located just minutes away from both Cottonwood Canyons, and now that Ty Burrell's Bar X Group owns the place, they offer fries. IYKYK. Need a different burger option for tomorrow? Check out our list of the Best Après Burgers in Salt Lake.
Eight Settlers Distillery 
If the standard bar fare won't cut the mustard, we suggest Eight Settlers Distillery. Offering a full bar menu complete with signature cocktails, Eight Settlers will please the more discerning après diners in the crowd. Before you leave, hit the Trading Post to grab a bottle of the Devil's Gate Bourbon; it's sure to warm your belly on even the coldest winter nights. 
County-wide Feasting
We know that not all Salt Lake winter guests stay in the canyons proper. From the west side of the valley to downtown, we have a spot for you to replenish those valuable calories. Feast and be merry, because you'll need the energy for more skiing and boarding.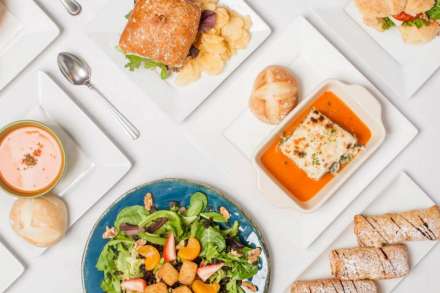 Café Madrid 
If you are staying near the canyons, ending your day on the hill at Café Madrid with some Spanish tapas just seems right. Small plates shared with friends, Spanish wine flowing, quads relaxing—share stories of the day and bask in a perfect glow. We'll just be over here ordering Gambas con Bacon and Butifarritas con Brevas all night long.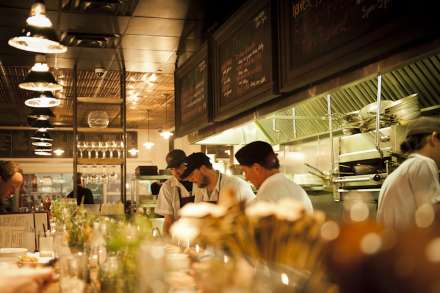 Copper Onion and Copper Common 
This is a two for one après special for downtown guests. Copper Onion is a Salt Lake institution that serves up American-style fare in gorgeous fashion. If you want to keep things a bit more laid-back, just a few doors down Copper Common offers a full bar of drinks as well as a small plate menu that will satisfy even the pickiest of powder hounds. 
Fat Fish Sushi 
Sushi and après are like peas and carrots; a timeless combo. If you are near West Valley City, Fat Fish has the goods. Inventive rolls, bright décor, and pocket-friendly prices make this a no-brainer after a day of farming pow. There's also sake, beer, and wine available. For those in your group who are sushi-averse, there are bento and pho options on the menu, as well.