Salt Lake is a thriving modern community, and the Salt Lake City International Airport is the lifeblood of that growth. Bill Wyatt, the Director of Airports, has a monumental task set in front of him: ensure the brand-spanking new, slick, state-of-the art $4.1 billion facility with considerably more capacity, opening mid-September, serves this burgeoning population. The new airport will, in fact, make Salt Lake an even more accessible destination, something many thought would be impossible to improve upon.
Salt of the Earth: The People & Places of Salt Lake
Bill knows how important this airport is to Salt Lake – currently more than 370 flights depart every day to 99 nonstop destinations, and 26 million passengers are served every year with facilities that were designed 50 years ago to accommodate half as many people. "We have a unique opportunity to guide construction of a brand new airport that will usher in tremendous opportunity for the future of the entire state," he said.
With the initial groundbreaking clear back in 2014, the first big reveal and opening of the new terminal, parking garage, and concourses will be in the fall of 2020. Visitors are in for a real experiential treat; in addition to being more convenient, easier to get around, more environmentally friendly, and able to service more passengers, the new airport will be incredibly beautiful. As Bill is quick to point out, the desire was to have a facility that reflected the beauty and uniqueness of the city and state it is a part of, and the architectural elements and art pieces throughout will highlight the natural beauty of Utah in a truly inspiring way.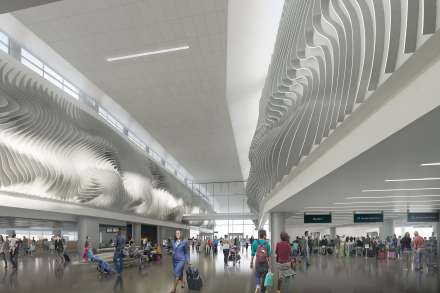 For anyone visiting Salt Lake now, know that the airport has put into place all necessary steps to mitigate the impact of coronavirus. Regular disinfection routines, hand sanitizer stations, shops and restaurants operating with reduced hours or some that are temporarily closed, and drop-off and pick-up restrictions are some of the measures currently in place. The airport follows all guidelines recommended by public health officials.

We are excited to see the changes coming Salt Lake's way as the new airport opens this fall, and we're thankful to feature the airport and Bill Wyatt in our Salt of the Earth series.