Stepping into The Legendarium, you are immediately struck by how quirky, welcoming, and imaginative the place is. It's Salt Lake's newest (and possibly only) sci-fi, fantasy, and horror specialty bookstore and role-playing games coffee shop. The Legendarium is set in a charming 1900s-era house built on Harvey Milk Boulevard. A Legendarium family crest, emblazoned on a shield, hangs from the Narnia-esque lamp post out front with the text "Purveyors of Legends, Lore, & Local Roasts." The entrance is decked out with a banner for the White Tree of Gondor, another for the Rebel Alliance, a Trans banner, and a Rainbow flag. As you set foot in this enchanting establishment, it's apparent that it is more than just a bookstore - The Legendarium is a sanctuary for diverse communities, serving as an LGBTQ and BIPOC safe space that fosters a sense of belonging and camaraderie through its events, clubs, and game nights.
Salt of the Earth: the People & Places of Salt Lake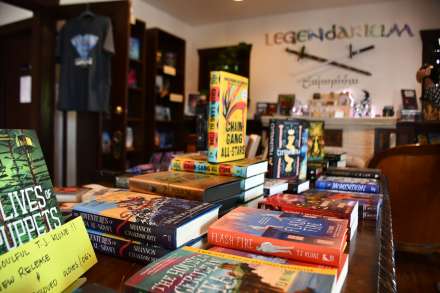 First Impressions of The Legendarium
A hearty "Hello" greets nearly every visitor as they step into the small, book-filled first room of the shop. Shelves and shelves dedicated to the works of internationally well-known, local, and LGBTQ authors crowd the room. Inviting chairs sit in corners, and one wall is dedicated to game merch. Meeting Orion Enceladus and Raelle Westwind, siblings, co-owners, booksellers, and baristas, one gets a glimpse into the passionate minds behind this remarkable establishment. As they share their love for books and all things nerdy, it's clear that The Legendarium was built upon a deep love for the genres it represents and a genuine desire to create a welcoming environment for all.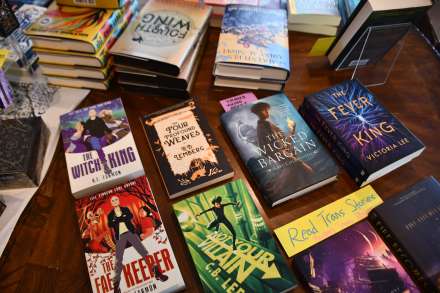 The Power of Literature and Representation
Orion and Raelle, avid readers and enthusiasts of science fiction, fantasy, and horror, understand the transformative power of literature. They recommend a myriad of captivating books that not only entertain but also explore important themes such as queer identity, grief, love, and representation. By highlighting authors like T.J. Klune, Everina Maxwell, and Ursula K. Le Guin, The Legendarium seeks to provide a diverse range of voices and perspectives that resonate with readers of all backgrounds.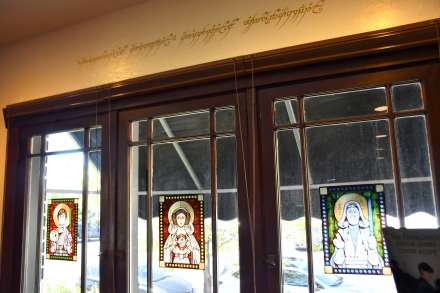 The Inspiration Behind The Legendarium
The concept for The Legendarium sprouted from the siblings' lifelong passion for genre fiction and their desire to create a haven for fellow enthusiasts. Growing up, they found it challenging to locate bookstores with a wide selection of science fiction and fantasy books. Their discovery of Mysterious Galaxy, a genre-focused bookstore they discovered while living in San Diego, served as the catalyst for their vision. They both grew up in Salt Lake, and after living in locations across the country, including New York and San Francisco, they decided to come back and create their all-inclusive version of that beloved bookstore. Combining their love for literature with that strong commitment to inclusivity, they envisioned a community-oriented space that not only offers an extensive collection of books but also actively encouraged active storytelling and engagement.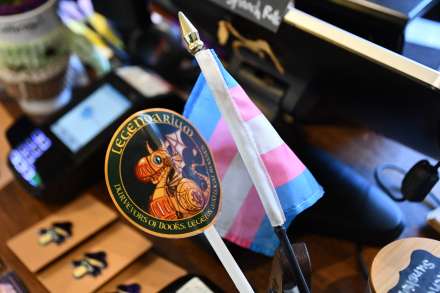 The Legendarium: A Safe Haven for All
At the core of The Legendarium's ethos is its commitment to inclusivity and providing a safe space for marginalized communities. By intentionally fostering an environment where everyone feels welcome, the owners have created a refuge for LGBTQ and BIPOC individuals. The bookstore serves as a gathering place for people from all walks of life, encouraging connections and shared experiences. Through their warm and inviting atmosphere, including attempting to remember the name of every person who enters the store, Orion and Raelle have succeeded in establishing a haven where customers can explore their literary passions free from judgment or exclusion.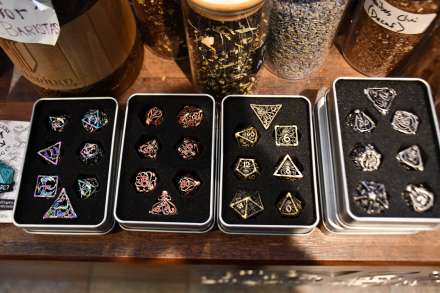 Engaging Events, Clubs, and Game Nights
The Legendarium's calendar brims with an exciting array of events and book clubs, catering to various interests and promoting active participation in storytelling. Game nights, usually scheduled on Wednesdays and Fridays from 6:00 pm to 10:00 pm, offer a chance for individuals to delve into role-playing games such as Dungeons and Dragons. These game nights not only provide an opportunity for adventure but also emphasize inclusivity, ensuring that everyone feels accepted and valued.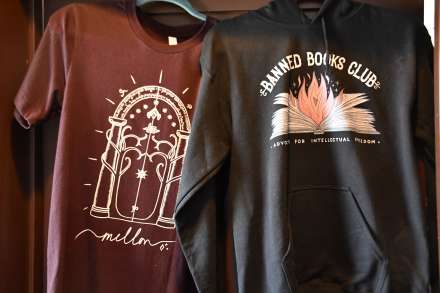 The bookstore also hosts poetry nights, workshops, and author events that celebrate local talent and spotlight diverse voices. Book clubs like the Queer Book Club, the Banned Book Club, and the In the Margins Book Club explore literature that delves into social justice issues, marginalized identities, and underrepresented authors. Other fun clubs include the Staff Picks as well as the Wise Wizards, which is described by Orion as an "adorable" retiree book club. By offering these platforms for engagement, The Legendarium amplifies marginalized voices and encourages meaningful discussions.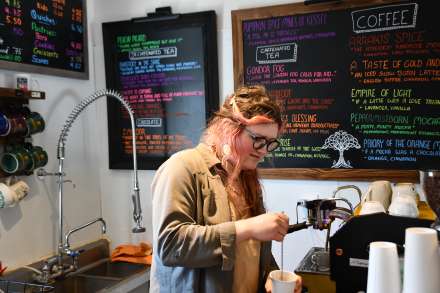 Author Events
The Legendarium supports local artists and authors by showcasing their work and hosting book signings. By highlighting local talent, the bookstore fosters a sense of pride and connection in the local creative community. In the 9 months since the store has opened, it has also hosted big name authors, the most recognizable of which was Mary Robinette Kowal, who was so impressed with the event that she told the siblings "You are officially our bookstore in Salt Lake."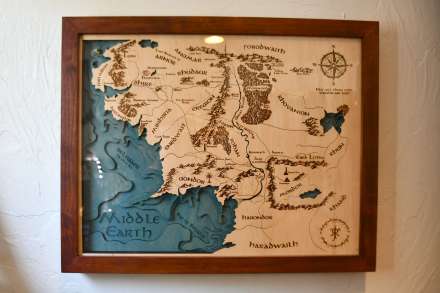 The Origins of the Name
The name "The Legendarium" pays homage to J.R.R. Tolkien and his Journal of Worldbuilding, called by him the Legendarium. In a nod to J.R.R. Tolkien's extensive worldbuilding, The Legendarium draws inspiration from the concept of a rich and immersive literary universe. The name represents the diverse worlds and narratives found within the genres the store specializes in. It encapsulates the idea that each book, each story, has the potential to become a legend in its own right.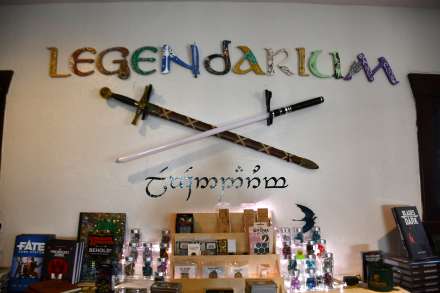 The Legendarium Online
Recognizing the importance of digital platforms, The Legendarium maintains an active online presence. Their website, legendariumbooks.com, serves as an online bookstore, offering a curated selection of genre fiction and related merchandise. This ensures that customers who are unable to visit the physical store can still access their favorite books and support the bookstore's mission. They also have an active Instagram account, @legendariumbooks, where you can keep up with their many events, as well as get to know some of their amazing staff members.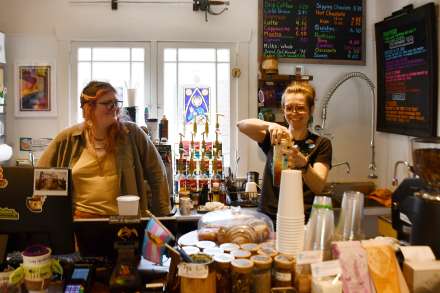 A Model for Inclusive Spaces
The Legendarium has become a model for creating inclusive community spaces. Its commitment to diversity, representation, and community building sets an example for other bookstores and establishments in the industry. By centering marginalized voices and actively engaging with customers, Orion and Raelle have established a blueprint for fostering an environment where everyone feels valued, celebrated, and included.
The Legendarium stands as a testament to the transformative power of literature and the importance of creating safe and inclusive spaces. By providing a haven for science fiction, fantasy, and horror enthusiasts, this remarkable bookstore has become, in an amazingly short time, a cherished community hub in Salt Lake City. Through their commitment to diversity, representation, and community engagement, Orion and Raelle have built more than just a bookstore—they have created a sanctuary where imaginations soar, friendships are forged, and legends are born. The Legendarium continues to inspire and uplift readers, authors, and fans alike, leaving an indelible mark on the genre fiction landscape.
Visit The Legendarium at 349 East 900 South in Salt Lake, or check them out online at legendariumbooks.com.