Salt Lake is home to a plethora of exquisite restaurants, bars, and other eateries that offer unique and classic cuisines fit to satisfy the cravings of any foodie. Over the years, the renowned culinary institute James Beard Foundation has recognized the quality and character of over a dozen local food spots, a trend which continues stronger than ever in 2023.
A Brief History of the James Beard Foundation
The James Beard Foundation was founded over thirty years ago in honor of the champion of the American culinary dream, Mr. James Beard. A man who dedicated his life to education and the culinary arts, Beard was heralded as the "Dean of American cookery" by the New York Times in 1954. The first of the James Beard Foundation Awards were given in 1991 to those who typified Beard's love and appreciation for good, simple food.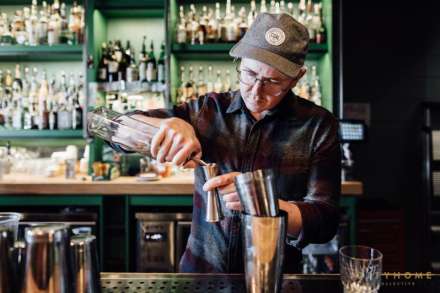 James Beard in Salt Lake
The James Beard Awards identify those in the culinary industry with exceptional talent in many arenas, including hospitality and media. There are over 23 categories, including Outstanding Restaurateur, Humanitarian of the Year, and Cookbook of the Year. Some categories have multiple award winners while others are restricted to a solo recipient. The Best Chef category is broken into twelve regions: California, Great Lakes, Mid-Atlantic, Midwest, Mountain, New York State, Northeast, Northwest and Pacific, Southeast, South, Southwest, and Texas.
The James Beard Awards are known throughout the United States and are coveted greatly for the prestige and honor that accompanies one. Several spots right here in Salt Lake City know the thrill and fever of receiving the news regarding their own nomination. Kyoto Japanese Restaurant, Laziz Kitchen, and Table X were previously honored as semifinalists in the Best Chef category, with multiple chefs recognized at the latter two establishments. Ballpark area bar Water Witch was a semifinalist in the Outstanding Bar category. Downtown restaurant Valter's Osteria was also a semifinalist for Outstanding Hospitality. These top-notch locales paved the way for those that followed as the 2023 semifinalists list perfectly evinces.
Salt Lake Food Scene
Salt Lake City has experienced a booming foodie revolution over the past decade. It exploded across the valley with no holds barred and no reservations, literally. As far as the James Beard Foundation is concerned, four distinguished dining establishments in Salt Lake qualify in 2023 in four categories—Outstanding Bar, Outstanding Hospitality, Outstanding Bakery and Best Chef—a leap from previous years.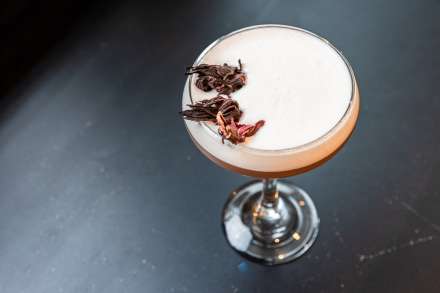 Post Office Place
Post Office Place, a hidden gem off Market Street in downtown Salt Lake City, proudly serves some of the finest cocktails available and deserves its recognition as an Outstanding Bar. Contemporary in design, Post Office Place offers one of the largest selections of Japanese whisky and is the "little brother" of neighboring Takashi, a very popular sushi restaurant. Diners can anticipate a marriage of Asian and Peruvian concepts as seen in their lamb and clam dish that comes with house-made merguez lamb sausage, steamed clams, Malaysian curry broth, fresh cilantro, and grilled bread.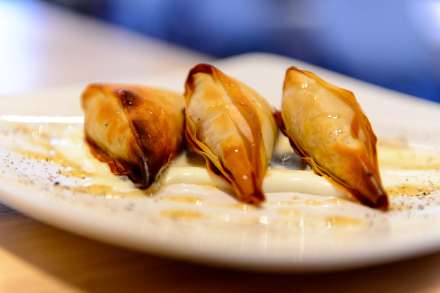 Manoli's
A stone's throw from delectable libations resides Manoli's, a Greek restaurant lauded by the James Beard foundation for its Outstanding Hospitality. Manoli Katsanevas, owner and chef, provides guests with reinvigorated Greek classics. Offering a full meal and bar menu, this posh establishment does finer dining right. If a dine-in experience is not an option, they allow online ordering for a quicker, more convenient meal.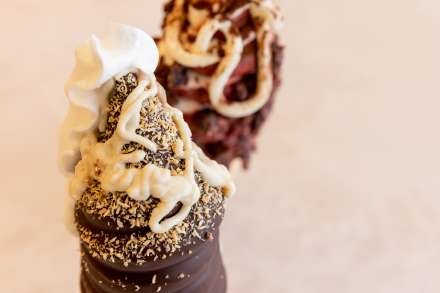 Normal Ice Cream
A great meal is nothing without a great sweet. Normal Ice Cream has sweets available in spades as a contender for Outstanding Bakery, a new category for the James Beard Awards. "Anything but ordinary," this popular spot does it all, from cakes to cookie sandwiches to bars and pints. There is even a special menu for national shipping, which leaves on Wednesdays for Thursday deliveries.
Best Chefs in Salt Lake
Salt Lake is proud to be called home by four Best Chef semifinalists, Paul Chamberlain and Logen Crew of SLC Eatery, Andrew Fuller of Oquirrh, Young-Ho Kang and Peter Kim of The Angry Korean, and Ali Sabbah of Mazza.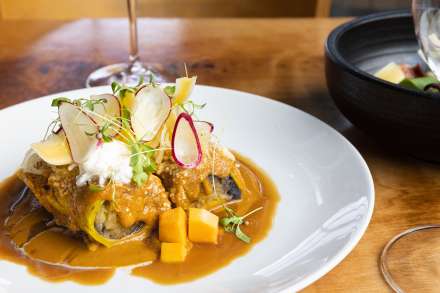 SLC Eatery
Located in the Ballpark neighborhood of SLC, SLC Eatery constantly refreshes their menu with new dishes sporting the freshest and best ingredients available. Their cart items menu allows diners to explore smaller plates such as peel 'n' eat shrimp with jalapeno and ranch spice, brown butter remoulade, and pickles, or their Utah scone with smoked cheddar rillette and everything spice. If appetites are not fully satiated, the ricotta cavatelli with miso Kurobuta pork bolognese, arugula, apple gremolata, and Zwister gouda is recommended. Recently celebrating their four-year anniversary, SLC Eatery is open for dinner Wednesday through Saturday with brunch service on Sundays.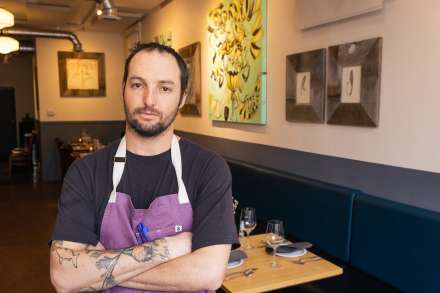 Oquirrh
Two blocks east of the Eccles Theater, Oquirrh strives to provide the finest experience and food during their dinner and brunch service, and they possess a passion for supporting local artisans. Named for the Oquirrh mountain range to the west of SLC, Chef Andrew Fuller prepares artistic and reimagined dishes. These include such creative takes as roasted cabbage with fermented fennel, whipped ricotta, mustard, turmeric, and a caraway crumb and bread pudding French-toast with cashews and herbs.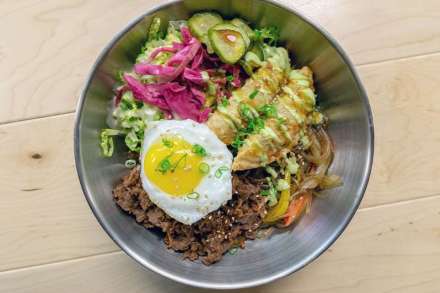 The Angry Korean
Converting from a food truck to a brick-and-mortar in 2019, The Angry Korean is Young-Ho Kang and Peter Kim's spin on modern Korean cuisine. Located in South Jordan, a south central suburb of Salt Lake, their doors are open seven days a week. These contenders for Best Chef offer popular dishes like the Korean junkyard fries served with Bulgogi gravy, melted cheese, and topped with Bulgogi and pickled jalapenos.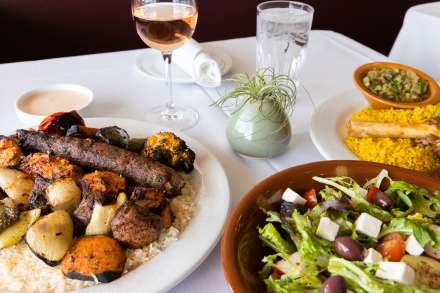 Mazza
For over two decades, Ali Sabbah at Mazza has proudly served authentic Middle Eastern cuisine in Salt Lake while using the highest quality ingredients and offering an expansive variety of menu items. One dish that has garnered high praise is the Mazza lamb shank served bone-in and braised with their special blend of spice, aromatics, wines, and liqueurs and served with fragrant rice and a side salad. Open for dinner service Monday through Saturday, they pride themselves in serving all-natural lamb, beef, and chicken as well as providing the largest selection of Middle Eastern beer and wine in the United States.
Your Chance to Enjoy Nationally-Recognized Food & Drink
Winners will be announced June 5, 2023 at the Lyric Opera of Chicago during the James Beard Restaurant and Chef Awards Ceremony, but it won't stop there. Salt Lake's food scene will continue to evolve and demonstrate to the world its dedication to the culinary arts and hospitality. It would be remiss to omit mentioning Outstanding Restaurant semifinalist Hell's Backbone in Boulder, UT, and semifinalist chefs Briar Handly of Handle in nearby Park City. James Beard once said, "The secret of good cooking is, first, having a love of it," so come to Salt Lake and discover your love of great food!