A creative fusion of dining, entertainment, community-driven events, urban living, and inspired office spaces, The Gateway is Salt Lake City's downtown destination that is unlike any other. With direct access to public transit, it serves up a one-of-a-kind blend of unique retail, hip nightlife, a cutting-edge arts and culture scene, an innovative technology hub, and more. Exploring The Gateway any time of year is a sensory, lively experience thanks to a rotating array of street art and mural installations, many of which are interactive, and a calendar filled with engaging events.
A highly anticipated addition to The Gateway will be an exquisitely designed boutique hotel, Asher Adams, that incorporates a renovation of the historic Union Pacific Station. The upscale, lifestyle hotel will feature an eight-story tower with more than 200 guest rooms and 25 suites. Opening in 2022, this historic train station conversion promises a unique and much-needed lodging experience as Salt Lake City continues to grow as a convention destination. The Gateway is conveniently located within walking distance to the nearby Hyatt Regency Salt Lake City, the 700-room convention hotel, which will be connected to the Salt Palace.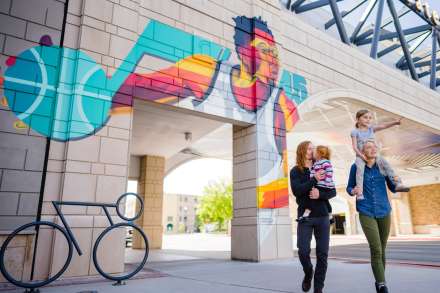 Throughout the year, The Gateway offers plenty of free event programming that caters to every interest and attracts locals and visitors alike. Thanks to abundant outdoor space, many of these signature events have continued throughout the COVID-19 pandemic with new social distancing and sanitization protocols in place to maximize safety and enjoyment. The Gateway celebrates Utah's diverse cultural communities with a variety of celebrations like Festa Italiana, Hispanic Heritage Festival, Peruvian Festival, Made in Utah Festival and a full calendar of nearly 200 events throughout the year.
The Rio Grande Concert Series kicks off Salt Lake City's glorious warm season with free concerts every Thursday night in May. A diverse line up of local and regional acts perform, and music lovers are welcome to bring chairs and blankets to enjoy the entertainment.
A July 4th block party-style celebration takes over The Gateway for patriotic fun. The event features food trucks, live art, and American entertainment, all culminating with downtown's only, high-caliber fireworks display.
Family-friendly, free outdoor movies screen on Wednesday nights throughout the summer. Even the popcorn is complimentary! Craft beer is available for sale, and moviegoers often enjoy to-go meals from a wide variety of restaurants at The Gateway. Bring a blanket and watch some favorite flicks under the stars.
Utah's largest and longest running street art festival, the Chalk Art Festival, takes place at The Gateway every June to benefit Utah Foster Care.
The Gateway lights up the holiday season with the Illuminate Festival, featuring imaginative light art projection installations presented by the Utah Art Alliance. This is accompanied by artistic, holiday- and winter-themed displays in vacant storefront windows. A Winter Walk holiday light experience throughout December encompasses displays created by local artists, specialty art and cultural programming each December weekend.
Discover the many exciting businesses and happenings at The Gateway at www.atthegateway.com