'Tis the season, and while the temps are dropping, the lights, events, and holiday cheer is bubbling up in Salt Lake. Whether you're looking for family fun, holiday treats, unique gift shopping, or just beautiful holiday lights and displays, Salt Lake has something in store. 
For Gift Shoppers and Holiday Market Fans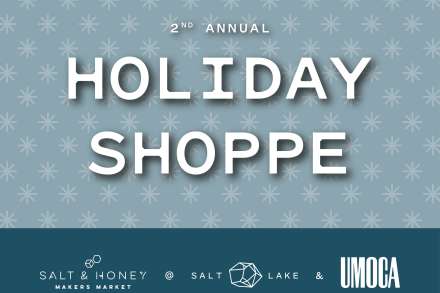 2nd Annual Holiday Shoppe
Salt & Honey Makers Market x Visit Salt Lake x UMOCA
Salt & Honey Makers Market
90 South West Temple
Utah Museum of Contemporary Art
20 South West Temple
December 10, 10:00 am-6:00 pm
For the second year in a row, the Utah Museum of Contemporary Art (UMOCA) has teamed up with Visit Salt Lake and Salt & Honey Makers Market to create the most unique holiday gift shop in Salt Lake City. For one day only, Saturday, December 10, from 10:00 am-6:00 pm, get ready for unique gifts, gift wrapping at both locations, free cider and donuts at the Visit Salt Lake Airstream from 10:00 am-2:00 pm, as well as holiday movies and crafts at UMOCA. Bring the kids! For each child who picks up a gold ticket from UMOCA and brings it to Salt & Honey, they will receive a free gingerbread man while supplies last. Plus, 15% off purchases at Salt & Honey!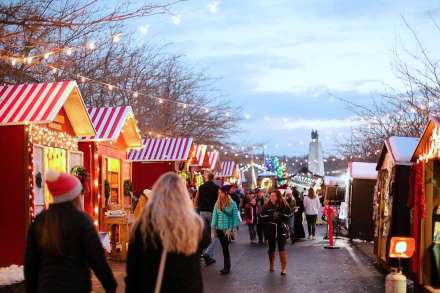 Christkindlmarkt SLC
This is the Place Heritage Park
November 30-December 3, 11:00 am - 8:00 pm
Admission is free to this annual Christmas market at This Is the Place Heritage Park. The historic park transforms for the season with costumes, decorations, treats, sweets, and arts and crafts of all kind available for purchase. The market is open from 11:00 a.m. to 8:00 p.m. for one weekend only in December as local and visitors alike get into the spirit of the holiday season. Kid-friendly activities include daily parades, a live nativity, meeting St. Nikolaus, and more. 
Hanukkah Market
IJ & Jeanné Wagner Jewish Community Center
2 North Medical Drive
slcjcc.org
December 4, noon - 5:00 pm
For over 25 years, the Hanukkah Market is a social event at the I.J. & Jeanne Wagner Jewish Community Center, consisting of food vendors, live music, book sale, Hanukkah gift shop, and crafts for you and the kids. You may come out as the best gift giver in the family.
City Creek Center Shopping
November 2-December 31
If your spouse is too nosy and online shopping isn't a viable option, City Creek Center in downtown Salt Lake City is open for holiday shopping. The indoor/outdoor mall will feature beautiful holiday décor throughout the space November 20-December 31, an oversized Christmas tree, live music performances, spots for festive selfies, and the beloved annual Macy's candy window displays. The candied displays carry on as a tradition dating back to 1970, when ZCMI occupied the space that is now Macy's City Creek. The annual tradition continues at the west exterior windows of Macy's this year. The Giving Machines, large vending machines that instead of giving out food or treats allow you to purchase important items to donate to charities, are located in front of the Food Court. 
For the Twinkle Light Fanatics
Lights On! at the Eccles
George S. and Dolores Doré Eccles Theater
November 21, 5:30 pm - 8:00 pm
Holiday lights, holiday art, and holiday music - as well as holiday spirit with a collection of coats and winter items for needy families for Volunteers of America Utah. Come see the beautiful art installation by local Lenka Konopasek as it's lit up, and enjoy a performance by One Voice Children's Choir, and yummy holiday treats - and it's all free!
Christmas Lights at Temple Square
Temple Square
Through December
Despite the ongoing renovation on Temple Square, the renowned Christmas lights display is open to the public with some modifications due to the construction areas. From the day after Thanksgiving to New Year's Day, the grounds are decorated beautifully and are open to the public for free every night until 10 pm. In addition, a nativity will be projected on the ceiling of the Salt Lake Tabernacle every 10 minutes from 6:00 pm-9:00 pm. There will also be daily Christmas concerts on Temple Square and at nearby locations, as well as a free concert with the world-renowned Tabernacle Choir. Combine a visit with a trip to City Creek across the street, and enjoy a full evening of holiday festivity.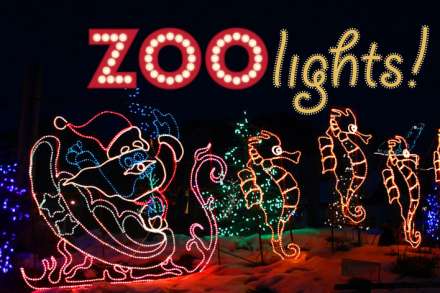 Zoo Lights
Utah's Hogle Zoo
2600 Sunnyside Avenue (840 South)
HogleZoo.org
December 2-30, 5:30 pm - 9:00 pm
Hogle Zoo continues to put on their annual lighting display for the 16th year with hundreds of illuminated displays and a 135-foot tunnel of lights. From December 2-30 from 5:30 pm - 9:00 pm, you can roam the zoo at night while listening for a possible lion roar in the distance. Also, little ones and little ones at heart can still find Santa at Zoo Lights. Treats and drinks are available, including specialty hot chocolate and s'mores. This event does require tickets, which you can purchase online.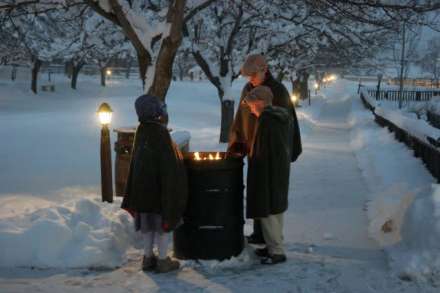 Candlelight Christmas
This is the Place Heritage Park
December 6-23 (Monday-Saturday), 5:00 pm - 9:00 pm
Step back in time at This Is the Place Heritage Park. Candlelight, glowing fires, and old-timey pioneer cabins and cottages—it's a different kind of Christmas light experience, and a nice break from the hectic pace of the holidays. You can make crafts, hear carolers, see a live nativity, and meet Father Christmas while you explore the village.
 
Luminaria
Thanksgiving Point
Through December 25 (Monday-Saturday), 5:00 pm - 9:00 pm
One of the most unique and fun displays in this list is Luminaria. Set at the incredible Ashton Gardens at Thanksgiving Point, Luminaria incorporates music, a walk through the garden, a nativity scene, a 120-foot Christmas tree on top of a 40-foot hill, and 6,500 programmable "luminaries" which each act as a pixel to create moving images for a holiday-oriented show. Purchase tickets through their website at ThanksgivingPoint.org.
 
Christmas Street(s)
Sugar House
1500 East 1735 South, Salt Lake
Taylorsville
5400 South 3200 West, Taylorsville
Throughout December
There are two "Christmas Streets" in Salt Lake, one in Sugar House and one in Taylorsville. Both streets are neighborly cooperatives of folks who apparently really love Christmas: each house on each respective Christmas Street is fully decked out in lights and decorations for a cumulatively dazzling display—and in Taylorsville, each house recreates a part of the poem Twas the Night Before Christmas.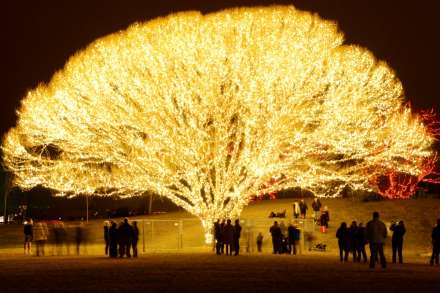 Tree of Life
Draper City Park
12500 South 1300 East, Draper
DraperUtah.gov

Throughout December
Every year, the trees and bridges in Draper City Park come to life with holiday light—over 65,000 lights, to be specific. Don't miss the huge, glowing willow tree in the middle of the park (though, honestly, it would be hard to miss). The lights come on at dusk and turn off at midnight.