Photos: Copyright 2023 CCF/Jay Dash, @slc_bites, & SLUG Magazine
Salt Lake County's Cottonwood Canyons are best known as some of the most acclaimed ski destinations in the world, but the wilderness preserves are an exciting spot year-round. What better way to start summer than by taking the family up to Salt Lake's Cottonwood Canyons for a celebration of nature's true beauty at the Wasatch Wildflower Festival?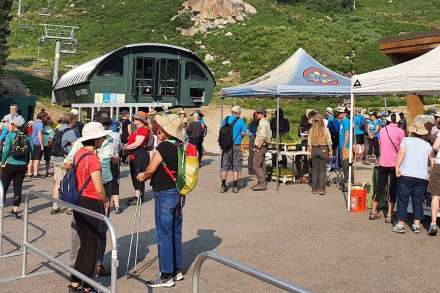 A Multi-Resort Mountain Festival
Held every year, the Wasatch Wildflower Festival is a four-day, family-friendly event that takes place in early July at four major ski areas: respectively, July 8 at Brighton Resort (in cooperation with Brighton Institution's Brighton Days) and July 9 at Solitude Mountain Resort (this day also celebrates and displays the work the local artists of Salt Lake City as part of the Wildflower Festival), both in Big Cottonwood Canyon; and July 15 at Snowbird and July 16 at Alta Ski Area in Little Cottonwood Canyon.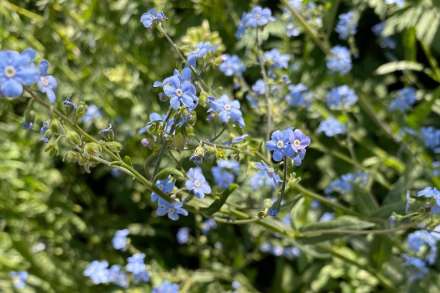 The Festival's Founding and Purpose
This event was developed in 1995, when it was co-founded by Cottonwood Canyon Foundation (CCF) and festival partner Alta Community Enrichment and speaks to both organizations' dedication to maintain and nurture the natural state of the Cottonwood Canyons. As an attempt to bring a diverse, enriching look at the beauty that Utah's natural landscape has to offer, the Wasatch Wildflower Festival has been bringing in families every year to encourage advocacy for protecting the lush surrounding canyons. "The Wasatch Wildflower Festival is a day to enjoy the marvelous wildflower season while also learning about watershed protection and ecology," says Executive Director of the CCF, Joanna Wheelton. "A priority is teaching visitors about the invaluable resource of clean drinking water and the stewardship and watershed protection strategies we can utilize to keep our drinking water clean."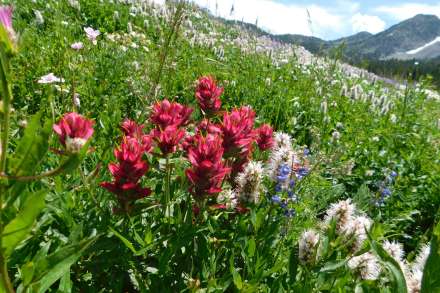 Spot These Flowers in the Cottonwood Canyons
As you continue onward, by guide or by yourself, be on the lookout for some of these colorfully vibrant wildflowers on your journey through Utah's wilderness: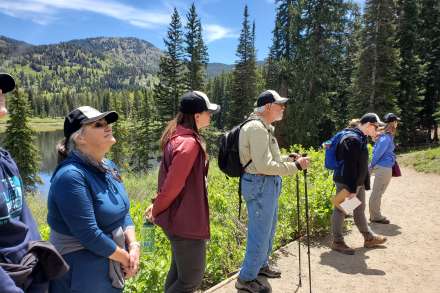 Preserve the Beauty of Utah's Trails
To help preserve the nature and beauty of the canyons' trails, please do not pick or take home any of the wildflowers. If you would like to take pictures for social media, be on the lookout for small cutouts along the sides of various trailheads in both of the Cottonwood Canyons. This is one of various efforts on the part of the CCF to protect the natural beauty of the Cottonwood Canyons. "It is our belief that if we all better understand the importance of this area, and if we all take part in helping to steward it," they say.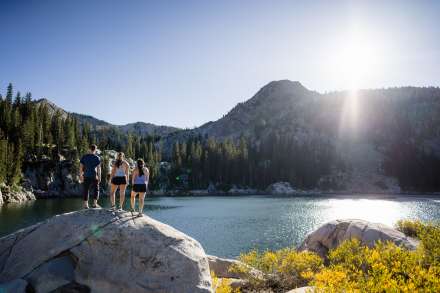 Top 5 Hikes in the Canyons to View Wildflowers
The Wasatch Wildflower Festival is a great, concentrated way to engage with the vibrant wildflowers in Salt Lake City. However, there are plenty of opportunities to continue your wildflower exposure throughout the summer. While taking in the sights and sounds that Mother Nature has to offer, be sure to look for some of the most important hikes when visiting the Cottonwood Canyons. Be advised: no dogs, with or without a leash, are allowed on the trailheads.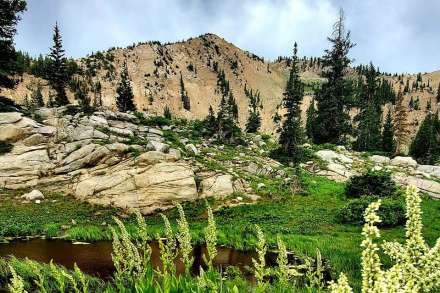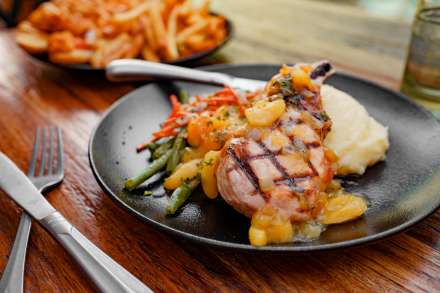 Aprés Wildflower Festival:
Top 5 Bites near the Canyons
Before (or after) an exciting day of hiking and smelling the flowers, you'll want to catch a quick bite to eat. Luckily, you'll be able to grab a variety of delicious food and beverages right at the mouth of the canyon.
Porcupine Pub and Grille: Enjoy classic, Latin-American fusion fare such as Wahoo Fish Tacos or the Poblano Steak or Tequila Lime Chicken at this rustic, upscale pub.
Eight Settlers Distillery: American Western decor and modern distilling techniques keeps tradition alive through Eight Settlers' grain whiskey and high-quality food. Try an Exotic Burger, made with a four meat blend including Wagyu beef, and be sure to book a reservation.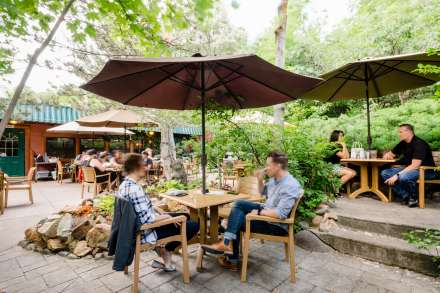 Hog Wallow Pub: Enjoy sampling the array of cocktails and beer on tap while jamming out to local live music five days a week. Grab their signature house-smoked wings, and cool down the heat with a Wasatch Brewing Ghost Rider IPA.
The Cotton Bottom: Whet your whistle with their lineup of local spirits and beers as you sink your teeth into their famous Garlic Burgers. For vegan options, grab their plant-based Impossible Burger with pickles and pepperoncini on the side. Look for the Bugs Bunny sign!
Kobe Japanese Cuisine: Pair your white wine with Kobe's creamy pork Tonkotsu Ramen, or a refreshing Ozeki Ikezo Peach Jelly Sake with a handmade California Roll. All sushi rolls are freshly made in-house and will have you begging for more!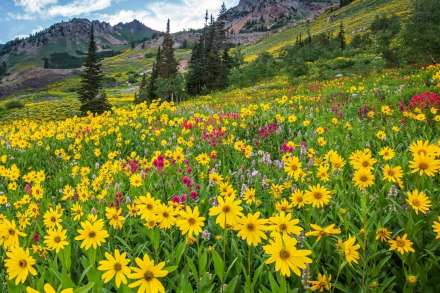 Get Free Tickets to the Wasatch Wildflower Festival
To reserve your free tickets, go to cottonwoodcanyons.org and follow the link to register. The website will take you through a 13-step process to log the days you'll be attending and the type of walking tours you'll be participating in. Tickets might be free, but registration is required to reserve a spot in guided tours. The walks are ranked by how long of a distance or challenging the terrain can be (Easy, Moderate, and Advanced). Activities have been designed to be fun, family-friendly and free-of-charge. Activities include but are not limited to: arts and crafts for kids, live musical entertainment, pop-up exhibits to spread ecological awareness, food and drink and beautiful views provided by the Cottonwood Canyons. Guided and self-guided walks will take you on breathtaking hikes as you journey through some of the most exciting wildflower-filled trails available. Don't miss these exciting opportunities to see Utah's never-ending sea of local flora!