PHOTOS: Johnny Cowan
The Americans With Disabilities Act was only passed in 1990, but Salt Lake–based nonprofit Art Access has been fighting for accessibility within art since 1984—and they're not stopping anytime soon.
Art Access provides opportunities for disabled artists to be visible within Utah's cultural sector and advocates for institutions to develop curriculum and spaces with disabled people in mind. Through educational workshops for other organizations, collaborative art experiences for disabled creators and uplifting creative explorations of the disabled experience in their programming and exhibitions, Art Access redefines accessibility. "Accessibility means moving past ADA compliance and toward a culture where disability experiences are not afterthoughts or marginal but instead recognized as every day and diverse realities that we should embrace," Executive Director Gabriella Huggins says.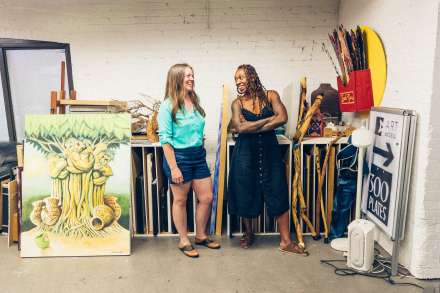 Art institutions are often inaccessible
Despite the fact that disabled community members are just as likely to create and engage with art as non-disabled members, Huggins says institutions are inaccessible for reasons that "disproportionately and uniquely affect disabled community members." Art Access Development and Communications Director Cara Jean Hall reiterates this—even when a space is accessible, it isn't always inclusive. "Accessibility means more than just being able to get your wheelchair up into a space," she says. "It also has to be enjoyable. You have to be able to actually partake in the offerings."
Partners: established artists collaborating with emerging disabled artists
Art Access' programs directly challenge a lack of inclusivity by prioritizing opportunities for disabled creators. Their flagship program, Partners, connects emerging disabled artists with established artists in the community to create collaborative work for the culminating show at the Bountiful Davis Art Center (90 North Main Street in Bountiful), traditionally held at the end of the program's run in January of each year. But emerging artists don't just get to develop their craft—the program offers professional development skills critical for artists, such as writing artists statements, applying for grants and marketing their work.
Applications for the Partners program
Huggins says that as Art Access continues to refine the Partners program to be more equitable and effective, the organization is also hoping to create a "Rolodex" of established artists who are interested in mentoring. Applications for Partners opens in November, but Huggins says any interested mentors are welcome to reach out at any time about potential collaborations.
Artist Working Groups: creative research groups
While the Partners program has been around since 1999, Art Access' Artist Working Groups began in 2021 to elevate creatives whose work explores the intersection of disability and other experiences. The program is the brainchild of both Huggins and former Art Access Program Manager Natalie Slater. This year's group, Embodied Ecologies, is the pilot program; five working group artists and seven collaborative artists created work that explored the intersections between disability, the environment, the label of health and the concept of community care. "Hearing the artists discuss their projects and creative processes is intriguing and inspiring," Huggins says. "I am so impressed by what they and Natalie have worked to create."
Embodied Ecologies at Salt Lake City Main Library
Embodied Ecologies will be displayed on the fourth floor of the Salt Lake City Main Library (210 E 400 South) from October 1 to November 11, 2022. "I see the program as a means to increase the volume and visibility of disabled arts in our community," Huggins says. "I highly encourage the public to come to this free event, support our artists and engage with this thoughtful examination of disabled experience."
COVID changes: Art Access gallery and new community space
Like many other nonprofits, the pandemic hit Art Access hard, resulting in the closing of their gallery space. Huggins viewed the challenges as an "opportunity to reprioritize and reimagine our presence in Salt Lake's art and cultural community." One of the largest barriers to access is an affordable studio space. Refocusing on the mission to center disabled artists "first and foremost," the organization is currently working to turn their office into a malleable community space, available to artists at little to no cost. "Our plans will not only increase physical accessibility and functionality but will allow us to re-activate our space into a hub for creativity and community," Huggins says.
Accessibility education for local cultural organizations
Alongside providing opportunities for disabled artists, Art Access aims to educate local cultural organizations on ableism and inclusion, namely through their Breaking Barriers program. Partnering with the Utah Division of Arts and Museums, Art Access provides curricula on disability justice and how to make accessibility a priority in all facets, including budgets and websites. "Access is a broad term," Huggins says. "Accessibility is imperative for the full participation of disabled folks but often has the unintended consequence of benefiting all types of non-disabled people."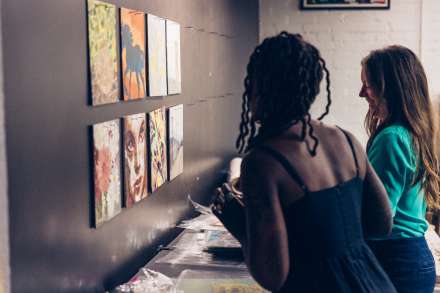 Strengthening the public's understanding of Art Access' mission
Historically, Huggins says that Art Access has been interpreted as "everything for everyone," which she says has sometimes created confusion around the organization's mission. "I hope to engage with the broader public more meaningfully and regularly to strengthen their understanding of our specific mission and programs while increasing awareness of ableism and building coalitions with partner organizations," Huggins says. Combating ableism inherently addresses other forms of oppression, and Huggins says Art Access will remain committed to "being a support to all people experiencing discrimination and oppression."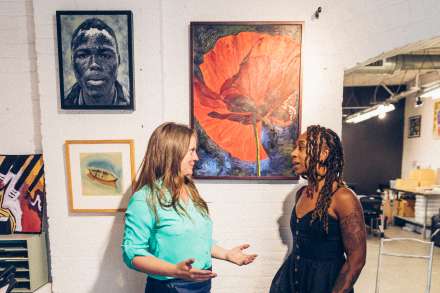 A bright future
Huggins credits a strong base of longstanding community support for Art Access' continued survival through the pandemic, demonstrating the impact of their work. Now, as the world moves through the aftereffects of COVID-19, Huggins looks to the future: "I am excited to see how improved, refined programs for disabled and non-disabled patrons and artists alike will continue to build support that sustains our organization."
How you can support Art Access
So after everything Art Access does for the community, how can the community support them? Even if you missed the 20th anniversary of their annual 300 Plates fundraiser this past May, Art Access accepts donations and volunteers all year round through their website, artaccessutah.org. 300 Plates took inspiration from former board member Joe Ostraff's experience in Thailand, beginning as a gallery event. Now, 300 Plates showcases over 100 local artists' 10" x 11" plate designs. Artists of all abilities and mediums can submit to the fundraiser. Then, the art is priced on a linear scale, starting at $100, then $101, then $102 and so on. Cara Jean Hall says the event "gives all artists an opportunity to display their work in a public setting," allowing for both the public and other artists to interact within a community they may not have had access to before.
Other ways to buy art from Art Access
Although the continued effects of the pandemic placed strain on the fundraiser this year, there's a silver lining: leftover plates from this year's annual fundraising event, 300 Plates, will be sold at Art Access' booth at several upcoming community events, such as the Marmalade Jam Fest (Sept. 24–25, 425 N. 500 West). "Our community can support us by keeping abreast of and attending our public events and sharing our programs with disabled and non-disabled artists in their lives," Huggins says. You can stay up to date with their newsletter, available on their website.