A sentiment you've undoubtedly heard about Salt Lake is its close proximity to outdoor activities. Usually, when Salt Lakers invoke this, they mean to gesture toward the many opportunities for rigorous sport or immersion in the outdoors. It's certainly true that a little ways from downtown, you can get to great skiing, mountain biking, hiking and climbing more quickly than most cities can boast. But Salt Lake's metro area is also teeming with unique and free outdoor activities due to the city's natural geography as a valley. Gardens, rivers and trails in Salt Lake are integrated into the flow of downtown, so while you may stumble into these attractions on your own, you may not know where to look.

Below are five outdoor activities that show off the breadth of Salt Lake activities and culture beyond our typical claims to fame—all accessible from downtown. Thanks to the city's public transportation options (TRAX, GREENbike, electric scooters), hitting all five activities in one day should be doable for those looking to fill their day not far from where they're staying.
City Creek & Memory Grove
Memory Grove is the constant, the old reliable, the downtown jewel. It is the first place I take any friend who visits Salt Lake and the last place I take them again before they leave. When spring blooms, the forest takes shape and dazzles with warm light. When fall descends, it's an essential outing before embracing winter.

There are at least three pathways into the park. Any way you enter will give you a different starter slice of the city: Come from the east, and you'll descend down paved pathways from the top of A Street—part of Salt Lake's earliest and first neighborhood, the Avenues—which are filled with unique townhomes. Come from the west, and you'll follow paved paths down from Capitol Hill, literally across the street from the state capitol. These two entrances show exactly how Memory Grove is nestled in the valley separating the two parts of the city. Meanwhile, the southern entrance goes through City Creek Park, which begins at the north part of the intersection on North Temple and State Street, catercorner to Temple Square. Trees and townhomes encapsulate the creek as it winds toward Memory Grove.
 
The grove has two parts: a large, open park and lake area (filled with dogs!) and a forest-like trail that veins north into the valley. There is no substitute for this wooded trail—walk for one minute, and you'll forget the city entirely. Dogs are off leash here, and I guarantee you'll get to watch them take a bath in the creek. Eventually, the grove pours into City Creek Canyon, an accessible onramp for those interested in more serious hiking and mountain biking. This nearly six-mile trail is well-tread and dog-friendly, provided you leash.
Why is it called Memory Grove? The park features several monuments memorializing U.S history and Utah veterans—in 1920, the city dedicated the park to World War I veterans, and a replica Liberty Bell sits near the park's entrance. Throughout the grove's trail, you'll find old stone benches and semi-finished stairs and pillars—half-structures only half-remembered. And during the spring and summer, newly engaged couples eagerly pose for photos almost every day. There's even a wedding hall on the park's edge. For these reasons, Memory Grove is special to Salt Lake: new memories are created here while old ones are evoked.

From Memory Grove, one of the city's many GREENbike stations can get you to Gilgal Sculpture Garden. The nearest station should be just a block away from the entrance to City Creek park at the intersection of Main and North Temple.
Tucked a block away from Trolley Square, the garden is an unorthodox method for peering into the city's Latter Day Saints roots, particularly how LDS culture intersects with the Bible. The garden was established in 1945 and took shape slowly as its creator, the 57 year-old Thomas Battersby Child, Jr., set out to—as he put it—make his thoughts express themselves with his hands. Twelve original sculptures and 70-plus stones engraved with scripture, poems and literary texts are littered about an otherwise normal park.  Visitors will quickly realize Gilgal's appeal as one of Salt Lake's more bizarre spots: Child had no artistic training but leaned on his career as a stone mason for his vision. A bishop of the LDS Church for 19 years, Child wanted to express his faith while provoking it at the same time. The results are certainly strange—it feels as though you've stumbled upon ruins in the middle of the city. As you enter, you'll immediately notice the large Sphinx with Joseph Smith's face carved in it. Most of the 70 rocks and stones are actually sculptures of bodies, symbols or faces. Many of the scriptures are oft-quoted Bible passages, but a fair amount are sourced from Mormon texts, such as the Doctrine & Covenants. These help show how LDS texts, taken with the Bible, inform Child's belief.
International Peace Gardens
Conceived in 1939 and dedicated in 1952, the International Peace Gardens is a collection of curated monuments to culture and history outside the United States. The gardens are large and spacious, and I've personally never seen them crowded. The International Peace Gardens is the kind of park that encourages you to dally. Move slowly, read the placards, and keep your phone on you to note all the things you'll want to look up later. Each of the 28 gardens recreates a signature architectural style particular to a nation and its culture, with displays about significant leaders or historical facts contextualizing why it was chosen for a spot in the garden. Greece, for instance, has a statue of the Goddess of Youth, Hebe, who personified eternal beauty of youth and immortality.
Near Hebe is a display on Spyridon Louis, the Greek athlete who clinched the Marathon Run in 1896 at the first modern instance of the Olympics. Greece hosted that year but lost event after event, and so it was only that much more inspiring when Louis won the marathon, invoking the 490 B.C. battle when 7,000 Greek warriors defeated 20,000 invading Persians on the plains of Marathon, Greece. Speaking of, the gardens took on a new significance in 2002 when Salt Lake hosted the 2002 Winter Olympics. That year's Olympic symbol, arguably a Salt Lake icon itself, adorns the garden entrance, reminding us of the time 20 years ago when Salt Lake hosted the world.
Perhaps the most eye-catching of the monuments is a miniature replica of the Matterhorn in the Swiss garden. While it may be miniature, this replica Matterhorn still towers at nearly 50 feet over a Swiss Chalet and pond. No individual garden or historical fact makes this one of the most interesting Salt Lake parks: whether you linger in Lebanon or dawdle in Denmark, the Peace Gardens are worth your time. Plus, it's right next to the Jordan River—perfect for biking.
The Jordan River Park is a serene river trail that's been paved into two small lanes, making it perfect for biking and running. Low-hanging trees shade long stretches of the trail and filter the summer light into godly rays during late day, especially near sunset. Though the trail proper starts in North Salt Lake, it's accessible along many points, and I recommend hopping on to head south from the Peace Gardens entrance. The river itself is a tributary of the Great Salt Lake and runs 40 miles. As it developed through the late 20th century, the recreational opportunities grew: in the portion that runs through Salt Lake alone, there are two other parks besides Jordan Park the city maintains, including a marina for canoeing. With most waterways in Salt Lake being culverted, Jordan River becomes a bastion, similar to Memory Grove in its construction and preservation of natural-feeling space amid the city bustle. It's a great reason to visit Salt Lake's Westside, an area replete with culture. Jordan River and its park work as a delicious entreé to what this community has to offer.

The closest GREENbike station is a few blocks away (at the intersection of 400 South and 800 West), so plan on having biked here already. Regardless, the trail makes for an excellent river walk and can guide you farther into South Salt Lake.
South Salt Lake & Granary Mural Tour with Bewilder Beer
Whether you've filled your day with this activity list or are just choosing one or two, you'll probably have stumbled into several murals downtown already, but the murals found in South Salt Lake and the Granary District are more surprising, still littered densely but often popping up in unexpected places. This is the nature of the Granary District, one of SLC's oldest neighborhoods whose origins as an industrial and manufacturing district have lent it a gritty warehouse chic now that it houses some of Salt Lake's most revered spots: the small but legendary music venue Kilby Court, for instance; the mouth-watering cookie shop Ruby Snap; as well as several breweries, such as Bewilder Brewing on 445 S. 400 West.
One of the most eye-catching murals is at 723 S. Kilby Court, on the Pictureline building, facing north. A classic shutter camera covers the wall and holds a photographer in its lens—as though the viewer were the one being captured. Jann Haworth and her son, Alex, painted this in 2018. Another hidden gem in Granary is at 624 S. 300 W., facing west and north on Paw Paw's Dog Wash. Titled "The New Americans of Salt Lake: Portraits of Struggle, Spirit and Inspiration," the mural is less a painting and more a space dedicated to giving voice to the journeys of refugee, immigrant and resettled Utahns, each with a portrait and short quote. Local artist Nick Sokoloff began The New Americans project in 2016, and the mural was finished in 2018.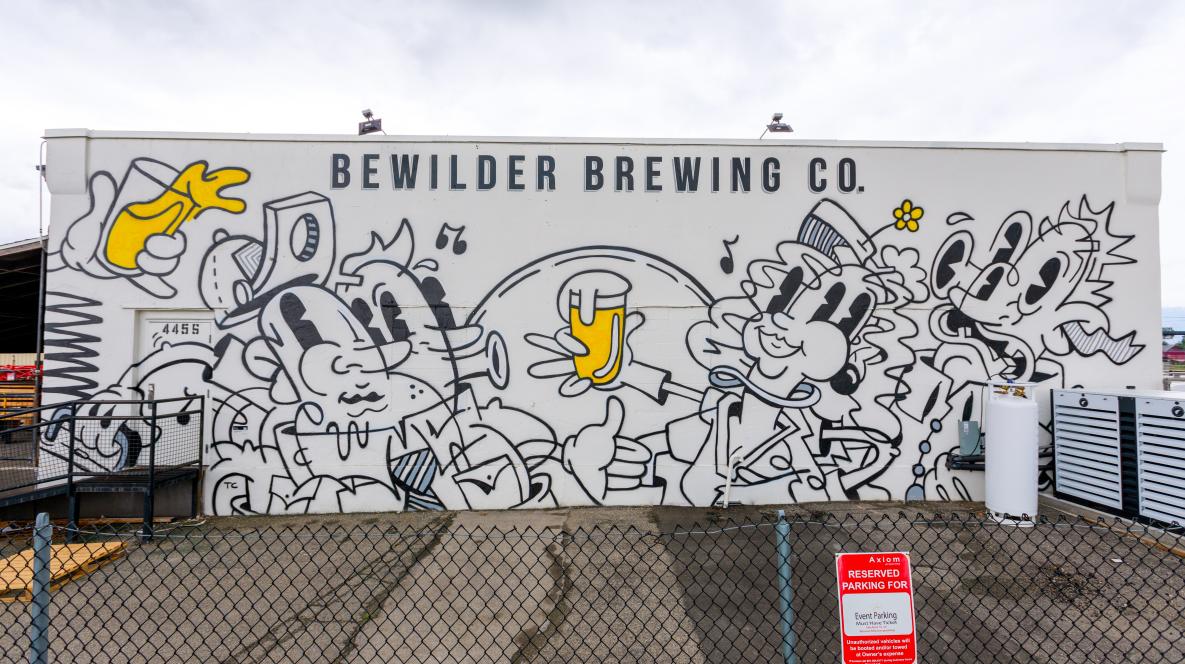 Bewilder Brewing
With Bewilder's wide corridor interior and long patio area, the brewery is a pretty ideal watering hole if you're coming from South Salt Lake through Granary. I recommend the Orange Honey Wheat, which uses honey and orange peel for a light, citrusy wheat flavor and dry finish. You can also order a variety of sausages (including vegetarian Brats!), as well as pizza, sandwiches, salads, snacks and sharables.

The view from Bewilder's patio area compresses the skyscrapers downtown against the Avenues neighborhood, revealing just how perched the neighborhood is above Salt Lake, a city whose vibe and culture owes much to the geography of the valley in which it rests.