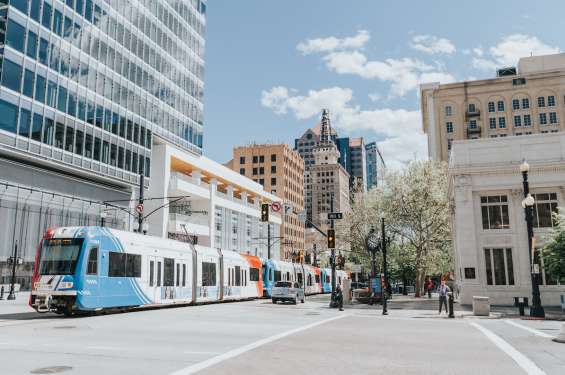 Devastating circumstances require resourcefulness, optimism and generosity. As the tourism industry has been devastated by COVID-19 and the sacrifices it has required from all of us to keep our families, employees, communities and visitors safe, they have come together to offer initiatives to keep people well fed and inspired. Here is a sample of the ones in Salt Lake County.
Salt Lake County
(Announcements to local partners from Unified Command: Mayor Jenny Wilson, Gary Edwards, Clint Mecham)
June 4, 2020
Salt Lake County (SLCo) continues to monitor events on protests and COVID-19. The Governors Executive Order for assigning color codes for SLCo expires tomorrow. We anticipate that SLCo will remain in its current status in a new order. The current executive order be found at Executive Order. We encourage you to use the online Phased Guidelines of Utah Leads Together Plan to ensure the most current version. The State has released a planning template for gatherings, the template can be found at COVID-19 Event Planning Template. Salt Lake City has lifted the curfew that was initially set thru this week.
The Mayor, members of the District Attorney's team, and the SLCo Finance Office are finalizing the process and agreement to distribute C.A.R.E.S Act funds to our municipal partners. These funds will be distributed next week following a signed agreement between the County and the municipality.
The U.S. Senate passed Paycheck Protection Program Flexibility Act of 2020 (H.R. 7010), sending the measure to President Trump for signature. This bill makes reforms to the Paycheck Protection Program (PPP) administered by the Small Business Administration (SBA). It gives small businesses with 24 weeks from the date of origination or until December 31, 2020, whichever of the two is earlier, to expend the funds. This a substantial extension compared with the eight weeks originally authorized by the Coronavirus Aid, Relief, and Economic Security (CARES) Act. The measure also revises the so-called 75/25 ratio. The CARES Act required PPP recipients to use 75% of the funds for payroll support, while only 25% of the funds could be used to support other eligible costs, including mortgage, rent, and utility obligations. The bill revises that ratio, requiring recipients to use only 60% of the PPP funds for payroll and up to 40% of these funds to cover the other costs. As of May 30, 2020, approximately 5,450 lenders have approved over 4.476 million PPP loans totaling $510.23 million. The average loan size has been approximately $114,400 each. See the full Bill Text.
The Centers for Disease Control and Prevention (CDC) released new guidance on creating a safe working environment for employees in office buildings as they begin to return to work, accompanied by alerts on social distancing in the workplace, stockroom and loading dock workers, and agriculture workers from the Occupational Safety and Health Administration (OSHA). The agency also updated its guidance on considerations for schools and day camps, institutions of higher education (IHEs), households living in close quarters, and newly resettled refugee populations.
Here are additional updated items:
U.S. Treasury updated the frequently asked questions to supplement Treasury's Coronavirus Relief Fund ("Fund") Guidance for State, Territorial, Local, and Tribal Governments. The updated guidelines can be found at FAQ.
 
SLCo announced select recreation centers will begin opening with modified operations. Openings are determined based upon staffing, and health order directives related to amenities. Please visit recreation.slco.org or your local recreation center social media accounts for updates. For questions regarding phased openings visit www.recreation.slco.org, call (385) 468-1800 or email recreation@slco.org.
 
A new statewide campaign called "Live on Utah" to prevent suicide by promoting education, providing resources and changing the social norms around suicide and mental health. The State funded $1 million and required an equal match in private funds to launch the program, which includes the new website liveonutah.org.
 
President Trump announced the framework for Operation Warp Speed (OWS) to accelerate the development of a COVID-19 vaccine. The Administration selected fourteen preliminary candidates from 100+ vaccine candidates under development. OWS leaders will select eight for further testing in small clinical trials, and ultimately three to five will proceed to large-scale randomized trials.
 
SLCo is encouraging residents to donate food or money for those in need.  Individuals can use www.FeedUT.org to locate a nearby pantry to volunteer or donate money or food. 
 
Please help us in communicating to businesses that sick employees should stay home.  We are finding instances in where symptomatic individuals continue to work when ill. Additionally, it is important to continue to emphasize social distancing and wearing face coverings.
 
Please feel free to reach out with any questions or concerns.
 
SLCo Parks and Recreation phased re-opening
​To ensure the safety of patrons and staff, each recreation facility will be operated under new modified operating procedures in compliance with current state health guidelines. All parks and recreation amenities will be subject to social distancing guidelines and dependent on the local status in the State's plan.
Current Schedule of Openings
Monday, May 18
Playgrounds, dog parks, pickleball courts, skate parks, open fields, paths and trails will be open with social distancing requirements in cities currently in the "Yellow" status of the Utah Together plan. Restrooms in parks will be open.
Friday, May 22
Wheeler Farm will be open with social distancing requirements in place. The Sunday Farmer's Market will take place beginning June 7th with modified operations.
Saturday, May 23
Pavilions and athletic fields will be open in cities currently in the "Yellow" status of the Utah Together plan. Amenities will be open for reservations. Groups are required to follow health department guidelines. Restrooms in parks will be open.
Monday, June 1
Select recreation centers will begin opening with modified operations. Openings will be determined based upon staffing, and health order directives related to amenities. Availability of our facilities is contingent upon our response to the COVID-19 health emergency. Patrons are encouraged to contact our facilities to make reservations as drop-in visits will be limited and subject to availability.
County Ice Center - 5201 Murray Park Lane (385) 468-1650
Dimple Dell Recreation Center - 10670 South 1000 East (385) 468-3355
Fairmont Aquatic Center - 1044 Sugarmont Drive (385) 468-1540
JL Sorenson Recreation Center - 5350 West Main Street (385) 468-1340
Magna Recreation Center - 3270 South 8400 West (385) 468-1835
Millcreek Community Center - 2266 East Evergreen Avenue (385) 468-1380
Northwest Recreation Center - 1255 Clark Avenue (385) 468-1305
Salt Lake City Sports Complex - 645 South Guardsman Way (385) 468-1925
Taylorsville Recreation Center - 4948 South 2700 West (385) 468-1732
Wednesday, July 1
Target date to open Salt Lake County outdoor pools.
All six County-operated golf courses are open and operating under "Yellow" health directive status. All tee-times are reservation and pre-pay only.
We are still determining appropriate openings for our park splash pads, youth and adult sports programming, childcare, and summer camps. Thank you to our patrons for their continued patience as we work to provide our services in safe and healthy manner.
Important Contact Information:
Salt Lake County: www.slco.org/covid-19/
Salt Lake County Health Department Hotline: 385-469-INFO (4236)
State of Utah: www.coronavirus.utah.gov
Federal: https://www.coronavirus.gov/
Coronavirus Info Line: 800-456-7707
Healthcare Workers: 888-374-8824
State Media Inquiries: 685-429-0015
Disaster Distress Helpline: 1-800-985-5990 or text TalkWithUs to 66746
Salt Lake County Economic Development Business Hotline: 385-468-4011
SLCo Economic Impact Working Group Beta Dashboard: https://slco.maps.arcgis.com/apps/MapSeries/index.html?appid=c07ef403435442909c7dc30c0da2b718.  
Language Resources: https://coronavirus.utah.gov/multilingual-resources/.
SLCo Intergovernmental Liaison (Ryan Perry): 801-541-0539, rperry@slco.org

Utah Health Department Update:
June 5, 2020 7:00 am
Salt Lake County
Epidemiology:
Confirmed cases: 5,760
Tested: 92,390
Deaths: 78
Utah
Epidemiology:
227,507 people tested 
117 deaths
Resources:
United States
Epidemiology:
Updates:
CDC now recommending wearing cloth face coverings in public settings where social distancing is difficult to maintain (not N-95)
Internationally
Epidemiology:
For media inquiries, contact Shawn Stinson, 801-245-0106.​
partners