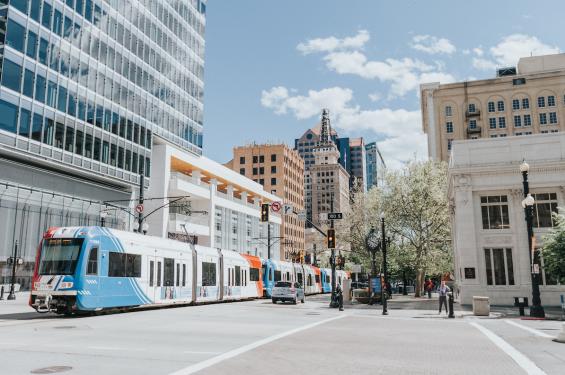 Devastating circumstances require resourcefulness, optimism and generosity. As the tourism industry has been devastated by COVID-19 and the sacrifices it has required from all of us to keep our families, employees, communities and visitors safe, they have come together to offer initiatives to keep people well fed and inspired. Here is a sample of the ones in Salt Lake County.
Economic Recovery Assistance for Businesses
Salt Lake County
(Announcements to local partners from Unified Command: Mayor Jenny Wilson, Gary Edwards, Clint Mecham)
October 13, 2020
Salt Lake County COVID-19 Response and Case Counts:  Today, Salt Lake County watched anxiously as Governor Herbert, Dr. Angela Dunn, and Richard Saunders held a press conference today to announce the COVID-19 Transmission Index intended to protect communities. It represents the collaborative work of state and local public health officials, the Governor's Office, legislative leaders, the hospital industry, and business leaders.  A new State Health Order will be issued and take effect on Thursday to reflect the Utah Health Guidance Levels.
The transmission index clarifies the public health metrics used to determine which counties are placed in which transmission level. Counties will be placed in one of three transmission levels: High, Moderate, or Low. These levels correspond directly to case rates, positivity rates, and ICU utilization. Data will be analyzed weekly, and counties will be placed into a transmission level depending solely on what their data show. Changes from a lower level to a higher level may occur weekly. Changes from a higher level to a lower level may occur every 14 days at minimum, when thresholds are met.
Based upon the new guidelines, Salt Lake County is one of six Counties currently in a high level of transmission.  Masks are required from the State level, social gatherings are limited to 10 or fewer residents, 6' physical distance is required between household groups at all times for dining (including waiting areas and when seated), and any establishment that allows public gathering will be required to a 6' physical distancing between household groups.  Exception to the 6' physical distancing between household groups can be requested through county executives in consultation with the local health officer. Exceptions may be reviewed every 14 days. Due to the high risk of transmission in this level, exceptions will be rare and are strongly discouraged.
Salt Lake County will continue to review the new Utah Health Guidance Levels 10.13.20 and ask municipal leaders to review the guidelines as well.  As a reminder, if you socialize with others outside of your household, including extended family or friends, wear a mask when social distancing is not viable in both indoor and outdoor settings.  You may view the Salt Lake County Council Briefing 10.13.20  presented today for the latest SLCo numbers on case counts.
Federal Stimulus Legislation: Senate Majority Leader Mitch McConnell announced that the upper chamber will vote on another "targeted" COVID-19 relief package when Senators return to Capitol Hill next week. The details of the new bill have not been released, but the measure is expected to authorize approximately $500 billion in funding for unemployment assistance, schools and hospitals, and the Paycheck Protection Program (PPP), as well as liability protections for businesses, schools, and healthcare providers.
The Senate proposal stands little chance of becoming law as House Speaker Nancy Pelosi has repeatedly criticized any proposal costing below $2.2 trillion as insufficient. Additionally, the targeted offer appears to contradict the wishes of the White House for a significant and comprehensive relief bill before the elections.
Before the weekend, the White House put forth a $1.8 trillion proposal that was quickly rejected by Republicans and Democrats alike. According to media reports, the proposal reportedly included the following provisions: $300 billion in State and local aid; $400 per week in expanded unemployment benefits through January; $60 billion for rental and mortgage assistance; $28 billion for student loan relief; $15 billion in nutrition assistance; funding for airlines, restaurants, small businesses; and a second round of Economic Impact Payments (EIPs) of $1,200 for adults and $1,000 per child. Over the weekend, Administration officials then started encouraging Congress to explore a piecemeal approach.  The window of time to reach an agreement before the election is narrowing.
Salt Lake County Economic Recovery:  Today, Natalie Gochnour, Director of the Kem C. Gardner Policy Institute at the University of Utah presented to the Salt Lake County Council SLCo Economic Insights 10.09.20. Natalie indicated 2020 had been a difficult year as the pandemic continues to rage.  The health and economic relationship are immensely clear in the eighth month of dealing with the virus because we can now show the relationship between the health and case counts economically directly correlating with unemployment.  It is typically a month lag time in rising case counts and seeing the pain economically in the County.
Also, Rod Kitchens, Budget Director, Mayor's Finance presented the 2021 SLCo Economic Projections 10.13.20. Rod Kitchens shared that new residential construction is driving property tax new growth rate, general and restaurant taxes are much better YTD than forecasted in June due to stimulus dollars. Transient Room Taxes will likely have a more gradual improvement than previously forecasted. Although stimulus dollars are diminishing, economic indicators remain positive for Salt Lake County.
Rental Assistance for Residents in Salt Lake County: More than $9 million is available in state aid for rental assistance to Salt Lake County residents through Utah Community Action.  SLCo residents may call Utah Community Action directly at 801-359-2444 to schedule an appointment for rental assistance. Renters in need are encouraged to access rental assistance funds and pay rent now so they do not fall off a financial cliff with eviction. Rents will come due on December 31, 2020 when the eviction moratorium expires. Landlords should encourage renters to access assistance and pay rent now so that they aren't caught in an eviction situation at that time.
SLCo Mass Vaccination: It is anticipated vaccines will not become widely available until early 2021.  A vaccine will not be available for the under 18 age group until likely November 2021, given there are no clinical trials currently underway for that age group.
Previous Updates:
The U.S. Department of the Treasury Office of Inspector General (OIG) has released an updated document with Frequently Asked Questions (FAQs) for units of State and local government that received assistance from Coronavirus Relief Fund (CRF)established by the Coronavirus Aid, Relief, and Economic Security Act (CARES).
Salt Lake County Severe Windstorm: On September 9th, Salt Lake County issued a ​Declaration of Emergency (DOE)​ for the high wind emergency event. Salt Lake City, South Salt Lake, Millcreek and Holladay have also issued emergency declarations. For more information on Salt Lake County's emergency response please view Mayor Wilson's SLCo Wind Emergency Report 09.09.20.
In September, Mayor Wilson, Gary Edwards, and Clint Mecham released the SLCo COVID-19 Six Months in Review 09.15.20 report reviewing steps taken since March 2020 that marked the six-month milestone of Salt Lake County's COVID-19 Response and Recovery on September 6th.
Salt Lake County Summer 2020 Consumer Sentiment Survey:  Y2 Analytics presented a follow-up survey to a previous SLCo survey conducted in May 2020 to the County Council in September. You may view the full survey: Summer 2020 Consumer Sentiment Survey.
Salt Lake County (SLCo) COVID-19 data portal.  The data portal can be found here. This portal offers summary by city information, comparison of population, percentages compared to the rest of the County, group housing cases, outbreak information, and recovery curve.
SLCo Health Department continues with its mobile hotspot testing events in communities disproportionately affected by COVID-19.
SLCo is encouraging residents to donate food or money for those in need.  Individuals can use www.FeedUT.org to locate a nearby pantry to volunteer or donate money or food.
Please help us in communicating to businesses that sick employees should stay home. 
Please feel free to reach out with any questions or concerns.
SLCo Parks and Recreation phased re-opening
​To ensure the safety of patrons and staff, each recreation facility will be operated under new modified operating procedures in compliance with current state health guidelines. All parks and recreation amenities will be subject to social distancing guidelines and dependent on the local status in the State's plan.
Playgrounds, dog parks, pickleball courts, skate parks, open fields, paths, and trails will be open with social distancing requirements in cities currently in the "Yellow" status of the Utah Together plan.
Restrooms in parks will be open.
Wheeler Farm will be open with social distancing requirements in place. The Sunday Farmer's Market will take place beginning June 7th with modified operations
Pavilions and athletic fields will be open in cities currently in the "Yellow" status of the Utah Together plan.
Amenities will be open for reservations. Groups are required to follow health department guidelines.
Select recreation centers will begin opening with modified operations. Openings will be determined based upon staffing, and health order directives related to amenities. Availability of our facilities is contingent upon our response to the COVID-19 health emergency. Patrons are encouraged to contact our facilities to make reservations as drop-in visits will be limited and subject to availability.

County Ice Center - 5201 Murray Park Lane (385) 468-1650
Dimple Dell Recreation Center - 10670 South 1000 East (385) 468-3355
Fairmont Aquatic Center - 1044 Sugarmont Drive (385) 468-1540
JL Sorenson Recreation Center - 5350 West Main Street (385) 468-1340
Magna Recreation Center - 3270 South 8400 West (385) 468-1835
Millcreek Community Center - 2266 East Evergreen Avenue (385) 468-1380
Northwest Recreation Center - 1255 Clark Avenue (385) 468-1305
Salt Lake City Sports Complex - 645 South Guardsman Way (385) 468-1925
Taylorsville Recreation Center - 4948 South 2700 West (385) 468-1732

All six County-operated golf courses are open and operating under "Yellow" health directive status. All tee-times are reservation and pre-pay only.
We are still determining appropriate openings for our park splash pads, youth and adult sports programming, childcare, and summer camps. Thank you to our patrons for their continued patience as we work to provide our services in a safe and healthy manner.
Important Contact Information:
Salt Lake County: www.slco.org/covid-19/
Salt Lake County Health Department Hotline: 385-469-INFO (4236)
State of Utah: www.coronavirus.utah.gov
Federal: https://www.coronavirus.gov/
Coronavirus Info Line: 800-456-7707
Healthcare Workers: 888-374-8824
State Media Inquiries: 685-429-0015
Suicide and Mental Health: www.liveonutah.org
Disaster Distress Helpline: 1-800-985-5990 or text TalkWithUs to 66746
Salt Lake County Economic Development Business Hotline: 385-468-4011
SLCo Economic Impact Working Group Beta Dashboard: https://slco.maps.arcgis.com/apps/MapSeries/index.html?appid=c07ef403435442909c7dc30c0da2b718.  
Language Resources: https://coronavirus.utah.gov/multilingual-resources/.
SLCo Intergovernmental Liaison (Ryan Perry): 801-541-0539, rperry@slco.org

Utah Data Update:
October 14, 2020 3:00 pm
Epidemiology:
Total Confirmed cases: 38,378
People Tested: 375,496
Deaths: 282
Epidemiology:
940,687 people tested 
527 deaths
Resources:
Epidemiology:
Updates:
The CDC now recommends wearing cloth face coverings in public settings
Internationally
Epidemiology:
For media inquiries, contact Shawn Stinson, 801-245-0106.​
You Might Also Be Interested In:
partners