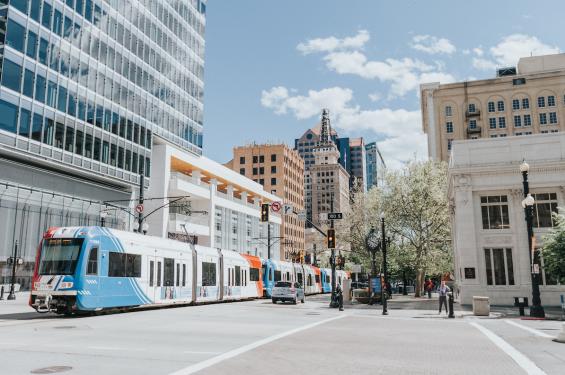 Devastating circumstances require resourcefulness, optimism and generosity. As the tourism industry has been devastated by COVID-19 and the sacrifices it has required from all of us to keep our families, employees, communities and visitors safe, they have come together to offer initiatives to keep people well fed and inspired. Here is a sample of the ones in Salt Lake County.
Economic Recovery Assistance for Businesses
Salt Lake County
(Announcements to local partners from Unified Command: Mayor Jenny Wilson, Gary Edwards, Clint Mecham)
December 1, 2020
Salt Lake County COVID-19 Response and Case Counts: SLCo case counts are currently down, likely in response to Governor Herbert's recent health order that has now expired.  With the Thanksgiving holiday gatherings behind us and as we enter into the December holiday season, it is expected that we will see increasing case counts in the coming weeks.  Testing is currently down about 5,000 tests this week from last.  However, for two weeks in a row, Salt Lake County has had a lower positivity rate of 19% compared to our all-time high of a 25% positivity rate.  As a reminder, Gary Edwards expressed that residents must continue their diligent mask-wearing, limit social gatherings, practice social distancing, and good hygiene. You may view the Salt Lake County Council Report 12.01.2020 shared today with the County Council.
 Federal Stimulus Legislation:   Negotiations restarted today between lawmakers who introduced coronavirus relief proposals in the latest effort to break the stalemate and reach a deal in the few remaining weeks Congress will be in session.
The day started with a bipartisan group of lawmakers introducing a roughly $908 billion proposal intended as a temporary package that would run until April of 2021.  The day ended with two additional proposals, one offered privately by Democratic leaders to Republicans and a third that Republicans have approved with the White House.
Highlights of the bipartisan proposal include, among other provisions:
$160 billion for state, local and tribal governments
$180 billion for a federal boost in unemployment insurance, coming out to $300 a week
$288 billion for small businesses, including a reauthorization of the Paycheck Protection Program
$45 billion for transportation
$10 billion for the U.S. Postal Service
Short-term federal protection from coronavirus-related lawsuits
 SLCo Mass Vaccination:  Vaccine doses will start arriving in December and will be prioritized for health care workers.   In January, the vaccine will be prioritized for long-term care facilities and first responders based upon the federal government's direction.  It is anticipated that mass vaccinations will not start until March or April 2021.
Rental Assistance for Residents in Salt Lake County: Salt Lake County has led out in rental assistance in partnership with the State and other partners with proactive measures to stem mass evictions due to the pandemic.  Taking the lead has created long-term housing stability in SLCo as well as mitigate negative impacts on our economy.
State aid for rental assistance is available to Salt Lake County residents through Utah Community Action until the CDC moratorium expires at the end of the month. SLCo residents may call Utah Community Action directly at 801-359-2444 to schedule an appointment for rental assistance.
Previous Updates:
The U.S. Department of the Treasury Office of Inspector General (OIG) has released an updated document with Frequently Asked Questions (FAQs) for units of State and local government that received assistance from Coronavirus Relief Fund (CRF)established by the Coronavirus Aid, Relief, and Economic Security Act (CARES).
Salt Lake County (SLCo) COVID-19 data portal.  The data portal can be found here. This portal offers summary by city information, comparison of population, percentages compared to the rest of the County, group housing cases, outbreak information, and recovery curve.
SLCo is encouraging residents to donate food or money for those in need.  Individuals can use www.FeedUT.org to locate a nearby pantry to volunteer or donate money or food.
Please help us in communicating to businesses that sick employees should stay home. 
Please feel free to reach out with any questions or concerns.
SLCo Parks and Recreation
​To ensure the safety of patrons and staff, each recreation facility will be operated under new modified operating procedures in compliance with current state health guidelines. All parks and recreation amenities will be subject to social distancing guidelines and dependent on the local status in the State's plan.
Playgrounds, dog parks, pickleball courts, skate parks, open fields, paths, and trails will be open with social distancing requirements 
Restrooms in parks will be open.
Wheeler Farm will be open with social distancing requirements in place. 
Pavilions and athletic fields will be open according to the Utah Health Guidance levels
Amenities will be open for reservations. Groups are required to follow health department guidelines.
Select recreation centers will begin opening with modified operations. Openings will be determined based upon staffing, and health order directives related to amenities. Availability of our facilities is contingent upon our response to the COVID-19 health emergency. Patrons are encouraged to contact our facilities to make reservations as drop-in visits will be limited and subject to availability.

County Ice Center - 5201 Murray Park Lane (385) 468-1650
Dimple Dell Recreation Center - 10670 South 1000 East (385) 468-3355
Fairmont Aquatic Center - 1044 Sugarmont Drive (385) 468-1540
JL Sorenson Recreation Center - 5350 West Main Street (385) 468-1340
Magna Recreation Center - 3270 South 8400 West (385) 468-1835
Millcreek Community Center - 2266 East Evergreen Avenue (385) 468-1380
Northwest Recreation Center - 1255 Clark Avenue (385) 468-1305
Salt Lake City Sports Complex - 645 South Guardsman Way (385) 468-1925
Taylorsville Recreation Center - 4948 South 2700 West (385) 468-1732

All six County-operated golf courses are open and operating under the Health Guidance Levels directive status. All tee-times are reservation and pre-pay only.
Important Contact Information:
Salt Lake County: www.slco.org/covid-19/
Salt Lake County Health Department Hotline: 385-469-INFO (4236)
State of Utah: www.coronavirus.utah.gov
Federal: https://www.coronavirus.gov/
Coronavirus Info Line: 800-456-7707
Healthcare Workers: 888-374-8824
State Media Inquiries: 685-429-0015
Suicide and Mental Health: www.liveonutah.org
Disaster Distress Helpline: 1-800-985-5990 or text TalkWithUs to 66746
Salt Lake County Economic Development Business Hotline: 385-468-4011
SLCo Economic Impact Working Group Beta Dashboard: https://slco.maps.arcgis.com/apps/MapSeries/index.html?appid=c07ef403435442909c7dc30c0da2b718.  
Language Resources: https://coronavirus.utah.gov/multilingual-resources/.
SLCo Intergovernmental Liaison (Ryan Perry): 801-541-0539, rperry@slco.org
For media inquiries, contact Shawn Stinson, 801-245-0106.​
You Might Also Be Interested In:
partners