Huntsman Center Events & Info
The Jon M. Huntsman Center is home to several events and practices during the All-Star weekend. Located just outside of downtown Salt Lake on the University of Utah campus, it has easy access to downtown (and the rest of the valley) through Trax Light-Rail. Check out events and transportation impacts here. 
Events
Friday - February 17
Saturday - February 18
Sunday - February 19
Ruffles NBA All-Star Celebrity Game
4:30 pm MT
NBA All-Star Practice presented by AT&T
10:30 am MT
NBA G League Next Up Game
1 pm MT
 
NBA HBCU Classic presented by AT&T
2 pm MT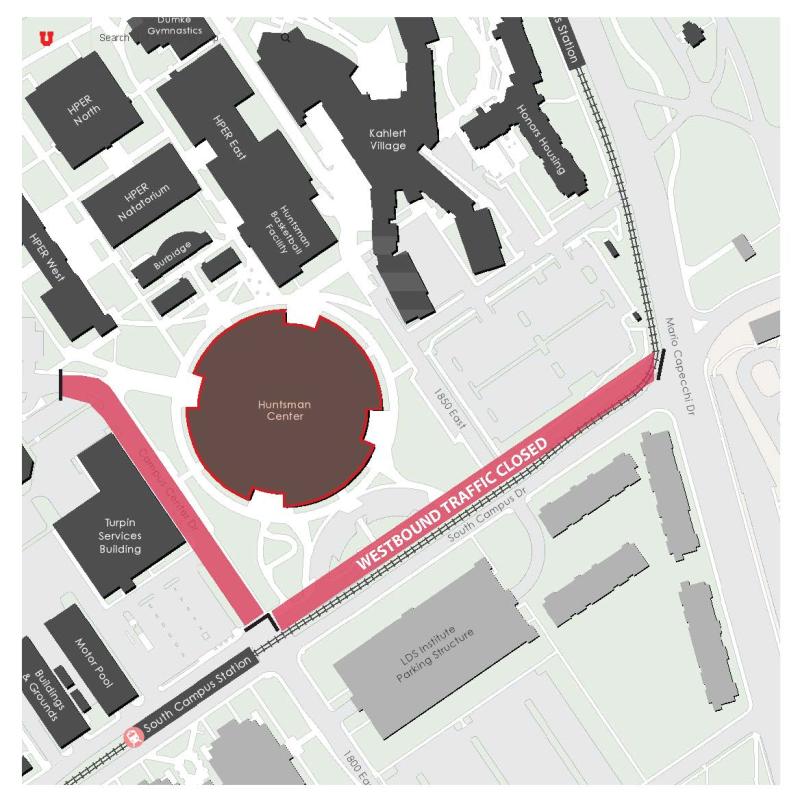 The Westbound Lanes on South Campus Drive from Mario Capecchi to 1800 East will be closed for the NBA security perimeter. South Campus westbound detour will route to Research Rd to 1800 E and back to South Campus Drive.
 
South Campus Eastbound Lanes will not be impacted.
 
Westbound closure will be daily Feb 16th – 19th from 7:00 AM to 10:00PM.
The permits required for these road closures were issued by the Utah Department of Transportation. For more information about the permits obtained, contact the SLC Special Events Permits at 801-535-6105 and the UDOT Special Events Permits at 801-975-4900.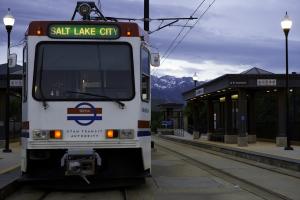 Intending to alleviate traffic, parking, and other driving disruptions, UTA's Free Fare February Program, from Feb 12-21, allows fans to ride UTA buses, TRAX, and FrontRunner trains to the Huntsman Center. As a result, surrounding residents will notice a significant increase in ridership hours before events and shortly after the events ends. The TRAX Red Line will increase the service frequency to transport fans as quickly as possible. Visit rideuta.com to view the game-day service schedule and more public transportation information. 
669 West 200 South

801-RIDE-UTA
Utah Transit Authority (UTA) provides a variety of public transportation services to Salt Lake, Davis, Weber and Utah Counties, North Tooele Valley and Brigham City. UTA also connects Salt Lake City with the Park City Shuttle system, and offers seasonal Ski Buses (Mid December…
Once the NBA places their security perimeter fencing up on Wednesday February 15th, there will be an impact to those walking from Trax and surrounding parking lots. Please see this map to help guide around this closure.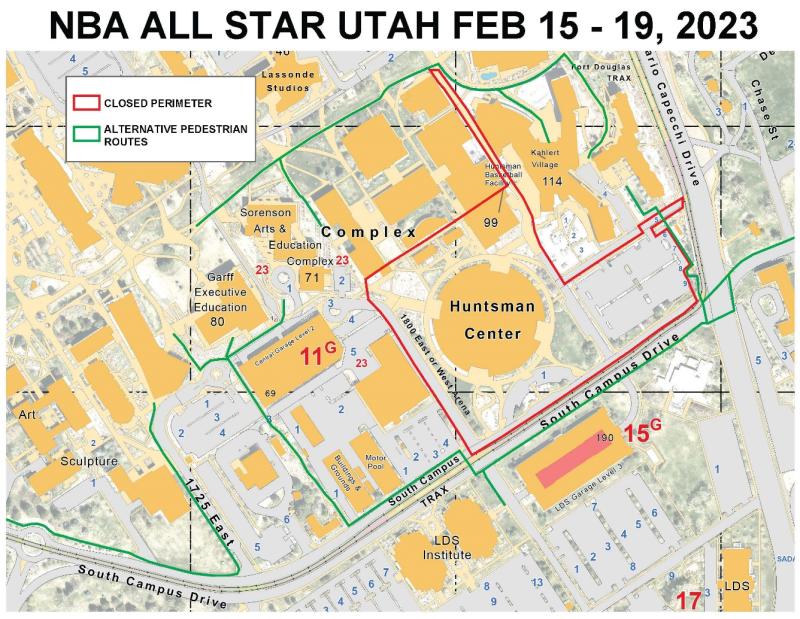 The NBA will have their Security Screening compound at the Kalhert/Honors Housing parking lot. The students that normally park in this lot will be directed to park alternatively in Officers Club or Ft Douglas parking lot. Maps and communication will be posted in the parking lot 10 days in advance.
The top 2 Levels of the Central Garage will be used by credentialed NBA attendees from February 16th – 19th. The bottom 2 levels of the garage will remain as normal. To access the Central Garage and Business loop, please utilize South Campus and 1725 East as west arena will be closed during the duration of activities.
Institute parking areas will be utilized for General Fan parking attending the events. Below is the NBA All Star Parking map.