Salt Lake County Equestrian Park and Event Center
Salt Lake is home to some decidedly unique venues. Like the 120-acre Salt Lake County Equestrian Park and Event Center in South Jordan, just minutes south of Salt Lake City. Boasting some of the finest amenities in the Intermountain West for racing, training boarding, showing and rodeos, it's also a great option for non-equestrian events like concerts, sports tournaments and trade shows. With an 85,000-square-foot arena and event center – plus a stunning view of the Wasatch Mountains.
We Are Open! 
It is the goal of our facility to provide our attendees and employees with the safest events possible. Additional and enhanced cleaning practices were adopted at the beginning of the COVID-19 Pandemic. These practices of cleaning and disinfection will continue until further notice. This includes the posting and notice of cleaning to public areas in the facility, as well as disinfection of high touch surfaces at times of need. For more information regarding our cleaning practices please follow this link. 
We encourage those who have yet to receive the COVID-19 vaccine, and those 12 years of age and younger (not yet eligible for the vaccine), to continue to wear a face covering while inside our facility.
We are thrilled to welcome you back to the Salt Lake County Equestrian Park & Event Center, and we are dedicated to working together to bring live events back to life!
-The Equestrian Park Team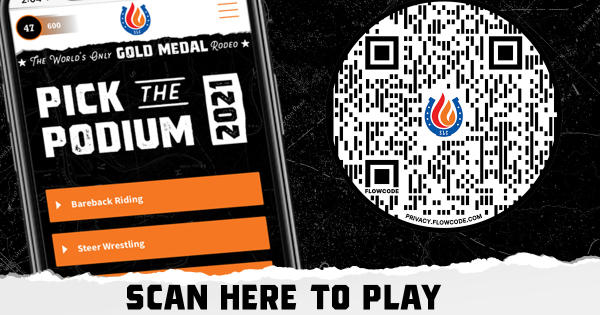 Calling all rodeo FANS. The Days of '47 Cowboy Games gaming platform is now available for you to get signed up and start earning points for a share of $20,000 in cash and prizes. The top point earner will be awarded $5,000 and it doesn't cost you any money to participate.
Simply scan the QR code on image attached or go to the bottom of the homepage – www.daysof47cowboygames.com to get signed up. Receive points upon sign-up and then on July 17 and 18 you will have the opportunity to collect more points by correctly answering the trivia question. 
The bulk of points will come through the Pick the Podium element in which you pick the top 3 in each event, each night and for every correct answer your point total will rise. 
Fans can play at the event or from the comfort of their living room. The top 10 finishers in total points will be awarded prizes at the conclusion of the event.
Get your friends and family to play along and have your own internal competition. Fun for the whole family!
Here Are Some Highlights
Along with a stunning view of the Wasatch Mountains, the Equestrian Park features:
85,000 sq. ft. arena and event center
AQHA-approved ¾ -mile track
Polo field
5 outdoor arenas – including one that is covered
306 horse stalls for show boarding 
Monthly or nightly boarding in stalls, paddocks or runs
Ample parking