If you've never been through Salt Lake City in the winter, the awe-inspiring annual transformation of the Gallivan Center, an event venue and amphitheater found on 239 South Main Street, will surely be a pleasant surprise. As the seasons change, the space shifts into a light-gilded plaza, often hosting art installations, festivals, concerts, a public ice rink, and wintertime celebrations, including an elaborately decorated Christmas tree that towers over 54 feet and features more than 200,000 stringed lights.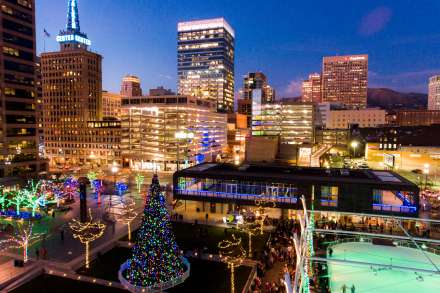 Gallivan Holiday Lighting Display
Gallivan's wintertime traditions have occurred for over 25 years, with Gallivan employees skillfully hanging elaborate lighting displays months in advance in order to create intricate designs with vibrant colors that change each year. So, the presentation of the lights on display this year will be different from years' past. The lights get turned on during a fun and festive lighting ceremony the day after Thanksgiving (Nov. 25) from 4-7 p.m. and are turned off by the end of January, allowing ample time for visitors to witness the impressive display as they illuminate the snow-covered foliage of Downtown Salt Lake.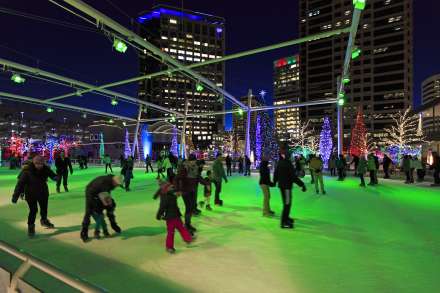 Annual GLOW Exhibition
With a lighting exhibit so grand and expansive, Gallivan makes it a priority to source energy-efficient LED lighting from local Utah businesses. Gallivan follows this sustainable line of thinking within the annual GLOW installation, as well, featuring illuminated art pieces made of upcycled and repurposed materials that are showcased around the plaza. Dr. Lucas Goodrich, program director of THE BLOCKS—a public-facing brand and initiative that supports and amplifies arts, culture, and entertainment in Downtown Salt Lake—plays a large role in the GLOW sculptural garden and helps to select the environmentally friendly pieces that can be found at Gallivan during the winter.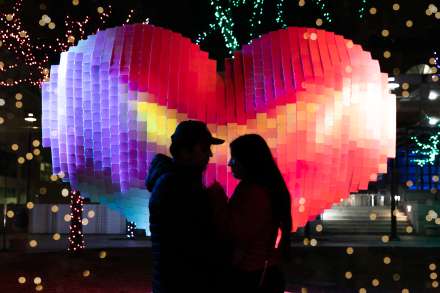 Interactive Lighted Art Installations
Expounding on GLOW's objective, Goodrich says the program aims to "highlight the breadth and depth of our creative community in every way possible." GLOW was born out of the pandemic as a way for folks to be able to appreciate art in a safe environment. During the fall of 2020, the GLOW team discussed ways to keep the arts and culture initiative alive since venues and galleries were indefinitely closed to the public. They found that the safest way to support the arts was to create spaces for people to enjoy art outdoors—this led to the display of lighted, interactive art pieces to accompany the ice skating rink and winter lights at the Gallivan.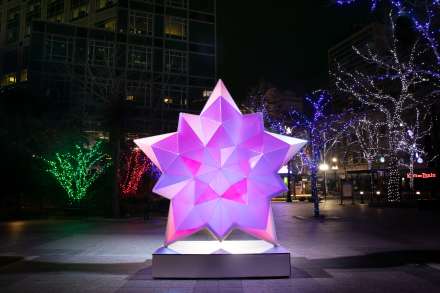 The first appearance of GLOW featured two pieces of art originally designed for Burning Man, an event held in Nevada that focuses on building community through celebrating art and self-expression. The two pieces included "Purr Pods" (a trio of 13-foot-long cats made out of repurposed paper-mâché and metal rings) created by California artist Paige Tashner and "koro loko" (a giant, shimmering, metallic heart) by local artist and head of the In Theory Art Collective, Dr. Emily Nicolosi. Nicolosi says of her art pieces, "We are bred in the Burning Man tradition of large-scale, interactive art and the idea that our artwork can transport audiences out of their day-to-day lives and into a space of inspiration and introspection." This year's exhibit will feature six sculptures from Nicolosi and In Theory Art Collective, again using repurposed materials to create sustainable, immersive art pieces that respond to and refract light, allowing the art to change in appearance depending on the time of day.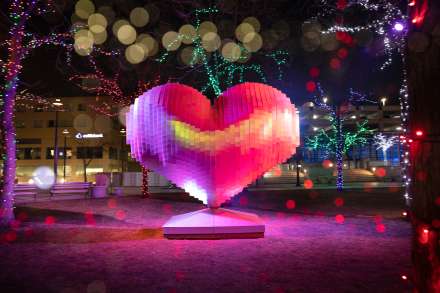 "Salt Lake City—especially in the winter—is the perfect place for these pieces because it is famous for being an absolutely astonishing place," says Nicolosi. "The GLOW installation is a celebration of the winter magic of Salt Lake City, and our pieces are there to reflect just that." The previous year, Nicolosi also displayed sculptures "Love is" and "Mírí the Wishing Star," the former an interactive experience for visitors to "reflect on the meaning of love" and the latter a towering, shining star that also manipulates light to create an ever-changing design depending on the position of the sun; visiting in the morning creates an entirely separate experience compared to at night.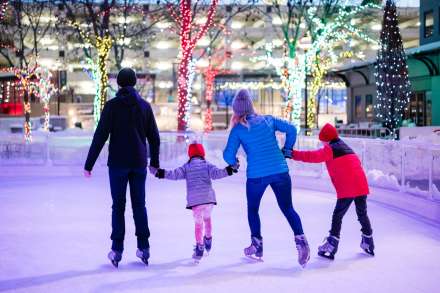 The Gallivan's Outdoor Ice Rink
If the sight of the extensive light display shining off of Nicolosi's art sculptures isn't reason enough to stop by Gallivan, the plaza's ice rink opens on November 16 and operates until February 28. The rink offers skating options for all, with the choice between hockey or figure skates to glide under the spotlights that illuminate the ice. Gallivan also hosts specialized nights where a DJ and other musical acts perform during "Ice Skate Disco," an evening complete with energetic club lighting that creates an invigorating winter activity. The centralized location also allows for easy access to businesses and restaurants in Downtown Salt Lake to satiate your appetite post-skate.
Get in the Winter Spirit in an "Urban Winter Wonderland"
While renting a pair of skates, you can also enjoy a slice of pizza, a warm pretzel and cup of hot cocoa among other seasonal treats from Gallivan's concessions booth. Salt Lake residents speak fondly of their experiences ice skating at the Gallivan; Steven Goemaat says, "Upon nightfall, Gallivan is illuminated with string lighting all throughout the plaza, and holiday music plays all around while the smell of churros and other concession stand snacks fill the air. If skiing isn't your thing, ice skating is one of the next best things to experience fun in the cold." Resident Zoe Zorka says, "It feels like an urban winter wonderland. It's really whimsical with all the lights and definitely gets you in the winter spirit."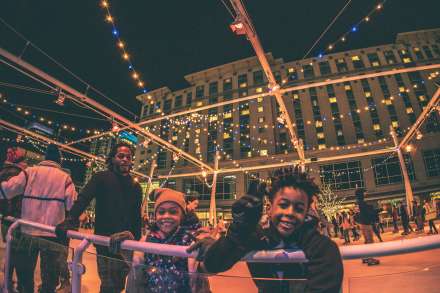 Begin a Popular Winter Tradition
Ice skating in winter may incite a feeling of nostalgia, and Gallivan is the perfect venue to begin a popular winter tradition. If you're having trouble imagining activities to enhance the season, look toward the Gallivan as they artfully enhance the charm of Downtown by creating decorated outdoor spaces for residents to come together and enjoy the quintessential Utah winter experience.