Utah Symphony's Masterworks, Entertainment, Family and Films in Concert Series 
Lose yourself in music with a night at the Utah Symphony, where you can experience world-class performances right in the heart of Salt Lake City. The Utah Symphony is one of only a few professional orchestras operating year round in the United States and the only one in the Intermountain West. With 85 full-time musicians, the Utah Symphony has a rich history, having earned Grammy nominations and performed at some of the most prestigious venues in the world: Carnegie Hall, The Kennedy Center, and Athens' Odeon of Herodes Atticus, to name a few. This year marks the final season for esteemed Symphony Music Director Thierry Fischer, who's held the role since 2009. He's celebrating with a diverse and daring program that will excite the whole family!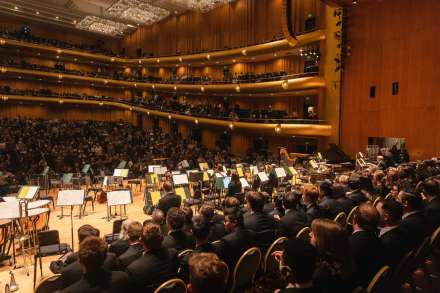 The Road to International Acclaim
The Utah Symphony was founded in 1940 and blossomed under the leadership of Maurice Abravanel from 1947 to 1979. Abravanel brought the orchestra abroad, visiting 16 different countries. The orchestra released over 100 recordings during his tenure, and their recordings from 1963–1974 marked the first recorded performance of German composer Gustav Mahler's complete cycle of symphonies by an American orchestra. This feat won them national and international honors. Abravanel also started an extensive music education program, which has been recognized by the New York Times, and is still a huge part of the Symphony's mission today.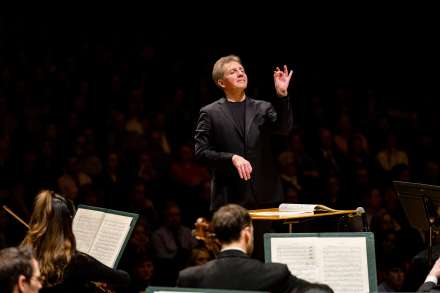 Thierry Fischer's tenure has brought the symphony to new heights—bringing it on the road to Utah's National Parks and to Carnegie Hall for the first time in 40 years. "Since Thierry Fischer has been here, he has hired over 30 new musicians and has really brought the orchestra to the next level," says Travis Peterson, the Symphony's Principal Trumpet. "That is a huge accomplishment in and of itself." Now entering his final season, Fischer has focused his efforts on making it an unforgettable one. His farewell performance in May of 2023 will revisit the work of Mahler with the composer's towering Symphony No. 3. Madeline Adkins, the symphony's Concertmaster, says she is most looking forward to that performance. "Mahler's music really exemplifies one of the most awe-inspiring aspects of orchestral music…great sweeping melodies and all-encompassing, thrilling moments," she says.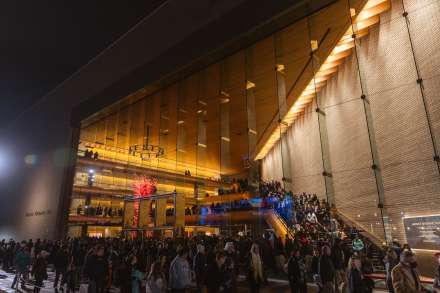 Abravanel Hall
The Utah Symphony called the Mormon Tabernacle home for over three decades before moving to Abravanel Hall in 1979, named after the groundbreaking director. A stunning addition to the Salt Lake skyline, the hall's severe, angular exterior opens into a grand gold and white oak lobby. Here you can marvel at the 30-foot Olympic Tower, a fiery, blown-glass sculpture by renowned artist Dale Chihuly. Six chandeliers drape the ceiling of the performance hall, boasting over 3,000 hand-cut crystals each. Abravanel Hall is an accessible venue with many accommodations for those with disabilities, such as limited mobility seating, sensory nights, assisted hearing devices, and ASL-interpreted performances.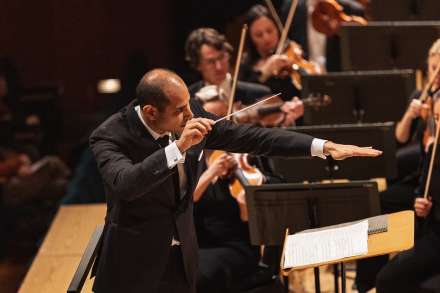 Something for Everyone
Beyond its acclaimed Masterworks performances, the Utah Symphony has plenty of other options for newcomers. The Entertainment, Family, and Films in Concert series are a great introduction to the symphony and offer something for everyone, incorporating exciting visuals, acclaimed singers, and educational fun. These accessible series are a great introduction to both classical music and the work of the Symphony.
Entertainment
The Entertainment series welcomes popular and talented singers to the Utah Symphony. Storm Large, a finalist in the most recent season of America's Got Talent, visited in February of 2023, bringing sultry love songs and humor to the stage. Grammy-winning vocalist Sylvia McNair will celebrate the work of Gershwin, transporting audiences to the blues and jazz landscapes of the 1920s. Previous Entertainment series performances include Cirque Dances, a thrilling acrobatics show, and a visit from Motown legends The Temptations.
Family
The 2023 Family series includes performances by The Gentlemen of Hip-Hop, combining modern street dance with classical music and an educational program, Philharmonia Fantastique, which takes kids on a journey into the inner workings of an orchestra. "This is a way for us to connect with whole family units and kids," says Peterson. "We can make an impression on them at an early age and hopefully light a fire in a younger audience that will blossom into our future audience." Past Family series events include the Christmas performance of Here Comes Santa Claus and Carnival of the Animals with Children's Dance Theatre.
Films in Concert
Another option for the whole family is the Films in Concert series, featuring popular film scores performed by the orchestra. An immersive experience, this season will bring to life the popular films of Star Wars: The Force Awakens and An American in Paris. Past seasons have brought other popular franchises to life, including Indiana Jones and Harry Potter. Beyond the breathtaking music, it's also a visual experience— as you listen, you can follow along with the film on the big screen. "I think if a patron comes to hear us play, for instance, Jurassic Park with the film, they are going to hear really exciting music that sounds similar to Mahler, Shostakovich, Prokofiev, [and] Mozart," says Peterson. "This will hopefully be a bridge for them to explore the larger genre of classical music."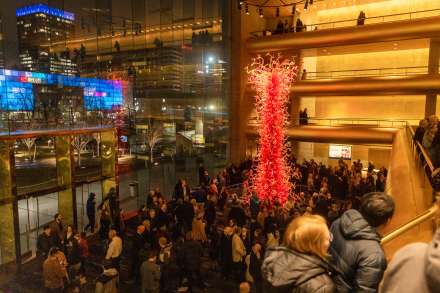 A Night at the Symphony
To start your night, you can have dinner at one of the many nearby restaurants downtown. Arlo boasts a creative menu of locally sourced ingredients. Also close by is Gourmandise, which has an all-day café menu of French cuisine. Plan to arrive at Abravanel Hall with plenty of time to find parking and settle into your seats before the show begins. The Utah Symphony has no dress code and although most visitors wear business or business casual attire, you're free to wear whatever you're most comfortable in. To learn more about the night's pieces, consult your program, which outlines the performance and provides background on the pieces and composers. Most importantly, be prepared to have fun and enjoy the show!
A Meaningful Experience
A night at the symphony will be an encompassing experience that stays with you long after the final movement. "Music, particularly classical music, has the power to transform lives and communicate with the soul," says Peterson. "To witness upwards of 100 musicians on the stage working together and painting a soundscape is an incredible experience that is quite unique to one of our performances." Whether you find yourself at a sweeping Masterworks performance, a cinematic Films in Concert screening, or a fun-filled hip-hop show, it will surely be a memorable evening at the Utah Symphony. "If you can let yourself get caught up in the music, it will take you out of your day-to-day life…it's truly transporting," says Adkins.
Head to usuo.org to find tickets, season passes, program schedules, ADA accommodations, directions to Abravanel Hall, and more.