Though Salt Lake and Utah might be more widely known for the conservative, LDS element of its identity, such a brushstroke paints over a vibrant, thriving counterculture that has helped define the Salt Lake metro area for decades. One facet of this overlooked area comes in the form of Utah Film Center's annual Damn These Heels Queer Film Festival (DTH). Now celebrating its 17th year, DTH is more than just a Salt Lake destination—it's currently the only queer film Festival in the Mountain West. With judicious programming, a slew of extra community engagements and a dedication to queer greatness and variety, Damn These Heels is an important showcase of the world of LGBTQ+ cinema, both at home and abroad. And this year, for the first time, DTH will be a streaming-based festival running July 10-19, 2020.
Speaking about the Festival's aims, Utah Film Center (UtFC) Executive Director Patrick Hubley says, "We hope that DTH is an event that demonstrates that Salt Lake City has an amazing and dynamic LGBTQ community. LGBTQ stories and characters are still underrepresented in mainstream culture and media, and DTH is an event where we can present these stories through cinema." Further, the use of film's unique artistic power to shine a light on a historically misrepresented culture drives DTH's mission. UtFC Board member Robert Austin adds that "film offers windows into new worlds, new landscapes, new cultures, and those experiences can be incredibly profound."
While the Festival has grown, changed and shifted in a multitude of ways over the years, one important leg of DTH's current incarnation is its dedicated programming team. "The team of volunteers who screen and help program devote hours to finding really great films, some provocative, some gorgeous and lush, some windows into worlds I have never imagined, and some just downright campy and fun," Austin says. Specifically, a number of volunteers assist Film Program Manager Davey Davis in the massive task of curation and selection. Among this team are Ashley Hoyle and Derrek Wall,  resectively an L.A. and Salt Lake resident responsible for this year's program.
Every year, DTH volunteers collectively go through somewhere between 150 and 300 shorts and features (257 for 2020), and whittle the collection down to roughly 20 films that span all manner of genre, tone, style and substance. At its heart, DTH uses film as a means of exploring, understanding, reframing and ultimately celebrating queer lives and identities in as multifaceted a manner as possible. "It's so meaningful to be part of a creating a program that seeks to expose the richness, complexity and community of queer life," says Hoyle. "Films like these can bring solidarity to queer folks in the area, but beyond that, [they start] bigger conversations—make people question their identities further, examine different options that they learn about onscreen, understand their neighbors and friends better."

In order to reach these heights of film's affective powers, the programming team makes careful decisions around what stories are told at DTH. Though—as Austin has noted—the formal and emotional characteristics of a DTH selection is more or less a free-for-all, the programmers look for specific themes and narratives to help guide their selections.
In Wall's case, he finds himself asking a set of questions about each submission: "Has this story been told before? Does this story fall into the typical Queer cinema tropes? Does the film speak to those on the LGBT+ spectrum that have been underrepresented? Will this story change our preconceived notions about LGBT+ identity?"
Hoyle echoes that to her, ideal selections are "films that are fresh, are additive to discourses around queerness, that are complicated and authentic." For Davis and his fellow LGBTQ+ community members, honest representation through film is crucial. "We want to make sure the films are the very best we can get our hands on and that they're as representative as possible of a diverse queer community in terms of sexual orientation, gender, age, class, country of origin and race," he says.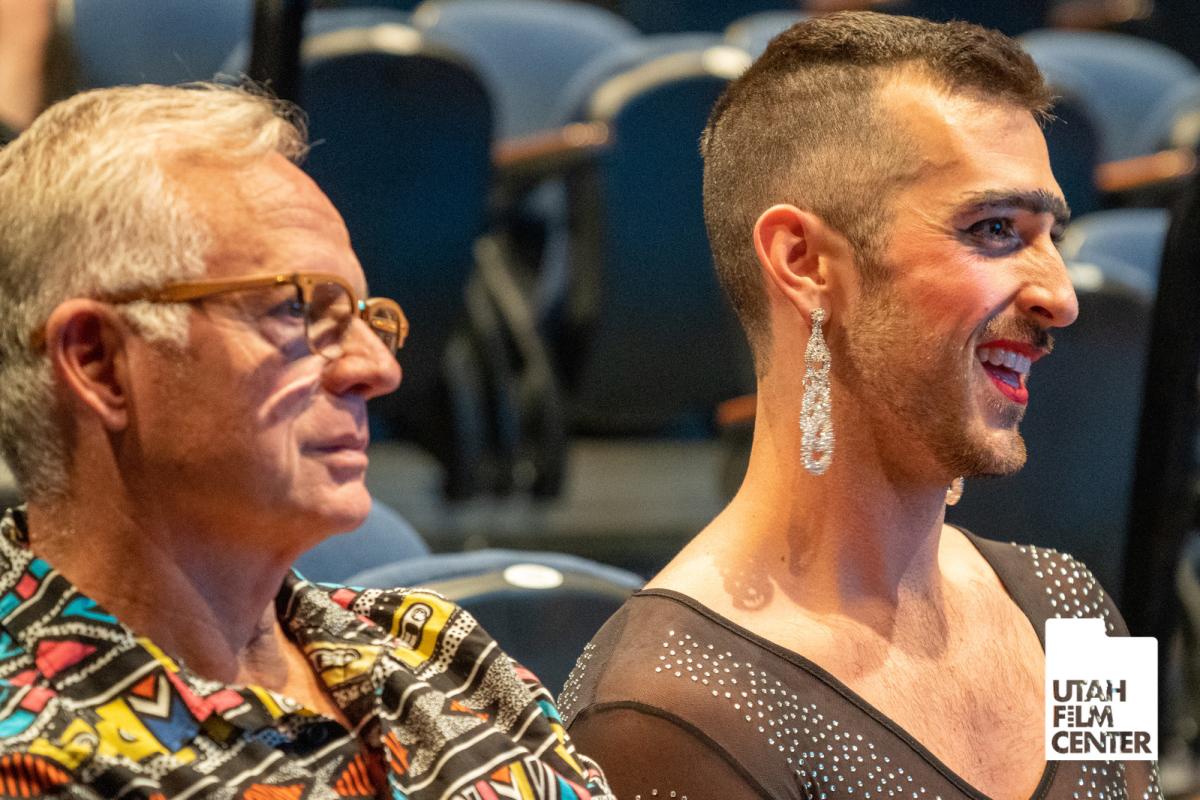 Alongside this finely curated programming, past DTH Festivals have included a variety of other activities, including post-screening discussions, creative workshops, parties and more. "I don't think of DTH as merely a film festival," says Austin. "It is really a happening, an intense, concentrated distillation of so many beautiful things about community and diversity." What started as a somewhat underground and niche gathering in the early 2000s has now blossomed into a community hallmark, with Austin further noting that he knows many people who fly into Salt Lake every year just for DTH because of "how logistically accessible the films are, how great the parties are and how committed the UtFC is to providing a really compelling range of films."
In place of the usual Festival, typically held for three days at Salt Lake City's Rose Wagner Theatre, UtFC is hosting a streaming-based Festival July 10–19. Though specific details are still in the works, Hubley says, "Our goal is to offer a mix of film screenings, post-film Q&As, community discussions and other community-focused programming. Though we can't gather in person, we hope to provide an opportunity for SLC's LGBTQ+ community to connect online through a love of cinema."

The festival's new, digital format also offers a unforeseen opportunity for the festival's expansion and growth. By moving out of strictly Salt Lake and using a wider platform, 2020's DTH has the potential for its widest reach yet—anyone with Internet access can pop in for a screening or two. "I see this as an amazing opportunity for DTH to reach a broader audience for a more extended period of time," says Wall.

Head to Utah Film Center's site for more information on the 17th Annual Damn These Heels Queer Film Festival.