PHOTOS: John Barkiple and
Utah Division of Indian Affairs
Many may not know that the state of Utah is also home to eight Native American sovereign nations: Confederated Tribes of Goshute, Navajo Nation, Northwestern Band of Shoshone Nation, Paiute Indian Tribe of Utah, San Juan Southern Paiute, Skull Valley Band of Goshute, White Mesa Community of the Ute Mountain Ute Tribe, and the Ute Indian Tribe. Dominique Talahaftewa, Hopi/Ute and Cultural Liaison for the Utah Division of Indian Affairs (UDIA), explains, "There are eight sovereign nations—these are their ancestral homelands and [they] have been here since time immemorial. These are all separate governments with their own ways of running their government. They are not lumped into one and are all still thriving today."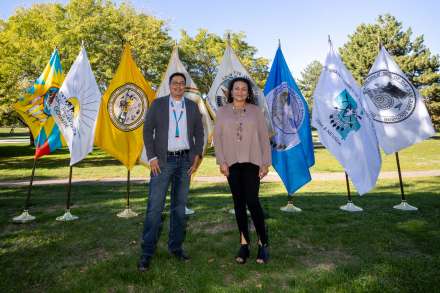 Initiatives, Programs, and Responsibilities - and Even Flag Design!
Among the many initiatives, programs, and responsibilities of UDIA, these tribes have connected with Talahaftewa in discussing the new Utah flag design. "Currently, the Utah flag only has five arrows on it, which represent five—but not [all] eight—of the sovereign nations," Talahaftewa says. Currently, 17 out of 20 flag redesign finalists have a depiction of stars that represent these nations. "The tribal leaders of these eight nations want representation on the Utah flag, and they want the flag to show their sovereignty," says Talahaftewa.
Ways in Which the UDIA is Essential
However, UDIA does a lot more than discussing flag designs. James Toledo, Navajo and Program Manager for the UDIA, describes the core functions of this department: "If a Tribe has an issue or concern, we reach out to them to find the right person or the right agency for them to work with." The organization's response to the COVID-19 pandemic provides an example of this. When the pandemic hit, Utah Tribes were able to effectively coordinate between UDIA and the State, resulting in citizens of these nations receiving necessary resources to deal with the pandemic such as PPE gear, food, and other necessities as well as testing and vaccines. "Having a system of communication already in place which provided crucial information between Tribes [and] the State was an amazing thing to see," recalls Toledo.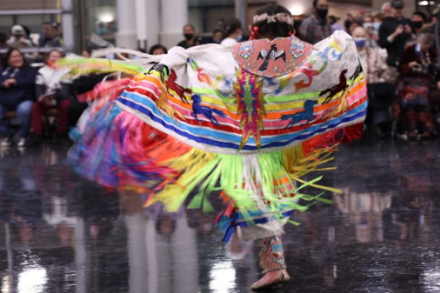 Cultural Cornerstones
UDIA plays an important role in honoring Utah's cultural cornerstones, facilitating communication and addressing problems that arise in relationships between the Utah governmental organizations and the governments of the Tribal Nations. Utah's culture runs much deeper than its 19th-century settlement—rather it's based within these Indigenous groups. From art, to food, to dance, Utah is home to many "different vibrant cultures that are still very much alive today," says Talahaftewa. Each Tribe has different spiritual practices, languages, dances, and celebrations, many honored through UDIA's year-round curation of art markets, Powwows, and more. For instance, "the Ute have the bear dance, whereas the Goshute have different practices and songs," says Talahaftewa, delineating between the unique cultural characteristics of each Nation.
Upcoming Events: American Indian Winter Arts Market
Examples of the types of events the Utah Division of Indian Affairs puts on includes The American Indian Winter Arts Market, which will display 50 vendors at the U of U Student Union Ballroom on Dec. 3 from 10 a.m. to 6 p.m. and Dec. 4 from 12 p.m. to 6 p.m. "Everything in this market will be American Indian authentic art, jewelry, and crafts," says Talahaftewa. On Dec. 3 at 6 p.m. there will be a Round Dance. This traditional dance consists of a group of hand drummers standing in the center performing cultural songs and dances. These dances have "story and purpose behind [them]," says Talahaftwea. When many Nations get together at public events such as the American Indian Winter Arts Market, there are "different ways that different Nations share their culture with each other and the broader public," says Talahaftewa, offering examples such as, "Pueblos have their annual feast festivals, and the Navajo have dances unique to their tribe."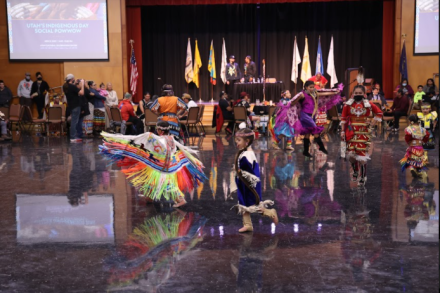 Powwows
Additionally, always keep an eye out for upcoming Powwows hosted by UDIA. This is a way to "gather presently today to celebrate [these] lively cultures. One Powwow may not be specific to a [particular] Tribal nation, but it is an expression of these generational dances," says Talaheftewa. These Powwows are at times open to the public: "Depending on cultural protocols, Tribes will let others know what is appropriate and what is not appropriate" regarding public attendance, says Talaheftewa. In her words, these events offer a chance to experience "unique culture and good food." There are customs and etiquette involved within these sacred gatherings that outsiders may be unaware of. For instance, Talaheftewa says, "If a feather drops inside the circle that is blessed, they will stop everything, and bless it again." Outsiders are encouraged to join and participate when appropriate so that they may learn and experience a major part of Utah's true history.
Tribal Representation in the New Utah State History Museum
Looking ahead, the UDIA is also arranging with Tribe leaders to compile and curate subject matter pertaining to each nation's history that will enter the new Utah State History Museum that will be built at the Capitol Building in Downtown Salt Lake City. "We are coordinating how each nation would like their history and perspectives [to be] shared in the new [Utah State History Museum]," says Talahaftewa, noting that the museum is scheduled to be complete and open to the public in 2026. The coordination between UDIA and the Utah Tribal Nations facilitates accurate representation in these exhibits, showcasing the appreciation these nations so greatly deserve when discussing Utah's cultural history.
Recreating Responsibly and Teaching the Next Generations about Utah's Tribal Heritage
Utah is known for its gorgeous lands and amazing recreational adventures. When exploring the state, it's important to remember the Indigenous people who were here before us. "Recreate responsibly—if you encounter pottery shards, archaeological sites or see petroglyphs, do not damage them or take them home. Those are there for a reason," says Toledo. Additionally, respect for these Tribes doesn't stop outdoors—it is just as important to show respect in the classroom. "Utah Education Network has an American Indian resource page. They work with the Tribes who approve the teaching material relating to their cultures, and histories of the Tribe," says Talahaftwea. Properly educating Utah's youth regarding these Tribes' cultures is an important part of honoring the eight nations. The more we lean in to appreciate and experience Utah's rich Indigenous cultures, the better Utah will become for residents and visitors alike.