Photos: copyright 2022 John Taylor
One of Salt Lake's best kept secrets is that we have our very own sake brewing company. Jillian Watanabe of Tsuki Sake is a trailblazer in Salt Lake's brewery community; she operates Utah's first and only premium, craft American sake company.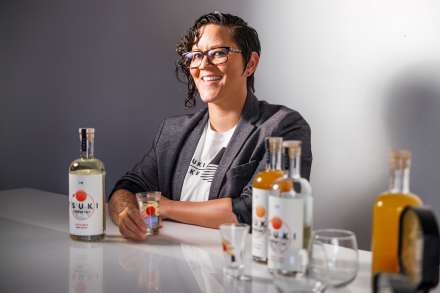 Introducing Jillian Watanabe
Watanabe is a half-Japanese Salt Laker who has lived all over the valley. Her love for Salt Lake is strong, but her love for the Brickyard area of Sugarhouse has truly inspired her. The progressive feel in that neighborhood helped fuel her creative drive to start something groundbreaking to represent the area. She has a striking amount of experience, being a Level 1 Sommelier with the Court of Master Sommeliers, and also training with the Sake School of America. Through networking in the local brewing community, she heard about a couple of guys who had similar interests in starting a sake brewing company. In 2020, she reached out to Ty Eldridge and Kirk Terashima, her current business partners, and began their legendary collaboration.
Utah's Gayest Sake Company
Describing themselves as "Utah's Gayest Sake Company," Tsuki Sake is a woman- and Japanese American-owned business, based on a balance of traditional Japanese brewing techniques and modern American twists. "Balance was the foundation to a lot of our branding and how we create our products," says Watanabe. She initially wanted to stick to the traditional Japanese style, but America doesn't have as many restrictive sake laws as in Japan, so she decided to play around with more modern ideas. "We are bowing in honor of the traditional Japanese techniques, and innovating the sake we have the privilege to sell on the American market," Watanabe says.
The Sake Brewing Process
Sake may also be commonly referred to as Japanese rice wine because it usually has the same alcohol by volume (ABV) as wine. Watanabe often explains to people that it is like a "Japanese rice wine brewed like beer." All of Tsuki Sake's products are Junmai style, meaning "pure rice"—there is only rice, water, yeast, and koji (a crucial mold in sake brewing) involved in the brewing process. Tsuki Sake uses Yamada Nishiki rice from Sun Valley, California, which is known as good sake rice because of its large starch content. They also make their koji in-house, a very labor intensive process: "It takes a lot of craftsmanship to brew Junmai style because you're starting with raw materials, adjusting temperatures, adding koji when needed and pulling samples every day," says Watanabe.
What "Tsuki" Means
Based on analytics, Tsuki Sake's main clientele has been women ages 25–45. "Sake in general is appealing to women because it is easy on the body, has no additives, and it isn't aged in woods. It's gluten-free, sulfite-free, [and] vegan—many appealing things to someone who is health conscious," Watanabe says. 'Tsuki' means moon in Japanese, which is commonly known as a symbol for femininity and female strength. In a sake brewery, 'Toji' is the word for 'Head BrewMaster.' The origins of this word translate to 'the woman in charge of the household.' Brewing sake used to be done by women because having sake on hand was part of running a household. "It's named Tsuki in honor of womanhood. The name remains serendipitously appropriate for what sake is and who it appeals to," says Watanabe.
Pairs with Anything
Sake is also a particularly appealing beverage for foodies, as its flavors do not fight with food, but instead complementing the dish, making it easy to pair with anything. "There are so many different types of sake depending on the region, seasonality of those regions and time of year," says Watanabe. "Breweries in Japan make sake to compliment those food items. It's a beautiful drink on its own but when you pair it, it just shakes hands."
Desert Moon - Tsuki Sake's Newest Product
One of Tsuki Sake's newest products is called Desert Moon, a citrus sake that represents Utah well. Like their others, this beverage is infused with fresh fruit purees. Infusions of these additional flavors are part of the luxury we have in drinking sake in America which has less restrictive laws. This product is currently only available for special order by the case.
An Ultra-Premium Sake 
Another of their popular products is called Super Moon, a junmai daiginjo, which refers to the rice-polish ratio. In the world of sake, there are three levels of production—ultra-premium, premium and what we commonly refer to as 'plain table sake.' Premium and ultra-premium make up less than 5% of the entire sake industry. Super Moon falls under the category of ultra-premium, which makes up less than 1% of the sake industry. "The whole reason we started brewing sake was to launch an American-made, ultra-premium style sake. We are proud to represent Utah under that category of sake," says Watanabe.
Public Sake Education
Tsuki Sake represents Utah in a positive way by inventively spreading information that promotes craftsmanship. They will be focused this year on attending pop-up events, facilitating sake-and-food pairing classes, and educating consumers on what sake is and how to drink it. "I'm pushing for the 'a-ha' moment I had so long ago when I was trying a cold, premium sake and just fell in absolute love with it," says Watanabe.