TripAdvisor is an indispensable tool when it comes to booking a hotel room, but sometimes all the clicking and scrolling and review-scanning can melt your brain a bit. So we chose the ten Salt Lake hotels with the most reviews averaging 4.5 stars, pitched our two cents on each hotel, and then picked each one's most eloquent and informative TripAdvisor review to give you some crowd-sourced insight into each place. We hope it helps your travel-planning (and alleviates your brain-melting).
Hotel Monaco
Thanks to the central downtown location, fashion-forward decor, and distinctive features, this boutique hotel is the place to stay if you want to be close to the action and feel like a VIP. While many hotels are chiefly concerned with putting you to sleep, the Hotel Monaco focuses just as intently on your waking experience: treat yourself to dinner at the hip main-floor restaurant, Bambara, sip a fancy cocktail at The Vault (named for the building's past life as a bank), and enjoy complimentary perks like the morning coffee bar, afternoon tea bar, hour-long wine reception, and twice-weekly morning yoga.
What the crowd says: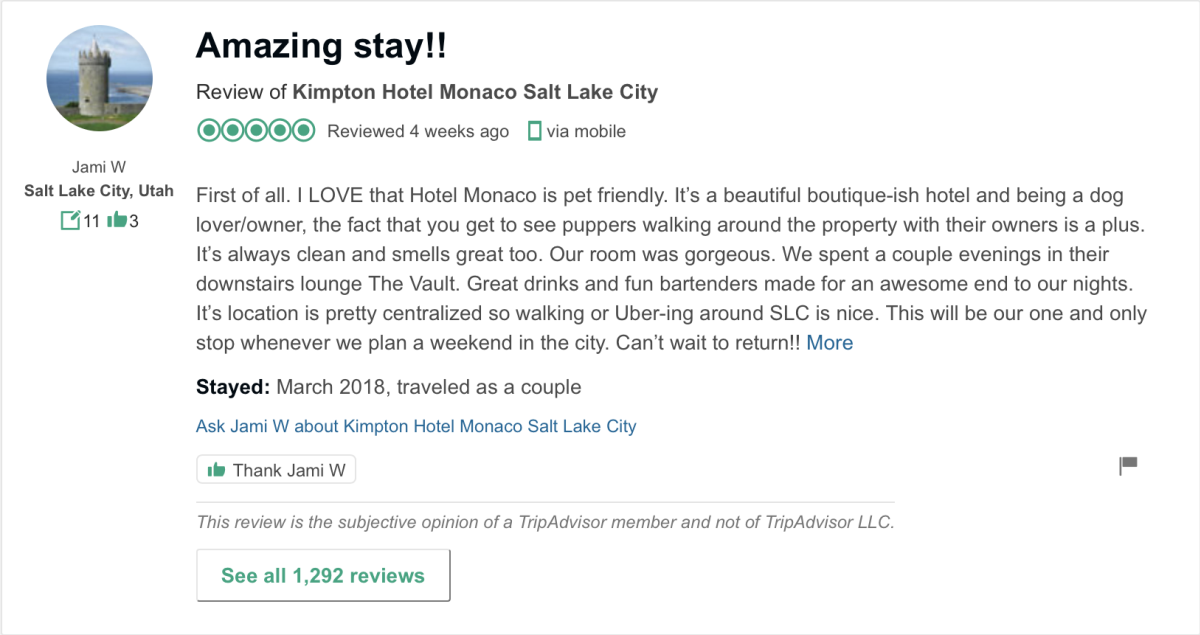 Hilton Garden Inn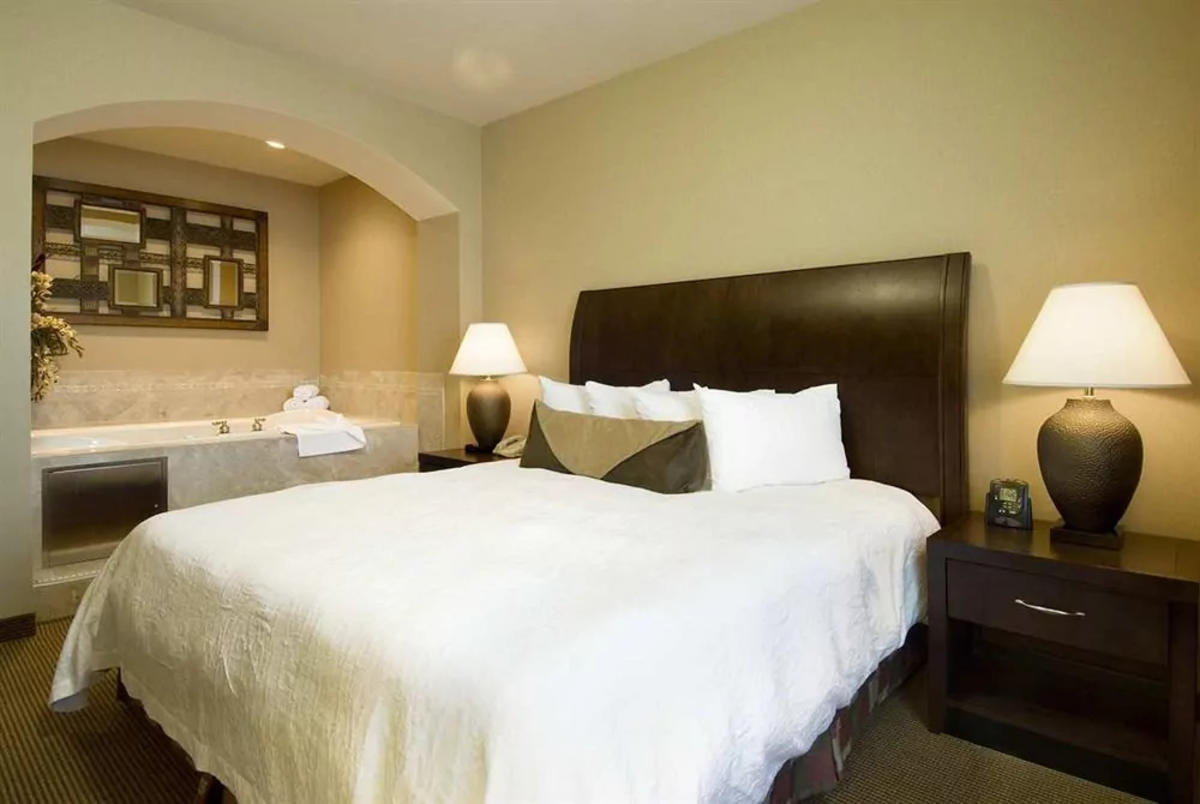 For a reliably pleasant, convenient traveling experience, the Hilton Garden Inn offers a great value, great service, and close proximity to Amtrak, the Downtown Farmers Market, and scores of great restaurants. Little touches like in-room refrigerators and Keurigs and bedside USB ports go a long way, and the staff goes above and beyond to accommodate your needs.
What the crowd says: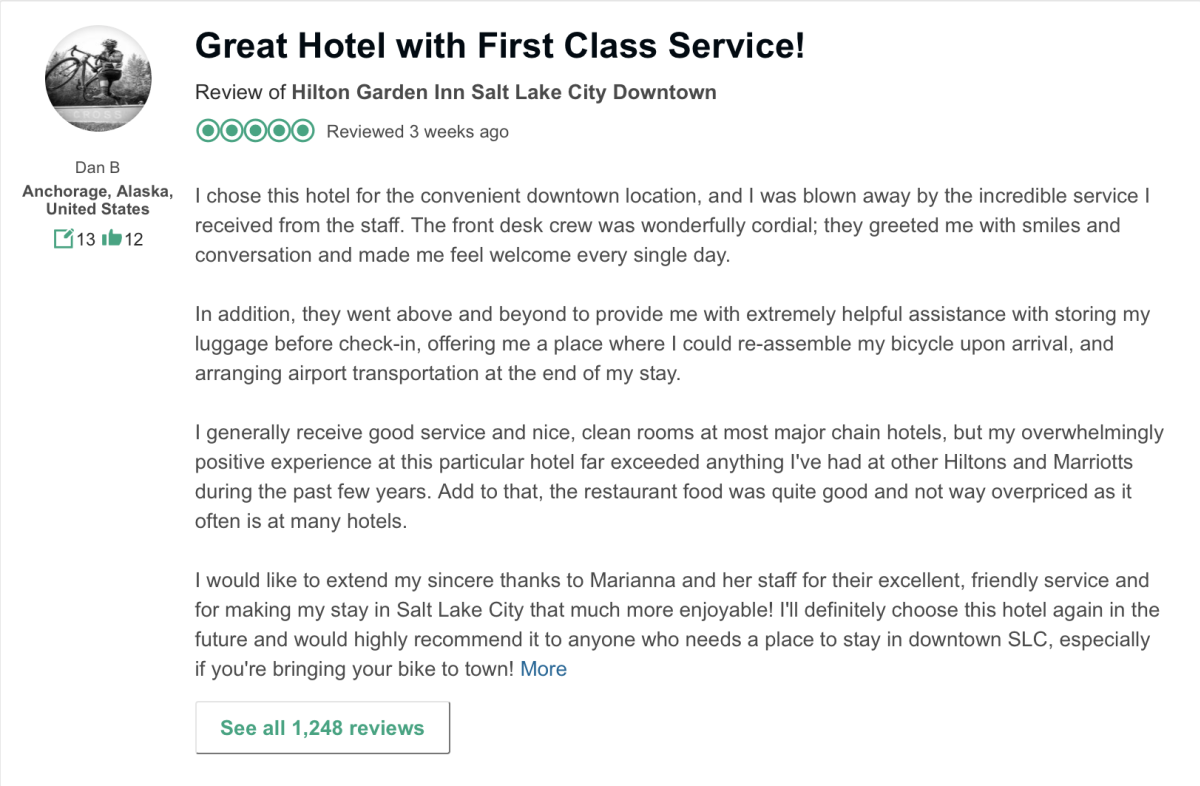 Hampton Inn Downtown Salt Lake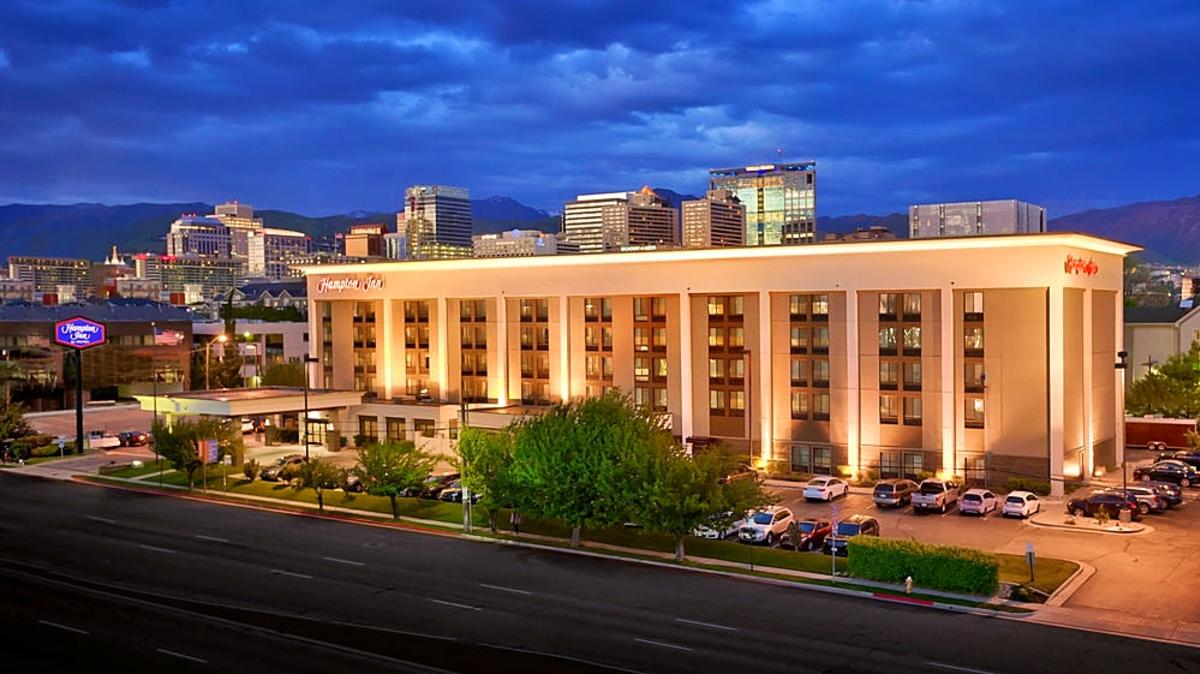 Traveling for an LDS history tour? A Jazz game? A little bit of everything Salt Lake has to offer? Folks dig the downtown Hampton Inn for similar stays. It's within walking distance to Temple Square, Vivint Smart Home Arena, and Trax, and freeway access is only a block away. Bonus: the pool and hot tub are open 24 hours a day.
What the crowd says:

Little America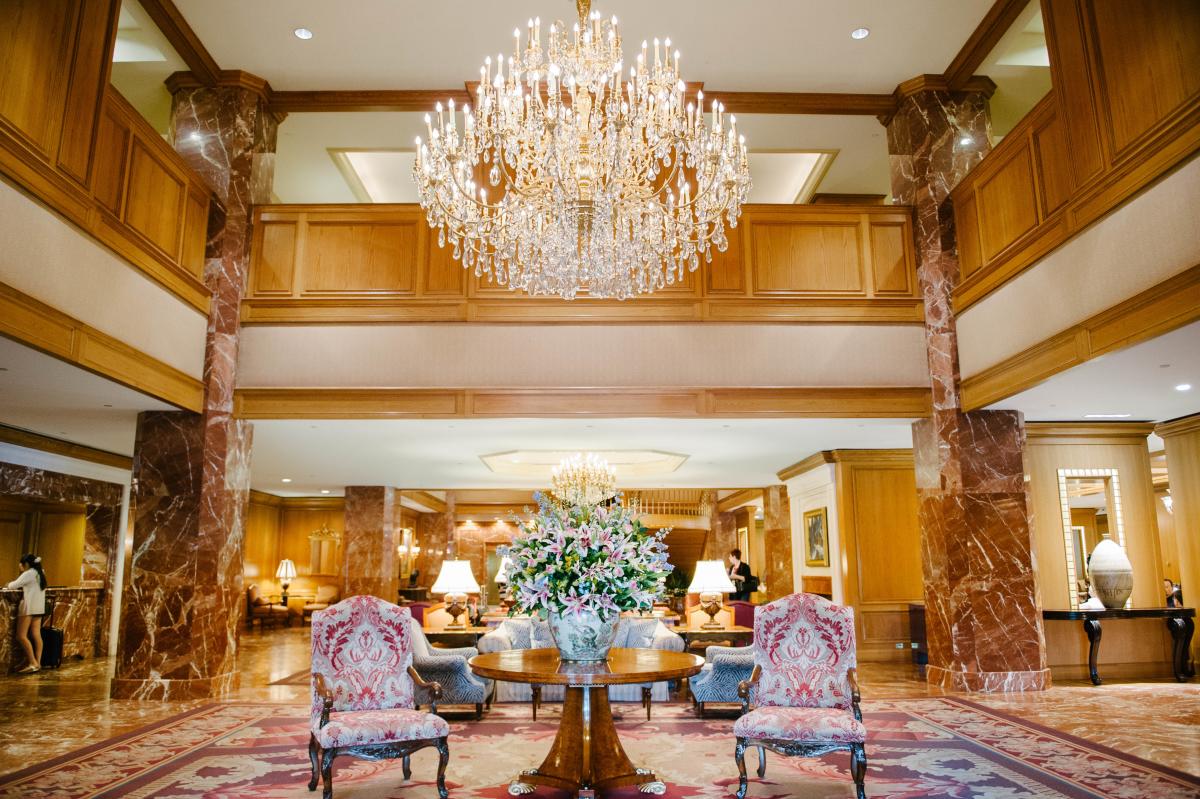 Staying at the Little America isn't "having a room to crash in." It's a fun treat with luxe touches and so many amenities that you don't even need to leave the property. The Little America Coffee Shop is a locally beloved restaurant open from 6am to 10pm. There's a gift shop and sundries shop, a heated indoor/outdoor pool (with poolside dining), and a fitness center, and the rooms are cozy, comfy, homey, and spotlessly clean.
What the crowd says: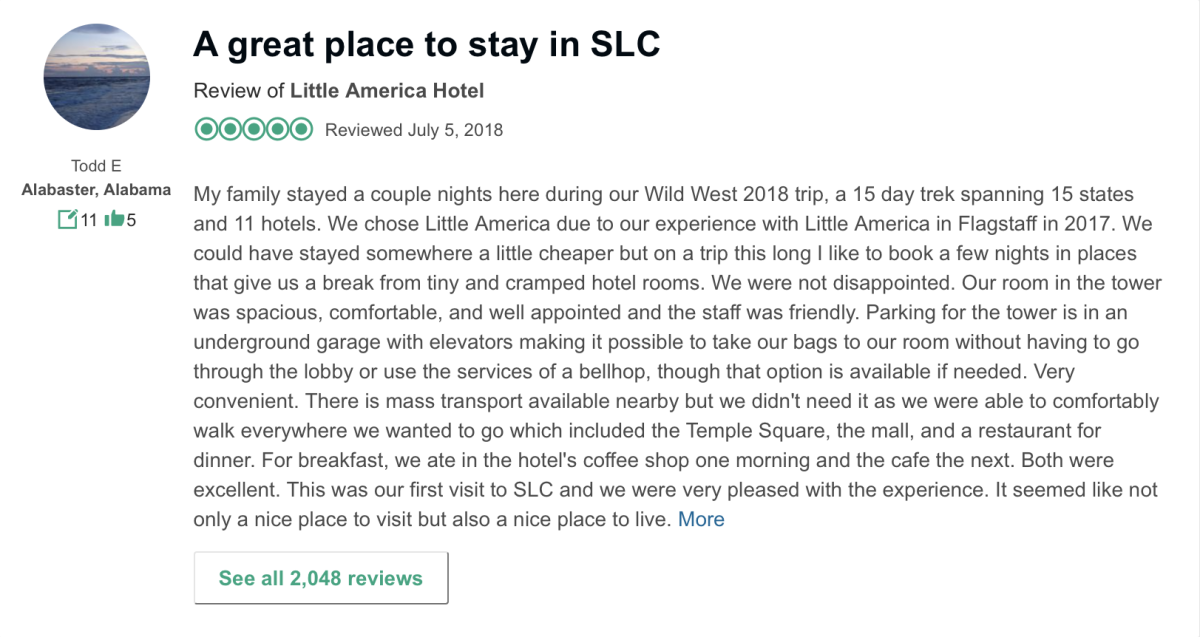 Hampton Airport Inn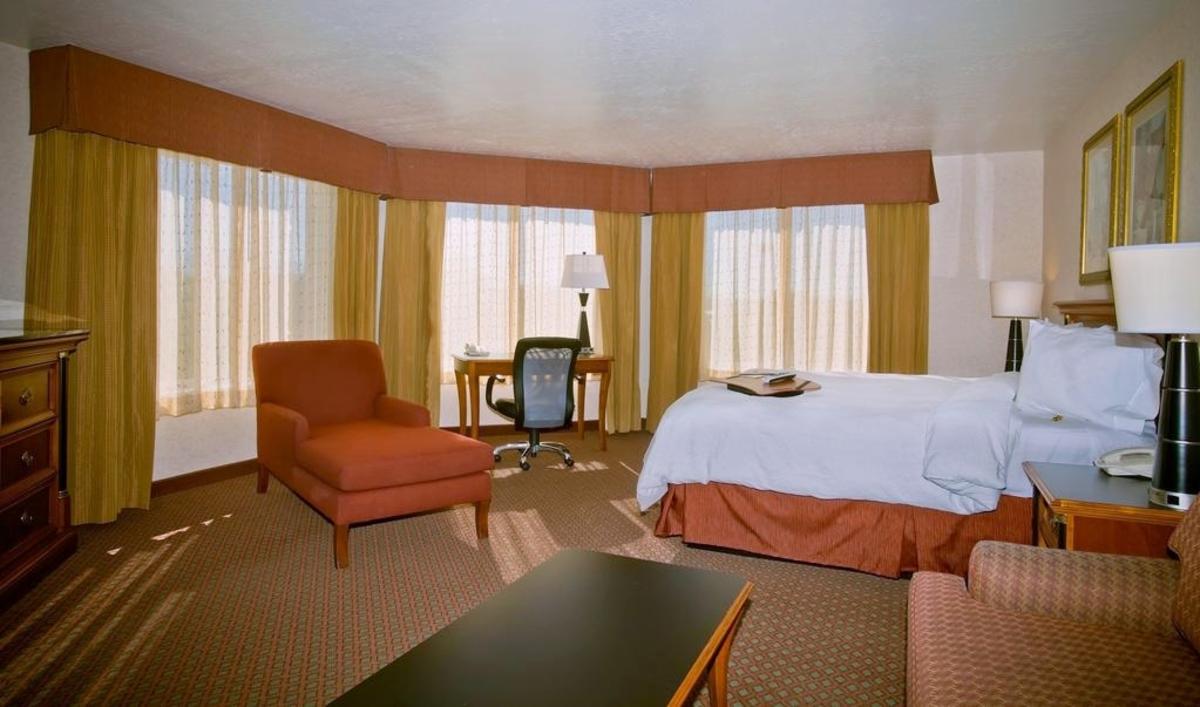 Staying near the airport often coincides with feeling jet-lagged, transient, and/or frazzled, but not when you're at the Hampton Airport Inn. Burn off stress at the gym or relax it away in the outdoor pool. Get your work done in the business center (complete with free WiFi and fully functional amenities). Have a nice meal in the onsite restaurant, get a good night's sleep, and then hop on one of the free, regular airport shuttles to catch your flight the next day.
What the crowd says: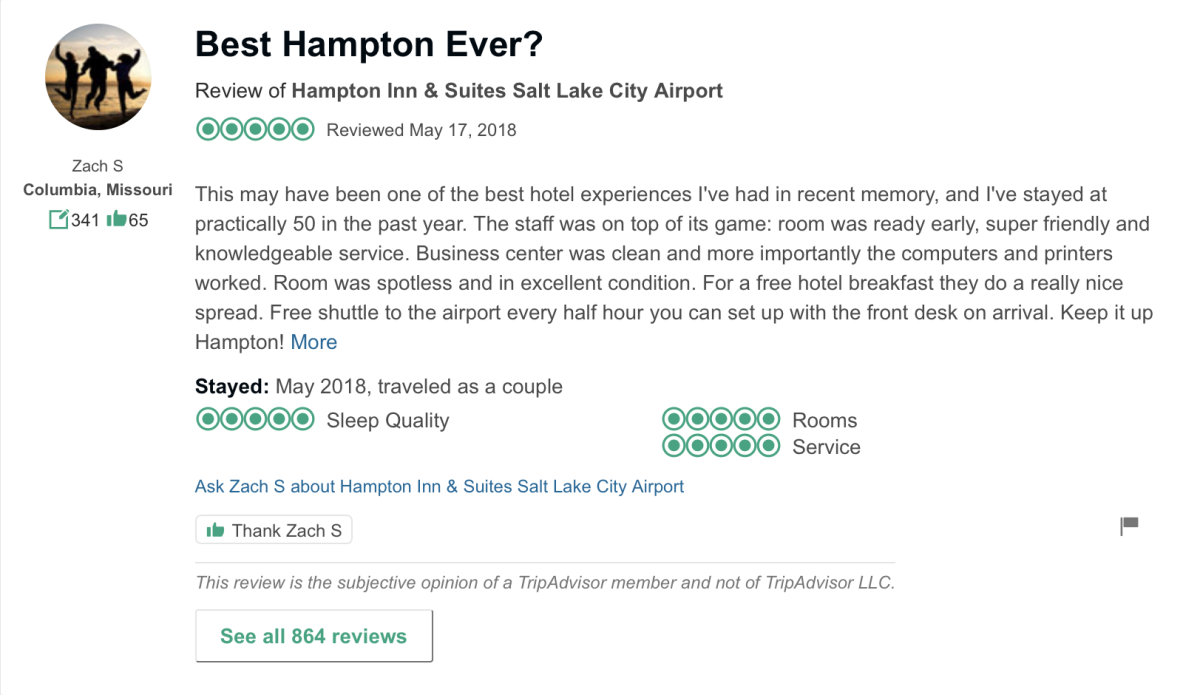 Hyatt Place Downtown Salt Lake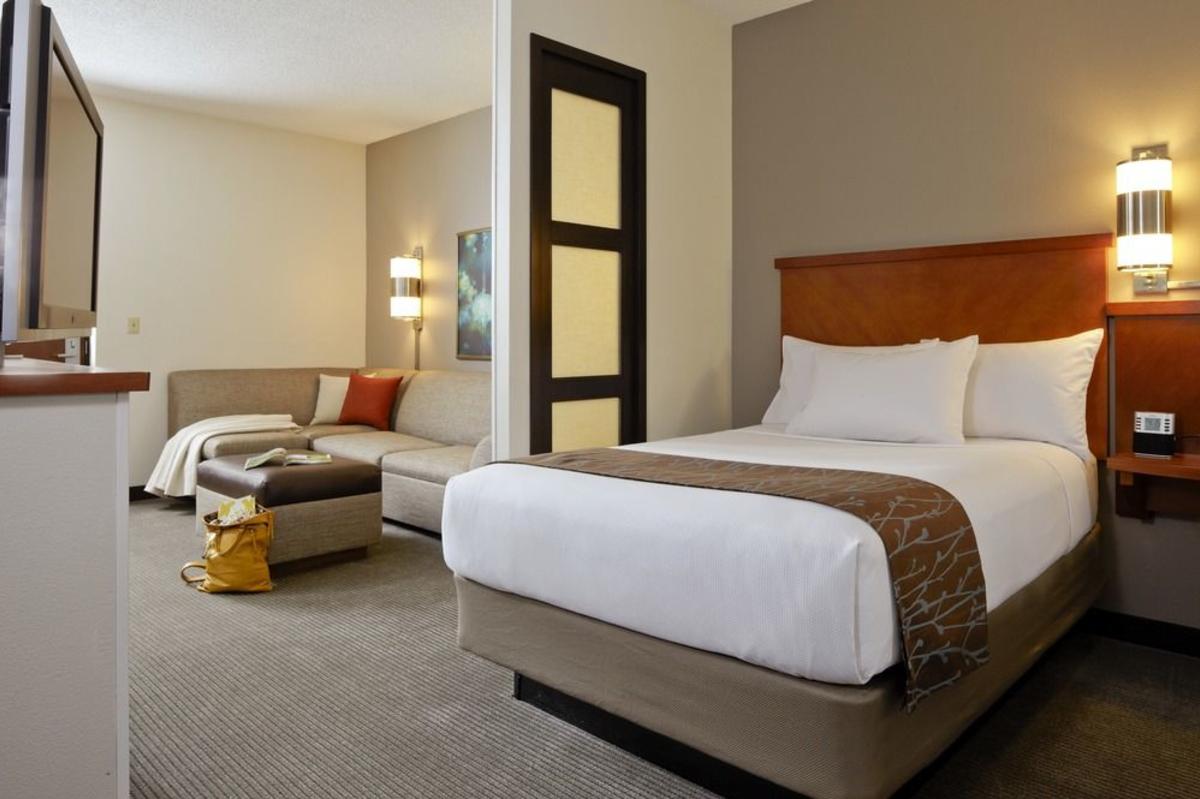 A great choice for the work traveler, the Hyatt Place offers a 24-hour gym, a bar area with all-night food, and large rooms with workspaces and sitting areas. It's adjacent to Trax light rail and steps away from shopping and dining. Hyatt Place Downtown is also a win with kids, thanks to its outdoor pool and neighboring attractions, including Dave and Busters, the Gateway Megaplex movie theater, and the Discovery Gateway Children's Museum.
What the crowd says:
Crystal Inn Downtown Salt Lake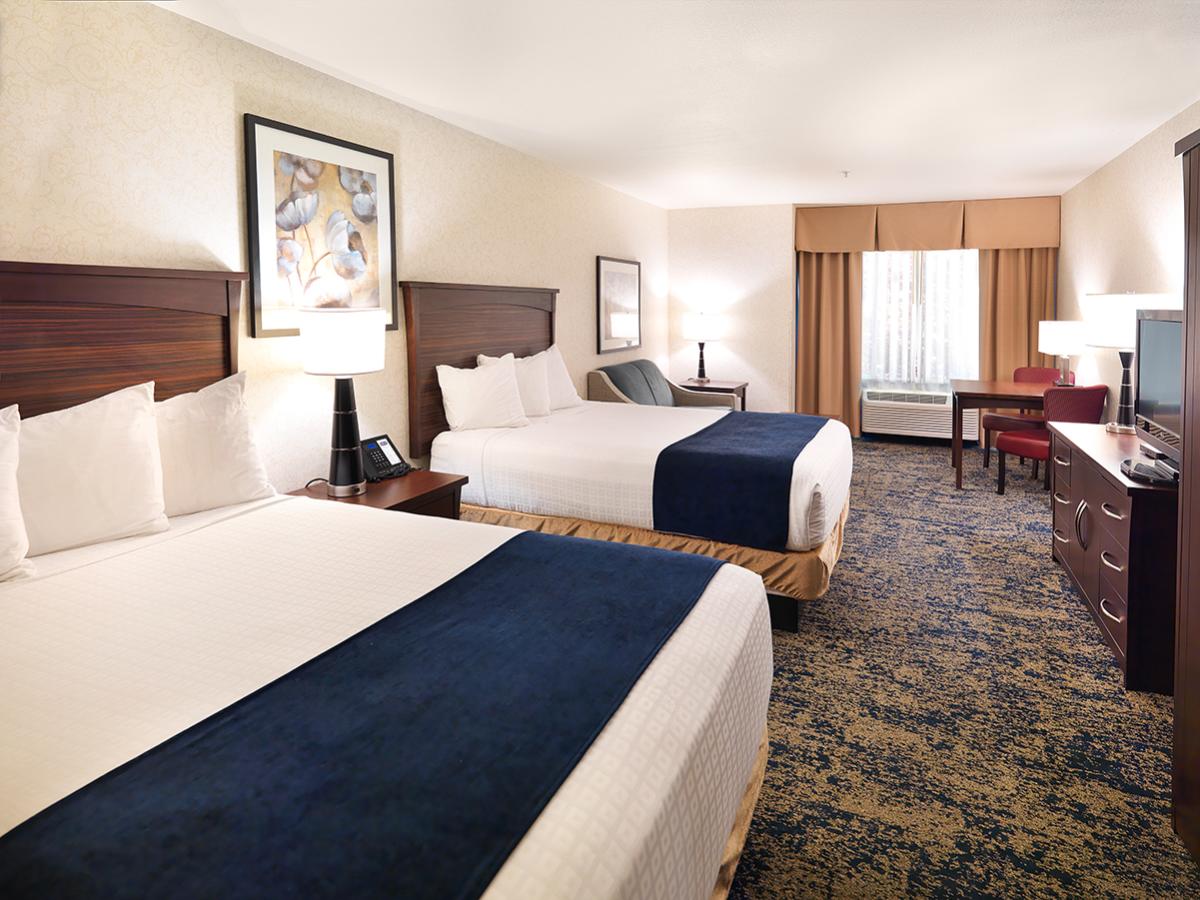 The downtown Crystal Inn is chock full of conveniences. Convenient things within walking distance: Budget and Enterprise car rentals, Fisher and Squatters breweries, Temple Square, Ski 'N See, Brewvies Cinema Pub, the amazing Salt Lake Public Library, and Trax light rail. Convenient things Crystal Inn offers for free: a hot breakfast buffet, high-speed WiFi, airport shuttles, and parking.
What the crowd says: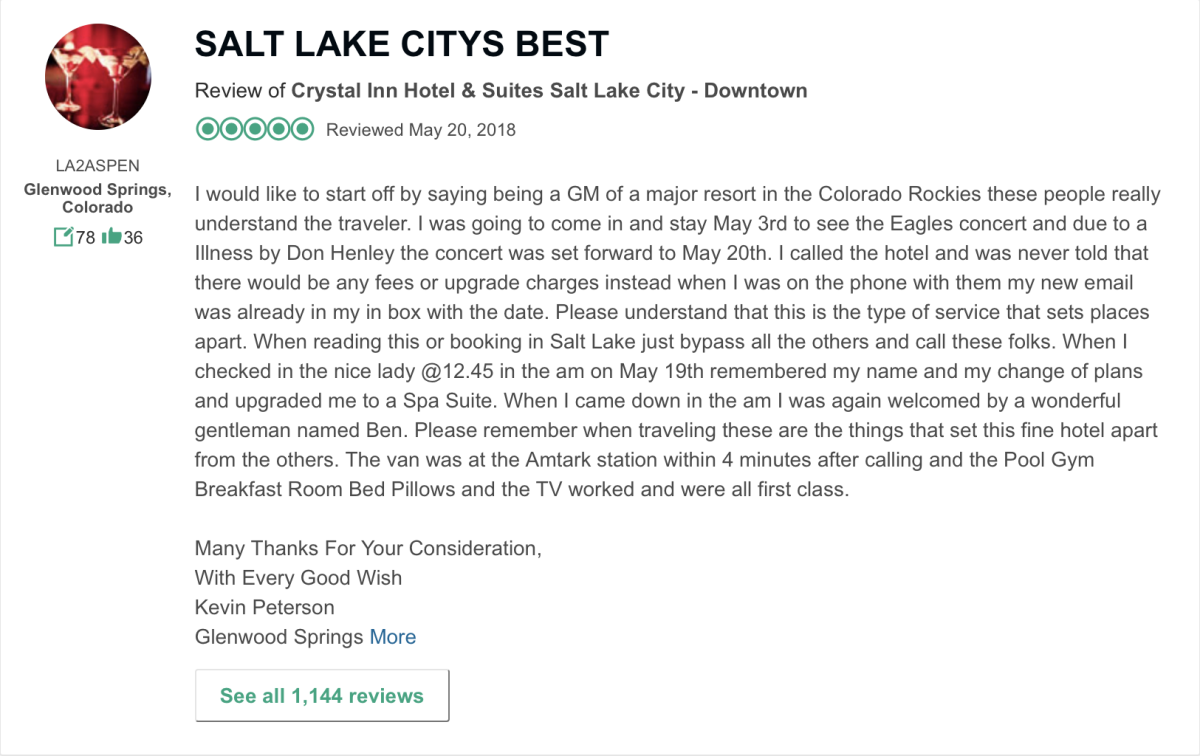 University Guest House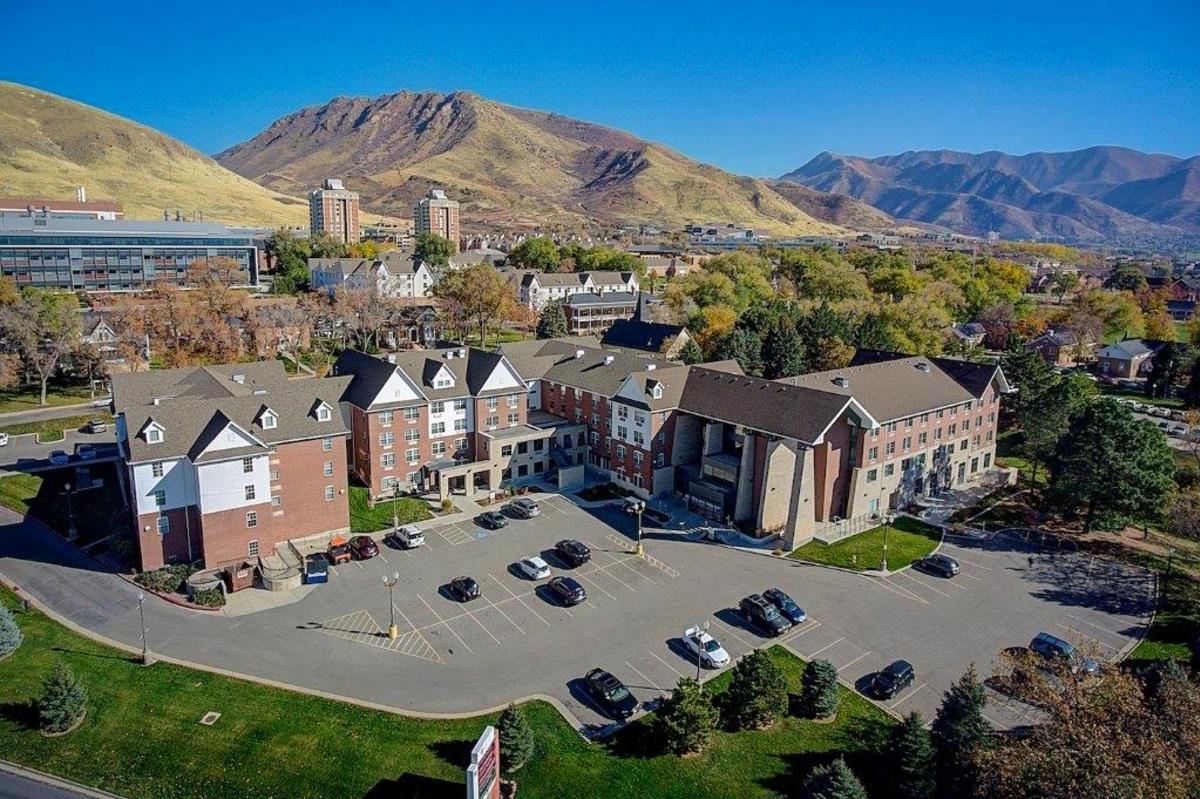 The University Guest House has a long history of offering excellent hospitality, whether you're visiting for nearby medical care or U of U research or you're just on vacation and want to be closer to trails than downtown hubbub. The warm and attentive staff is the number one reason to stay here, but the easy access to Trax, extensive breakfast, full-time coffee bar, comfy accommodations, and good value help, too.
What the crowd says:
Grand America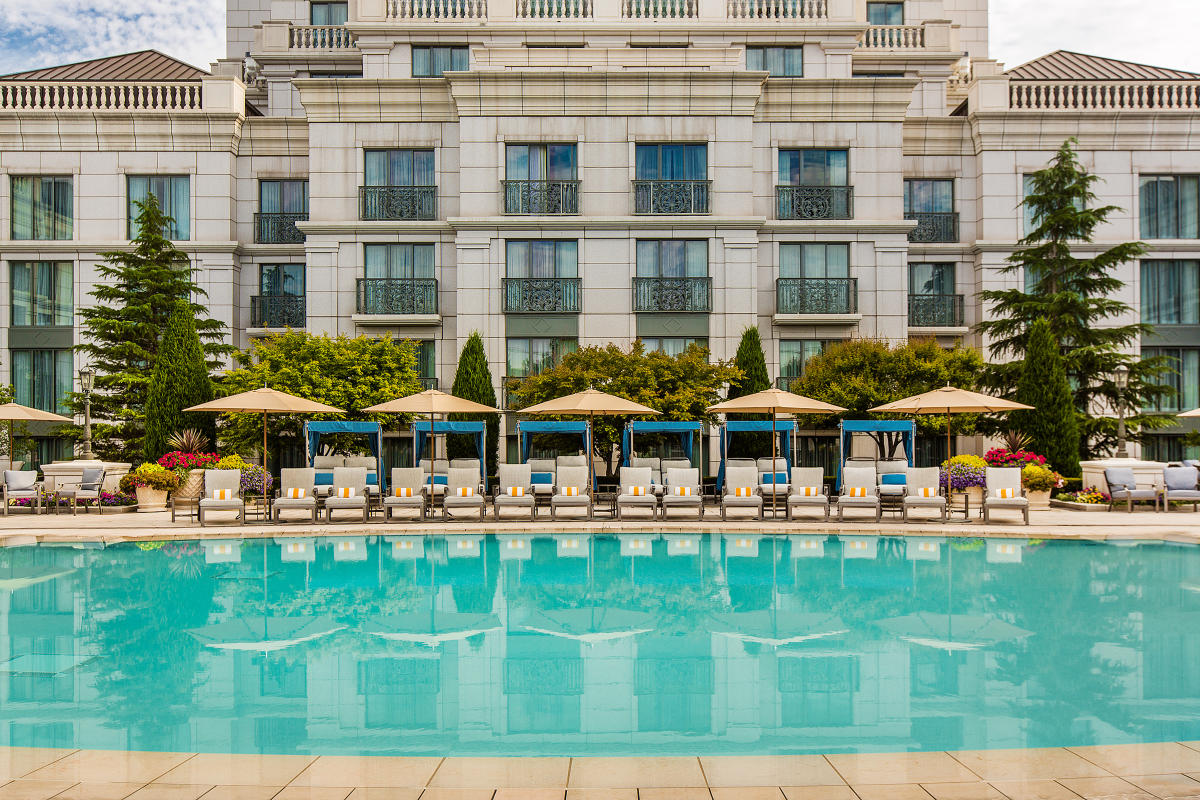 The ultimate Salt Lake getaway, the Grand America has no rivals when it comes to a luxury stay downtown. There's a French dessert cafe, a boutique toy shop, a pool (and pool restaurant/bar) fit for a Greek god, a full-service spa, an elegant courtyard, a swanky cocktail lounge, and a Sunday brunch so extravagant it will leave you momentarily overwhelmed with gustatory possibility. In short, there's a reason they call this hotel "grand."
What the crowd says: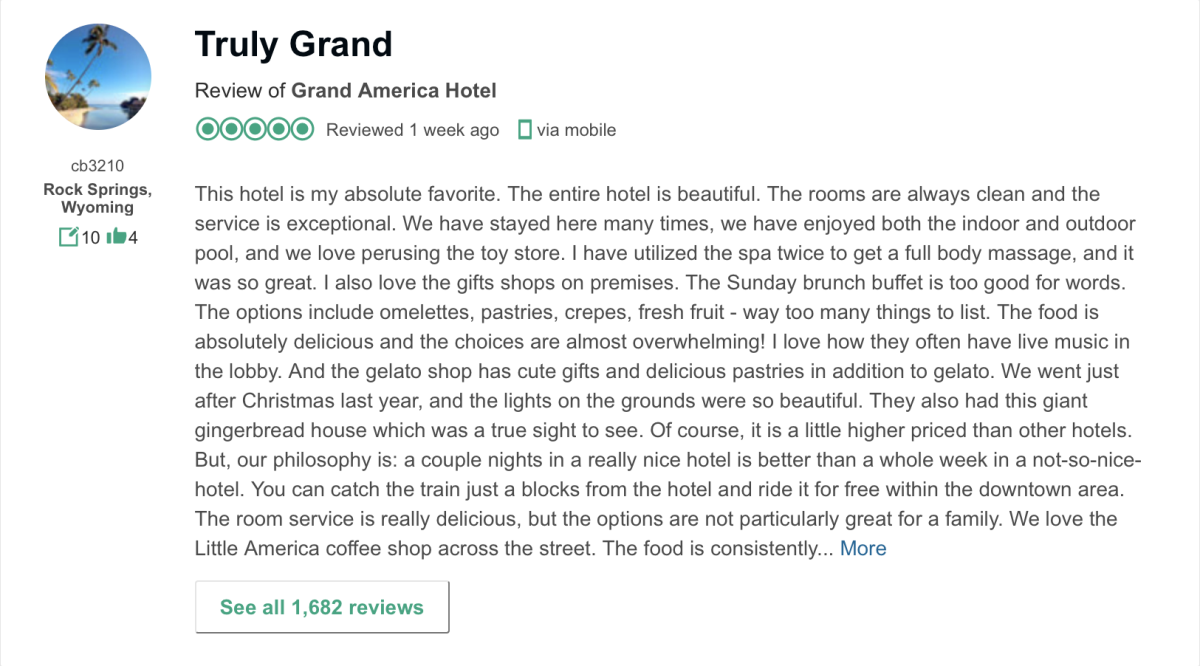 Hyatt House Sandy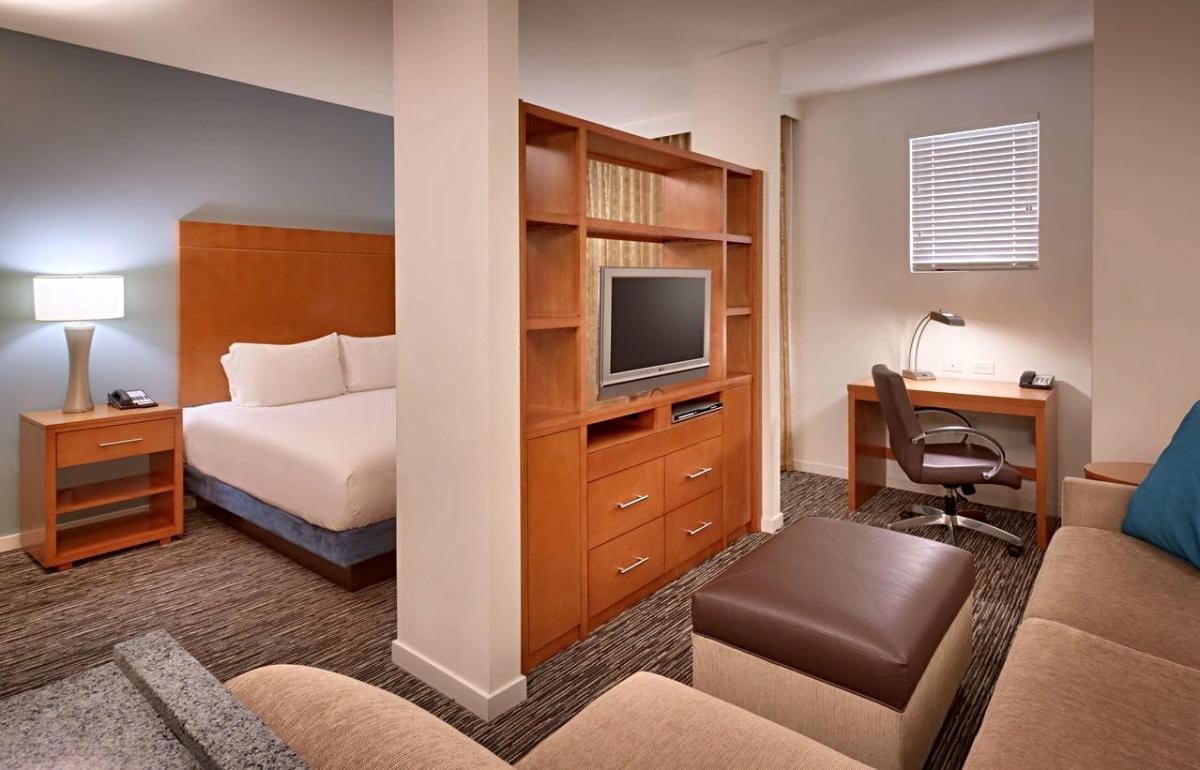 If Real Salt Lake soccer is on your list, then plan your stay at the Hyatt House Sandy. It's within walking distance of the Rio Tinto Stadium, so you won't have to deal with parking or traffic before or after the game. If a date night's on the calendar, you're close to the lauded in-the-round Hale Theater, a Megaplex 17 and IMAX movie theater, and several great restaurants. And when it's time to head back and unwind, the separate living area and full kitchen make your room feel more like a condo.
What the crowd says: