When you think of Salt Lake, pristine snow is probably the first thing to come to mind. But there's an entirely different world to discover, one that is ever evolving but consistently awe-inspiring. The city's arts and culture scene doesn't stop for the winter season. Unique exhibits and events continue to thrill visitors indoors and out. From galleries to festivals to concerts, the city's thriving art scene encourages creativity for all.
Art Galleries
Salt Lake's galleries are curated for art buffs and casual critics. The Urban Arts Gallery is home to over 100 Utah artists. From veteran creators to emerging artists, find work from the greatest and the latest. The gallery is a non-profit venue of the Utah Arts Alliance and is located in the bustling downtown district. Diversity is at the forefront with exhibits that range from street art to modern art, so each visitor is sure to find a piece that speaks to them in a "West of Conventional" sort of way. The gallery makes it easy to shop locally with a boutique that offers jewelry, prints, t-shirts and more. Grab a souvenir and consider yourself a patron of the arts!
Sundance Film Festival
Every year, a film festival takes place here. Sundance – maybe you've heard of it? The Sundance Film Festival is one of the most electrifying film events of the entire year, and it's not just for industry professionals. Visitors can meet celebrities and indulge in live music and one-of-a-kind events during the festival. See a film before it's released to the general public and get insider info when you sit in on a Q&A session with the director or actors. And remember, getting starstruck is all part of the experience.
Cultural Celebrations and LGBTQ+ Salt Lake
Cultural celebrations are a big part of the winter scene. Salt Lake is home to one of the coolest and friendliest LGBTQ+ communities in the country, so events like Utah Gay Ski Week and The Queer Lounge at Sundance are incredibly important to the community and its visitors. Everyone is welcome to join in on the fun. This open invitation highlights the city's perfect balance of progressive ideals and traditional roots, where differences are seen as things of beauty. No matter where you come from, there's a new perspective to uncover and embrace.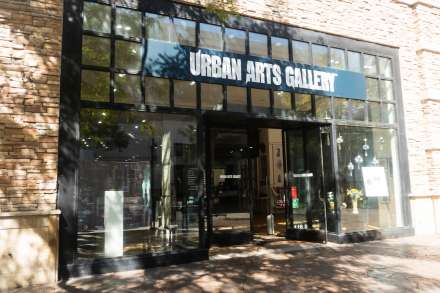 Discover the Creative and Diverse Side of Salt Lake
Maybe you'll connect with a street art exhibit, a short film or something a director said at a panel. But whatever you discover during your visit, it will be uniquely Salt Lake. It's a diverse place that celebrates differences while encouraging inclusivity and creativity. Make your way to our celebrations of art and culture, where everything you encounter is sure to be "West of Conventional."