The statement "Wishing you love, peace and flowers" pretty well sums up the mantra of Especially For You – Your Downtown Florist. Located in the heart of downtown Salt Lake City for over 34 years, this much beloved family-owned local florist offers an array of the finest quality of flowers, plants, gourmet baskets and much more – all made with creativity and plenty of love!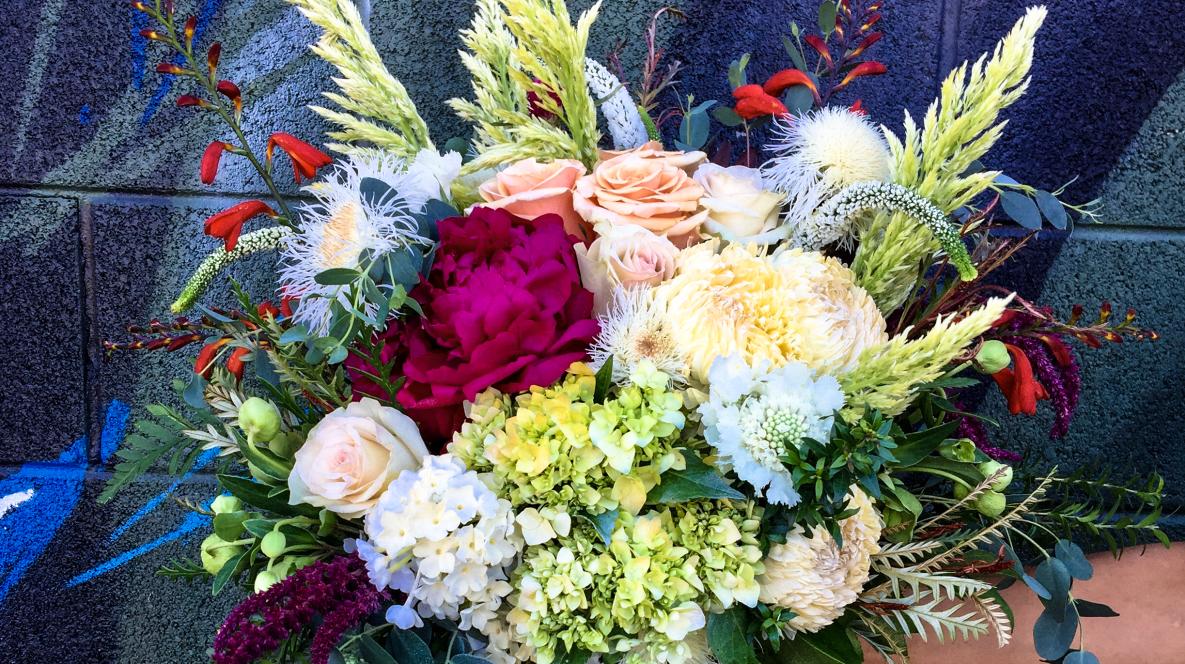 Not Your Run-of-the-Mill Florist Shop
A Bountiful, Utah native, Marci got her start in the floral business at an early age working for Mick and Lund Floral for just a year. Unfortunately, her path to "floral enlightenment" didn't happen overnight. After high school, Marci worked for Rick Warner Truckland for 7 years before moving to Los Angeles for a short time. But her dream of opening her own floral and gift shop in Utah brought her back to Salt Lake City.
However, not just any location would do. Having many fond memories of downtown Salt Lake as a child, Marci knew that if she opened a floral business that it had to be on Main Street. And in October of 1987, that dream became a reality with the opening of "Especially for You From Me" (later, she dropped "from me" and added "Your Downtown Florist").
This is a woman who knows hard work and is not afraid to put in the hours to make her a dream a reality. The first two years of operation, Marci had a full-time night job and worked seven days a week, wondering every month if she would be able to pay the bills. Her first break came when she landed the Utah Jazz account, and the rest, as they say, is history. Over the years she has decorated commercial building lobbies for Christmas, grand openings at the Delta Center, Hotel Monaco and Marriott City Center. But according to Marci, her favorite part of the business is her customers, who have become like family and who allow her to be creative. Through that process she has found happiness and success!
After being on 309 South Main Street for three years, she moved to 120 West 300 South in the Peery Hotel, where her business grew and flourished for 8 years. Her next move brought her to 300 South on what is known as "antiques row" and then finally to 400 South, where her eye-catching building painted with flower murals has been operating since December of 2013.
The Community
And if the business didn't keep her busy enough, Marci believes in giving back to the community that has supported her for the past 34 years, including involvement with the Downtown Merchants Association, the Independent Business Coalition, the Downtown Alliance and as president of the Utah Idaho Floral Association. 
It's very clear that Marci and her team love what they do, and it is undeniably true when Marci says that "I love being creative and love flowers; they are a part of my everyday life." She's understandably proud of being a part of the small business community that has helped shape downtown Salt Lake City into a walkable, livable and energetic urban center. 
We are all the beneficiaries of Marci's commitment to her employees and her family of clients. And even if you are not in the market for a floral arrangement, feel free to stop by the shop and say "Hi" any time. Chances are you will be greeted by Marci's family, including daughters-in-law, two granddaughters, 2 dogs and three cats. Especially for You is truly a multigenerational business and one that has made our Salt Lake Community a prettier place!