Salt Lake's spookiest season is upon us, and we're trembling with anticipation. We love Halloween and get pretty excited about it, as can be seen by the fact that Utah has been rated as the state with the most Halloween decorations and the second most Halloween-obsessed state  in the nation—and we have a huge spectrum of Halloween events to choose from. We rounded up a wide range of Halloween happenings in Salt Lake, from haunted houses and spooky live performances to family-friendly events and corn mazes. No matter your interest or scare level, you will find a Halloween event that will thrill you. 
Haunted Attractions
If you're looking to get in the spirit of the season, you can't go wrong with a classic haunted house. Whether you're looking for trembling scares or something more gentle for your little ones, these Salt Lake haunted houses should be top of your list.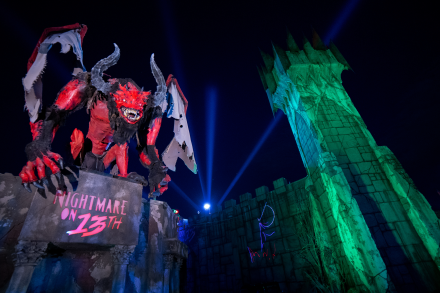 Nightmare on 13th
Starting with a Utah classic, Nightmare on 13th, Utah's longest-running haunted attraction, has been consistently voted one of the best haunted houses in the nation. Featuring new areas each year, the venue uses advanced animatronics, special effects, and professional actors to bring visitors a new scare.Nightmare On 13th features 36,000 square feet of room for haunting and scaring our customers; professionally trained actors; expertly crafted Hollywood-quality costumes, masks, and makeup; cutting-edge animatronics and audio/lighting effects. It's all in the name of frightful fun. Because of this, there will always be a new reason to visit the Nightmare On 13th, a guaranteed evening full of new ways to get scared and scream your lungs out!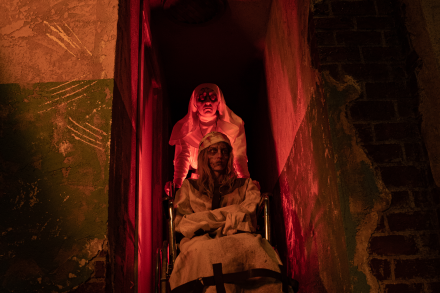 Institute of Terror
Utah's original haunted attraction, the Institute of Terror, is back as part of the Nightmare on 13th Halloween season. Thirty-four years ago, Utahns got to experience their first nightmares in person at the Institute of Terror. This new experience brings the scare inside, where the patients roam free in the dark corridors of the asylum, waiting for strangers to arrive. Darker and scarier than their main attraction, we recommend bringing a friend to clutch onto.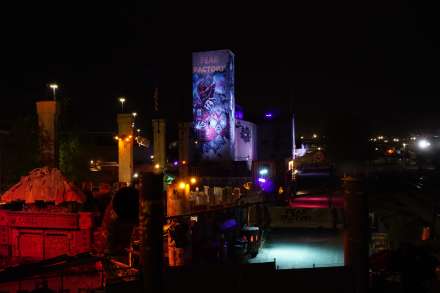 Fear Factory
An absolutely massive haunted house with six buildings that go up to six stories high and include two underground passages, Fear Factory was created on the site of an abandoned cement factory, and claims to have actual documented hauntings from its troubled history that have been featured on the Travel Channel. Another nationally ranked attraction, it also includes a free Zombie Bus pickup from a convenient parking area, and has special bounce back days and a Lights Out event during the Halloween season. 
Castle of Chaos
Castle of Chaos bills itself as the only underground haunted house in Utah - and lets you choose from their five "Level of Fear," ranging from "Monsters be Gone" to "Ultimate Hands On Horror." They even have a special level 5 feature called Krusebel that is an extreme haunt. For those who just can't get enough of the scary in their lives, you can also try one of the Castle's year-round escape rooms.
Family-Friendly Halloween Events
Halloween is one of the best holidays for kids, and Salt Lake has plenty of safe events for the little witches and goblins to experience all of its magic. 
Little Haunts
Little Haunts is an annual event for the little ones at This Is The Place Heritage Park. A Story Telling Witch, creepy crawlies at Creature Encounters, and of course trick-or-treating are all part of the fun.
Oaklore Academy: The Crimes of Myrtle Spurge
Red Butte Garden during its annual BOOtanical has its own take on a certain prestigious school of magic with Oaklore Academy: The Crimes of Myrtle Spurge. Attend classes in potions, spells, and cryptozoology; learn how real-life plants have magical properties, and help save the school from the troublemaking witch Myrtle Spurge.
Witchfest at Gardner Village
It's hard to overstate how popular Gardner Village's annual Witchfest is - it brings out the pointy-hatted, broom-riding, cat-loving magical fans in everyone. Breakfast with a Witch, Witch Displays and a Scavenger Hunt, a Witch Fun Run, Witches Weekends and Witches Night Out, Manifestations! - A Magically Macabre Tribute to Edgar Allen Poe, Witches of Mystic Manor Escape Room, and many, many more activities and witchy events are waiting for you, your young ones, or even your old ones. So grab your magical hat and wand and head on down.
More Family-Friendly Halloween events to take your wee ones to: 
Creative Halloween Experiences
For a fun change of pace, check out something a little outside of the box that isn't the same-old-same-old.
Grimm Ghost Tours
People do love ghost stories. If you're one of the people that can't get enough of the spine-tingling, keep you up at night tales, you need to take one of the Grimm Ghost Tours. Open all year, they are especially fun during spooky season. The bus tours have several destinations throughout Salt Lake, and they all include real history from real locations about creepy or unexplained deaths and people's experiences with the supernatural in those places.
Lore - Evermore Park's Immersive Halloween Experience
Evermore Park, one of the most unique parks anywhere, is a "year-round fantasy adventure renaissance faire," That said, Evermore is always looking to outdo itself. Lore is Evermore's fall season Halloween Wonderland and Festival. Shows, games, themed shops, interactive fantastical characters, food, ghost stories, Halloween quests, and more!
6th Annual Halloween Bar Crawl
With 2,000+ crawlers expected, this two-day 6th Annual Halloween Bar Crawl comes complete with a costume contest ($1,000 grand prize!), food and drink special, pro photographers, official swag, waived cover fees, and an after party. Participating bars include Twist, Boomerang Bar, Gem Nightclub, Gracie's, Green Pig, International Bar, London Belle, Quarters Arcade Bar, Shades on State, and Sky SLC.
Even more truly unique Halloween events:
Spooky Runs, Movies, Concerts, Theatre
More Salt Lake ideas to celebrate spooky season:
Costume Runs
Monstrous Movies
Creepy Concerts
Treacherous Theatre