Salt Lake is home to a diverse art scene that offers innumerable opportunities for art-hungry visitors to scratch their itch. The city sits near a copper mine and the Great Salt Lake—two battery components—so it's no wonder that Salt Lake City has been alive with creative energy for quite some time. Salt Lake Gallery Stroll is a local organization that aims to elevate artists and their pieces by democratizing access to art. "The Salt Lake Gallery Stroll strives to promote and provide access to the expression, appreciation, and understanding of the visual arts in Salt Lake City and to increase the reputation of Utah artists and art organizations locally, nationally, and internationally," says Kristina Robb, director of the Gallery Stroll organization.
On the third Friday of every month, visitors can engage in a "self-guided" tour through the city that directs you to roughly a dozen different galleries. Artists display work throughout these spaces, a list of which can be found on their website gallerystroll.org/current.htm. These strolls begin at 6 p.m. and end at 9 p.m.
Gallery Stroll Makes Art Accessible in Salt Lake
A primary mission of the Gallery Stroll organization is to make fine art more accessible and engaging to the public. "We seek to remove intellectual, social, and physical barriers to the enjoyment and understanding of diverse visual art forms and encourage awareness of Salt Lake City's diverse visual art community," says Robb. During Gallery Stroll, the participating galleries are open late, and many host the exhibiting artists so the creators can speak about their work directly to visitors. The Salt Lake Gallery Stroll enables the community to access art by removing barriers such as working hour availability, distance from the creators themselves, or awareness of the gallery itself.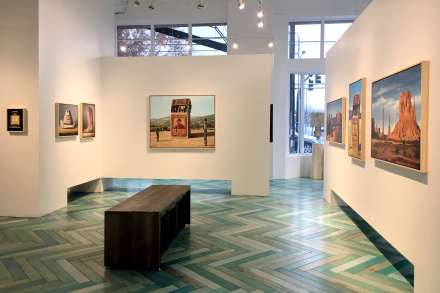 A Vast Array of Art Topics, Styles, and Mediums 
The art featured in the various galleries ranges from art-inspired apparel, to artworks focused on an exploration of color theory, all the way to intersectional feminist motifs in pieces. The gallery stroll highlights the deep range of creative energy that exists in Salt Lake City. This is a direct reflection of the diverse inspirations that exist here in our burgeoning city. The Gallery Stroll is a great way to see the city through the lens of an artist, to build connections with others who also value creativity, and consider the ways in which that energy transforms into something you can hang on your wall or even wear.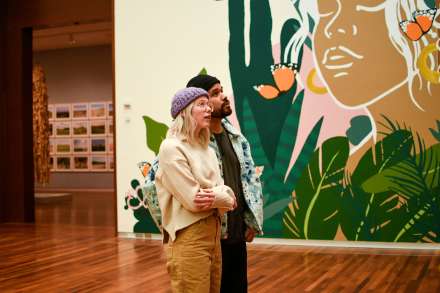 The History of Gallery Stroll
Since the first Gallery Stroll in 1983, the Salt Lake Gallery Association has held the event as a longstanding local tradition. Initially, it was just a small group of galleries participating, but today it has grown into a nonprofit organization that features diverse forms of visual art. In an effort to bring art to communities in the city and further their mission of accessibility, the Gallery Stroll is a free and non-ticketed event. Regardless of the monumental growth the event has achieved, "The goal remains the same," says Robb, "to promote the best art Salt Lake City has to offer and create a larger market for practicing visual artists" both in and outside of the Salt Lake artistic community.
Explore Gallery Stroll–affiliated Galleries
There are a number of well-established Salt Lake art galleries that participate in Gallery Stroll. Explore them during the event, or during their regular hours at your leisure; these include, but are not limited to:
Finch Lane Gallery (saltlakearts.org/finchlanegallery) in the historic Art Barn at 54 Finch Lane, a part of the Salt Lake City Arts Council that "is designed to give local artists an opportunity to show their current body of work"; Alpine Art + Frame (alpineartinc.com) on 430 East South Temple Street, a gallery that blends Utah talent with national and international artists; the Urban Arts Gallery (urbanartsgallery.com) at 116 South Rio Grande Street, which features a range of media from contemporary Utah artists and has an in-gallery store open year round; and the fashion- and garment-centric gallery Rollie Studio/Canvas+Cloth (rolliestudio.com) with a goal to "create pieces that are unafraid in their representations of their clients," per their website, which sits at 925 East Harvey Milk Boulevard in Salt Lake's cultural 9th and 9th neighborhood.
More galleries included in the Stroll: Brushworks Gallery (brushworksgallery.com) located at 160 East 800 South and is a space that has a large, diverse collection, speaks to several different motifs while employing many diverse creative muses through a sizable rotating collection of featured artists; A Gallery/Allen+Alan Fine Art (agalleryonline.com) is an award-winning gallery with fine-art undertones and explorative top notes that sits in SLC's Yalecrest neighborhood at 1321 South 2100 East; and Current Work (currentwork.art) is a contemporary gallery on 826 South 500 West Suite 2.
If you catch a Gallery Stroll, be sure to visit these spots (as well as many others on the list), but also make sure to check out their regular hours for visits outside of scheduled strolls. Each gallery exhibits winning artwork from Utah talent and beyond consistently throughout the calendar year.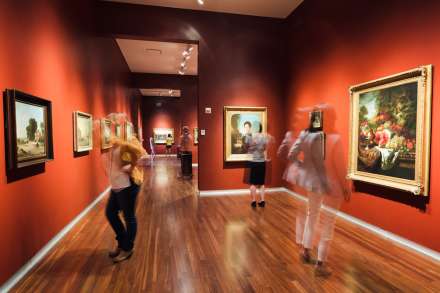 UMFA Offers the Finest of Salt Lake's Fine Art
A number of exceptional fine-art galleries exist outside the Gallery Stroll. One of the most significant of these is the Utah Museum of Fine Art, or UMFA, a self-described "destination for global visual arts." In addition to a permanent collection that features the work of both Utah artists and those from outside the state, UMFA has a rotating cycle of programmed exhibitions that regularly cover topics relating to social justice issues, environmentalism, global conflict, and more. 2023 exhibitions include Many Wests: Artists Shape an American Idea, a series of multimedia works exploring the fraught, mythic definition of the "American West"; and Tatau: Marks of Polynesia, a celebration of the Samoan tatau, a culturally specific form of tattoo art. UMFA is located on the University of Utah campus at 410 Campus Center Drive. Find more information and plan a visit at umfa.utah.edu.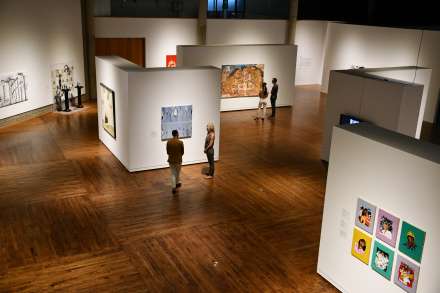 UMOCA—Salt Lake City's Home for Contemporary Art
Those looking for a fine-art experience that verges closer to the more experimental, contemporary side of art mustn't miss the Utah Museum of Contemporary Art, or UMOCA. With a mission to "highlight perspective[s] on art that redefine [the] conventional museum experience," UMOCA features an ever-rotating series of exhibits dedicated to multimedia works, interactive pieces, performance installations, and more. Visit the gallery at 20 South West Temple and check out utahmoca.org for a complete list of current exhibitions.
Salt Lake City as a Fine Art Destination
More than just offering a handful of museums for visitors to engage with during their trip, Salt Lake is a veritable hub for fine art that both honors traditions and looks ahead to the exciting new voices from the city itself and the rest of the world. You won't want to miss any of the incredible works on display at any of the above listed galleries, whether in a formalized Gallery Stroll or on your own charted path.