Images courtesy Utah Arts Alliance
As night falls over Salt Lake City this November 10–11, the urban landscape will transform into a mesmerizing alien cosmos aglow with innovation and wonder during the seventh annual ILLUMINATE Festival. Over two glowing nights from 5:00–11:00 p.m., the free celebration brings together over 25,000 dreamers and visionaries from across the globe to marvel at futuristic light installations, cutting-edge performances, hands-on STEAM exhibits, and more. The event spans multiple city blocks, with exhibitions that ignite Library Square and Washington Square.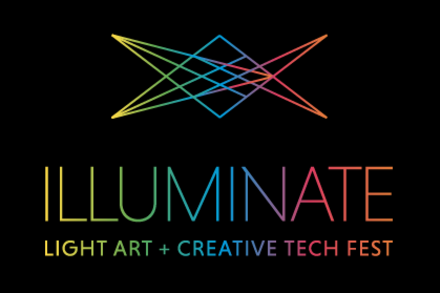 ILLUMINATE is Utah's premier light art and immersive technology festival, bringing interactive art installations, live music, performances, projection mapping, and more to the streets of downtown Salt Lake City. Attendees can explore alien worlds through cutting-edge 3D projection mapping shows displayed on buildings, wander through galaxies of LED sculptures, and enjoy live music performances where artists blend technology with their sets. ILLUMINATE showcases the future of art, technology, and self-expression, turning the cityscape into portals to a new dimension of creativity.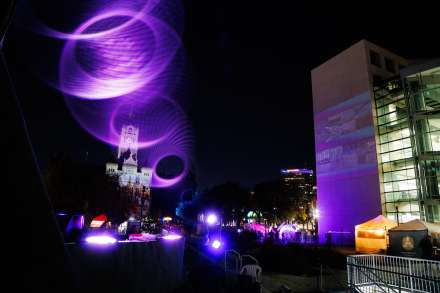 The Glowing Origins
Founded in 2016 by local arts nonprofit Utah Arts Alliance, Illuminate Festival was created to showcase emerging art forms involving projection mapping, LED lights, lasers, and other new technologies. According to Utah Arts Alliance Executive Director Derek Dyer, he saw the increasingly accessible tools behind light art as an opportunity to "create the world we want to live in" by inspiring human creativity, connection, and imagination.
Over the years, the festival has rapidly grown in scale and ambition. It has evolved from small-scale augmented reality experiments to massive architectural projections that supernaturally transform Salt Lake's most iconic facades. This year's otherworldly theme, "Alien Encounter," will use extraterrestrials to explore ideas of otherness, imagination, and finding light even on the darkest nights.
The S.T.E.A.M. Lab
For visitors seeking more hands-on engagement, the festival's STEAM Lab offers interactive exhibits from top local science and tech institutions. The Leonardo museum, a contemporary science, technology, and art museum located in Library Square, will host ILLUMINATE's STEAM Lab this year. ILLUMINATE guests will be able to access The Leonardo's FLIGHT exhibit for free. Admission to the rest of the museum includes the Art Through Experience immersive art shows for the discounted rate of $20 during the festival. Tickets can be purchased at The Leonardo's front desk or website.
The STEAM Lab is a workshop space where science, tech, engineering, art, and math collide through hands-on activities. Attendees can experience interactive demonstrations from top local organizations like Spark Science, Clark Planetarium, University of Utah Physics, and student robotics teams. Kids and adults alike can tinker with circuits, build LED projects, learn about optics, and explore other engaging scientific concepts illuminated through art.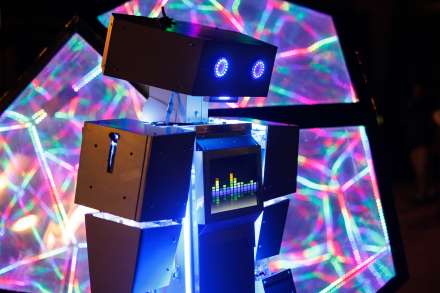 The Utah Film Center will also showcase innovative ways to use light and tech to tell stories through their "Remain In Light" program, which showcases three shining short films. The film program will repeat throughout the night, presenting heartfelt voyages that reveal the power of storytelling, community, and compassion. All of these STEAM exhibits will be located in The Leonardo Museum's FLIGHT exhibit hall. ILLUMINATE guests can access the STEAM Lab at The Leonardo for free during the festival hours.
The Drone Show
A highlight of the festival will be the drone show produced by Open Sky Productions. This spectacular display will take place in the air above the Salt Lake City and County Building, with hundreds of choreographed drones equipped with LED lights to create stunning aerial formations and animations. The light-filled drones move and dance in harmony for a dazzling show set to music. After debuting Salt Lake City's first-ever drone show at last year's Illuminate, this innovative spectacle returns to once again promise to be one of the most memorable and unique performances of the entire event.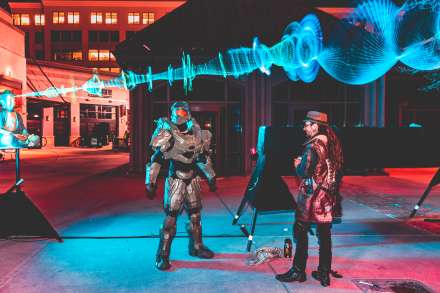 Entertainment at ILLUMINATE
This November, even more light-based magic awaits in downtown SLC in the form of dozens of installations by local and global artists. The alien-themed projection show on the Salt Lake City and County Building will transport viewers to faraway galaxies through video-mapping effects across the building's surface.
Fuel Your Light Adventure
All of ILLUMINATE's dazzling sights and sounds are bound to stir up otherworldly appetites. Luckily, Salt Lake's vibrant food truck scene beams down delicious options to satisfy any craving. With food, drink, and late-night snacks from a dozen local eateries, ILLUMINATE visitors can fuel their alien adventures with Salt Lake's most crave-worthy cuisine under the stars.
Patrons can enjoy hot vegan or meat-filled dumplings from Kitty's Family Dumping, gourmet pizza from Carmine's Italian Restaurant and stuffed cookies from Dirty Dough. For plant-based fare, Ra' Living offers superfood smoothies and raw vegan meals. And Fry Me to the Moon's deep-fried specials such as corn dogs and their handmade "dynamite dog" add indulgence from beyond.
Wash it all down with glowing drinks from lively on-site bars mixing up local brews from Red Rock Brewery as well as wines and cocktails late into the night. There's even a non-alcoholic bar, WB's Eatery and Dry Bottle Shop, serving up dry beer, dry wine, and dreamy mocktails.
LumenLand
For visitors hoping to extend the magic, ILLUMINATE has added a special kickoff weekend this year called LumenLand. This mini festival takes place November 3–4 from 6:00 p.m.–10:00 p.m. at Smith's Ballpark, the stadium for the Salt Lake Bees minor league baseball team.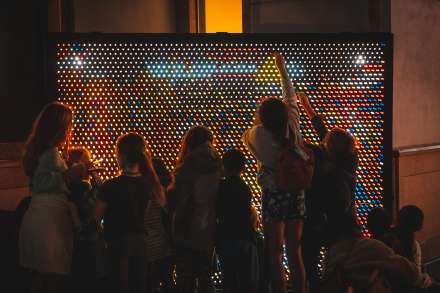 LumenLand will feature many classic ILLUMINATE attractions such as interactive light sculptures, performers, art vendors, music, and more. Utah Arts Alliance has gathered several local artists to build awe-inspiring sculptures using lights and technology. These two picturesque nights will also be free for the public to experience, the perfect precursor to the main ILLUMINATE event. Visitors are welcome to stay and enjoy live music and food trucks throughout the evening.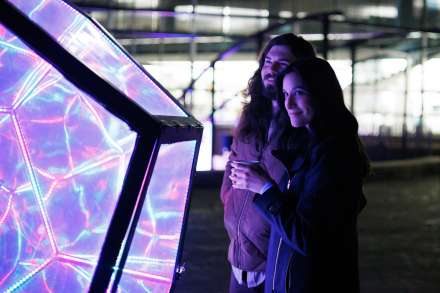 The Future Is Glowing
Now in its seventh year, ILLUMINATE cements itself as one of America's most cutting-edge and joyful art festivals, garnering international acclaim for its pioneering spirit. Its stunning success has shown how creativity, community and human connection can bloom even in the most unlikely places when illuminated by passion and imagination.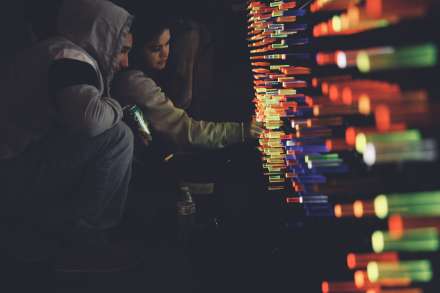 If you find yourself in Salt Lake City this November seeking an escape to remarkable new frontiers, look to the glow on the horizon. Let it draw you into its cosmic forces to experience the alien wonders that only come alive after dark. Dress for the stars, arrive at dusk, and surrender to the supernatural lightscapes and collective dream worlds that await at ILLUMINATE Festival 2023. The future will be glowing brighter than ever.