Photos: copyright 2022 Logan Sorenson
Salt Lake's Chinatown Experience
Are you searching for a Chinatown experience in Salt Lake? You'll know you've arrived when you see the Chinatown Market's traditional red gate rising above the surrounding buildings at 3390 State Street. This 5.7-acre shopping center can't be missed, and neither can the variety of unique restaurants and shops that make it Utah's largest Asian market.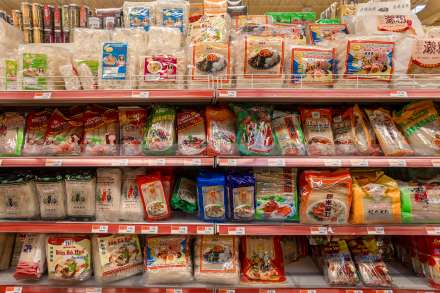 6,000+ Asian Products
There are countless items on the Chinatown Market's shelves that can't be found anywhere else in Salt Lake City, with over 6,000 products unique to Asian countries. For this reason, the Chinatown Market plays an important part in Utah's Asian community and culture. "Before we opened, most Asian people had to travel to Las Vegas or Los Angeles to find what they can now find here," says Andrew So, the owner of the Chinatown Market. "Traditional dishes can now be prepared with less effort."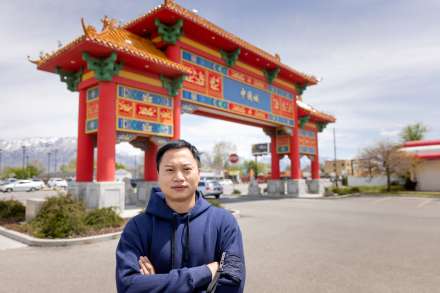 The Classic Entrance Gate
The market's architecture holds cultural significance, as well. Patterned after the famous Forbidden City—which is located at the center of the Imperial City of Beijing and was the home of Chinese emperors for over 500 years—the entrance gate includes a classic gold roof, red columns, "and small statues of the animal gods that protect the grounds," So says. This stunning visual representation of Asian culture makes the Chinatown Market the ideal destination for annual events such as the Chinese New Year in February and the Moon Festival in the fall, both of which see thousands of guests each year. With kung fu and dance performances, prize raffles and a fireworks show, these celebrations are well worth marking your calendar for.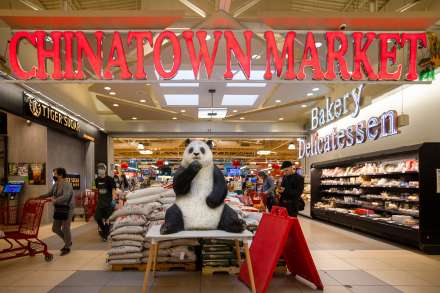 Chinatown Market
Since it opened in 2014, the market has expanded its inventory to include representation from a handful of Asian countries. The Chinatown Market is now a true foodie destination that offers a range of cuisines including Cantonese, Vietnamese, Chinese, Korean, Japanese and Taiwanese. "We have brought on more in-house baked goods and more varieties in every department: fish, meat, vegetables, deli, snacks, drinks and home goods," So says. "Our seafood and deli departments have grown and become one of the most popular."
From the aisles of the supermarket, a selection of Asian candies and treats make great gifts for food-obsessed friends. The Chinatown Market is also the best place in town for bulk items such as rice and spices, dried chiles and mushrooms, every variety of tofu under the sun and fresh, hard-to-find produce including durian, jackfruit, dandelion leaves, taro, winter melon and so much more.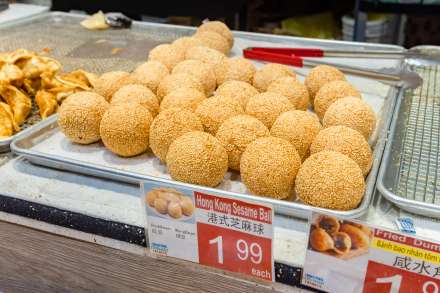 Andrew So Recommends
From the market's bakery—which is open Wednesday through Sunday—visitors can enjoy offerings such as freshly baked coconut buns and banana leaf-wrapped alkaline dumplings with red bean fillings. The market's fish department sports 18-foot-long fish tanks and is the best place in Salt Lake City to select a live crab or lobster. The beverage selection on the market's back wall is also worth a visit: Here, visitors will find shelves stocked full of canned milk teas, coffees and fruit-flavored sodas such as Ramune.
To first-time shoppers, So recommends two particular items: "The sesame ball found in the deli and the Prima Taste Singapore Laksa La Mian noodles, rated the number-one instant noodle for many years, found in the noodle section," he says. If you find yourself choosing between the equally refreshing lychee-flavored Mogu Mogu and the white peach Calpico beverages, I highly recommend buying them both.
Incredible Asian Restaurants
While shoppers will find everything they need under the market's roof to make a proper Asian meal at home, the Chinatown Market is so much more than a grocery store. "The Chinatown Plaza has become a hub for Asian restaurants and other shops," So says. Included in this lineup are UME House and the China Town Eatery, which feature traditional Chinese cuisine. Tiger Sugar serves up internationally renowned black sugar boba tea, and Meet Fresh offers unique Taiwanese desserts. Rumor has it that even Utah local Post Malone can't stay away from the crispy, saucy Korean fried chicken at Chick Queen.
Baek Ri Hyang serves traditional Korean cuisine and is the obvious local destination for Bibimbap, Korean short ribs, and jjigae. Phở Salt Lake and Phở Hong Chau serve famous soups and other Vietnamese cuisines. You won't want to stop eating the handmade noodles at One More Noodle House—the name says it all! Wu Kong BBQ adds variety to the mix with its unique BBQ menu. And, if you'd like to see how a true hotpot is done before purchasing your own thinly-sliced meats from the deli and hosting your own, be sure to visit Hero HotPot for a novel dining experience.
Speaking of a dining experience, Sakura Hibachi Steakhouse & Sushi will give you and your dinner party a Hibachi-style show you won't forget. And don't be fooled by the name of Sanfran Burrito N Fryz—this counter-service establishment offers a delicious kimchi burrito, and kids and adults alike will crave the sugar-coated Korean corn dogs and red bean taiyaki. Korean culture is represented again at K-Recipe, a take-home source of all varieties of Korean cuisine including house-made kimchi, spicy rice cakes and gamjatang. The newest member of the Chinatown Market restaurant family, The Great Wall, specializes in Szechuan with many unique Chinese dishes. Last but not least, Moon Bakery serves delicious baked goods as Utah's first Korean bakery—and don't miss their bingsu, a delicious, creamy Korean shaved ice.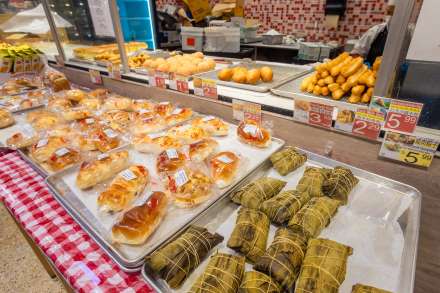 One-stop Shop for Discovering Asian Culture
Between all of the food offerings, an outlet store stocked with home goods, the Kim Hoon Hair Salon and the Kung Fu Club—which teaches traditional southern tai chi and lion dance—the Chinatown Market is truly a one-stop shop for discovering Asian culture. "We have created a professional, well-organized and beautifully decorated setting that is inviting to the public," So says. "Our plaza has become a place for friends and families to gather and shop." Whether you're looking to experience the market through a quick meal or a full-day outing, you'll find exactly what you need (and much more) at this unique destination.
The Chinatown Market is open until 9 p.m. seven days a week, though the hours for each restaurant differ. Learn more by visiting saltlakechinatown.com, and stay up-to-date on new arrivals and upcoming events by following along with the market on Facebook and Instagram.
Chinatown Market
3390 State St.
801.906.8788 | saltlakechinatown.com
Mon.–Thurs., 9 a.m.–9:00 p.m.
Fri.–Sun., 8:30 a.m.–9 p.m.