Experience the art of Japan in two stunning exhibitions this spring at Utah's flagship art museum.
Seven Masters: 20th-Century Japanese Woodblock Prints and Beyond the Divide: Merchant, Artist, Samurai in Edo Japan are on view right now at the Utah Museum of Fine Arts (UMFA) at the University of Utah. From dazzling screens, scrolls, and prints to classic and anime film, you'll see why Japanese art and culture have inspired creators of all kinds, from printmakers to tattoo artists. With so much great Japanese art on view, where do you start? Here are our top five things to do and see: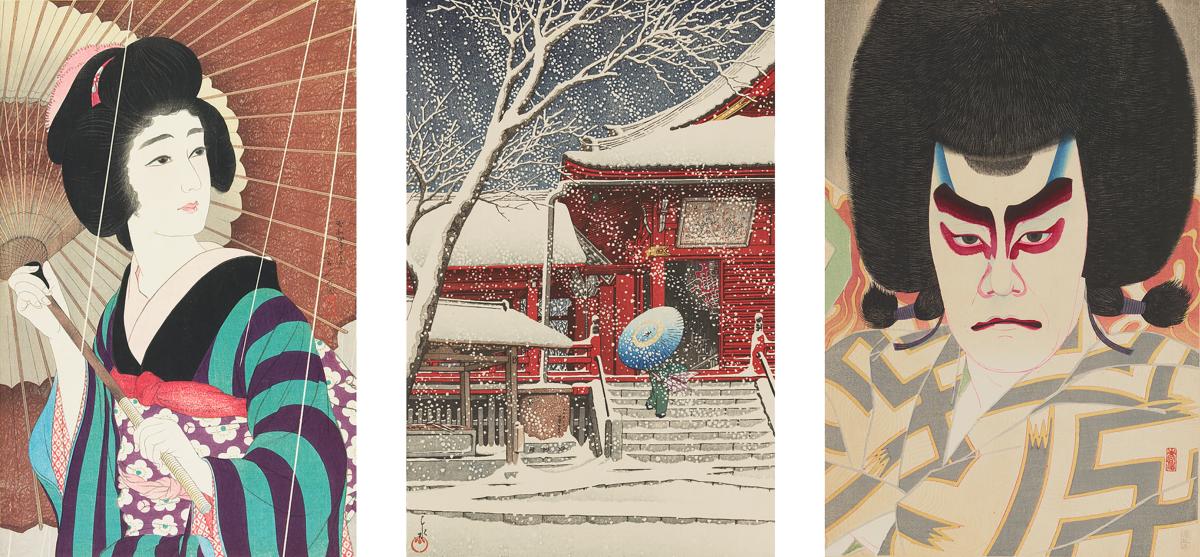 Left: Torii Kotondo, Rain, October 1929, woodblock print, ink and color on paper. Published by Sakai and Kawaguchi. Minneapolis Institute of Art, Gift of Ellen and Fred Wells, 2002.161.20. © Torii Kotondo.
Center: Kawase Hasui, Snow at Kiyomizu Hall in Ueno, July 1929, woodblock print, ink and color on paper. Published by Kawaguchi Jirō. Carved by Maeda Kentarō. Printed by Komatsu Wasankichi. Minneapolis Institute of Art, Gift of Paul Schweitzer, P.77.28.10.
Right: Natori Shunsen, The Actor Ichikawa Sadanji II as Narukami (from the series Creative Prints: Collected Portraits by Shunsen), 1926, woodblock print, ink and color on paper with mica and embossing. Published by Watanabe Shōzaburō. Minneapolis Institute of Art, Gift of Ellen and Fred Wells, X2004.2.11.
Masterful Woodblock Prints
In Beyond the Divide get a close-up look at some iconic woodblock prints—known as ukiyo-e—by famous artists like Hokusai and Hiroshige. Then discover the innovators of Seven Masters, drawn from the superb collection of the Minneapolis Institute of Art (Mia). These artists developed a new art form—shin hanga—that mingled the old with the new in response to Japan's rapid Westernization and industrialization. You'll be transported by enticing pictures of classic beauties, striking Kabuki actors, atmospheric landscapes, and more.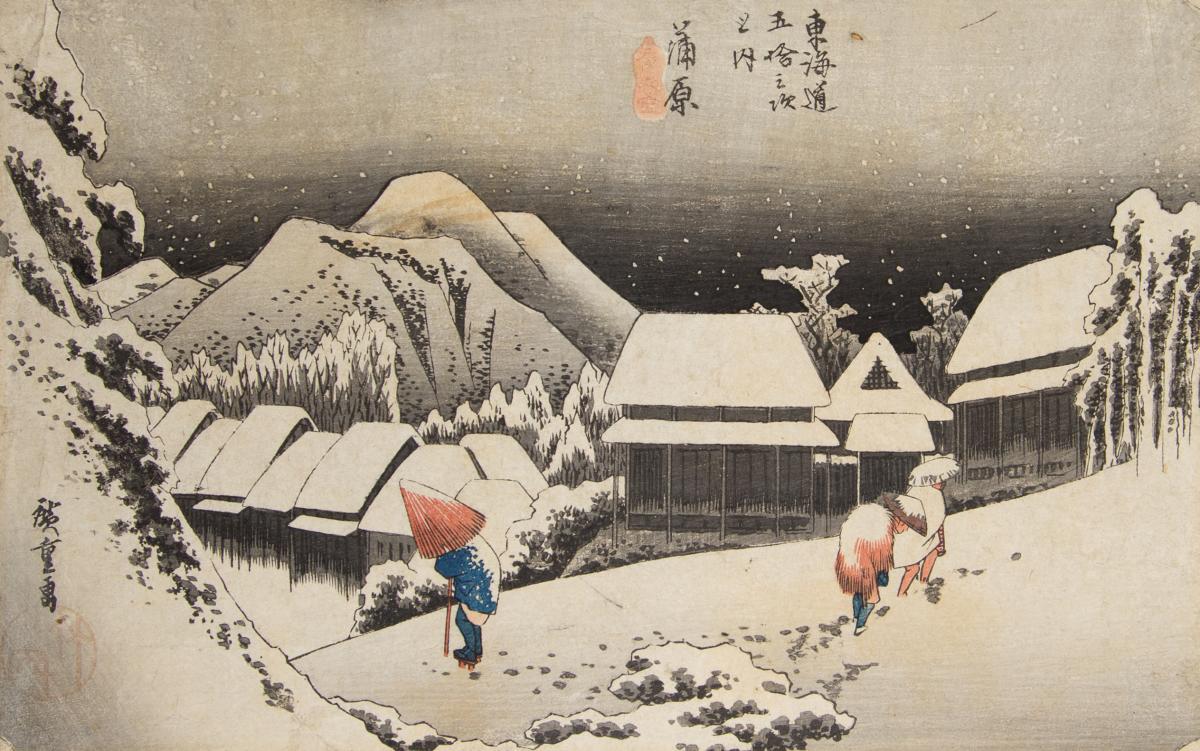 Utagawa Hiroshige (Japanese, 1797–1858), Kambara, from the Fifty-Three Stations of the Tokaido, 1830s, color woodcut, gift of Mr. and Mrs. James L. Franken, UMFA1938.004
Delightful Decorative Screens
Beyond the Divide offers a treasure trove of art from one of Japan's most diverse periods of artistic expression and the UMFA's own dynamic collection. Japan's Edo period (1603–1868) was a time of rapid cultural expansion. Its growing cities and cash economy led to a high patronage of the arts. Elite samurai and members of the rising merchant classes filled their homes with artworks that fused old and new inspiration, effectively defining this storied era. Pairs of folding screens—called byobu—were fashionable as decorative items and room dividers. Artists found their large surface areas ideal for large compositions detailing popular subjects and stories, many of which can be seen on the many screens on view. Interactive features make the exhibition a kid-friendly art experience.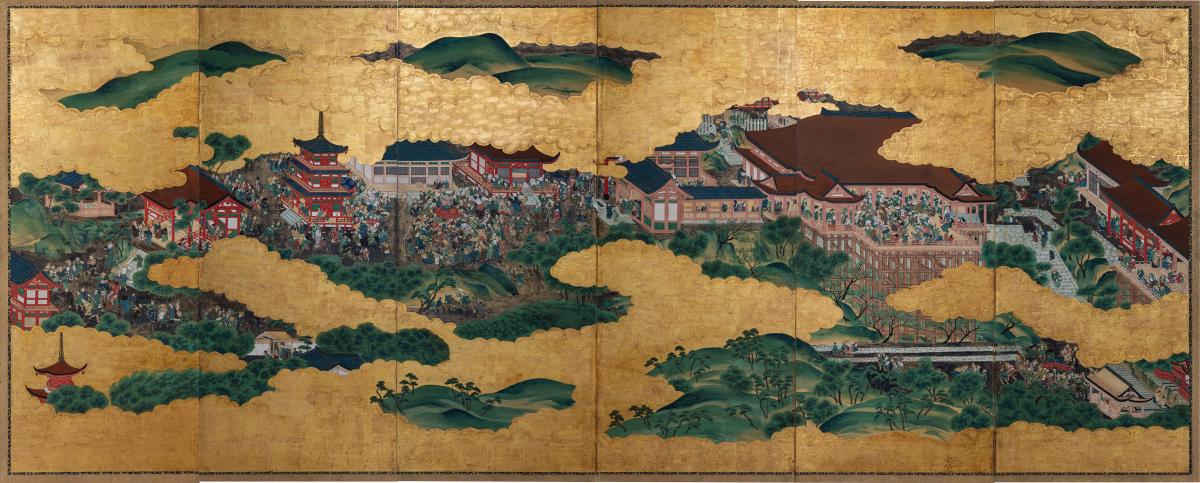 Vintage Samurai Armor and Weapons
Even in the middle of a busy city, a samurai always stood out. As the highest social class in the Edo period, a samurai could carry both a sword (katana) and short sword (wakizashi). The warrior took great care to select weapons that were not only functional but also reflected his personality. Designed for combat, these swords are outstanding examples of their makers' artistry and craftsmanship. Along with swords you'll see a fascinating set of samurai armor, crafted of steel, iron, silk, leather, and wood, which offered its wearer flexibility and protection but was also strong enough to withstand the impact of musket weapons!
Classic Film & Cutting-Edge Anime
The UMFA and Utah Film Center are bringing three exciting, free films about Japanese art and culture to Museum visitors. Miss Hokusai (2015), an anime film based on a historical manga series, explores the life and works of artist Katushika Hokusai through the eyes of his daughter. In Yojimbo (1961), a samurai film by acclaimed director Akira Kurosawa, a crafty ronin comes to a town divided by two criminal gangs and decides to play them against each other. Sansho the Bailiff (1954), one of cinema's greatest masterpieces, is based on a classic Japanese story about a governor who disobeys the reigning feudal lord and is cast into exile, leaving his wife and children to fend for themselves.
Hands-on Art Making
Learn the art of printmaking or create your own miniature Japanese screen at Third Saturday for Families, the UMFA's monthly drop-in art making program, 1–4 pm. Admission is free all day, and the art activity is perfect for all ages, all abilities. On Wednesday, April 1, 6–8 pm, explore the Confucian concept of the four scholarly arts—music, painting, calligraphy, and the strategy game Go—at the UMFA's free Open Studio for adults. Catch Miss Hokusai in the UMFA's Katherine W. and Ezekiel R. Dumke Jr. Auditorium at 7 pm.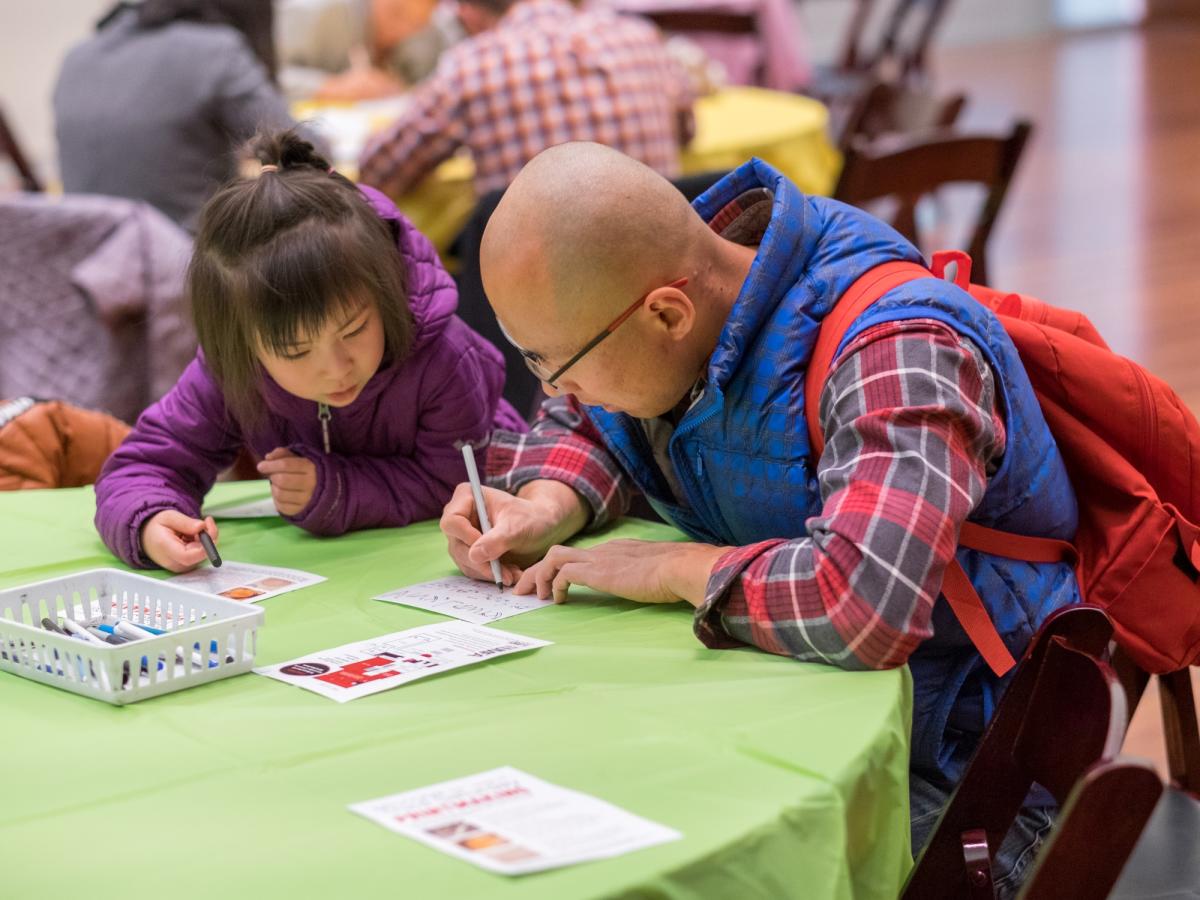 With so many fun things to do and see this spring at the Utah Museum of Fine Arts, what are you waiting for? The UMFA is located on the U's easily accessible south campus, between Rice-Eccles Stadium and the Huntsman Center. Admission is free the first Wednesday and third Saturday of every month, and the Museum is open late on Wednesday nights, when admission is just $5 after 5 pm.
Want the latest info? Sign up here to receive our e-newsletter and follow the UMFA on Facebook or Instagram and. Plan your visit now.