The Incredible Terrain at Alta, Brighton, Snowbird, and Solitude
Feel that chill in the air? Winter will be here before we know it, and it's the perfect time to look ahead to the upcoming ski season! Salt Lake City is the ultimate skier's destination with four world-class resorts under 45 minutes away. The Cottonwood Canyons, in the Wasatch Range, are visible from downtown, and it's no secret that they're a skier's paradise. "Last year was an incredible, record-breaking season," says Alison Palmintere, Director of Communications for Ski Utah, which provides resort information and snow reports statewide. "Good winters come in twos," she adds, "so we're crossing our fingers for an equally snowy year."
Big Cottonwood Canyon is home to Brighton and Solitude resorts, while the nearby Little Cottonwood Canyon leads to Snowbird and Alta. Each resort promises a unique experience for visitors, but all four offer can't-miss terrain for skiers of all levels. Read on to learn how to make the most of The Greatest Snow on Earth®, whether you're an expert skier, a first-time learner, or somewhere in-between.
SOLITUDE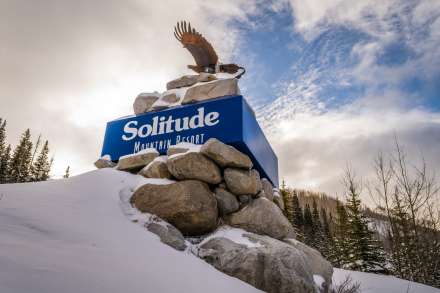 Solitude Mountain Resort is the first resort you'll reach on your scenic drive up Big Cottonwood Canyon, earning its name through its pristine terrain. "Solitude offers one of the steepest runs in Utah and fantastic tree skiing," says Palmintere. Although Solitude provides notable expert terrain, it has plenty of options for beginner and intermediate skiers.
Solitude Beginner Level:
Little Dollie
Little Dollie is one of Solitude's longest beginner runs and can be found off the Moonbeam Express chairlift, a step up from the shorter Link chairlift. With easy access from the base, this run branches into multiple beginner offerings. All roads lead back to Moonbeam Express, making it a great option for large groups.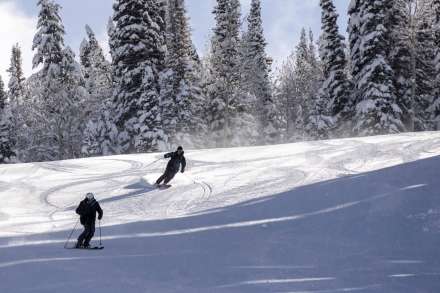 Solitude Intermediate Level:
Sunshine Bowl
Sunshine Bowl is a popular intermediate run off the Eagle Express chairlift. The wide, open bowl has stunning views of the Wasatch Mountains without an intimidating drop, making it a favorite for blue-level skiers. If your stomach starts to growl, stop by Roundhouse, the mid-mountain Himalayan-inspired lodge for great food and a 360-degree fireplace.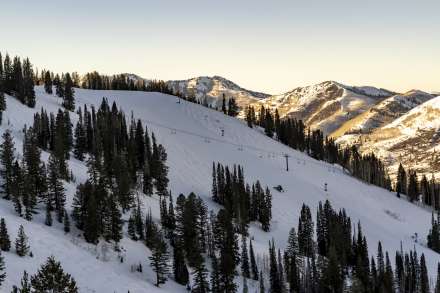 Solitude Expert Level:
Honeycomb Canyon
For skiers looking to test themselves on Solitude's coveted expert terrain, Honeycomb Canyon can't be beat. From the top of the Summit Express chairlift at 10,035 feet, this area is filled with off-piste, gate-accessed terrain for experienced skiers. Deep stashes of revered Utah powder can linger here for days after a storm!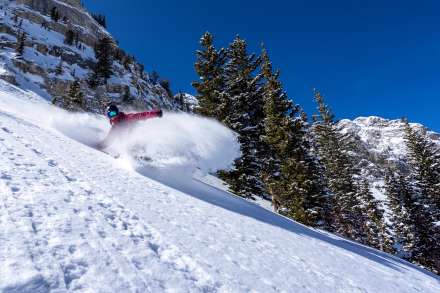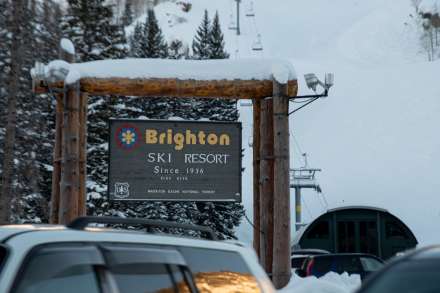 Brighton Resort sits high up in Big Cottonwood Canyon, just past Solitude. With the intimate atmosphere of a small ski area, it's a favorite among locals, rivaling much bigger resorts with its varied terrain. Many visitors are drawn to the mountain for its legendary park scene. Outside of freestyle pursuits, however, Brighton offers night skiing, lessons, and gate-accessed expert terrain.
Brighton Beginner Level:
Mary Back
While the lower-mountain Explorer Lift is a launching point for beginners, Majestic Lift is a great next step for green-level skiers. The ride up Majestic boasts views of Brighton's biggest terrain park, where you can watch pro skiers and snowboarders at work. The Mary Back run splits into two winding, low-angle trails to bring you back to base.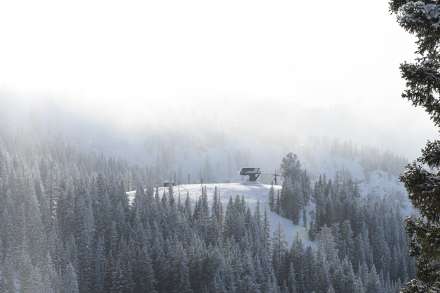 Brighton Intermediate Level:
Western Trail
Great Western Express is on the far-right side of the resort (from the skier's point of view). You won't forget the stunning views of Heber Valley from the top! After you traverse along Western Trail, you'll drop down into runs Lone Star, Thunderhead, or Thor, three spectacular intermediate cruisers from Clayton Peak, the highest point of Brighton at 10,750 feet.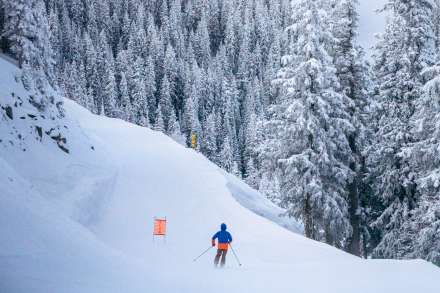 Brighton Expert Level:
Scree Slope/Lone Pine
Milly Express is an awesome lift for advanced skiers, named after its location, Mt. Millicent. Scree Slope and Lone Pine are two steep, off-piste runs that are among the best spots to hit on a deep day. For those with the proper gear and experience, Milly also offers sidecountry access—just make sure you're sticking to all posted avalanche guidelines.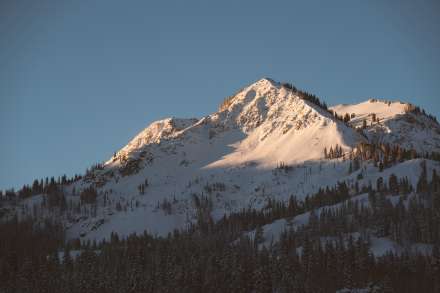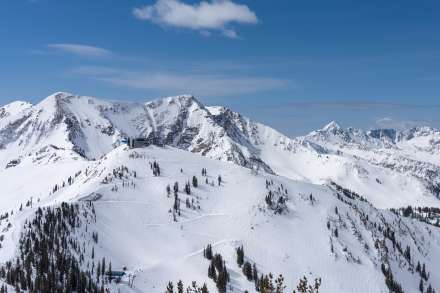 Snowbird is a steep resort jam-packed with long runs and expert terrain. It's "great for those looking to challenge themselves and for incredible views of the Wasatch," Palmintere says. While it thrills advanced skiers looking for steep chutes and tight trees, there are plenty of beginner and intermediate trails across its sprawling 2,500 acres.
Snowbird Beginner Level:
Alice Avenue/West 2nd South
Baby Thunder Chairlift is an oft-forgotten gem in the Gad Valley area, perfect for escaping the crowds. Alice Avenue and West 2nd South are two green trails that offer a steeper start initially and level out into gently sloping runouts. They're fairly short, so it's easy to take laps and get comfortable with the terrain.
Snowbird Intermediate Level:
Powder Paradise
It's an unforgettable feeling to look out at the backside of Snowbird for the first time and see Utah's mountains disappearing into the distance. This area, Mineral Basin, offers some great intermediate terrain. The winding groomer Lupine Loop is one option, accessible through the Peruvian Tunnel, which cuts through the mountain. Powder Paradise is another, a wide bowl stemming from a stunning summit traverse. Be careful if the rope has just dropped after a storm—newcomers to powder may find it harder than the intermediate rating suggests.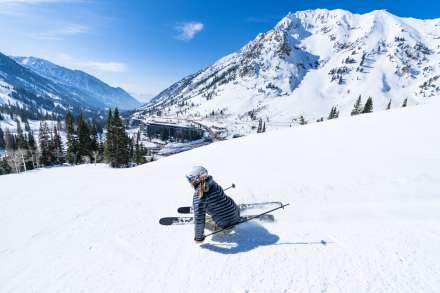 Snowbird Expert Level:
Cirque Traverse
You can't miss The Cirque on the tram ride to the summit of Snowbird. Its iconic lines are a must for any expert skier. Chutes and bowls branch off the front side into the Peruvian Gulch. Drop off the backside via the Gad Chutes for some steep tree skiing into Gad Valley. Stay alert, because the traverse can be rocky, even deep into the season. It's well worth it, however, to find fresh tracks.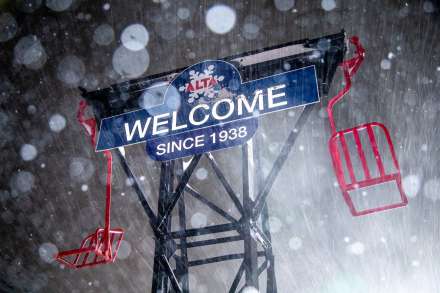 Alta is a skier's-only resort with unbeatable terrain and an iconic beverage for après lovers: the Alta Bomb, a double shot of espresso dropped into a tall glass of PBR. At the top of Little Cottonwood Canyon, Alta maintains that small-resort charm with a heavy helping of "Alta Magic" that will make you never want to leave.
Alta Beginner Level:
Crooked Mile to Patsey Marley
Sunnyside Lift is an excellent place for beginners at Alta and was recently upgraded to a six-person chair. Though it offers multiple green-rated runs, you can't go wrong with riding from Crooked Mile down to Patsey Marley, a wide, mellow trail that meanders over several small hills to get back to the base.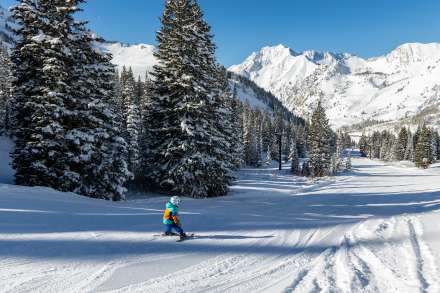 Alta Intermediate Level:
Ballroom
Ballroom is a stunning bowl accessible to intermediate skiers, sweeping down from a traverse at the top of Collins Lift. Enjoy breathtaking views of the Wasatch Mountains while taking fresh powder turns or carving on a crisp groomer. A linkup with straightforward runs Main Street and Mambo will get you back to base.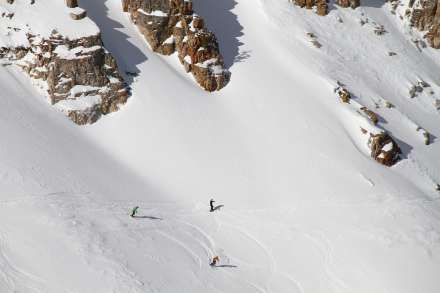 Alta Expert Level:
Supreme Bowl
There's no shortage of off-piste fun for visitors to the Supreme Lift! The Supreme Bowl and adjacent Catherine's Area are among the best spots to find a deep stash of snow at Alta. Follow signs for Catherine's Out Run to make your way back to the lift for your next lap.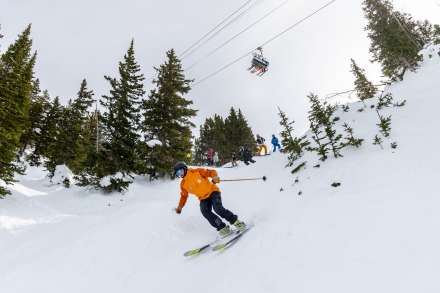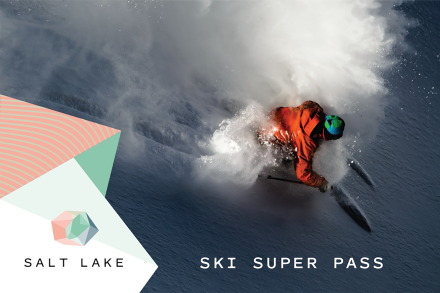 No matter your ability level or which resort you choose, you'll have no problem finding incredible skiing and snow sports in the Cottonwood Canyons!
Save big at all four Salt Lake resorts with the Salt Lake Ski Super Pass, offering savings of up to $42 off regular daily ticket prices!
All Photos courtesy of Alta Ski Area, Brighton Resort, Snowbird, and Solitude Mountain Resort