What to do on the Day to Remember
Wading through the Memorial Day sale ads and attempting to find a campsite in a sea of packed RVs and tents, you might be wondering how you can best reflect and honor the lives of service members during our nation's more somber holiday. Flags flown at half-mast, silk poppy pins and flowers, gatherings in cemeteries—Memorial Day is our annual day of remembrance. Here in Salt Lake City, we have special Memorial Day traditions to honor those who have lost their lives serving in the United States military, and it's also a day people often reflect and commemorate loved ones they've lost personally.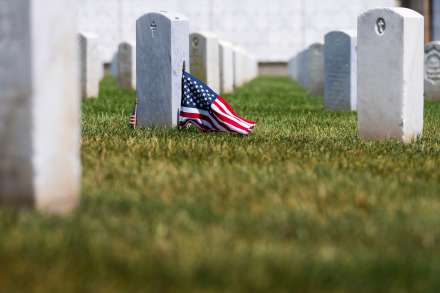 Originally Decoration Day, the name stemmed from people decorating the graves of fallen soldiers after the Civil War. This tradition on carried throughout the years, even after the name changed, while also extending our day of remembrance to lives lost in wars and battles following the Civil War. You'll still find military cemeteries and memorials lined with flowers and American flags, parades honoring those who didn't make it back from war, and poppies as the symbol of remembrance. 
The national time to pay tribute to our past heroes is at exactly 3 p.m. on Memorial Day, but Salt Lake has events and activities going through the long weekend. From virtual events to live bagpipe music to memorial buildings, if you're not sure what's happening around Salt Lake during the holiday, we've compiled a Memorial roundup of how you can spend the long weekend while still remembering those who sacrificed their lives.
Community and State Observances and Celebrations
Many communities in the Salt Lake valley have their own events surrounding Memorial Day, with speakers, music, food, processions, and 21-gun salutes. Check out a few of them here.
State Capitol - Utah Department of Veterans & Military Affairs
With Governor Spencer J Cox and Senator Mitt Romney as the featured speakers and the Utah National Guard providing music and a 21-gun salute, this Utah government-sponsored ceremony organized by the Utah Department of Veterans & Military Affairs will truly honor the men and women of the military. It will begin on the Utah State Capitol steps on the south side at 10 am, and will also be streamed live.
Utah Veterans Memorial Program in West Valley City
West Valley City, in partnership with the Utah Cultural Celebration Center, is hosting a program at 10 am at the new Utah Veterans Memorial, which was dedicated in November 2021.
Riverton Memorial Day Program
The city of Riverton provides a patriotic program every year. This year at 12:30 pm in the Riverton City Cemetery, the American Legion Post #140 will provide an honor guard, 21-gun salute, and a reading of deceased veterans in the cemetery.
Herriman Memorial Day Breakfast and Ceremony
Herriman continues their annual tradition with a delicious community breakfast and an honor procession from Main Street Park to the ceremony at the City Cemetery.
Visiting Cemeteries
To fully reflect on the history and significance of Memorial Day, there are several cemeteries we'd recommend to visit. Come attend one of the Memorial Day programs, or just bring flowers, small flags, and/or wander the grounds of these spots in and around the city.
Larkin Sunset Gardens
Located in Sandy, Larkin Sunset Gardens will honor those who have sacrificed so much for our nation with a program at 10 am featuring guest speaker Chris Stewart, U.S. Congressman. It will also include a flag ceremony, live patriotic music, and refreshments.
Wasatch Lawn Memorial Park and Mortuary
Wasatch Lawn Memorial Park and Mortuary, beginning at 10 am, will have bagpipe music, speakers Jani Iwamoto and Sterling Poulson, face painting, and hot dogs after the program.
Valley View Funeral Home and Memorial Park
Beginning at 10 am, the Salt Lake City Police Department Honor Guard will conduct a flag ceremony, high school choir and bagpipe music will be performed, and Dr. Ninzel Rasmuson, Paula Stephenson, and Lt. Robert Brinton will speak at Valley View's program.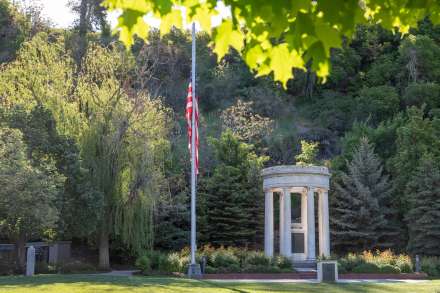 Self-Guided Memorials
Memory Grove Park/Utah State Capitol
Might we suggest a self-guided tour of the lovely Memory Grove Park. Not only are the grounds covered in colorful blooms and full trees but the serene park next to the Utah State Capitol Building has several memorial structures scattered throughout the park. 
Founded and made possible by Gold Star Mothers, each memorial has its own special tribute. Wandering the park, you'll find dedications such as the Meditation Chapel, a chapel provided by the Beason family to honor their son and others who didn't return back from World War II. Outside the chapel, you'll find the names of those who were lost and never found during the war. You'll also find surprises like a pagoda with marble sourced from the same quarry as the Lincoln Monument in Washington D.C.
Above the Grove, the Capitol grounds also has memorials that are worth seeing.
Utah Veterans Cemetery and Memorial Park
Just south of Camp Williams in Bluffdale, the Utah Veterans Cemetery and Memorial Park is a beautiful and peaceful place to pay tribute to veterans. On site are a wall of honor and museum featuring military memorabilia.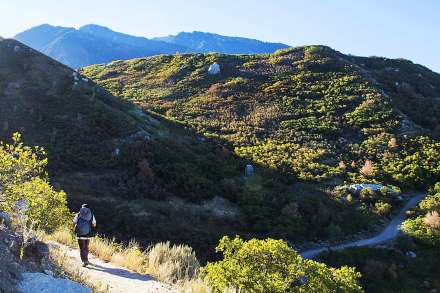 Get Outside
Another way to reflect and honor lives during Memorial weekend is to get outside in nature and breathe the fresh mountain air while taking a moment of silence at 3 pm. on Memorial Day. With crowds headed to southern Utah, head to Millcreek Canyon, Neff's Canyon, Bell Canyon, and the Cottonwoods, while still remembering the history of the holiday in our great outdoors.