Sustainability
The Salt Palace Convention Center, along with its in-house partners Visit Salt Lake and Encore, have attained 3 Events Industry Council Sustainable Event Standards Certifications (EIC SIS). Levels are Gold, Silver, and Silver respectively.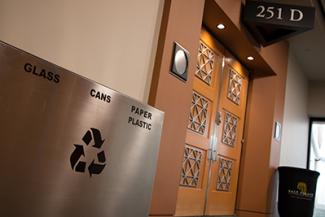 While certification is an important benchmark, the facility has been practicing green initiatives for many years. One of our core values is "responsibility to the environment" and that is reflected in our ongoing practice to reduce, reuse and recycle. Read about our Environmental Policy. 
Our in-house partners and all departments now participate in our diversion tracking system so we can collect data on our green practices and work toward a goal of 70% diversion (check out our 2020 Sustainability Report). Plus, we are training staff to understand the importance of sustainable practices, not only at work, but in their daily lives.
Salt Palace Convention Center Sustainable Initiatives
Rooftop Solar Panel Array Produces SRECs
Our facility is one of only a few convention centers in the nation that generates Solar Renewable Energy Credits. Events can purchase SRECs (generated directly from the Salt Palace's 600,000 square foot Solar Array) to offset their carbon footprint. The Salt Palace generates about 17% of its power through these 6,006 solar panels.
Silver LEED Certification & Sustainable Practices
The 2006 west-end expansion of the facility earned the US Green Building Council's Silver LEED award. Best practices include:
Replacing existing lighting with LED
Water bottle filling stations
Waterless urinals
Drip irrigation & drought-tolerant landscaping
Sponsor of the Salt Lake City GREENbike program; multiple bike stations on facility grounds
Strict procurement policy favors "green" products and vendors
Working Towards a Paper-free Events Process
The Events Department uses a web-based program and provides tablets for staff, eliminating the need for paper setup sheets. Google Drive is used to share documents, order forms and all client communication pieces, eliminating the need for hard copy event files. DocuSign is used for all purchase orders and contracts. Event producers also receive an electronic packet of information regarding their "green" options.
Robust Recycling and Reuse Program
Practices are in place to capture most of the materials left over from meetings and exhibits. Single stream recycling diverts cardboard, aluminum, paper and plastic. Signage from events finds a new home in surrounding school district classrooms. Leftover lanyards, bags and other giveaway items from events are donated to a summer camp program. Carpet, exhibit booth materials and other construction items are donated to Habitat for Humanity's Re-Store. For speciality items, we seek out other entities who are willing to repurpose the products. We are dedicated to finding a home for just about any material that comes into our building, just ask us for help!