Dear Guests and Partners,
I am proud to welcome you to an experience project at the Salt Palace Convention Center.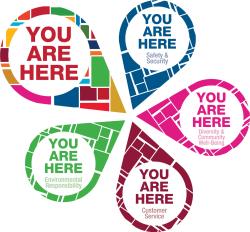 An Experience Project
YOU ARE HERE (YAH) graphically represents our commitment to your experience HERE. This commitment has been inspired and crafted by ASM Global Salt Lake employees. The five venue committees (more information on the committees can be found below this letter) that execute this commitment to YOU are:
Partnership (Leadership from the above)
Each committee has created their own goals; collectively known as our Sustainable Hospitality Pledges. Everyday we strive to achieve these 17 goals. We know at times we will exceed them, other times we will fall short. In any case, we view these achievements and failures both as opportunities to improve our performance. Most of all, we feel it is important to speak about these goals. To say them out loud. This is our flag in the ground. This is our commitment to you.
Being HERE
What does it mean that YOU ARE HERE? With these committees and pledges in place, we hope that you can make the most of every minute YOU ARE HERE. We hope that you can:
Break free from your day to day tasks and be present HERE.

Have meaningful interactions with your friends, colleagues and mentors.

Resurrect old relationships and create powerful new ones.

Expand your outlook and learn new things to inspire your future endeavors.

Leave a lasting legacy for your event in Salt Lake and carry that back home.
Most of all, we are happy that YOU ARE HERE.
Engage
The YOU ARE HERE project is designed to be accessible to all of those people and entities we work with.  Partnership is keystone to the project's success. Here are ways that you can become involved in the YOU ARE HERE project.
Event organizer: Such as trade shows, meetings, event industry associations, etc.

Hospitality partner: Such as hotels, general service contracts, restaurants, etc.

Community partner: Nonprofit organizations or small businesses 

Sponsor partner: A collaborative partner and supporter (we invite anyone to participate!). 

If you're interested in sponsoring a pledge and/or becoming a partner to the You Are Here experience, contact ‌McKell Nelson, Sustainable Events Coordinator, mckell.n@saltpalace.com.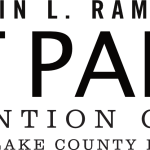 My best,
Daniel Hayes
General Manager
You Are Here Committees
Our‌ ‌You‌ ‌Are‌ ‌Here‌ ‌committees‌ ‌share‌ ‌responsibility‌ ‌to‌ ‌achieve‌ ‌our‌ ‌17‌ ‌sustainable‌ ‌hospitality‌ ‌pledges.‌ ‌See‌ ‌‌above‌ ‌to‌ ‌see‌ ‌the‌ ‌SSC‌ ‌pledges.‌ ‌Any‌ ‌questions‌ ‌about‌ ‌the‌ ‌experience‌ ‌can‌ ‌be‌ ‌sent‌ ‌to‌ ‌Chance‌ ‌Thompson,‌ ‌Senior‌ ‌Manager,‌ ‌Sustainability‌ ‌&‌ ‌PR‌ ‌at‌ ‌‌chance.t@saltpalace.com‌.‌ ‌