The Visit Salt Lake Connect Pass is an all-in-one ticket to Salt Lake's best attractions for an amazing price! The Connect Pass includes 16 offerings at 13 different attractions.  Attractions are throughout the greater Salt Lake area from Downtown, (Clark Planetarium, Discovery Gateway, The Leonardo, Lion House Pantry, Tracy Aviary) University Area (Natural History Museum of Utah, Red Butte Garden, Utah's Hogle Zoo, This is The Place Heritage Park, Utah Museum of Fine Arts) South Valley Area (Thanksgiving Point's Museum of Ancient Life, Museum of Natural Curiosity, Gardens) and Mountain Resorts (Snowbird Aerial Tram, Utah Olympic Park).

WHY DO I WANT IT?
The Connect Pass saves you 50-80% on regular admission to the included Salt Lake attractions.
WHAT ELSE DO I GET?
Additional perks and add-ons are offered with your Connect Pass. Perks for special offers at participating attractions are unlocked upon redemption. Add-ons for additional products are offered and can be purchased in conjunction with your Connect Pass. 
HOW DOES IT WORK?
PURCHASING OPTIONS
The Connect Pass is available as a 1-, 2-, 3-, or 365-day consecutive pass, so you can choose the option that works best for your group, trip dates, and overall itinerary. You can purchase as many passes as you like, but each individual must have their own pass. We'll email your pass(es) to you immediately after purchase. 
REDEMPTION
You can redeem your pass in two ways:
    1) MOBILE: Click on the link provided in the confirmation email or text message on your mobile phone and log in using your email and phone number used during checkout. Follow the instructions to add the pass to your homescreen so you don't have to go back to your email every time you want to access the connect pass. Simply tap the icon to open the Connect Pass, where you can manage, share, and redeem at each attraction to gain admission.
    2) PRINT-AT-HOME: Print out the confirmation email and present it at any Connect Pass venue.
 
USING THE PASS
DAYS ACTIVE: The pass is activated the first time you use it, and it remains active for the number of consecutive days purchased. Days are defined as 24-hour time periods that start at the exact time you activate the pass.
90-DAY ACTIVATION: You must activate the pass within 90 days of purchase.
SHARING: You can send a pass to a friend by simply clicking "Share Pass" and entering their email address and mobile phone number.
HOW MUCH DOES IT COST?
Regular admission to all of the included attractions would add up to over $234, so the Connect Pass is an incredibly good deal. Here are the prices for each Connect Pass option: 
 
Days
Adult
Senior (65+)
Child 
(3-12)
1
$36
$32
$30
2
$54
$50
 $46
3
$66
$60
 $56
365
$96
$92
$88
Here's a breakdown of the combined cost of regular admission to all included attractions vs. a 365-day Connect Pass:
 
Adult
Senior (65+)
Child 
(3-12)
Combined Regular Admission
$234.20
$200.70
$186.20
365-Day Connect Pass
$96
$92
$88
Savings Per Person
$138.20
$108.70
$98.20


HOW CAN I GET AROUND?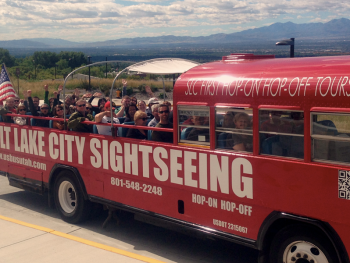 US Bus Utah offers daily hop-on, hop-off service to 10 of the venues (Snowbird, Thanksgiving Point, and the Utah Olympic Park are excluded). Service can be included with the Connect Pass as an optional add-on for an additional price (seasonal – April-October). Stops occur at each location every 45 minutes. The US Bus is a fun, flexible way to get around the city and put your Connect Pass to use.
Public transportation options are also available at rideuta.com.