Convention Center Hotel Construction Updates & Information
The Salt Palace Convention Center is proud to announce the construction of a 26-Story Convention Center Hotel, right here in the heart of downtown Salt Lake City. As construction continues to transform our facility, we want to provide updates as often as possible. Return to this section on a weekly basis to see updates and any new pertinent information.
Update: 3.23.2021
A flurry of changes are starting to take shape on the convention hotel construction site. Upward construction is now in full swing, and the introduction of exterior glass has begun. The new convention hotel is starting to take shape and visualizing the final product becomes easier each day. With usage of the facility as a designated vaccination site, it has been a great time to evaluate the impact on events inside the facility. With the majority of early stage construction completed, impacts to the interior spaces of the convention center remain nominal. Access into the facility from the south side is occasionally disrupted by ongoing construction, but remains nominal in impact. With progress on track, this project is still scheduled for completion in 2022.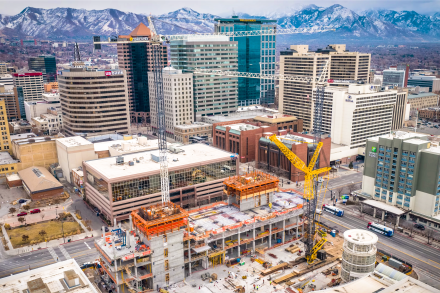 partners