Social Distancing & Crowd Management 
Until otherwise instructed, a mandatory social distancing requirement of 6-feet will exist within the facility. Distancing must be maintained between all attendees, employees, and event staff at all times during your event. In order to secure these distances the following requirements and facility standards have been established:
Social Distancing Signage/ Floor Markings / Line Queue Evaluation:
▪ Reminders and markings have been placed around the facility to properly remind all employees, attendees, third parties, and event staff to practice social distancing. In addition to this standard building signage, additional signage and floor markings may be necessary and required to be put in place before your event may proceed. This may include properly marked line queuing areas.
Face Mask Mandates:
▪ In addition to staff PPE usage and training, Salt Lake County has implemented a county wide public health order specific to face mask usage. Under this order, any individual within Salt Lake County who is age two and over and able to medically or psychologically tolerate a face covering shall be required to wear a face covering that completely covers the nose and mouth in public areas where consistent social distancing of at least six feet is not possible, reasonable, or prudent.
As a result, we require events to implement a mandatory mask policy for event attendees, participants, and staff while in our venues.

Please note that no face masks will be provided to an event by the facility.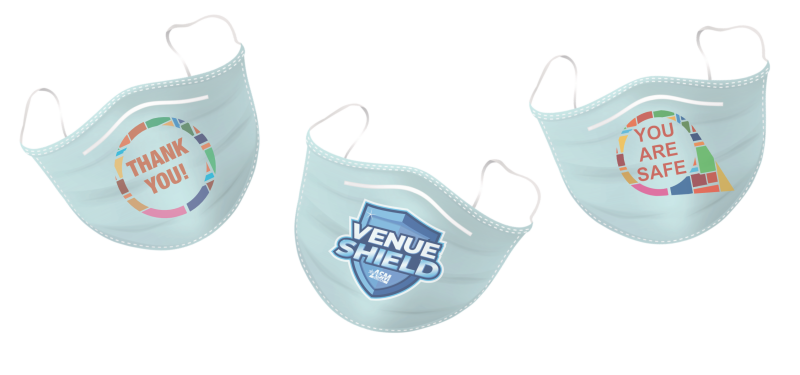 Restroom Stall Closures:
▪ All restrooms within the facility will have select stalls and urinals closed for usage in order to maintain social distancing within this space. These stalls and urinals will be properly marked, and made unusable via coverings and locks.
Hand Dryers:
▪ All hand dryers in restrooms have been turned off to aid in stopping the spread of COVID-19. Paper towels will be available to dry hands.
Drinking Fountain Closures:
▪ All drinking fountains within the facility have been turned off to aid in stopping the spread of COVID- 19. However, if the fountain is equipped with a water bottle fill station that portion of the fountain will remain turned on and accessible.
Distancing Monitor(s) / Law Enforcement Presence:
▪ In addition to signage reminders it may be deemed necessary for an event to provide staff/labor to monitor attendees to remind them of social distancing guidelines. They may also be required to disrupt gatherings (intentionally or unintentionally) within the facility. In addition to distancing monitors it may also be required for your event to maintain the presence of law enforcement. The need for a presence of law enforcement or monitors will be determined during the pre-event evaluation made with your Event Manager.
Entrance & Exit Restrictions:
▪ In order to maintain proper distancing near our facility entrance and exits, it may be deemed necessary to mark and traffic attendees through specific entrance and exit points. Creating a one way flow through entrance and exits will be crucial in retaining social distance.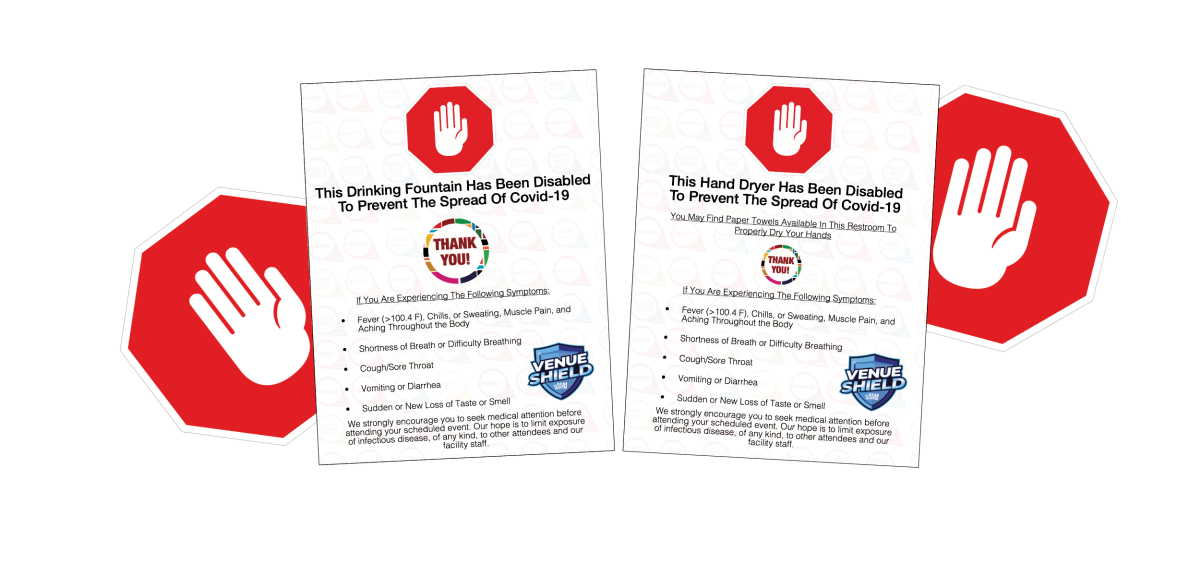 CROWD MANAGEMENT STRATEGIES 
Exterior Transportation Areas:
Taxi staging and shuttle bus pick-up/drop-off:

Drop off/pick up locations will be stationed sufficiently apart to allow for physical distancing.

Shuttle plans are required 45 days out to include physical distancing and crowd management protocols.

Pre-printed badges and no badge collection.
Registration Areas:
Physical distancing based on current CDC guidelines.

Queue line spacing plan.

Registration Area Recommendations:

Physical distance divider to separate staff from attendees.

Non-interface/contactless registration.

Digital credentials can eliminate physical badges and lanyards and enable contact tracing.

Badge scanning at entry & exit doors to allow for contact tracing.

Implementation of contactless payment system.

Pre-printed badges and no badge collection.
Common Areas & Concourses (Recommendations): 
Making concourses one-way walkways to encourage physical distancing.
Directional signage could be placed throughout concourse to assist with attendee flow.
Meeting Rooms & Ballrooms: 
Layouts
Space furniture according to physical distancing guidelines.
Setting meeting room chairs at 6' distance based on current CDC guidelines.
Attendee Flow
Hand sanitizers at strategic locations. (Provided by facility.) 
Create entrance doors and exit doors into each room.
Request customer to manage traffic flow inside of meeting room to adhere to physical distancing.
Suggest stagger start/end times to reduce congestion on concourses and in restrooms.
Provide ample time between sessions to allow for cleaning and straightening of chairs to maintain 6' distancing (more than standard 15 minutes).
Exhibit Halls- Managing Capacity:
Utilize counting and controlled entrance area.
Encourage appointments with exhibitors to manage timing and flow more effectively.
Suggest time slots across the event days.
Show organizer should work closely with their event managers to determine capacity.
Exhibit Halls- Layouts:
Wider aisles (10' Minimum); wider cross-aisles
Buffer space in between booths if no protective barrier is present
Recommend no aisle carpet to allow for enhanced cleaning/sanitation
Limiting number of exhibitors permitted in booth by physical distance per square foot
Eliminate or limit in-booth giveaways to avoid congregation of crowds.
Attendee Layout:
Show management to supply exhibit hall entrance and exit traffic plan.
Suggest one-direction/one-way aisles for entry and exit.
Aisles should be clearly marked and easily identifiable for attendees to assist with traffic flow.
Contractors:
Dedicated labor entrance and exit.
Labor check-in stations with 6' queue separations and floor markings.
Incorporate health screenings.
Provide PPE (gloves, masks, sanitizers readily available) for workers.
Daily safety briefings each morning.
Encourage show workers to wear a lanyard with hand sanitizer attached.
Limit number of workers riding in a cart, no sitting side-by-side.
General Service Contractors to submit enhanced protocols to show & facility  management 90 days prior to the event.
Material Handling:
Wipe down of equipment prior to use.
Equipment assigned and not shared throughout a shift (i.e. forklift).
If equipment is shared, it should be disinfected between use.
Industrial spray down of all furniture with tags indicating when it was last sanitized with the date and hour.
Move-in will require heavy targeting with exhibitors completing set and leaving to allow others to enter.
All drivers to stay in their vehicles at delivery.
Exhibit Booths:
Ensure exhibitors and attendees can maintain 6' of distance from each other.
Establish one-way traffic flow with marked entrances and exit.
Include dividers in areas where people will be in close contact.
Contactless alternatives to physical engagement, collateral materials and giveaways.
PPE (staff masks, shields, gloves, etc.).
Distribute hand sanitizer dispensers throughout the area.
Implement contactless payment systems.
Signage to promote health and safety best practices.
Temporary structures and exhibits (decor):
Sanitization procedures may vary based on type of materials (hard surfaces, fabric, vinyl, or metal).
Size and schedule of crew may need to be adjusted to ensure physical distancing. 
Cleaning of spaces and surfaces prior to, during, and at the conclusion of each show day.

UTAH STATE EVENT PLANNING TEMPLATE 
Event Planning Template:
In accordance with Utah Governor Gary Herbert's executive order, event size can exceed 50 individuals if organizational oversight can be provided that ensures guidelines are followed. Formal organizations are required to complete the event planning template to assist their efforts to plan a safe event. This document must be kept and available for inspection by the local health officer or their designee.

Must be submitted sixty (60) days prior to occupancy of the facility. 
partners