Enhanced Cleaning & Disinfection 
Facility Closure:
▪    If deemed necessary, The Salt Palace Convention Center and Mountain America Exposition Center along with its owner, Salt Lake County, have the right to shutter the convention center due to safety concerns. The ability to control access to the building in the light of a potential exposure to COVID-19 will be imperative to providing a safe facility. If a closure is deemed necessary all events within the facility will be notified as soon as possible. The closure of the facility may trigger the "Force Majeure" clause in an event's signed contract for all affected dates (not to include previous unaffected event days). 
Area Restrictions: 
▪    In coordination with an Event Manager during the pre-event evaluation, it will be determined which areas of contracted space will have permissible access and what areas will be deemed restricted. There may be certain areas during an event that will be required to be closed for safety reasons. This may include; public spaces (to avoid gathering), certain entrance and exit doors, food & beverage areas, conference rooms, and other areas that are not in accordance with social distancing per an events flow and usage. 
Door Propping: 
▪    In order to provide a hands free entrance and exit pathway for attendees into the facility and meeting areas, doors may need to be propped open. This may include exterior doors as well as interior. Your Event Manager will be able to guide you on which areas of contracted space will and will not need hands-free entrancing and exiting.
EMT & Law Enforcement: 
▪    Upon evaluation, it will be determined if an event (dependent on size and content) may need an EMT or Police Officer on site. If it is deemed necessary, it will be required that the event agrees before an event may enter the facility. It is more than likely that because of the risk of COVID-19 an EMT and Police Officer will be required for most events. 
Temperature Checks: 
▪    Additional entrance checks focused on temperature may be required for your event. These additional checks will be determined in the pre-event evaluation. If it is determined there is a need, the responsibility of acquiring proper labor and equipment will fall to the event itself. The Salt Palace Convention Center and Mountain America Exposition Center does not hold proper licensing or authority to provide health checks at this time. 
Health Checks: 
▪    As advised by our local health agency the Salt Palace Convention Center and Mountain America Exposition Center has deployed a stringent health check for our employees. We invite all events who enter our facility to consider utilizing these health check methods to keep their attendees safe. We have provided staff with numerous documentation surrounding COVID-19 symptom information, as well as a process for alerting the facility to any symptoms or illness. An implementation of a daily health check sheet allows us to properly assess the health of all employees reporting to the facility for work. Please consider utilizing or working with us to develop a plan of your own.
Health Check & Reporting Internal Process:
▪    In an effort to insure transparency we are providing our internal health check and reporting process so that any event can adopt our methods if one is not currently in place. 
___________________________________________________________________________________
As we continue to respond to the ongoing COVID-19 pandemic, we want to ensure the health and safety of all our employees. Out of an abundance of caution; if you at any point are feeling ill and are specifically experiencing symptoms closely related to COVID-19, you should take the following precautions: 
1.    Please notify your immediate supervisor of your illness. 
2.    If you have not yet arrived to work, please refrain from coming in. If you are currently at work, we ask you to coordinate with your supervisor to be excused. 
3.    As you speak with your supervisor it is vital to provide information of recent travels to suspecting COVID-19 outbreak geographies, timeline of illness, exposure to other employees, and any information that we can provide to local health agencies in order to help them mitigate further outbreaks.
4.    Make contact with the Utah Department of Health COVID-19 Hotline at 1-800-456-7707 to determine your best course of medical attention.
5.    Once you have sought appropriate medical attention, it will be vital to remain in contact with your supervisor and HR. Alerting your supervisor and HR of a positive or negative test will help determine the best course of action to help you return to work. Should you test positive you must head the guidance of your medical provider.
6.    Do not attend work until properly assessed by a medical provider, proper quarantine procedure has been followed, and symptoms have ceased for a period greater than 48 HRS.
We continue to monitor the situation closely, and are dedicated to providing you with the most up to date information. 
◦    Symptoms of COVID-19
◦    Fever (>100.4 F), Chills, or Sweating, Muscle Pain, and Aching Throughout the Body
◦    Shortness of Breath or Difficulty Breathing 
◦    Cough/Sore Throat
◦    Vomiting or Diarrhea
◦    Sudden or New Loss of Taste or Smell
Attendee Contact Tracing & Participant Health Questionnaire Forms:
▪    In order to properly asses any spread of COVID-19, all attendees to an event must complete a Attendee Contact Tracing Form or Participant Health Questionnaire in or order to engage in any event activity within our venues. The distribution and review of these forms will be coordinated with each event to insure every attendee is accounted for. A Spanish translation is available if needed. 
Example Forms: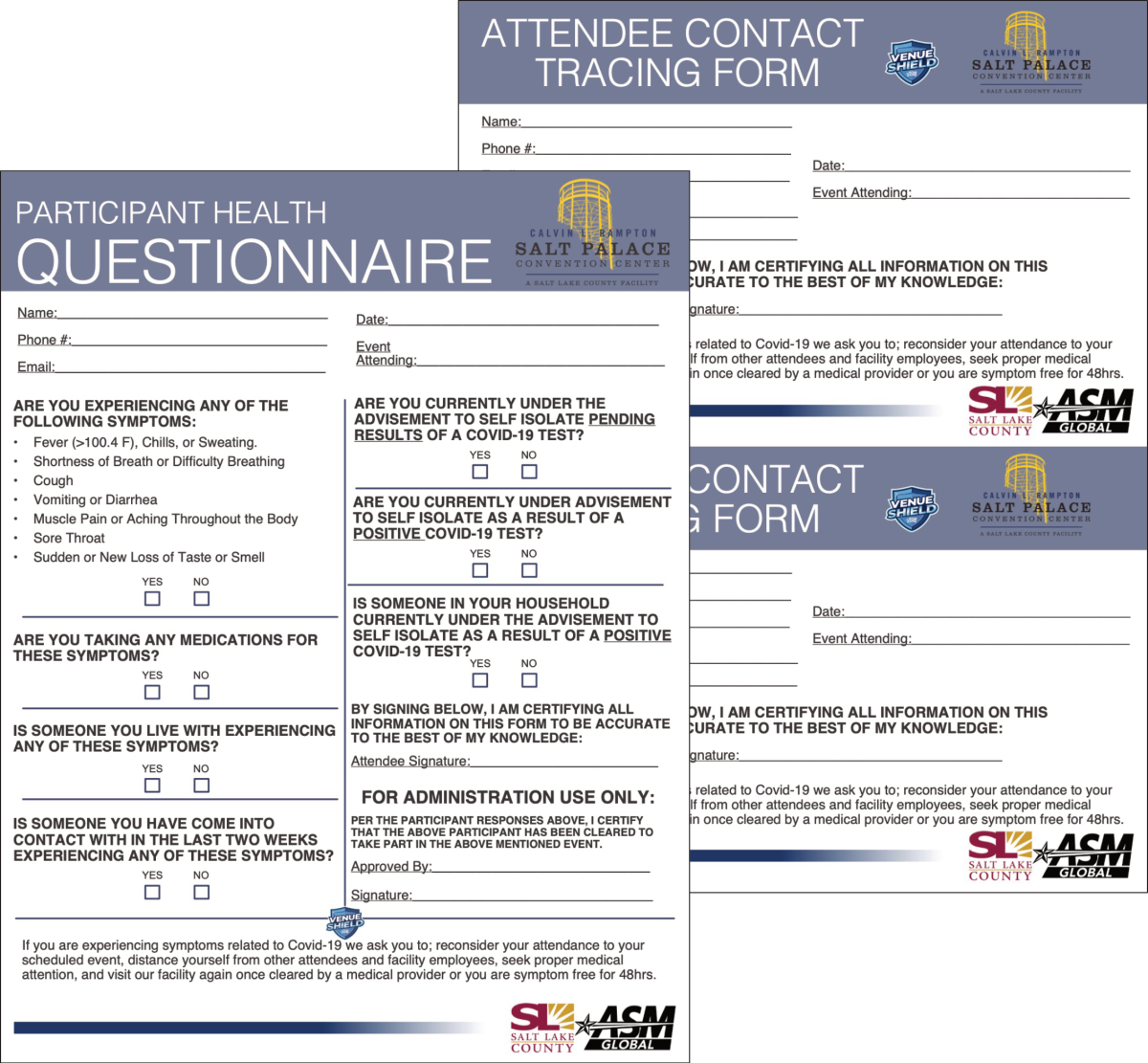 partners