ASM Global VenueShield 
Covid-19 Yellow/Orange Risk Operating Guidelines & Procedures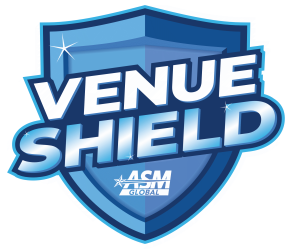 A Comprehensive & Best-In-Class Program:
As the world's most trusted venue management company, ASM Global is dedicated to provide a world class response to the ongoing Covid-19 pandemic. Along with 325 other ASM Global managed facilities, the Salt Palace Convention Center is pleased to present VenueShield to our attendees, guests, and employees. As a multi-facility program, VenueShield provides advice on protocols and procedures that benefit the community as a whole. Advice and protocols are provided on numerous topics from personal protective equipment(PPE) to physical distancing guidelines. As an ever growing and expanding program, VenueShield will be there to define the standards put in place by the events and convention industry, and provide guidance and support to all of its first class facilities. 
 "At the very heart of this effort is our focus on making our employees, tenants and guests safe and comfortable in a welcoming environment."-
Bob Newman, President and CEO, ASM Global 
The VenueShield logo will appear throughout the facility. It is our hope that each time you see VenueShield within our facility, you are reminded that we are here working to provide you with the safest facility possible. 
partners