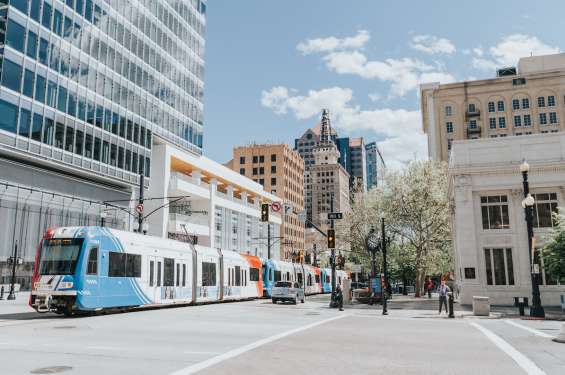 Devastating circumstances require resourcefulness, optimism and generosity. As the tourism industry has been devastated by COVID-19 and the sacrifices it has required from all of us to keep our families, employees, communities and visitors safe, they have come together to offer initiatives to keep people well fed and inspired. Here is a sample of the ones in Salt Lake County.
Salt Lake County
(Announcements to local partners from Unified Command: Mayor Jenny Wilson, Gary Edwards, Clint Mecham)
July 2, 2020
Salt Lake County (SLCo) continues to see rising cases of COVID-19. Face coverings, social distancing and hygiene are still the preventive measures for this virus. Unified Command is closely monitoring hospital and ICU utilization in SLCo and the State of Utah. Our Health Department teams have been working to solidify plans, equipment and supplies necessary to distribute vaccinations when they become available. We would like to remind you that our weekly municipal meeting for tomorrow has been cancelled.
SLCo is supporting and amplifying a campaign called "Mask Up Utah." The campaign is sponsored by the Utah Hospital Association, Intermountain Health Care, Steward Health, and University of Utah Health. The campaign is to highlight the importance of face coverings with a slogan: "we can't get back in the game without the help of Face Coverings." The campaign asks individuals to use the social medial hashtag #maskuputah. We will randomly pick one social media post each day through Sunday. The winner will be contacted via social media and offered a Real Salt Lake signed jersey or plaque.
The Coronavirus Relief Fund Guidance for State, Territorial, Local, and Tribal Governments was Updated June 30, 2020. This version updates the guidance provided under "Costs incurred during the period that begins on March 1, 2020, and ends on December 30, 2020." The linked document are the requirements for any CARES Act funding disbursement. Please review carefully and let us know if you have any questions. The language below is the changed section:
Costs incurred during the period that begins on March 1, 2020, and ends on December 30, 2020
 
Finally, the CARES Act provides that payments from the Fund may only be used to cover costs that were incurred during the period that begins on March 1, 2020, and ends on December 30, 2020 (the "covered period"). Putting this requirement together with the other provisions discussed above, section 601(d) may be summarized as providing that a State, local, or tribal government may use payments from the Fund only to cover previously unbudgeted costs of necessary expenditures incurred due to the COVID–19 public health emergency during the covered period.
 
Initial guidance released on April 22, 2020, provided that the cost of an expenditure is incurred when the recipient has expended funds to cover the cost. Upon further consideration and informed by an understanding of State, local, and tribal government practices, Treasury is clarifying that for a cost to be considered to have been incurred, performance or delivery must occur during the covered period but payment of funds need not be made during that time (though it is generally expected that this will take place within 90 days of a cost being incurred). For instance, in the case of a lease of equipment or other property, irrespective of when payment occurs, the cost of a lease payment shall be considered to have been incurred for the period of the lease that is within the covered period, but not otherwise. Furthermore, in all cases it must be necessary that performance or delivery take place during the covered period. Thus the cost of a good or service received during the covered period will not be considered eligible under section 601(d) if there is no need for receipt until after the covered period has expired.
 
Goods delivered in the covered period need not be used during the covered period in all cases. For example, the cost of a good that must be delivered in December in order to be available for use in January could be covered using payments from the Fund. Additionally, the cost of goods purchased in bulk and delivered during the covered period may be covered using payments from the Fund if a portion of the goods is ordered for use in the covered period, the bulk purchase is consistent with the recipient's usual procurement policies and practices, and it is impractical to track and record when the items were used. A recipient may use payments from the Fund to purchase a durable good that is to be used during the current period and in subsequent periods if the acquisition in the covered period was necessary due to the public health emergency.
 
Given that it is not always possible to estimate with precision when a good or service will be needed, the touchstone in assessing the determination of need for a good or service during the covered period will be reasonableness at the time delivery or performance was sought, e.g., the time of entry into a procurement contract specifying a time for delivery. Similarly, in recognition of the likelihood of supply chain disruptions and increased demand for certain goods and services during the COVID-19 public health emergency, if a recipient enters into a contract requiring the delivery of goods or performance of services by December 30, 2020, the failure of a vendor to complete delivery or services by December 30, 2020, will not affect the ability of the recipient to use payments from the Fund to cover the cost of such goods or services if the delay is due to circumstances beyond the recipient's control.
 
This guidance applies in a like manner to costs of subrecipients. Thus, a grant or loan, for example, provided by a recipient using payments from the Fund must be used by the subrecipient only to purchase (or reimburse a purchase of) goods or services for which receipt both is needed within the covered period and occurs within the covered period. The direct recipient of payments from the Fund is ultimately responsible for compliance with this limitation on use of payments from the Fund.
The House of Representatives passed the Moving Forward Act (H.R. 2) in a 233-188 vote after two days of floor consideration of the measure. See the bill text, a fact sheet, and a section-by-section summary of the bill, which was released prior to the amendments. The measure would provide $1.5 trillion worth of investment in the nation's infrastructure, including our roads, bridges, transit and rail systems, ports, housing, broadband, schools, water infrastructure, and green energy.
SLCo is launching a "Rally the Valley Campaign." When we rally together, we can achieve more than we can alone. We are inviting you and your organization to participate in Rally the Valley, a 20-day initiative that spans two landmark holidays - July 4th and July 24th. By spotlighting the "best" of our county services we can inspire residents and highlight what makes your programs unique in this valley-wide campaign. The goal is for you and your team to select a "best of" service activity that is both fun and easy to implement. Here's how it works:
We have put together a tentative calendar of activities. Please choose day(s) from July 4 to July 24 to highlight a service or program within your department.
Use the materials we've provided in this packet to promote Rally the Valley through your social media channels, in your newsletters, and through any other media you use to communicate with the community. Don't forget to remind people to hashtag #RallytheValley2020!
Register your program on Now Playing Utah with the tag Rally the Valley. All events during this 20-day period will be available to search here. For assistance, please contact npusupport@nowplayingutah.com.
On the day of your activity please remember to take photos and video that can be used on your social media channels to commemorate the event.
Post the photo or video with the hashtag #RallytheValley2020 and any other hashtags you use to promote your department or partners. Encourage guests and participants to post about their experience as well. If you utilize employees or partners for your activity, please make sure to tag them too!
BONUS! We are developing a 20-day activity sheet for residents to participate on their own. You can download the activity sheet at www.slco.org/rally starting on July 6th and find more information about featured activities we have planned.
What is an example of a service and program in your community? Activities could include food drives, trash pick-ups, or virtual performances or events. But a simple gesture of kindness, such as a co-worker bringing in flower from their yard to the office, could also be recognized and inspire others to #RallytheValley2020. By sharing our best stories about goodness, ingenuity, and hard work we can connect with one another, inspire others to contribute, and continue to sacrifice for the continued health and safety of our community.
Governor Herbert has approved the Utah State Board of Education's requirements and recommendations for K-12 schools to reopen this fall. A document that addresses a host of issues ranging from social distancing to cafeteria practices can be found here. All public schools are required to create and share their plan on their respective websites by August 1st.
Here are additional updated items:
SLCo now requires face covering that completely covers the nose and mouth in public areas where consistent social distancing of at least six feet is not possible, reasonable, or prudent. The intent of this requirement is to provide a direct effort to minimize the spread of the virus, without having to impose further restrictions. SLCo Health Department, cited recent studies that confirm the effectiveness of face coverings and their ability to reduce the transmission risk 75% - 82%. You can find the Salt Lake County Health Order, FAQ's and other information at https://slco.org/health/COVID-19/business/. The State of Utah has updated the Utah Leads Together guidelines to 4.7.
 
Centers for Disease and Control and Prevention (CDC) Director Robert Redfield estimated that cases of COVID-19 may be up ten times higher than previously reported, while Vice President Mike Pence warned of a "precipitous" rise in infections and urged "everybody to do their part" to limit transmission.
 
The U.S. Department of Treasury has released an updated version of its Frequently Asked Questions (FAQs) for the Coronavirus Relief Fund to inform your local decision-making process governing the use of your allocations from the CARES Act. The update occurred on June 24, 2020. Municipalities should review these guidelines for compliance with CARES Act spending requirements.
 
Due to the overwhelming public response to our testing events targeting geographic areas and populations disproportionately affected by COVID-19, SLCo Health Department must cancel the rest of the scheduled events in order to restock testing supplies. Our planning and logistical teams will also use this time to develop more efficient drive-thru operations to reduce wait times. We anticipate that these no-cost testing events to targeted communities will resume after the Independence Day holiday.
 
The Salt Lake County (SLCo) Small Business Impact Grant (SBIG) program is now open and accepting applications. The $40 million program, funded through the County's CARES Act allocation, is intended to aid Salt Lake County businesses most severely debilitated during COVID-19 that have been unable to secure financial aid thus far during the pandemic. Grant amounts will vary based on documented losses and COVID-related expenses, up to $35,000. Complete applications from eligible businesses will be processed in the order they are received until the fund is exhausted.
 
Agreement to distribute C.A.R.E.S Act funds were sent to Mayors and City Managers on last week. Please send your signed agreement to Ryan Perry at rperry@slco.org and we will process your payments as quickly as possible.
 
SLCo is encouraging residents to donate food or money for those in need.  Individuals can use www.FeedUT.org to locate a nearby pantry to volunteer or donate money or food. 
 
Please help us in communicating to businesses that sick employees should stay home. We are finding instances where symptomatic individuals continue to work when ill. Additionally, it is important to continue to emphasize social distancing and wearing face coverings.
 
Please feel free to reach out with any questions or concerns. We hope you all have a great 4th of July holiday!
 
SLCo Parks and Recreation phased re-opening
​To ensure the safety of patrons and staff, each recreation facility will be operated under new modified operating procedures in compliance with current state health guidelines. All parks and recreation amenities will be subject to social distancing guidelines and dependent on the local status in the State's plan.
Current Schedule of Openings
Monday, May 18
Playgrounds, dog parks, pickleball courts, skate parks, open fields, paths, and trails will be open with social distancing requirements in cities currently in the "Yellow" status of the Utah Together plan. Restrooms in parks will be open.
Friday, May 22
Wheeler Farm will be open with social distancing requirements in place. The Sunday Farmer's Market will take place beginning June 7th with modified operations.
Saturday, May 23
Pavilions and athletic fields will be open in cities currently in the "Yellow" status of the Utah Together plan. Amenities will be open for reservations. Groups are required to follow health department guidelines. Restrooms in parks will be open.
Monday, June 1
Select recreation centers will begin opening with modified operations. Openings will be determined based upon staffing, and health order directives related to amenities. Availability of our facilities is contingent upon our response to the COVID-19 health emergency. Patrons are encouraged to contact our facilities to make reservations as drop-in visits will be limited and subject to availability.
County Ice Center - 5201 Murray Park Lane (385) 468-1650
Dimple Dell Recreation Center - 10670 South 1000 East (385) 468-3355
Fairmont Aquatic Center - 1044 Sugarmont Drive (385) 468-1540
JL Sorenson Recreation Center - 5350 West Main Street (385) 468-1340
Magna Recreation Center - 3270 South 8400 West (385) 468-1835
Millcreek Community Center - 2266 East Evergreen Avenue (385) 468-1380
Northwest Recreation Center - 1255 Clark Avenue (385) 468-1305
Salt Lake City Sports Complex - 645 South Guardsman Way (385) 468-1925
Taylorsville Recreation Center - 4948 South 2700 West (385) 468-1732
Wednesday, July 1
Target date to open Salt Lake County outdoor pools.
All six County-operated golf courses are open and operating under "Yellow" health directive status. All tee-times are reservation and pre-pay only.
We are still determining appropriate openings for our park splash pads, youth and adult sports programming, childcare, and summer camps. Thank you to our patrons for their continued patience as we work to provide our services in a safe and healthy manner.
Important Contact Information:
Salt Lake County: www.slco.org/covid-19/
Salt Lake County Health Department Hotline: 385-469-INFO (4236)
State of Utah: www.coronavirus.utah.gov
Federal: https://www.coronavirus.gov/
Coronavirus Info Line: 800-456-7707
Healthcare Workers: 888-374-8824
State Media Inquiries: 685-429-0015
Suicide and Mental Health: www.liveonutah.org
Disaster Distress Helpline: 1-800-985-5990 or text TalkWithUs to 66746
Salt Lake County Economic Development Business Hotline: 385-468-4011
SLCo Economic Impact Working Group Beta Dashboard: https://slco.maps.arcgis.com/apps/MapSeries/index.html?appid=c07ef403435442909c7dc30c0da2b718.  
Language Resources: https://coronavirus.utah.gov/multilingual-resources/.
SLCo Intergovernmental Liaison (Ryan Perry): 801-541-0539, rperry@slco.org

Utah Health Department Update:
July 3, 2020 7:00 am
Salt Lake County
Epidemiology:
Confirmed cases: 11,833
Tested: 143,262
Deaths: 111
Utah
Epidemiology:
346,386 people tested 
176 deaths
Resources:
United States
Epidemiology:
Updates:
The CDC now recommends wearing cloth face coverings in public settings
Internationally
Epidemiology:
For media inquiries, contact Shawn Stinson, 801-245-0106.​
partners