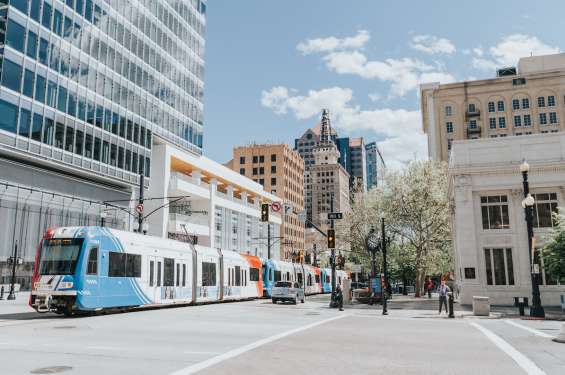 Devastating circumstances require resourcefulness, optimism and generosity. As the tourism industry has been devastated by COVID-19 and the sacrifices it has...
Salt Lake County
(Announcements to local partners from Unified Command: Mayor Jenny Wilson, Gary Edwards, Clint Mecham)
Thank you for the Municipal call today. We appreciate you as a community partner and the challenges that all of us are facing. We remain vigilant in making the right decisions for the health and safety of Salt Lake County (SLCo) residents: Here are the updated items for today:
State of Utah has signed a major disaster declaration.
 
SLCo County Parks and Recreation Golf Courses will begin operating under new social distancing guidelines to protect the health of patrons and employees. Courses will begin taking reservations immediately. Please see this link for play restrictions https://slco.org/globalassets/2-parks--rec/facilities/golf/editable/salt-lake-county-golf-modified-operations.pdf
 
SLCo Economic Working Group update is attached. For a list of economic recovery assistance for businesses. Please visit https://slco.org/covid-19/economy/. SLCo has also setup a call center for those seeking more information at 385-468-4011.
 
An intelligence briefing and data modeling report is attached. We look forward to each entity sharing data daily to keep the dashboard up-to-date and accurate.
 
Please help us in communicating to businesses that sick employees should stay home. We are finding instances in where symptomatic individuals continue to work when ill.
 
Governor Herbert has issued a few Executive Orders. These orders include: provisions for the retired workforce to meet critical government functions, access to the Industrial Assistance Account, deferral of rent payments and delay of eviction proceedings, and enforcement of state park access to county residents only.
 
As you are well aware, group gatherings are especially impactful with the spread of COVID-19. We are very concerned that warming weather will lead to crowds and group gatherings in our parks and on the trails this weekend. A number of hot spots of COVID-19 spread can be traced back to group gatherings. We are asking that you maintain signage of playground equipment closures and continue to monitor your parks. Where possible, have officers assigned to prevent groups from congregating. Additionally, we are discussing ways to address this challenge in the coming weeks as the weather warms up. Los Angeles shut down their beaches, trails and parks and we are working hard to keep ours up and running as we understand the importance of our outdoors to our health.
 
The State has announced a program for essential employees (Health Care and Emergency Responders) to access childcare. Individuals can go to www.jobs.utah.gov to register for this free childcare program.
 
Vulnerable populations are a major concern for SLCo. We have implemented multidisciplinary outreach teams that consist of a homeless outreach worker, peer support specialist, and a public health nurse (we are requesting 3 nurses to rotate across the teams). The teams are outreaching to the unsheltered homeless population county-wide. The primary purpose of the outreach is to reduce and mitigate the risk of the spread of COVID-19 among the unsheltered homeless population by screening for COVID-19 & connecting to medical care when appropriate, educating individuals about preventative steps they can take, promoting social distancing by seeking to minimize the size of encampments, and conducting wellness checks & addressing basic needs of the unsheltered population (e.g., food & water). The outreach teams will, also, seek to connect individuals to homeless services and housing. This approach is consistent with CDC interim guidelines for COVID-19 response with the unsheltered homeless population. Rumors of COVID-19 throughout the homeless population is false.
 
UTA is reducing the frequency of routes. More information can be found at www.rideuta.com. New frequency will go into effect on April 5th.
 
Damage Assessments continue to be collected and should be submitted to the State of Utah (State) by April 22nd. We are continuing to be on alert for aftershocks, which are expected to continue.
 
Please feel free to reach out with any questions or concerns.
Health Orders, Facility closings, and COVID-19 items can be found at https://www.slco.org/covid-19/.

Health Department Orders:
Salt Lake County Health Department (SLCoHD) declaration and health orders for COVID-19 remain in effect. All retail and service-oriented businesses are required to implement social distancing measures and exclude symptomatic workers from working. Social distancing should include at least 6-feet between customers in the establishment. Workers symptomatic with respiratory illness or fever must not be in the business—no exceptions.
 
Specifics for the food and beverage industry:

Food Service: Dine-in operations are prohibited; takeout, curbside, pickup, drive-thru, delivery (including by third-party services), and mobile food (trucks/carts) are allowed with some modifications.
Food Delivery: Drop service only.
Grocery Stores and Cafeterias: Eliminate seating areas as well as any other opportunity to congregate.
 

Salt Lake County Facilities:
Salt Lake County has closed the following facilities: senior centers, recreation centers, libraries, arts and cultural facilities, Equestrian Center, Clark Planetarium, Discovery Gateway, the Salt Palace, and the Mountain America Expo Center. Closures are a way to prevent the Coronavirus outbreak. Salt Lake County is closely monitoring and evaluating the situation and will provide information as it becomes available.
Suggested Guidance for Local Law Enforcement: (We Ask That You Consider and Pass Along)

While we recognize that each municipality controls its own law enforcement agency, we hope to have a coordinated approach. If you agree please pass along the following (or a version of the following):

In an effort to minimize confusion by the public, Salt Lake County is seeking to have law enforcement enact fairly uniform methods for violations of its recent health order. The order is a stay at home order but allows for a comprehensive list of essential activities and businesses and thus we believe there will continue to be a large number of residents moving throughout the community. However, we know mass gatherings can significantly spread the virus. State law requires penalties for violating a local public health order, class B for the initial offense, class A for repeat offenses):

Salt Lake County is recommending:
 
When law enforcement witnesses or is notified of violations of six-feet social distancing it should determine if it is a family unit. The order allows for family units to be together so there will be cases of the violation of social distancing, which are not violations of the order.
 
If not a family unit, and a minor violation, law enforcement should educate/give a verbal warning. If there are repeat or egregious violations (large group gatherings in parks, for example) law enforcement should consider citations.
 
At this time, given the large number of essential activities that allow for movement through the community, we are asking that law enforcement not stop people traveling within the County, require credentials or letters identifying whether the travel is authorized under the Order, nor set up checkpoints.
Important Contact Information:
Coronavirus Info Line: 800-456-7707
Healthcare Workers: 888-374-8824
State Media Inquiries: 685-429-0015
SLCo Intergovernmental Liaison (Ryan Perry): 801-541-0539, rperry@slco.org

Utah Health Department Update:
April 4, 2020 11:00 am
Salt Lake County
Epidemiology:
Utah
Epidemiology:
30,892 people tested (5.2% positive)
8 deaths
Resources:
State Tax Deadlines Extended
United States
Epidemiology:
Updates:
CDC now recommending wearing cloth face coverings in public settings where social distancing is difficult to maintain (not N-95)
CDC issued a travel advisory for New York, New Jersey, and Connecticut to avoid nonessential travel for 2 weeks
Global Level 4 Health Advisory: Do not travel; return home if overseas
Internationally
Epidemiology:
For media inquiries, contact Shawn Stinson, 801-245-0106.​
partners