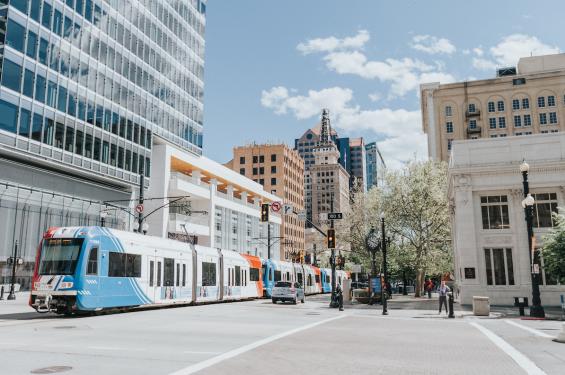 Devastating circumstances require resourcefulness, optimism and generosity. As the tourism industry has been devastated by COVID-19 and the sacrifices it has required from all of us to keep our families, employees, communities and visitors safe, they have come together to offer initiatives to keep people well fed and inspired. Here is a sample of the ones in Salt Lake County.
Economic Recovery Assistance for Businesses
Salt Lake County
(Announcements to local partners from Unified Command: Mayor Jenny Wilson, Gary Edwards, Clint Mecham)
September 10, 2020
Federal Stimulus Legislation: Today, the Senate voted 52-47 in opposition to the Senate Republicans "skinny" stimulus plan.  It looks less likely that Congress will enact another economic recovery package before the election for more virus aid. 
Salt Lake County Severe Windstorm:  On Wednesday, Salt Lake County issued a ​Declaration of Emergency (DOE)​ for Tuesday's high wind emergency event. The decision to issue the DOE was based on multiple concerns, including the extent of damage, anticipated need for resources, and cost of recovery. A local emergency declaration provides avenues for municipalities and counties to receive financial and material resources from the state or federal government. Salt Lake City, South Salt Lake and Millcreek have also issued emergency declarations. For more information on Salt Lake County's emergency response please view Mayor Wilson's SLCo Wind Emergency Report 09.09.20.
Salt Lake County COVID-19 Response and Face Coverings:  SLCo Health Department continues to monitor face coverings and case counts.  You may view the current reported data by viewing the EIWG report 09.09.20.
Salt Lake County Economic Recovery: New information continues to be uploaded to the Salt Lake County economy dashboard, please check the SLCo Economic Impact Information Portal for information relevant to your municipality.
Community Partners Program:  Salt Lake County will launch a new grant program aimed at Supporting Nonprofit Services in the Areas of Housing, Childcare, Education, Business, and Arts & Culture. It is anticipated that the program will begin accepting applications the week of September 21st.
SLCo SBIG: The SBIG Program to date has put $7.2 million into the Salt Lake County economy with grants directly to small businesses. You may view the full SBIG report 09.08.20. Please note small businesses have two weeks to start/and or submit their applications for SBIG Round 2. Grant applications close on Friday, September 18th.  https://slco.org/covidgrants/
School Reopening in SLCo: The Health Department continues to work with School Districts in communicating to both teachers and students that they should not attend school when exhibiting signs of any illness.
SLCo Mass Vaccination: Flu vaccines will become available over the next two weeks. It will be important to be vaccinated for influenza as symptoms between influenza and COVID-19 are similar, and to mitigate pressure against COVID-19.
Rental and Mortgage Assistance: Residents who have been impacted by COVID-19 and are unable to pay their rent or mortgage, are urged to please contact the agencies below to find out eligibility, services, and other resources. All of the agencies have Spanish-speaking staff on hand who can translate, as well as other translation services.
Rapid Re-Housing (For individuals or households 50% AMI, experiencing homelessness)
The Road Home, (801) 359-4142
Rental Assistance (For individuals or households 60% AMI, facing evictions)
Asian Association of Utah, (801) 467-6060
Catholic Community Services, (801) 363-7710
Utah Community Action, (801) 359-2444
Mortgage Assistance (For low-income individuals or households facing foreclosure)
Community Development Corporation of Utah, (801) 994-7222
NeighborWorks Salt Lake, (801) 539-1590
The CARES Act Fund reporting portal:  Thank you for submitting CARES funds reports.   Please share with your fiscal staff the following link to file future reports
Previous Updates:
Last week, the U.S. Department of Treasury revised Guidance and Frequently Asked Questions (FAQs) on the implementation of the Coronavirus Relief Fund (CRF) established by the CARES Act. The updated documents are available at the links below.

Coronavirus Relief Fund Guidance for State, Territorial, Local, and Tribal Governments (updated 9/2/2020)

Coronavirus Relief Fund Frequently Asked Questions (updated 9/2/2020)

Salt Lake County Summer 2020 Consumer Sentiment Survey:  Y2 Analytics presented a follow-up survey to a previous SLCo survey conducted in May 2020 to the County Council on Tuesday. Salt Lake County residents expressed substantially more concern about the coronavirus crisis's present and future than in May 2020. You may view the full survey presented to the County Council on Tuesday: Summer 2020 Consumer Sentiment Survey.
Salt Lake County (SLCo) COVID-19 data portal.  The data portal can be found here. This portal offers summary by city information, comparison of population, percentages compared to the rest of the County, group housing cases, outbreak information, and recovery curve. 
West Nile Virus Detected in SLCo: The Health Department announced Monday that the West Nile virus (WNV) had been detected in multiple mosquito pools within Salt Lake County boundaries. Although there are no confirmed cases of the West Nile virus, residents need to protect themselves from mosquito bites as there is no way to tell which mosquitoes are infected. For more information click here.
FEMA federal disaster assistance is available to the state of Utah to supplement state and local recovery efforts in the areas affected by an earthquake during the period of March 18 to April 17, 2020. Federal funding is available to affected individuals in Davis and Salt Lake counties. Residents and business owners who sustained losses in the designated areas can apply for assistance by registering online at http://www.DisasterAssistance.gov or by calling 1-800-621-FEMA(3362) or 1-800-462-7585 (TTY) for the hearing and speech impaired.  The toll-free telephone numbers will operate from 7 a.m. to 9 p.m. seven days a week until further notice.
SLCo Health Department continues with its mobile hotspot testing events in communities disproportionately affected by COVID-19.
SLCo is encouraging residents to donate food or money for those in need.  Individuals can use www.FeedUT.org to locate a nearby pantry to volunteer or donate money or food.
Please help us in communicating to businesses that sick employees should stay home. 
Please feel free to reach out with any questions or concerns.
SLCo Parks and Recreation phased re-opening
​To ensure the safety of patrons and staff, each recreation facility will be operated under new modified operating procedures in compliance with current state health guidelines. All parks and recreation amenities will be subject to social distancing guidelines and dependent on the local status in the State's plan.
Current Schedule of Openings
Monday, May 18
Playgrounds, dog parks, pickleball courts, skate parks, open fields, paths, and trails will be open with social distancing requirements in cities currently in the "Yellow" status of the Utah Together plan. Restrooms in parks will be open.
Friday, May 22
Wheeler Farm will be open with social distancing requirements in place. The Sunday Farmer's Market will take place beginning June 7th with modified operations.
Saturday, May 23
Pavilions and athletic fields will be open in cities currently in the "Yellow" status of the Utah Together plan. Amenities will be open for reservations. Groups are required to follow health department guidelines. Restrooms in parks will be open.
Monday, June 1
Select recreation centers will begin opening with modified operations. Openings will be determined based upon staffing, and health order directives related to amenities. Availability of our facilities is contingent upon our response to the COVID-19 health emergency. Patrons are encouraged to contact our facilities to make reservations as drop-in visits will be limited and subject to availability.
County Ice Center - 5201 Murray Park Lane (385) 468-1650
Dimple Dell Recreation Center - 10670 South 1000 East (385) 468-3355
Fairmont Aquatic Center - 1044 Sugarmont Drive (385) 468-1540
JL Sorenson Recreation Center - 5350 West Main Street (385) 468-1340
Magna Recreation Center - 3270 South 8400 West (385) 468-1835
Millcreek Community Center - 2266 East Evergreen Avenue (385) 468-1380
Northwest Recreation Center - 1255 Clark Avenue (385) 468-1305
Salt Lake City Sports Complex - 645 South Guardsman Way (385) 468-1925
Taylorsville Recreation Center - 4948 South 2700 West (385) 468-1732
Wednesday, July 1
Target date to open Salt Lake County outdoor pools.
All six County-operated golf courses are open and operating under "Yellow" health directive status. All tee-times are reservation and pre-pay only.
We are still determining appropriate openings for our park splash pads, youth and adult sports programming, childcare, and summer camps. Thank you to our patrons for their continued patience as we work to provide our services in a safe and healthy manner.
Important Contact Information:
Salt Lake County: www.slco.org/covid-19/
Salt Lake County Health Department Hotline: 385-469-INFO (4236)
State of Utah: www.coronavirus.utah.gov
Federal: https://www.coronavirus.gov/
Coronavirus Info Line: 800-456-7707
Healthcare Workers: 888-374-8824
State Media Inquiries: 685-429-0015
Suicide and Mental Health: www.liveonutah.org
Disaster Distress Helpline: 1-800-985-5990 or text TalkWithUs to 66746
Salt Lake County Economic Development Business Hotline: 385-468-4011
SLCo Economic Impact Working Group Beta Dashboard: https://slco.maps.arcgis.com/apps/MapSeries/index.html?appid=c07ef403435442909c7dc30c0da2b718.  
Language Resources: https://coronavirus.utah.gov/multilingual-resources/.
SLCo Intergovernmental Liaison (Ryan Perry): 801-541-0539, rperry@slco.org

Utah Data Update:
September 11, 2020 2:30 pm
Salt Lake County
Epidemiology:
Total Confirmed cases: 25,609
People Tested: 284,695
Deaths: 242
Utah
Epidemiology:
707,807 people tested 
431 deaths
Resources:
United States
Epidemiology:
Updates:
The CDC now recommends wearing cloth face coverings in public settings
Internationally
Epidemiology:
For media inquiries, contact Shawn Stinson, 801-245-0106.​
You Might Also Be Interested In:
partners