Planning Tools
Planes, trains, and decent rental cars. They don't call Salt Lake the "Crossroads of the West" for nothing. Getting here is a snap, with easy access by road, rail, and air. And Salt Lake City International Airport is just 10 minutes from downtown. Delta Air Lines, official partner of Visit Salt Lake, flies non-stop to Salt Lake from over 100 cities.

View the Visitors Guide online or request a free Salt Lake Visitors Guide or a Utah Travel Guide. The latest guide and the previous guide are available to give you a full year's view of what to do in Salt Lake to help you plan your trip.
Once you arrive, getting around the city is easy. Take a look at our maps, and you might not believe your eyes. A grid system, set up by early pioneers, makes the map look more like graph paper than anything else. And to make it even easier to plan your stay we've divided the Salt Lake Valley into convenient areas.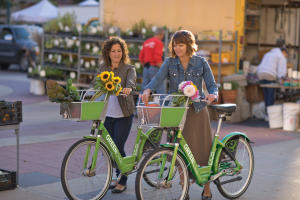 Transportation in Salt Lake comes in a wide variety of options. Many hotels offer complimentary airport shuttle service. Utah Transit Authority (UTA) provides mass transit via busses and TRAX light-rail throughout the Salt Lake area, including the airport and mountain resorts. Taxi, bus, shuttle, and limousine companies provide door-to-door service to the destination of your choice. If you choose to drive, downtown parking tokens make it easy to stow your vehicle.
Flying into the Salt Lake International Airport gives you a rare bird's eye…
Welcome to Salt Lake, one of North America's most accessible destinations due…